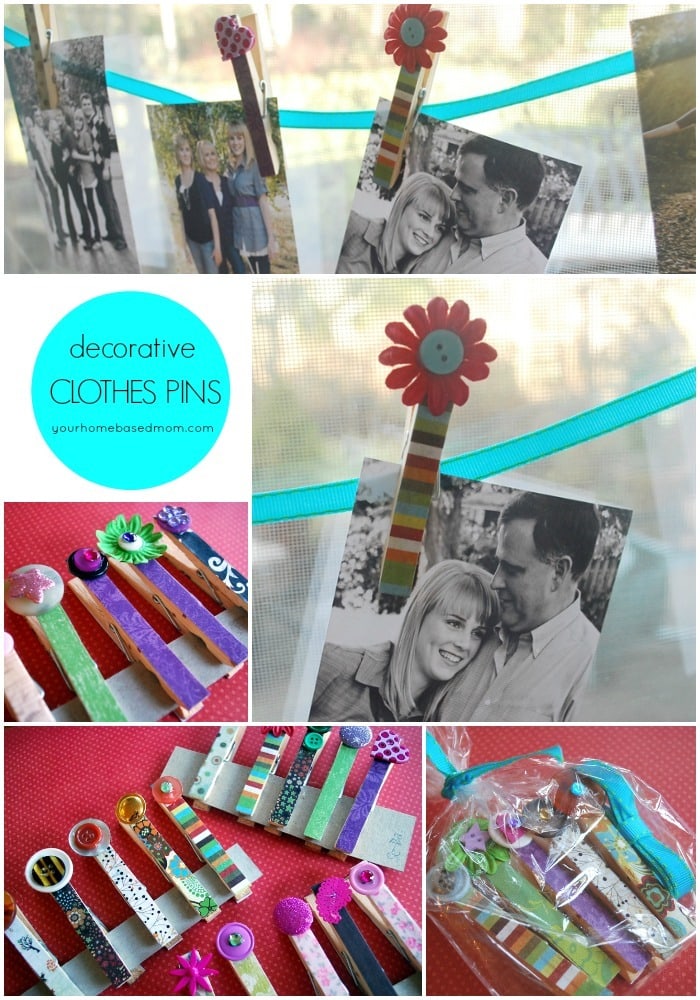 It has become a yearly tradition at our house that my girls and I make the gifts they will give to their friends.  We like to get crafty!
Usually the list of friends they need gifts for is quite long and we don't remember to do it until the last minute!  Because of that we have found that the gift needs to be quick and easy to make and inexpensive.  This year's gift fit the bill perfectly!
Last year we made these darling paper covered frames.
This year I saw this great idea over at Blue Cricket Designs and I knew it would be perfect – Holiday Clothes Pins.
The clothes pins, along with a piece of ribbon, are used to display your photos and if you know any teenage girls – they have lots of photos!
We purchased a couple of packs of plain, wooden clothes pins from the dollar store.  A pack of 36 clothes pins was only – you guessed it – a dollar!
Amazingly enough I have lots of scrapbook paper around the house, there was a bottle of Mod Podge in the craft closet and I had a box of buttons in there too.  I have a bit of a ribbon addiction so that wasn't a problem either.
The girl's picked out paper that they thought their friends would like and just cut the paper to size, mod podged it on and let it dry.  Blue Cricket Designs has a good tutorial and pictures for each of the steps.
We used the hot glue gun to attach the buttons.  One tip though is to be sure and remove all the hot glue tails before taking a picture or giving as a gift – it will look nicer that way (obviously I didn't do that!)
We also clipped them onto a piece of cardboard with the friend's name written on the cardboard so we didn't forget which ones were for who!
The girls were very thoughtful in their selection of paper for each of their friends.
Yikes – see all those glue tails!!
They did turn out cute though – minus the glue tails!
We put a set of five clothespins along with a yard of ribbon into a cellophane bag and tied it up with a bow!

I discovered that the best way to hang the ribbon so that the pictures hang straight is to use those little suction cups that have a hook in them.  Attach them to the window or wall and tie the ribbon to that and then clip on the photos.
Happy Crafting!