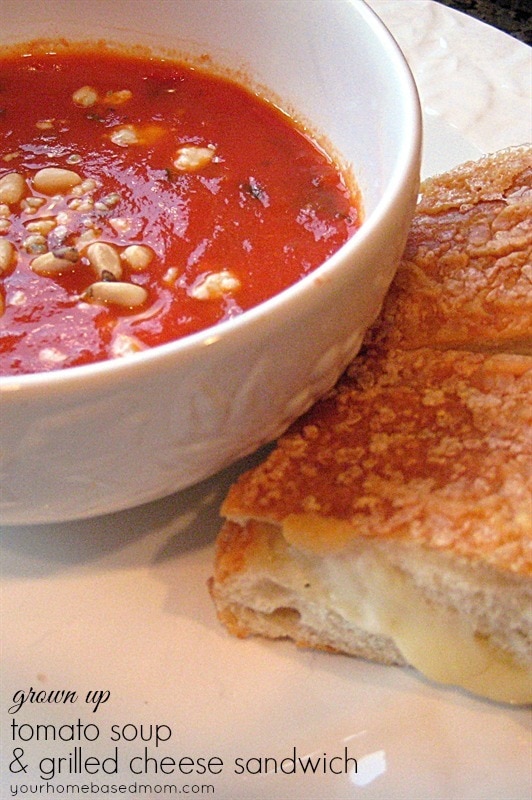 As many of you, I ate my share of tomato soup and grilled cheese sandwiches growing up – one of my favorite meals as a child.
Campbell's Tomato Soup was my soup of choice.  Except for that period of time when I was two years old and the ONLY food I would eat was Campbell's Turkey Vegetable Soup, undiluted – yes, right out of the can.  To this day I don't understand how my mother even discovered that it was the only food I would eat – desperation maybe, trying to find something her picky child would eat!  Mom??
She was reassured by the doctor that I would survive and as long as I was healthy not to worry – guess I turned out o.k.
With all those cold Wisconsin winters I endured as a kid tomato soup and grilled cheese was a frequent lunch and sometimes even dinner at our house.
Now that I am older and wiser and not quite as picky of an eater (o.k. I still do have some food issues!) I still love tomato soup and grilled cheese – just a more sophisticated version.
Remember all those tomatoes  I am being overrun with? This week, in addition to a few other tomato dishes that I'll share next week,  I made tomato soup – Fresh Tomato and Herb Soup.  This is actually one of the very first recipes I shared when I began my blog a year ago.  Since it is one of my favorites I figured it was worthy of a repeat and the first time I posted it I didn't include a photo.
To make the soup even a little bit more grown up I love to top it with Gorgonzola cheese and pine nuts
Tessa and I enjoyed the soup for dinner last night (Jim was out of town, but I saved him some leftovers).  I made our grown up version of grilled cheese too – no plastic wrapped squares of American cheese and white bread like when I was a kid.  I used cheddar, swiss and provolone and then used asiago cheese focaccia bread from Safeway for the 4th cheese and cooked them on the panini grill – aren't I sophisticated!
A perfect combination!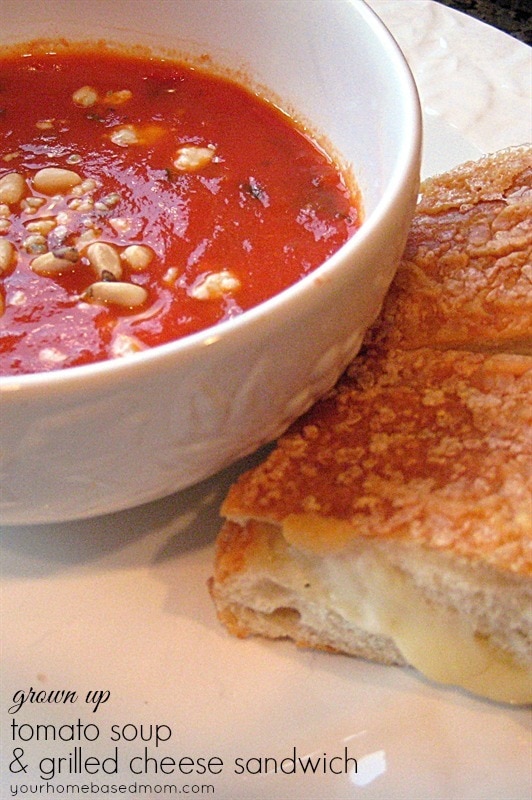 Grown Up Tomato Soup and Grilled Cheese
Ingredients
1/4

C

olive oil

1

garlic clove

minced

1

shallots

minced

4

C

of vine-ripened tomatoes

diced

1/4

C

chopped fresh flat leaf parsley

4

C

tomato juice

1/4

C

chopped fresh basil

1/2

C

sliced green onions

1/2

C

cream

salt and pepper to taste
Instructions
Heat the olive oil in a heavy pan over medium heat.

Stir in the garlic and shallots.

Cover and cook for about 8 minutes or until the shallots are tender and opaque.

Stir in the diced tomatoes, parsley and tomato juice.

Simmer the soup for about 20 minutes, stirring occasionally

Add the basil and green onions, and simmer for about 10 minutes.

Puree the soup in a food processor or blender (let it cool first to avoid an explosion!)

Pour the pureed soup back into the pan.

Add the heavy cream and season to taste with salt and pepper.

Garnish with Gorgonzola cheese and pine nuts
Get my Weekly Menu Plan for FREE!
Receive my FREE "What's for Dinner?" Meal Planning Course, a copy of my FREE ebook that includes my most popular recipes and my FREE weekly Meal Plan.