I was recently asked to contribute a recipe to a cookbook that was focused on favorite family recipes.  Recipes that were part of your family traditions.  So I texted my kids to ask them what were some of their favorite recipes from home.  They each sent me a list but there was a common denominator on everyone's list – Overnight Waffles.  It may just be our family's all time favorite recipe of all recipes
These waffles are also a very important part of our family's birthday traditions.
I thought as my children got older that some of our family birthday traditions would begin to seem too silly -that they would think they were "too old",  but I was wrong.
Our birthday person's day begins with the whole family standing outside of their bedroom singing Happy Birthday.  We stand outside the room because the doorway has been covered in crepe paper.  After being awakened by our melodious strains the birthday person gets to jump through their doorway, tearing down the crepe paper.
They then return to their bed and they are served their favorite breakfast on a tray.  The birthday breakfast of choice at our house is Overnight Waffles with strawberries, whip cream and Cinnamon Syrup.
Here's
This was during her "cherry phase" – note the cherry pajamas and the cherry hat hanging on the bed.
Years ago family friend, Merill Watts, shared his Overnight  Waffle recipe with us and it has truly been a family favorite ever since.  It is the ONLY waffle recipe we make and probably ever will make.
The only trick with it is you have to remember to make it the night before (thus the name Overnight Waffles).  It has yeast it in and it raises overnight.  This is actually a benefit as it makes prep work in the morning so much easier.   The majority of the recipe is mixed up the night before, covered with plastic wrap and left to rise over night on the counter.  No refrigeration necessary.
The yeast also makes a light and crispy waffle.
All you have to do is add in some eggs and baking soda in the morning and you are ready to go!
Overnight yeast waffles are best cooked in a Belgian waffle maker – it is deeper than a regular one.
We love them covered in fresh berries, whip cream and homemade cinnamon syrup but they are great just with plain old maple syrup too!!
Everytime my kids come home for a visit I will text them and ask them what they want me to fix when they are home.  The first response I almost always get is "Overnight Waffles!"
They are a light and crisp waffle and the tang of the yeast gives them a great flavor.
Do you have certain traditional birthday foods?'
Other family favorite breakfast ideas: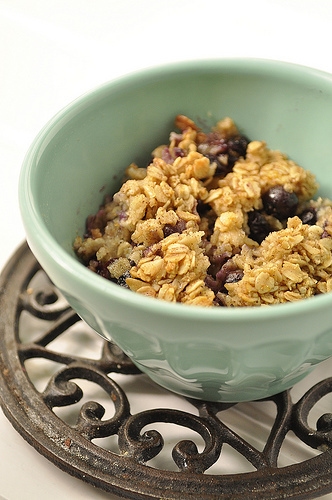 Overnight Yeast Waffles
Ingredients
1/2

cup

warm water

1

package dry yeast

2

cups

milk

warmed

1/2

cup

butter

melted

1

tsp.

salt

1

tsp.

granulated sugar

2

cups

flour

2

eggs

1/4

tsp.

baking soda
Instructions
Use a big mixing bowl (the batter will rise to double its original volume.)

Put the water in the mixing bowl and sprinkle in the yeast

Let stand to dissolve for 5 minutes

Warm the milk on the stove (I just add in the butter so it is melting as the milk warms)

Be careful not to let the milk boil or get too hot

You don't want it to kill the yeast when you add it into the yeast mixture

Add the milk, butter, salt, sugar and flour to the yeast mixture and stir until smooth and blended (can use a hand beater to get rid of the lumps if needed, I usually don't need to.)

Cover the bowl with plastic wrap and let stand overnight at room temperature

Just before cooking the waffles, beat in the eggs, add the baking soda, and stir until well mixed The batter will be very thin

Pour about 1/2 to 3/4 cup batter into a very hot waffle iron

Bake the waffles until they are golden and crisp

This batter will keep well for several days in the refrigerator

Depending on the size of your waffle iron this makes about 6-8 waffles
Enjoy!
Leigh Anne
You can also visit me on Facebook, Pinterest, Twitter, Instagram
and Google+
For a list of where I Link Up each week go here
Stay Updated!
Need more recipes and creative ideas? Sign up and get a FREE copy of my ebook! Do you think your friends would love this too? Please share my blog with them. Thanks!