This Orange Cake is one of my favorite cakes.  The texture is soft and the flavor is amazing thanks to fresh orange juice and zest!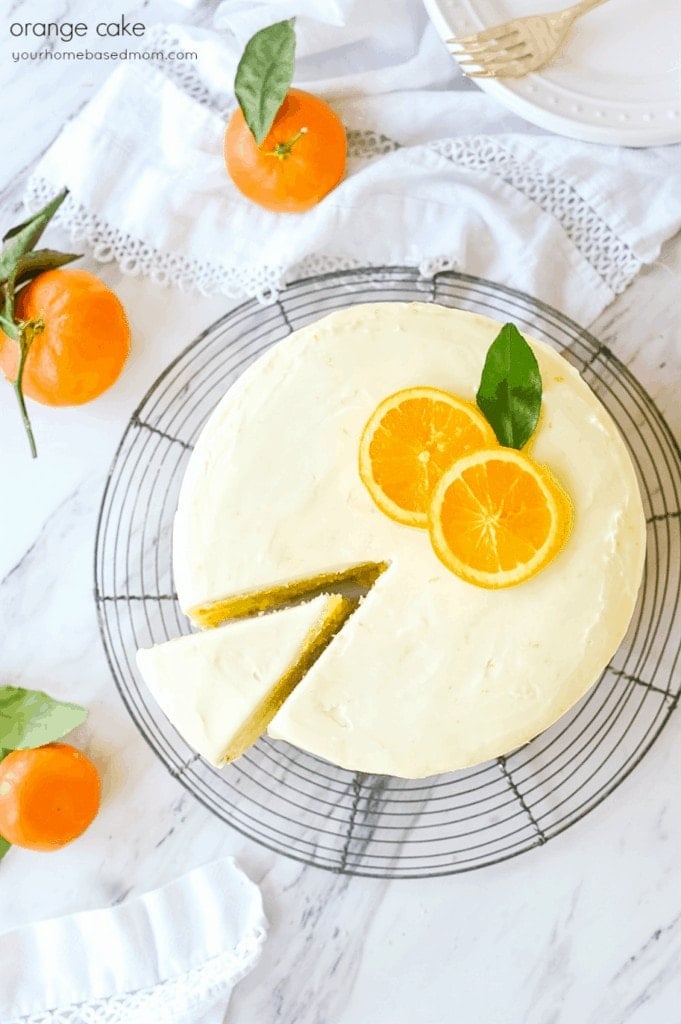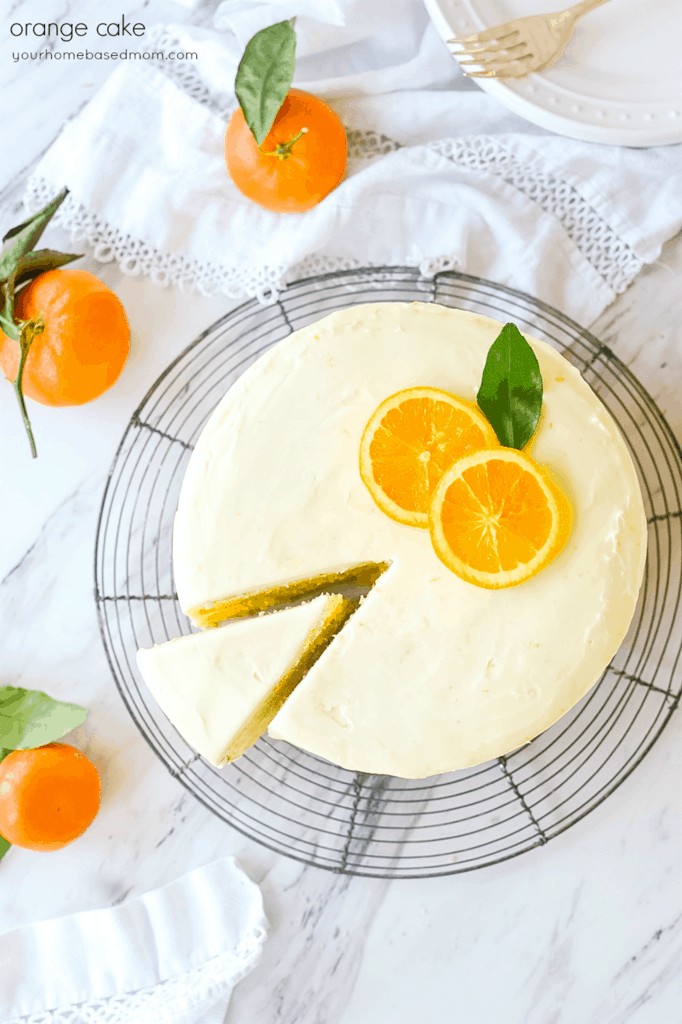 Several years ago when my mother was doing some cleaning out, she gave me a little spiral bound cookbook of recipes from a women she had known years ago named Marilyn Martell. Marilyn was an amazing cook and baker. Her little cookbook is full of county fair prize winning recipes. Marilyn has won numerous Sweepstake and Best of Show Awards and one year won 77 ribbons!!! In total she has won over 300 ribbons at various county and state fairs! This woman knew how to bake!
Several of Marilyn's recipes have become family favorites, including this Strawberry Cream Pie.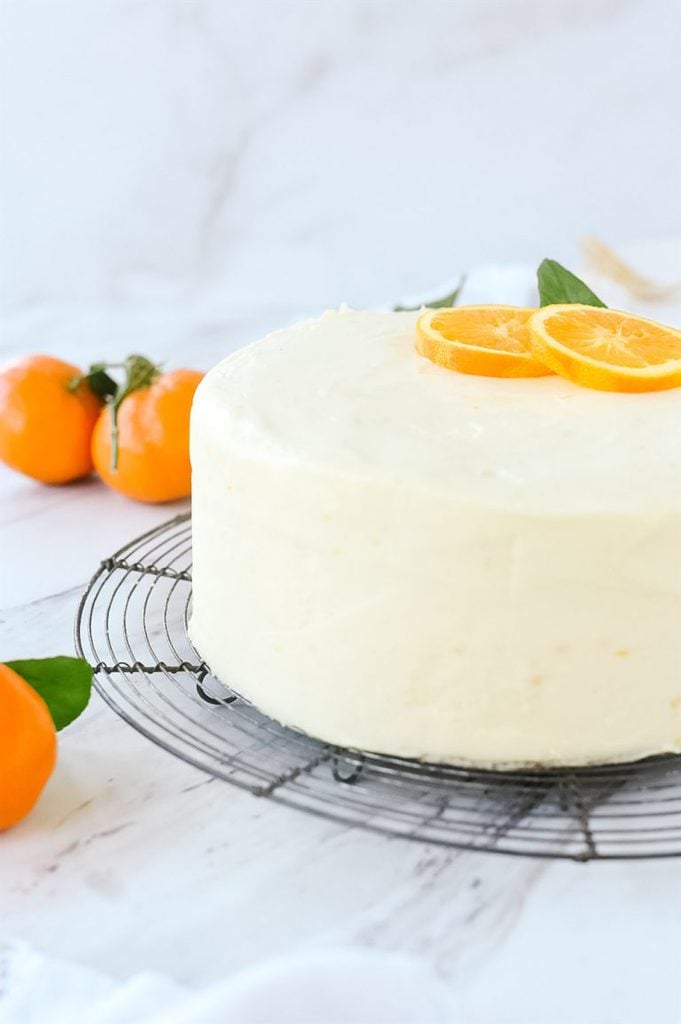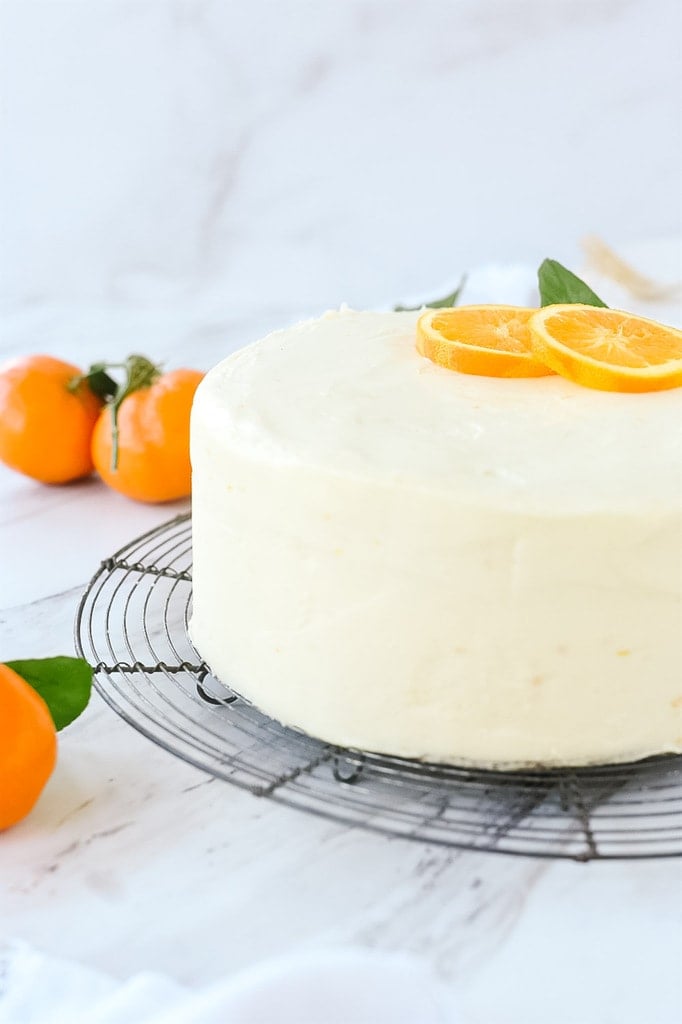 Marilyn's Orange Cake is another favorite and I think I can honestly say it is my favorite cake ever! Any cake that wins the blue ribbon at the fair has to be good ! In the description of the Fresh California Orange Cake Marilyn says that she had to bake it three times before leaving for the fairground. Practice makes perfect.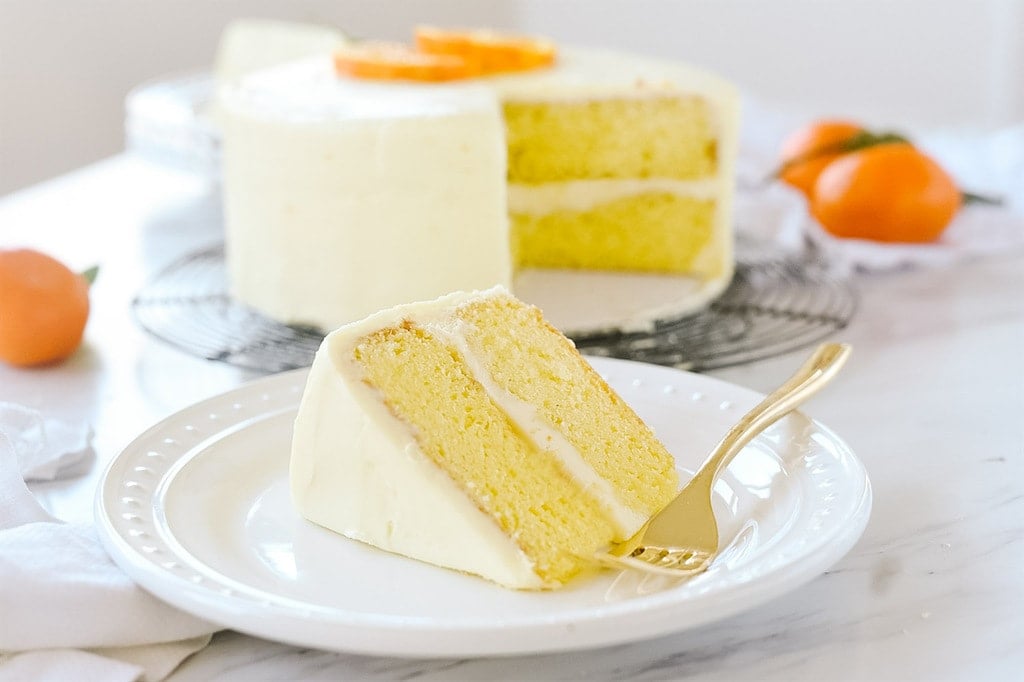 Well, I took Marilyn literally. I baked it three times too!! The first time I made it I realized, after I had put it in the oven, that I had forgotten to add the orange juice. I yanked it out, mixed in the orange juice and put it back in, not a good idea. The cake fell in the middle but tasted delicious. I was determined to do it right and the second time I forgot to wear my glasses and instead of adding 1/3 cup of butter and shortening I added 1/2 cup of each! Well, if you didn't know this, cakes fall big time when there is too much fat in them!!
I figured the third time was the charm and since Marilyn had to make it 3 times, why shouldn't I. So 12 oranges later, I found success and boy was it worth it. Note: The cake does fall slightly in the middle, even when done right so don't worry. I figure there is just more room for frosting! This cake is light and delicious. The fresh orange taste is lovely and reminds me of the orange groves in California I would smell as we drove to my grandparents home in San Gabriel.
The secret to success with this cake is using freshly squeeze orange juice along with some frozen orange juice. The fresh juice makes a difference.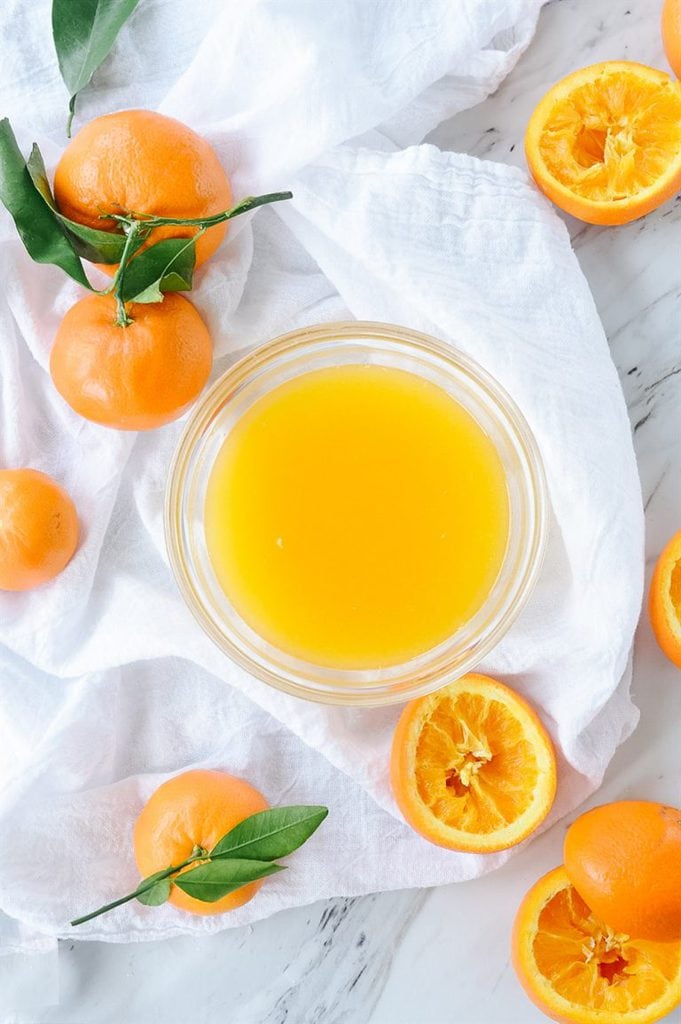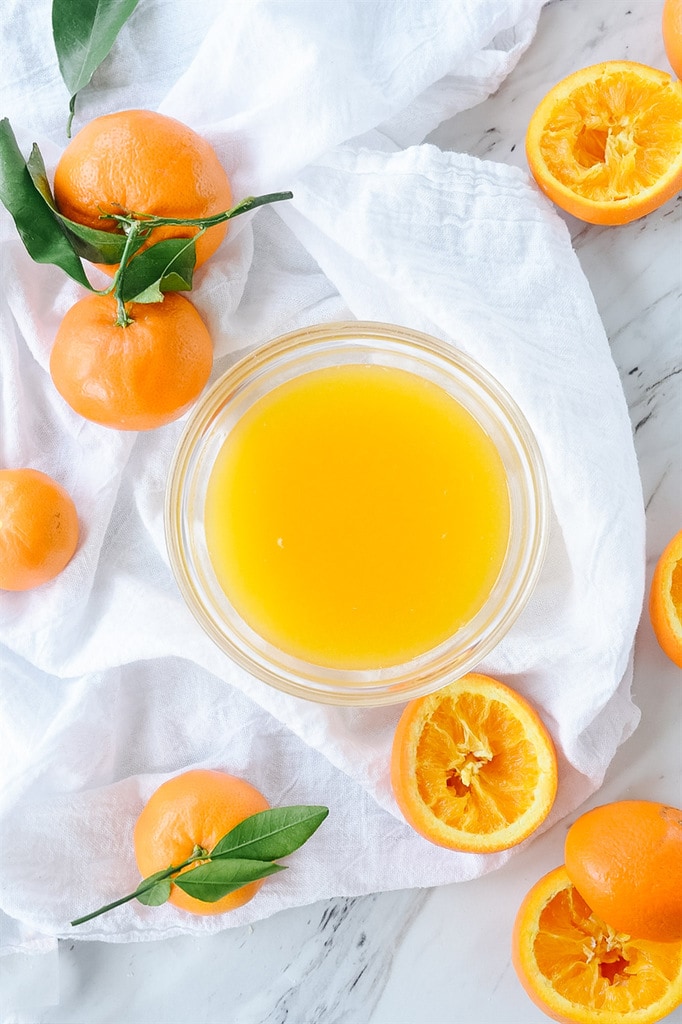 How to Make Orange Cake
You will need two 9″ cake pans. Grease and flour them. I also like to line the bottom of mine with wax paper which I also grease and flour.
This recipe uses cake flour. Cake flour will give you a more tender, lighter cake, so go get yourself some. You will usually find it in a box in the baking aisle.
One trick to a nice, tender cake is to not over mix it after adding the flour.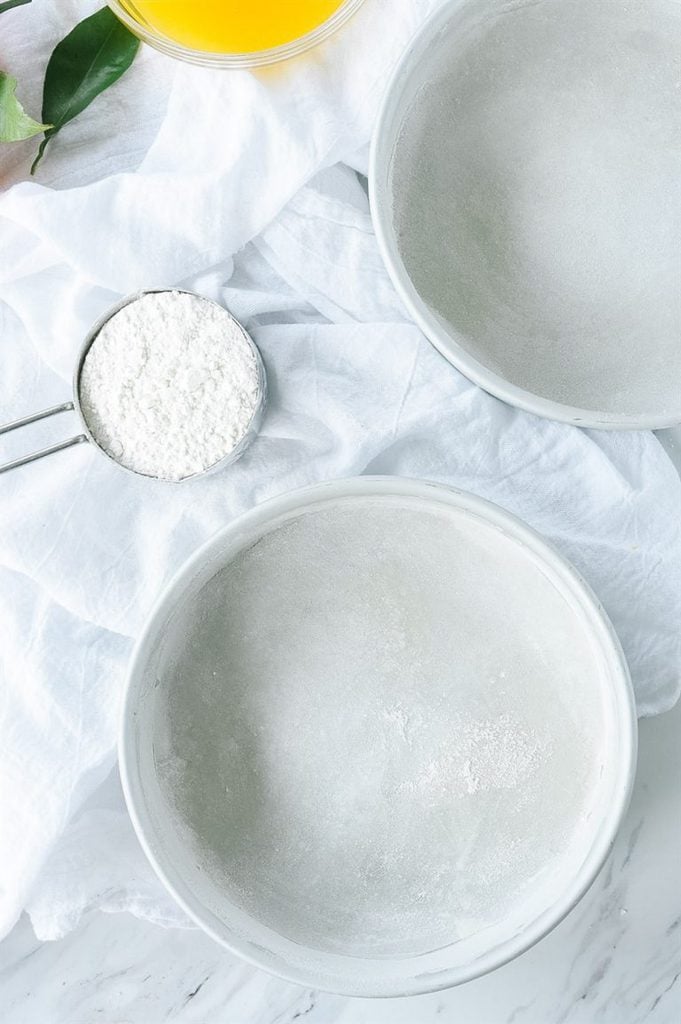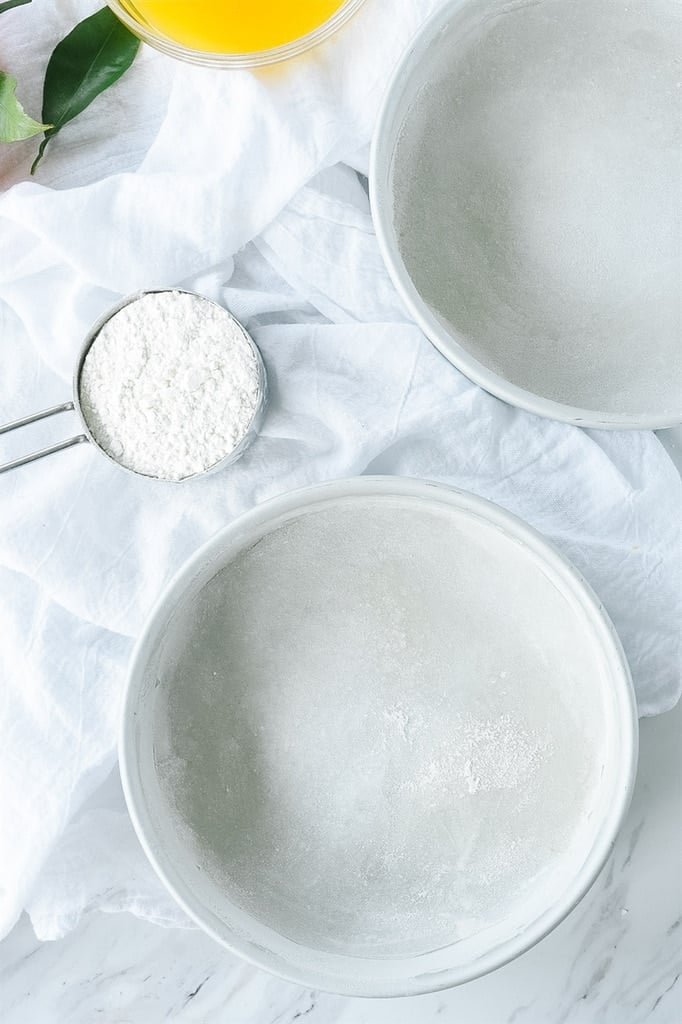 To get even cake layers, be sure and get an even amount of batter in both pans. I like to use my kitchen scale and weigh the pans with the batter in them. Add or subtract as needed.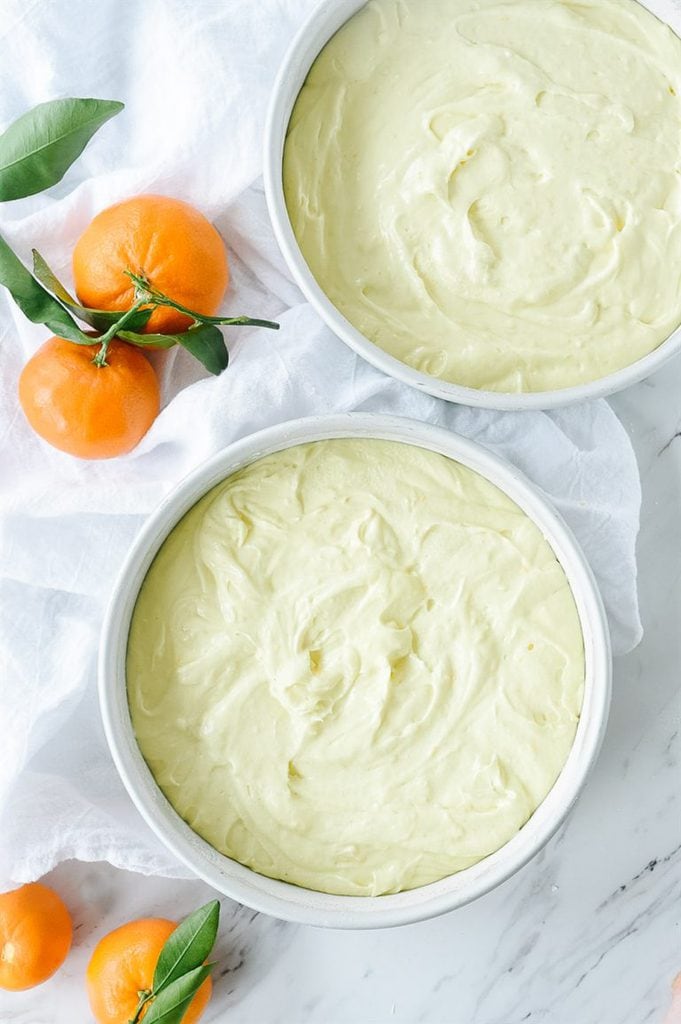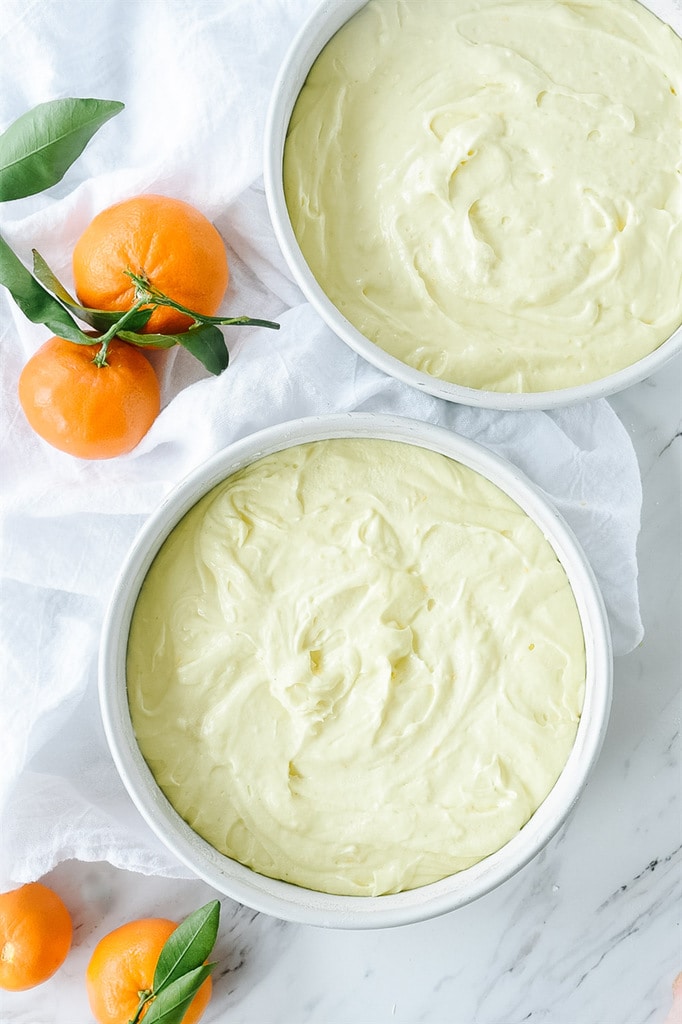 Bake until golden brown and a tooth pick comes out clean. Allow cake to cool for 10-20 minutes and then run a knife around the edge of the pan and turn upside down onto a cooling rack. Be sure and remember to remove the wax paper from the bottom of each cake layer. Don't worry if the cake falls a bit in the middle, just more room for frosting.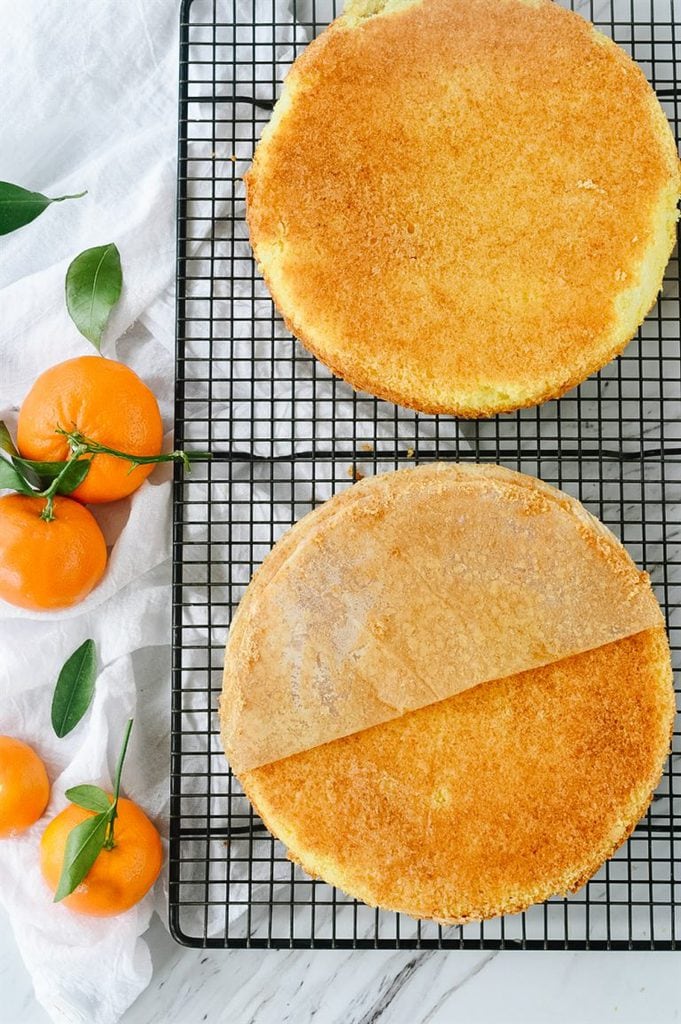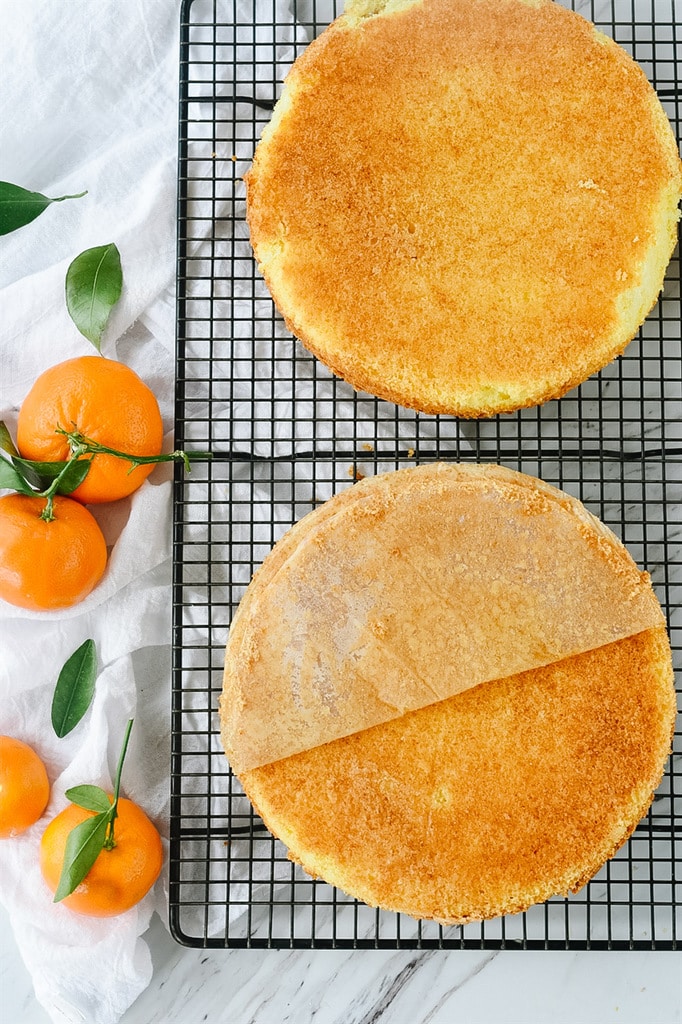 After the cake is completely cool, wrap each layer in plastic wrap so that it is air tight and freeze. Freeze overnight or at least a couple of hours. The cake will frost so much easier if it has been frozen.
Remove from the freezer and assemble the cake, adding frosting between the two layers. Then, apply a crumb coat of frosting over the whole cake. A crumb coat is a thin layer of frosting that locks in all the crumbs so they don't come through on the final layer of frosting.
After applying the crumb coat, pop the cake back in the freezer for about 30 minutes so the crumb coat will firm up. Add the final layer of frosting and garnish with slices of orange.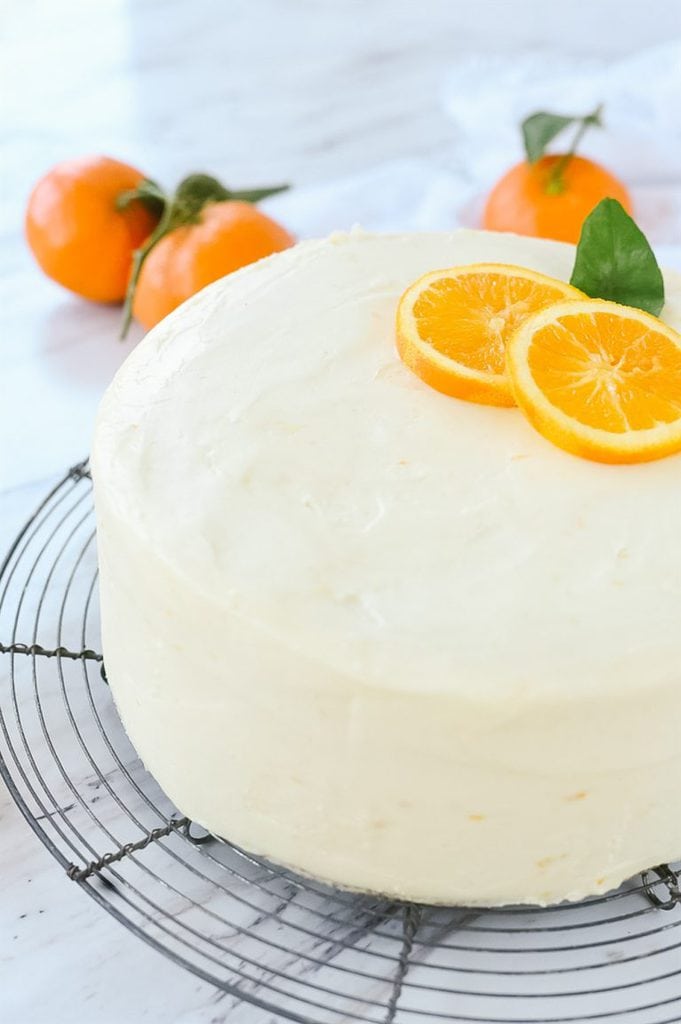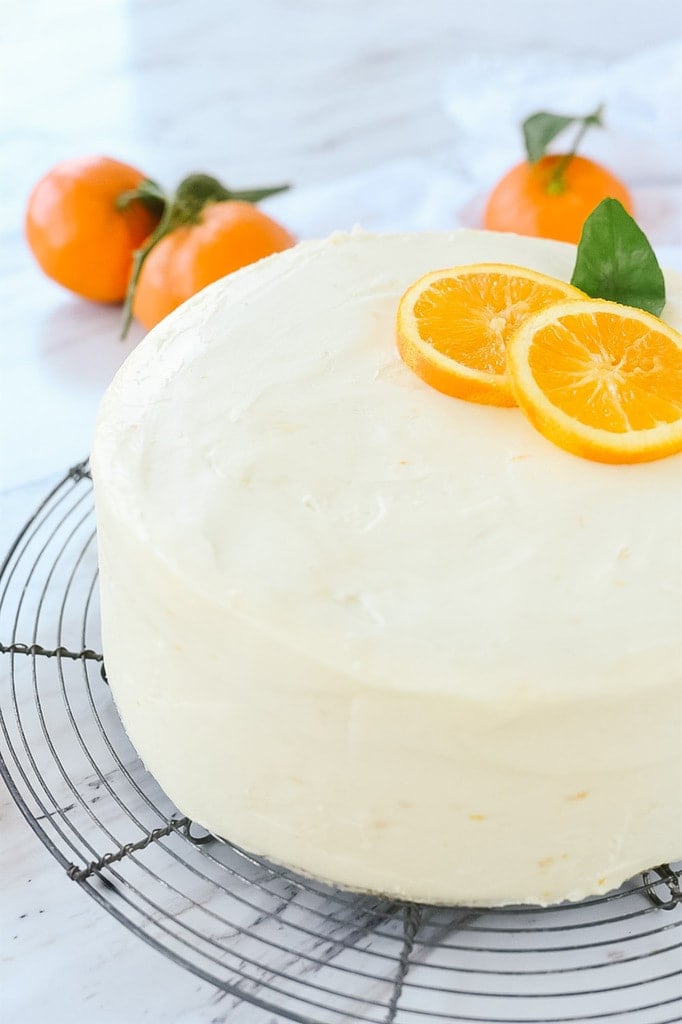 Can I Freeze Cake?
Cake actually freezes really well, frosting and all. Just be sure and wrap it up airtight in plastic wrap. You can also slice the cake into pieces and wrap each piece in plastic wrap or place in an airtight container. It will keep for up to a year, but it never lasts that long at our house.
Check out more of my favorite cake recipes:
Orange Cake Recipe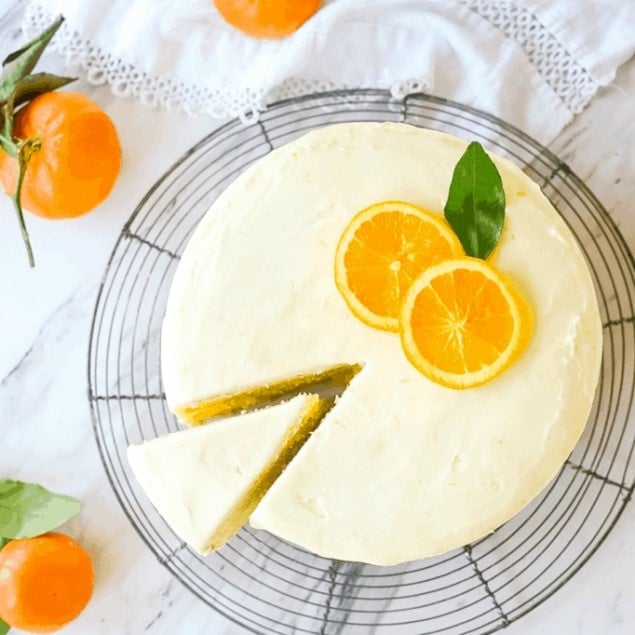 Orange Cake
This Orange Cake is one of my favorite cakes. Made with fresh squeezed orange juice, the texture is soft and the flavor is amazing!
Ingredients
1/3 cup butter
1/3 cup shortening
2 tsp orange zest
1 1/2 cup sugar
3 eggs
2 1/2 cup cake flour sifted
2 1/2 tsp baking powder
1 tsp salt
1 cup orange juice fresh squeezed, less 2 Tbsp
2 Tbsp orange juice concentrate
Creamy Orange Frosting
1/2 cup butter
4 oz. cream cheese
6 cups powdered sugar sifted
1/4 cup orange juice fresh
2 tsp orange zest
dash salt
Instructions
Cream together butter, shortening and rind

Very gradually add sugar, creaming until light

Add eggs, one at a time, beating well after each

Continue beating 5 minutes

Sift together dry ingredients and add alternately with orange juice to creamed mixture

Add in orange juice concentrate

Beat only until smooth after each addition

Bake in 2 greased and floured 8 inch round pans at 350 for 25-30 minutes

Cool 10 minutes on rack and then remove from pans and cool

Wrap cake layers in plastic wrap and freeze for an hour to overnight before frosting. (See frosting directions below)
Creamy Orange Frosting
Cream butter and cream cheese

Gradually beat in sugar alternately with orange juice beating until smooth

Stir in orange rind and salt

Add a drop or two of orange food coloring to tint a light orange

Beat until creamy and spreading consistency.

Place frosting between cake layers. Put a thin coating of frosting over entire cake, a crumb coat and then freeze cake for 30 minutes.

Add final layer of frosting over entire cake. Garnish with some fresh orange slices.
Nutrition Facts:
Calories: 652kcal (33%) Carbohydrates: 108g (36%) Protein: 5g (10%) Fat: 23g (35%) Saturated Fat: 11g (69%) Cholesterol: 85mg (28%) Sodium: 355mg (15%) Potassium: 227mg (6%) Sugar: 87g (97%) Vitamin A: 640IU (13%) Vitamin C: 17.2mg (21%) Calcium: 71mg (7%) Iron: 0.6mg (3%)
* Disclaimer: All nutrition information are estimates only. Read full disclosure here.
originally published April 15, 2010
Need some help figuring out what's for dinner tonight?
Come join our Facebook Group! Join hundreds of others who love sharing dinner time ideas. You don't want to miss out on the fun!

You'll find lots of ideas for dinner from all our awesome members and you can share your ideas too! Join the Family Dinner Table today.