Topped with a crunch streusel topping, this French Crumb Apple Pie is perfect for beginning pie makers because it only has one crust.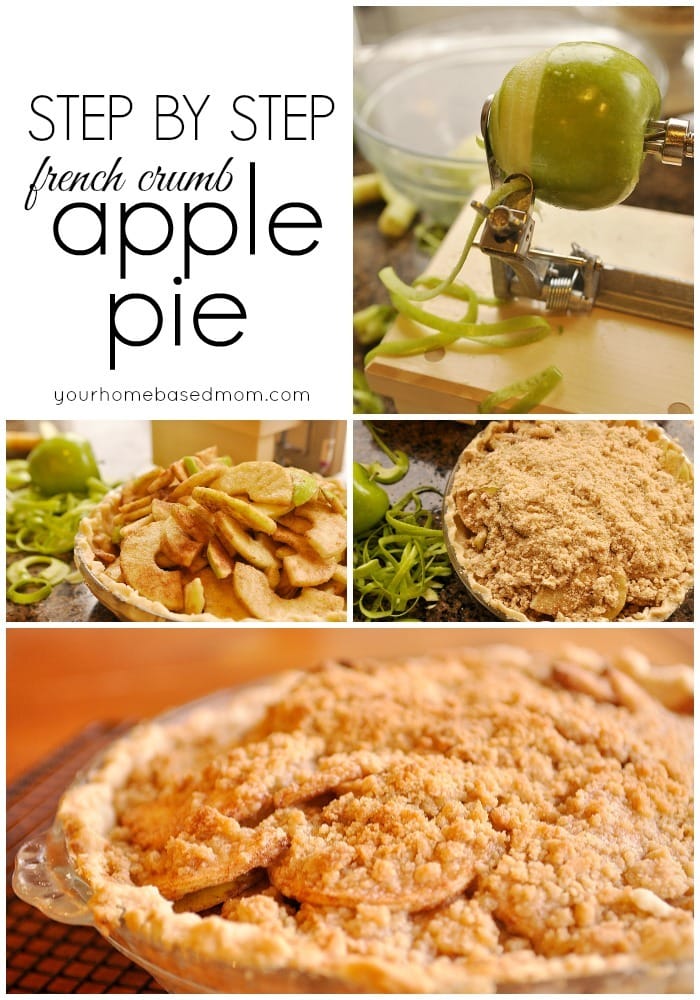 The girls I teach at church wanted to learn to do some baking. So this week we decided to teach them to make pies. Teaching 9 girls how to make a pie in one hour is a little overwhelming. My first word of advice is – get help! I have a co-leader who was there and then we asked one of the moms to stay and help and I am so glad she was there!
I wanted each of the girls to be able to go home with a pie -ready to put in their oven and bake so their family could enjoy it. Thanks to a lot of help we were able to do that.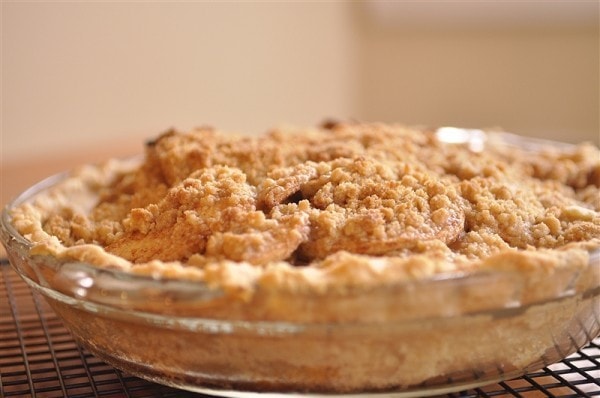 What is a French Crumb Apple Pie?
This pie is a French apple pie that is also called Dutch apple pie, apple crumble pie and apple streusel pie. Instead of a pastry crust, the pie is topped with a sweet, crunchy streusel topping. This type of pie is much easier for beginners as they don't have to deal with a top crust, only a bottom crust..
The focus of the activity was to learn how to make a good pie crust. I used my Perfect Pie Crust Tutorial and the tips I share there to teach the girls. Each of the girls brought a bowl, a rolling pin, butter, shortening and apples. I provided the flour and the other ingredients needed for the pie.
Best Way to Measure Flour
We had a little lesson on the best way to measure flour which is scoop and level. The girls weren't afraid to jump in and get their hands dirty!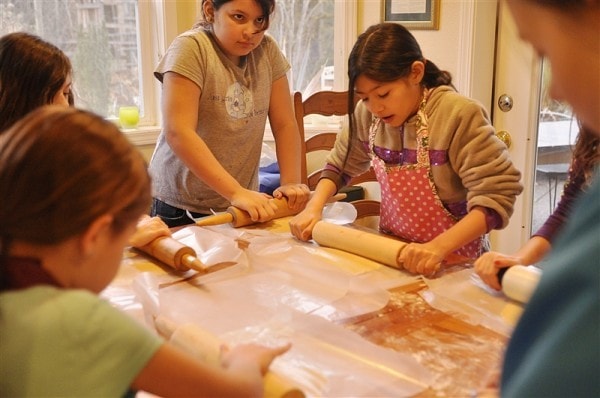 They each rolled out their own pie crust and took a turn at peeling the apples. Fortunately we had 3 apple, peelers.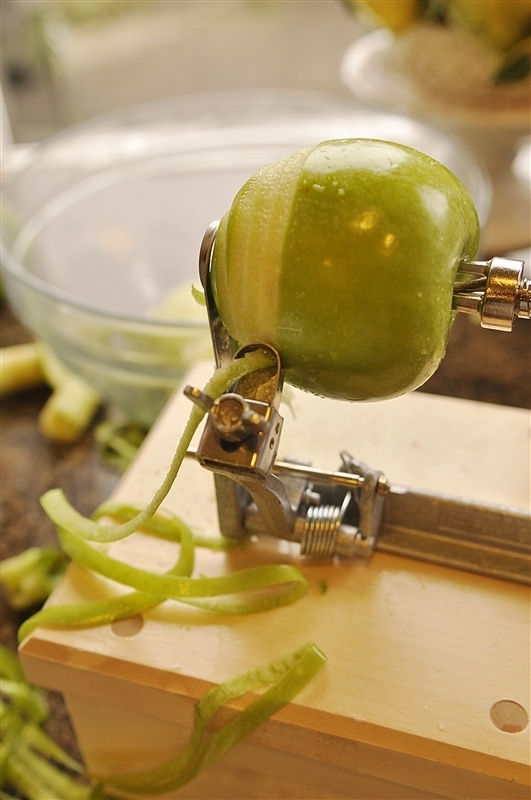 The hardest thing was to try to get the girls not to over handle their pie crust and sneak all the cinnamon sugar coated apples out of the pie!!
French Crumb Topping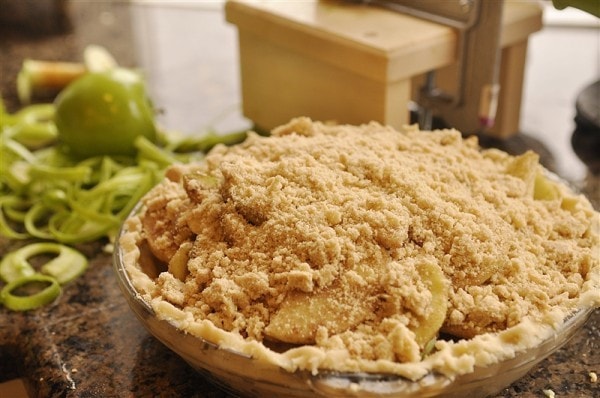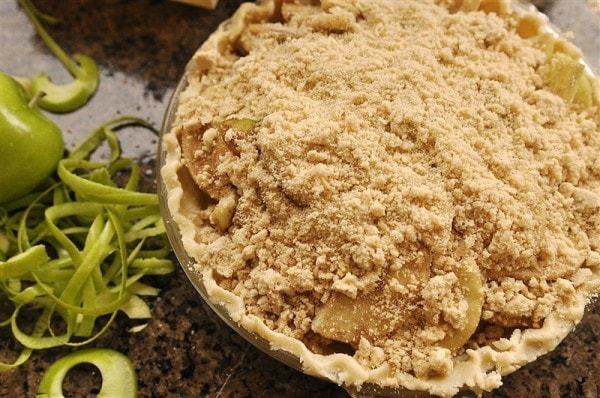 Since we didn't have time nor the space in my oven to bake 9 pies the girls took them home ready to pop into the oven. I think they were pretty proud of themselves and had a great time. Let's just say my kitchen was a wee bit dirty but the girls had fun!! The pie was delicious and was perfect with a scoop of ice cream and I got several emails from mom's letting me know how much their family enjoyed french apple crumb apple pie that night!!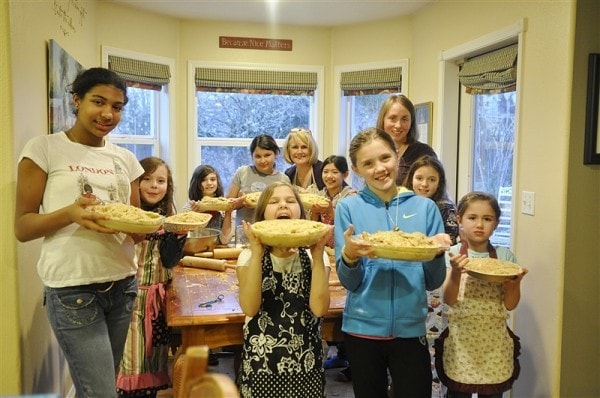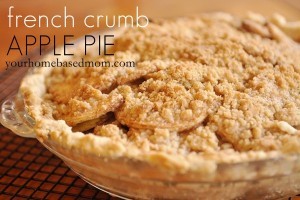 French Crumb Apple Pie
Easy and delicious apple pie with a French Crumb topping.
Ingredients
Pie Crust
1 perfect pie crust tutorial
Recipe makes two pie crusts only need one for pie
Apple Filling
6-7 C sliced peeled apples (about 7) I like to use a tart apple such as granny smith
1 tsp cinnamon
1/2 C sugar
French Crumb Topping
1/3 C butter
1/3 C brown sugar
1/2 C flour
Instructions
Apple Filling:
Combine apples, sugar and cinnamon in a bowl and toss to coat apples. Place apples in unbaked pie crust. Top with French Crumb Topping. Bake at 375 for 45-50 minutes or until apples are tender. If pie begins to brown too much cover with a piece of foil and remove for the last 5 minutes of baking.
French Crumb Topping:
Mix together butter and sugar. Add in flour and combine until crumbly. Sprinkle over the top of apples in the pie plate.
Nutrition Facts:
Calories: 708kcal (35%) Carbohydrates: 38g (13%) Protein: 40g (80%) Fat: 43g (66%) Saturated Fat: 17g (106%) Polyunsaturated Fat: 4g Monounsaturated Fat: 19g Trans Fat: 1g Cholesterol: 130mg (43%) Sodium: 2264mg (98%) Potassium: 552mg (16%) Fiber: 1g (4%) Sugar: 21g (23%) Vitamin A: 237IU (5%) Vitamin C: 1mg (1%) Calcium: 30mg (3%) Iron: 3mg (17%)
* Disclaimer: All nutrition information are estimates only. Read full disclosure here.
For some other delicious apple recipes check out these:
For all my other favorite kitchen products and tools visit my Amazon Store.
Did you know I wrote a cookbook? Check out the Holiday Slow Cooker Cookbook for 100 delicious recipes.
Be sure and follow me over on You Tube for weekly cooking demos.