I'm home.  After 24 hours of travel and no sleep I arrived home last night to my nice comfy bed.  It felt so good.
No matter where I travel in the world coming back to this particular carpet in the Portland airport let's me know I am home!  (sorry the photo is a little blurry, I was tired!)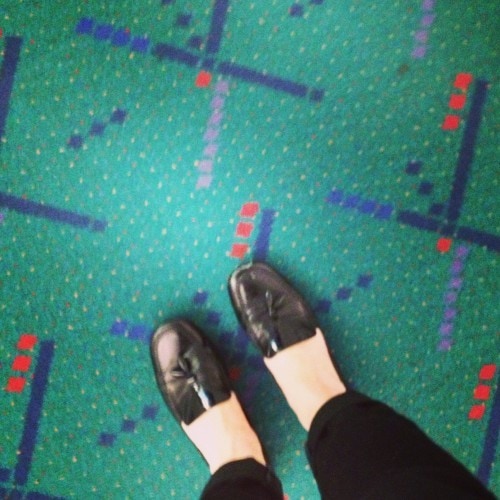 We had a wonderful trip to Paris, London and lots of fun day trips out of those two cities and I can't wait to tell you all about them.  But first I need to get a little sleep and unpack but in the meantime I'd love to see what you've been up to the past few weeks.  What pretty & delicious you have found and created.
I haven't cooked in 17 days and I'm itching to get back into the kitchen.  It's a good thing because we are hosting a wedding open house this next weekend and I'm making 7 different cakes!
Next week the party will be back to the usual and I will be featuring some of your great ideas!  Thanks for coming to the party and now let's see what you've got for me!!
Let's get this week's party started!!
It's easy – all you have to do is link up YOUR recipes, crafts, ideas, projects or fun posts to share.
Please no Etsy shops, giveaways or advertisements. Please link directly to the blog post, not your blog.
I'd love for you to share something new that you haven't shared at previous Finding the Pretty & Delicious Linky Parties!
A link back is not required but if you'd like to here is a button (or a text link is fine if you'd like but not required.)
After you link up please take the time to visit some of the other links (at least two please) and HAVE FUN!
Next Saturday I'll be back to share some of the links that caught my eye and you can link up again
Stay Updated!
Need more recipes and creative ideas? Sign up and get a FREE copy of my ebook! Do you think your friends would love this too? Please share my blog with them. Thanks!