Last weekend was an important weekend for members of The Church of Jesus Christ of Latter Saints.  It was our semi-annual General Conference which is broadcast from Salt Lake City across the world.  Twice a year we have the opportunity to listen to and learn from the leaders of our church.
I look forward to this weekend and not just because I get to enjoy yummy cinnamon rolls.
I have a special notebook I use for inspirational thoughts, quotes and ideas and I pull that notebook out twice a year to record quotes, thoughts and ideas I hear during the conference.  I love rereading through my notes during the six months before the next General Conference.
Today I am going to share with you two of my favorite quote .  I hope you enjoy them too.  I'd love to hear what one of your favorite inspirational quotes is – something that gives you hope and motivation.  Just leave a comment below and let me know.
It is hard to pick one favorite quote from this past conference but I did – for you.  This quote is from our Prophet Thomas S. Monson and I encourage you to read the whole talk entitled "Ponder the Path of Thy Feet"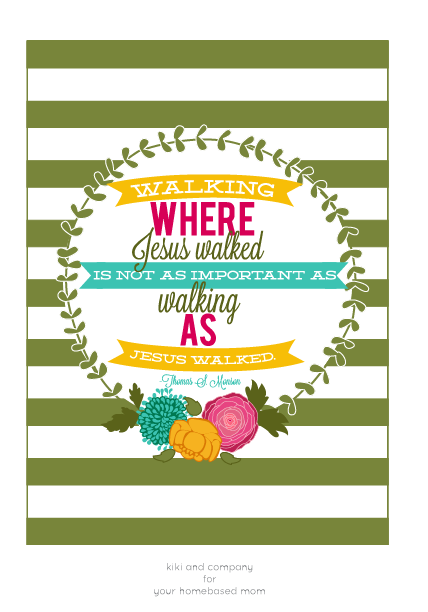 This beautiful printable was made for all you by Kiki and Company.  Be sure and visit her blog and check out all her other beautiful work.  She recently shard one of her favorite quotes with a printable.  Be sure and check it out.
See below to download his quote.
I have another quote I have loved and thought of often that didn't come from the most recent conference but came from the conference our church held in April of this year.
This quote is from one of my favorite church leaders, Elder Dieter F. Uchtdorf and comes from a talk entitled "Grateful in Any Circumstances."   This talk really impacted me.  Like so many people I have found myself in certain circumstances or times of my life where I have found it hard to be grateful, to find something to be thankful for.  But as Elder Uchtdorf encourages us, there is always something to be grateful for.  We may have to wait for it like we have to wait for the rainbow after the rain, but it will come.  Please read this talk.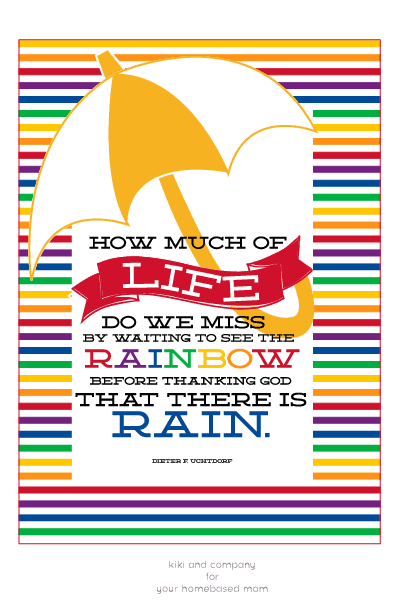 You can download both of these wonderful 5 x 7 printables here.
I would love to hear what one of your favorite quotes is.  Please leave a comment and let me know.