These truly are the easiest ever bbq ribs and they are guaranteed perfect every time!
This recipe was originally posted back in June of 2009 so it was in sore need of a redo.  It was fun to relook at this post.  Jim has a little more hair and is a little younger (and so was I although I still have the same amount of hair) and I had all four kids at home.  We made them for Father's Day and since Father's Day is this week I thought this was the perfect time to repost them!
Here's the original post with new photos!
We celebrated Father's Day on Sunday, two weeks early.  We wanted to celebrate while all the kids were home.
Jim didn't seem to mind since he got to have all of his kids with him!
And besides having all four of his children with him we fixed him a feast fit for a King.  In fact all three boys agreed that on the Man – O – Meter (which goes 1-5) this meal was off the charts!
On Memorial Day we had stopped by some friends, Rod and Carmen's, to deliver something.  They were in the middle of a big family barbecue.  Being the lovely, gracious people they are they invited us to join them.  I am so glad we did.
Rod and his son Greg had fixed barbecued ribs for dinner and they were amazing.  We were licking our lips and our fingers – yum!! I couldn't wait to recreate them and I knew Father's Day would be the perfect opportunity.  Thanks to Greg's wife, Tracy I now know how!
The amazing part is they are so simple!  Our friends recommend using the  Pork Loin Back Ribs from Costco and your favorite barbecue sauce.  I used the Sweet Baby Rays from Costco also.
Step One:
Boil the ribs for one hour in a large stock pot full of water and a 1/4 cup of vinegar.  I used apple cider but you could use white vinegar also.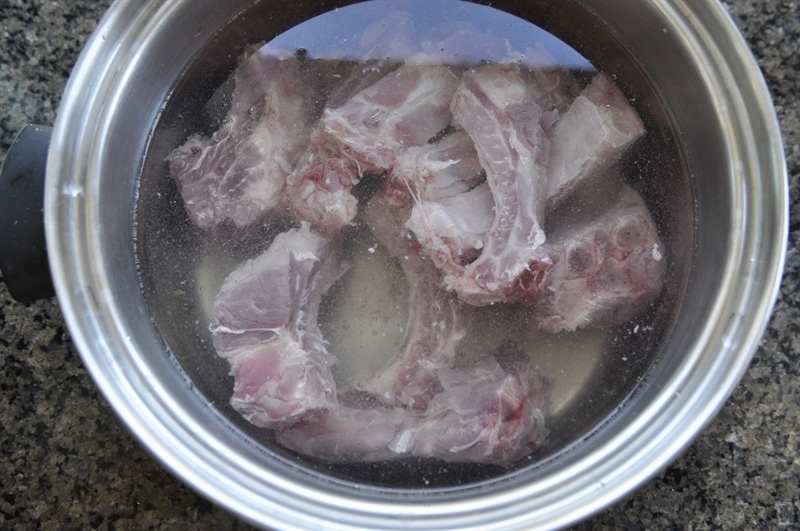 Step Two:
Remove ribs from water  and cover with barbeque sauce
Step Three:
Logan was the grillmaster at our house. Grill until glazed, gooey and yummy!    Turn several times and coat with more sauce.   Grill about 15-20 minutes.   Tracy told me that her kids have even eaten them without putting them on the grill – they are so tender when they come out of the water you can just add sauce and eat!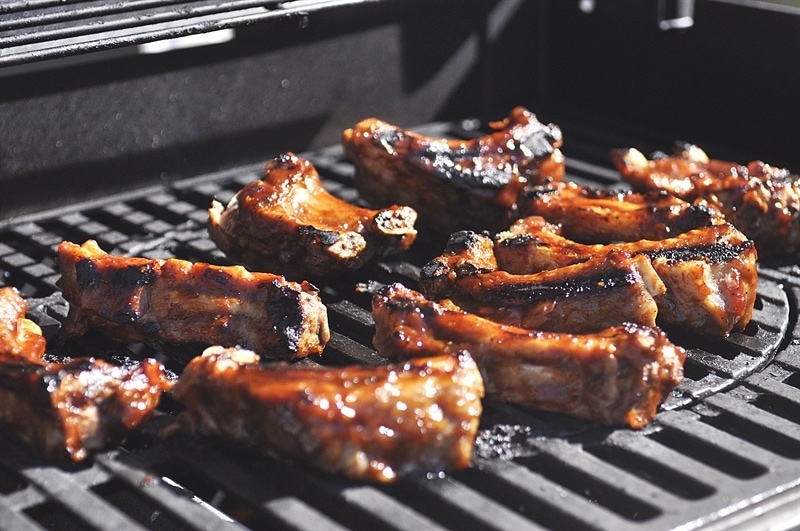 Step Four:
Serve and enjoy!  Clark sure enjoyed them!  In fact there were 10 ribs on his plate when he was done!!
So if you are looking for some menu ideas for Father's Day that are sure to please the men in your family here is our off the charts Man – O  – Meter meal!
For dessert,  Jim requested something with strawberries so while we were at the Farmer's Market on Saturday we bought some fresh picked Hood Strawberries and made this….
It was divine – Strawberry Pie.  The same thing I made him for Father's Day last year.  I guess it's a tradition now!  We ate every last crumb and were tempted to lick the pie plate!  I think  I must have complimented myself on how good it was  two or three times – or maybe it was more….
[wprm-recipe id="52219"]
For some other delicious rib recipes check out these:
Easy CrockPot BBQ Ribs – Easy Oven Baked BBQ Riblets  – Slow Cooker Balsamic Short Ribs
Get my Weekly Menu Plan for FREE!
Receive my FREE "What's for Dinner?" Meal Planning Course, a copy of my FREE ebook that includes my most popular recipes and my FREE weekly Meal Plan.