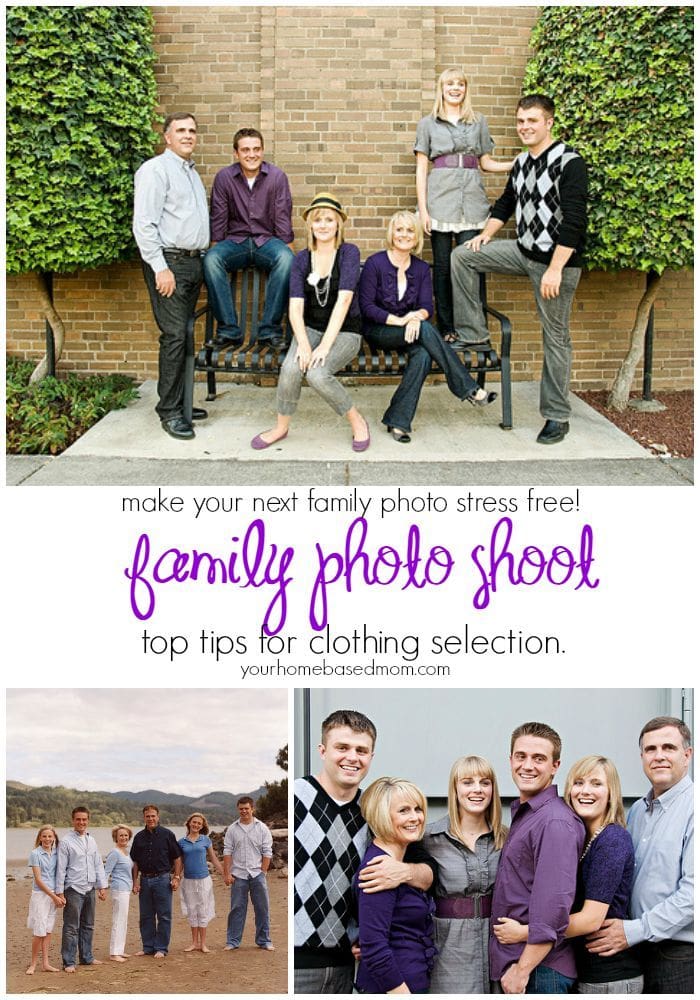 Believe it or not my favorite part of having a family photo taken is picking out what everyone is going to wear!
I look at it as a creative challenge.  I have always loved working with clothes.  In the 5th grade I learned to sew in 4-H and made the majority of my own clothes from that point on until I was married with a couple of children!  I loved my summer job of working in a dress boutique and then decided to carry on my love for clothes when I majored in Clothing & Textiles in college!  And having been a Creative Memories consultant  for 19 years I have seen A LOT of family photos!!!
Over the years of clothing our family for numerous family photos (We have 16 different family portraits hanging in our Wilkes Family Gallery) I have learned a few tips and techniques for making everyone look like a cohesive group without looking matchy, matchy and boring!
The first step is to choose a color scheme.
I usually base this decision on what the fashionable colors are that year or the location of the photo shoot.  This year purple and grey are the in colors so I knew I could easily find clothes in those colors and it's a great combination!  I used the purple and grey with black and denim.  I really consider denim to be a non-color, a neutral.  We were also having an urban background for our photos so I thought those colors would work well.
Choose a formal or casual style of clothing – mixing styles does not work well (i.e. dad in a suit and son in a t-shirt and jeans) I usually let the location of the photo shoot help determine the style of clothing.  When we had our family photo taken at the beach we went with a casual jeans, blue and white color scheme.
When we had our photo taken outdoors with the fall leaves we also went casual with earth tones. (o.k. so the striped vest on me is pretty ugly!)
We tend to leave the more formal attire to the studio shoots.
Avoid sharp contrasts in clothing and match-matchy clothing – i.e. everyone in black t shirts and khaki pants.  By adding in the small patterned  sweaters on the girls in the photo below we softened the contrast of the black and khaki.  Having everyone in the same style black shirts and khaki pants is slightly boring and it also causes the eye to go to the bodies and not the faces.  Adding in a small amount of texture and small pattern can break up the monotony and create some interest.  Although everyone is in black and khaki in the photo below it is in different combinations.  I'm in all black,  Jim and Logan are both in black pants and khaki sweaters but they are different styles and textures.  The girls are in matching outfits but since there are only two of them and four of us – it works without looking overly matchy, matchy.
Select a foundation piece.  That foundation piece is usually what I am going to wear for the picture – mommy needs to look good!  In this year's picture we had a combination of denim, purple, grey and black clothing.  Tessa's outfit is grey and Jim's shirt is grey but a lighter shade and a very tiny check.  I am in purple as is Logan and Cali but they are varying shades of purple which creates interest as does the ruffle on my sweater but without being overwhelming to the photo and distracting form people.  Clark's argyle sweater, while being a larger pattern, works well.  I don't know what it is about argyle but it really works.
The fact that we were in an outdoor urban environment (we are actually standing in front of a dumpster!) also lent itself to more interest and pattern in the clothing.
The Squint Trick:  one trick I use to make sure nothing I have selected for anyone to wear is going to overpower anyone else is to lay it all out on the bed and then squint.  It's a trick I use when selecting fabric for a quilt too.  You want the colors to blend and compliment one another without being overpowering.  If anything sticks out while squinting you want to get rid of it – find something else.
When the children were younger and even a little older I picked out what everyone wore in our family photo.  O.K., I admit it I have pretty much picked out what everyone was going to wear in every family photo we have ever had taken!  But this year I wanted the photo to be more reflective of their individual personalities – the people they had become. Although I did retain veto power!
This required a little bit more work on my part because I had to take them each shopping to pick out what they were going to wear. A trip to Forever 21 took care of Tessa. Her highly developed fashion sense is reflected in the cute little cream colored skirt she put under her shirt, over the top of her jeans and the big wide purple belt shows off her teeny, tiny waist!  Clark picked out his sweater when we were at H&M in Seattle.  I did pick out Jim's shirt from Eddie Bauer and Logan's from the Gap.  I needed one of the boy's in a purple shirt and there was no way Clark was wearing purple.  Logan, my more cooperative child, liked the shirt! Cali was a bit more of a challenge.  It took numerous trips to various stores before we nailed her selection down.  We threw the yellow hat in at the last minute for fun because it is so reflective of Cali's fun personality.  I thought it worked great in the photos!
 Avoid overexposure of skin. Remember that the most important feature of a family photo is everyone's lovely face!  Your eye is automatically attracted to flesh so avoid low cut clothing and sleeveless tops.  You want to keep people's eyes on the faces and off those other areas!  Exposed flesh makes you look bigger so keep that in mind too!
Large Group Tips – another consideration in clothing selection is the number of people in your photo.  For a family photo like ours you can add in some pattern without it being too distracting.  If the family photo was a large group of people – more than 8 or so, numerous people in prints or patterns could be extremely distracting.  For a larger group I would go with variations on a theme – everyone in the same color scheme but just vary the shade/tone of the color and the style of the clothing.  Don't put everyone in white polo shirts and jeans – instead have some people in white polos, white button downs, frilly white blouse with varying shades of denims.  Even adding in a few white bottoms in a skirt etc. with a white or blue top will create cohesiveness without distraction for a large group.
Don't forget your shoes.  They will show in some of the photos and you want to make sure they coordinate with your outfits.
Remember – darker colors are more slenderizing than lighter colors!
Also avoid any type of writing, logo etc. on a shirt.  The first thing your eyes will see is the word GAP running across little Jimmy's chest!
I hope these tips help the next time you have a family photo taken.  As an added bonus to Meg's generous giveaway of a free Lifestyle Session I am going to add in a little something!
Whoever wins Meg's amazing giveaway will also win a free Family Photo Clothing Consultation by me!  You can email me photos of the clothes you have selected and we can talk over the phone!  ($40.00 value) or if you are local and close by we can do it in person.  We want to make sure you are all looking your best for your photo shoot with Meg!
If you don't win Meg's giveaway but are interested in a Family Photo Clothing Consultation leave me a comment or contact me through my contact form above!  Cost:  $40.00