Chicken Fajitas are a quick and easy family favorite.  The flavor in this chicken fajita recipe is amazing!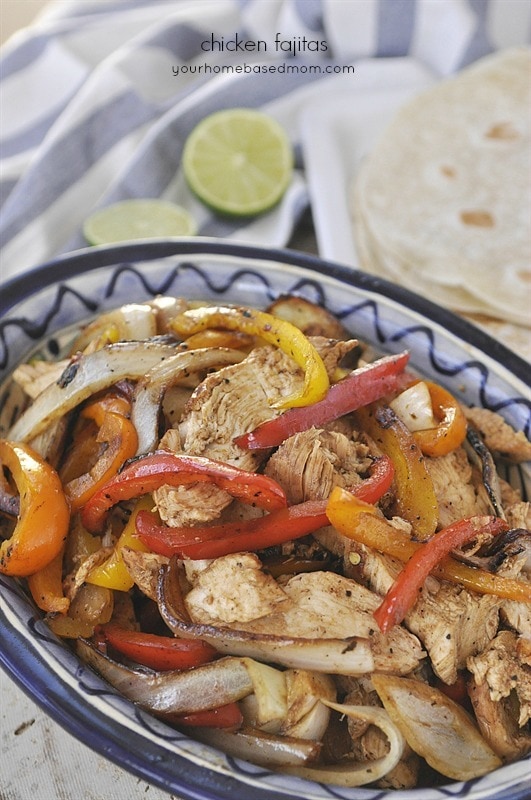 We love chicken fajitas and I have tried many different recipes.  One of my favorites is from Our Best Bites, an amazing food blog.  If you haven't visited Kate and Sara over there, you must!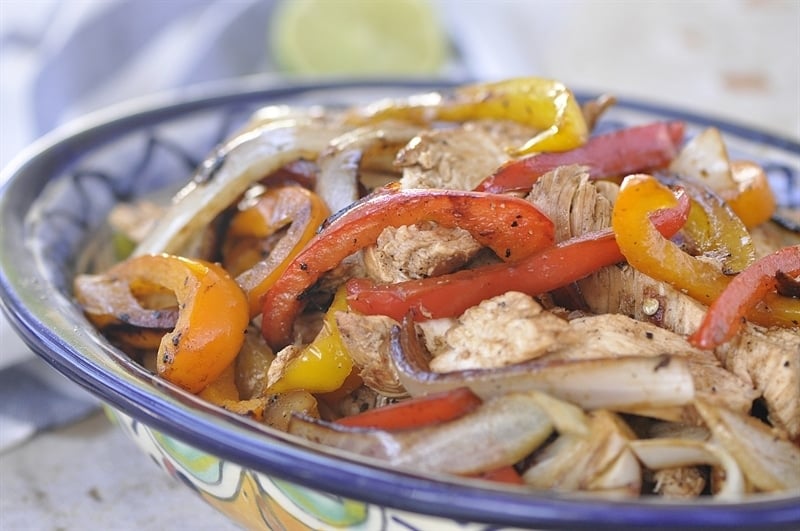 This chicken fajita recipe is on regular repeat at our house. And given that I am constantly experimenting with new recipes, that doesn't happen very often.  But these babies are just so good.  The secret is in the liquid smoke. It really adds to the grilled fajita flavor and makes this dish amazing!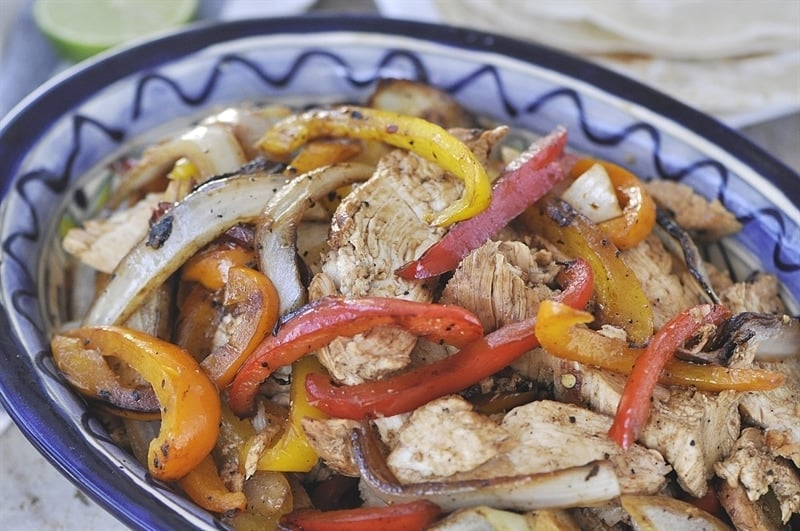 Before putting these chicken fajitas on the grill, they are marinaded in a mixture of liquid smoke, soy sauce and a great blend of spices.  Kate and Sara recommend making extra of the sauce because it is so good. And I recommend you follow their advice!  After the chicken and peppers are griled, more of the amazing sauce is poured over them.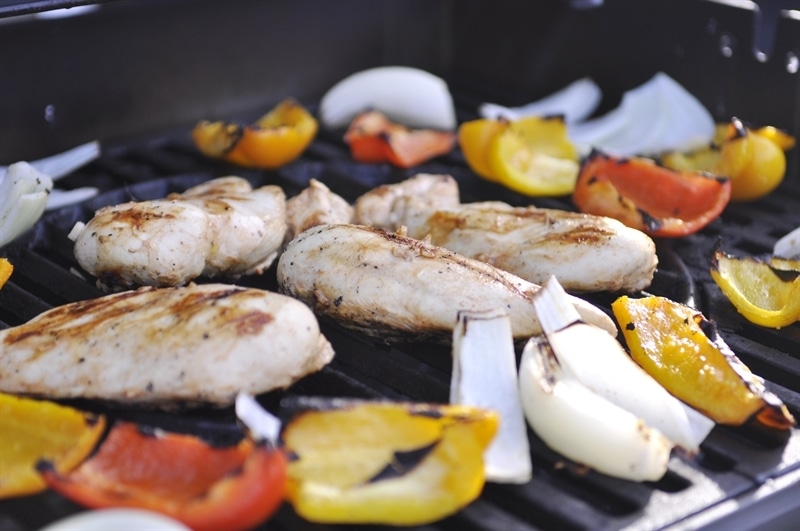 If you have time to marinade and grill your fajitas, this is the go to recipe that you should use.
Check out a few other easy fajita recipes :
Chicken Fajita Recipe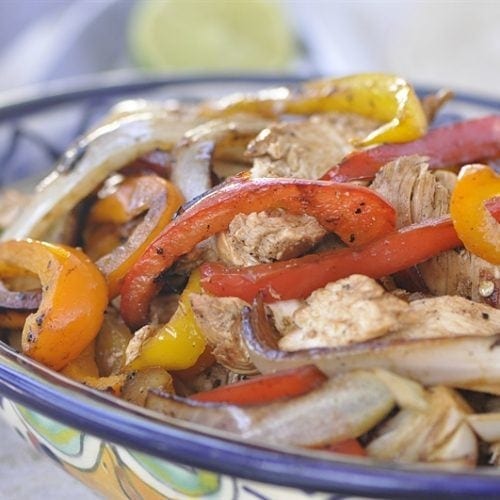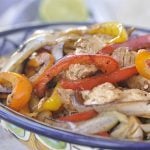 Print
Fabulous Fajitas
Delicious chicken fajitas, marinated and grilled to perfection.
Ingredients
1/4

C

fresh lime juice

1/3

C

water

2

T

vegetable oil

2

cloves

garlic

pressed or finely minced

3

t

vinegar

2

t

soy sauce

1/2

t

liquid smoke*

I used 1 tsp.

1

t

salt

1/2

t

chili powder

1/2

t

cayenne pepper

1/4

t

ground black pepper

1/4

t

onion powder

*If you're not familiar with liquid smoke

you can find it near the bbq sauces in a small bottle And please don't make this without it! It's definitely one of the key components. It makes things yummy and smoky and super flavorful. And if you're wondering, it actually is real smoke in liquid form.
For the Fajitas:
4

Boneless skinless chicken breasts

about 3-4 large ones. Steak is also great.

3

Bell Peppers

about 3 large ones I used a red, orange and yellow.

1

Onion

I used a Walla Walla Sweet Onion.
Instructions
Mix all the marinade ingredients together and place in a zip-lock bag.

Before you put the meat in, reserve a little marinade to use at the end.(about 1/4 a cup)

Then toss in the chicken or steak, and bell peppers and onions or if you want more marinade for the meat do not include the peppers and onions.

Just coat them with some olive oil and salt before griling.

Marinade for at least 4 hours, but longer if possible.

Then grill outside on the bbq, or indoors on a skillet (cast iron is best) or grill pan.

Use the reserved marinade from the bag to baste meat as you cook. (This is not the 1/4 cup you reserved)

Here are some tips from Our Best Bites to help make your fajitas truly fabulous!:

I usually double the marinade, or 1 1/2 it because I have this weird thing where I like to see my meat swimming.

Once it's all combined, immediately reserve about 1/4 cup, and set it aside.

I then butterfly my chicken, or pound it thinner, because that increases the marinade-to-chicken ratio!

I toss all of the meat in the bag of marinade, but leave the peppers and onions out.

Only reason being that I usually want all of the marinade for the meat (see above weirdness), and the veggies get a splash of it at the end with the marinade I reserved.

But if you have enough marinade, go ahead and do the veggies too.

I slice my onion into about 1/2 inch slices, and leave the slices in tact.

Then I quarter the peppers.

When they're ready to grill I toss the veggies with a little olive oil and salt and pepper if I haven't included them in the marinade

When everything is cooked slice the meat, peppers and onions into strips

Combine in a bowl and pour in the reserved marinade (do not use the liquid that the chicken was marinading in.

Serve with tortillas (I used the uncooked tortillas from Costco and cook them up fresh!)
Nutrition
Calories:
118
kcal
|
Carbohydrates:
5
g
|
Protein:
12
g
|
Fat:
5
g
|
Saturated Fat:
3
g
|
Cholesterol:
36
mg
|
Sodium:
407
mg
|
Potassium:
332
mg
|
Fiber:
1
g
|
Sugar:
2
g
|
Vitamin A:
1510
IU
|
Vitamin C:
61.2
mg
|
Calcium:
10
mg
|
Iron:
0.5
mg