I should be in bed.  In fact, I was in bed but I couldn't sleep.
Today (or yesterday when you read this), I returned from Utah where I deposited my girls back at college.  Thirty six hours after the Wedding Carnival we hopped in the car and drove 13 hours to Utah. We spent the next two days in a whirlwind getting them moved back into their apartments, unpacked, books purchased and groceries bought.
I also left behind my two boys.  One of them now settled in his first apartment with his new bride.
I was exhausted and full of emotion and I should be able to sleep.
Wednesday morning I got on a plane (leaving my car in Utah until I return in two weeks for another wedding celebration) and flew home in a sweet and quick one and a half hours.  I returned to my empty house.
I have to admit, after the craziness and whirlwind of the last couple of weeks it felt good.  The quiet.
After unpacking, I sat on my couch and proceeded to watch four episodes of White Collar and ate half a pint of Haagen Dazs ice cream.  Something I never do but I think I earned it and my body and mind needed it.  It needed to do nothing for at least a couple of hours.
But then tonight I thought, "I wonder what Tessa is doing upstairs?"  Then I realized Tessa wasn't upstairs.  Tessa wasn't home for the summer anymore.  The noise and the fun that Cali brings with her every time she is home was gone too (she had been home for two weeks.) The busyness and activity of preparing for the Wedding Carnival was over.
My nest was once again empty and quiet.
Once again we are empty nesters.  I know I can do this, I have done it before but it will take a period of adjustment.  When I was in Utah my niece was sending her baby to kindergarten.  She had cried herself to sleep the night before.  I knew how she felt.  I had done the same thing and I would cry later that night when I said goodbye to my baby before returning home to Oregon.  I assured her it gets easier and you get use to it.  You do.   You get use to it.  And there are things about it you will learn to enjoy.  Those couple of free hours each day can be nice. It just takes a period of adjustment.  There will be a lot of adjustments in store for  her in the coming years.
I know I will once again adjust to being a empty nester.  I will get use to cooking for two although I will probably be throwing away a lot of salad.  I just can't get that one down – making salad for two.  I will enjoy the luxury of not having to cook every night and just grabbing some quick take out.  I will enjoy the last minute weeknight dates to the movies or the symphony at the park like we will do tomorrow.
I will also enjoy throwing a back to school breakfast for my neighbor kids this weekend and hosting some friends for a Labor Day BBQ because I can't let my nest stand empty for too long.  I can't let my house be too quiet or too clean for too long.  The noise and the mess make me happy.
I have learned to adjust.  I will always be Logan, Clark, Cali and Tessa's mother and they will always be my children. I have now added another child to that list – Jessica, my new daughter in law.  They may no longer live at home full time but they live in my heart on a daily and hourly basis.  They are in my thoughts and prayers continually.  I am blessed to be their mother and grateful for the 27 years I had one or all of them in our home.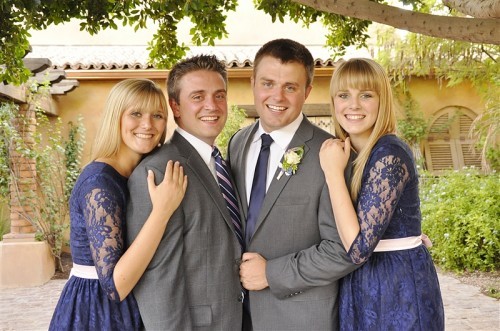 Empty Nest – I can do this!
Stay Updated!
Need more recipes and creative ideas? Sign up and get a FREE copy of my ebook! Do you think your friends would love this too? Please share my blog with them. Thanks!