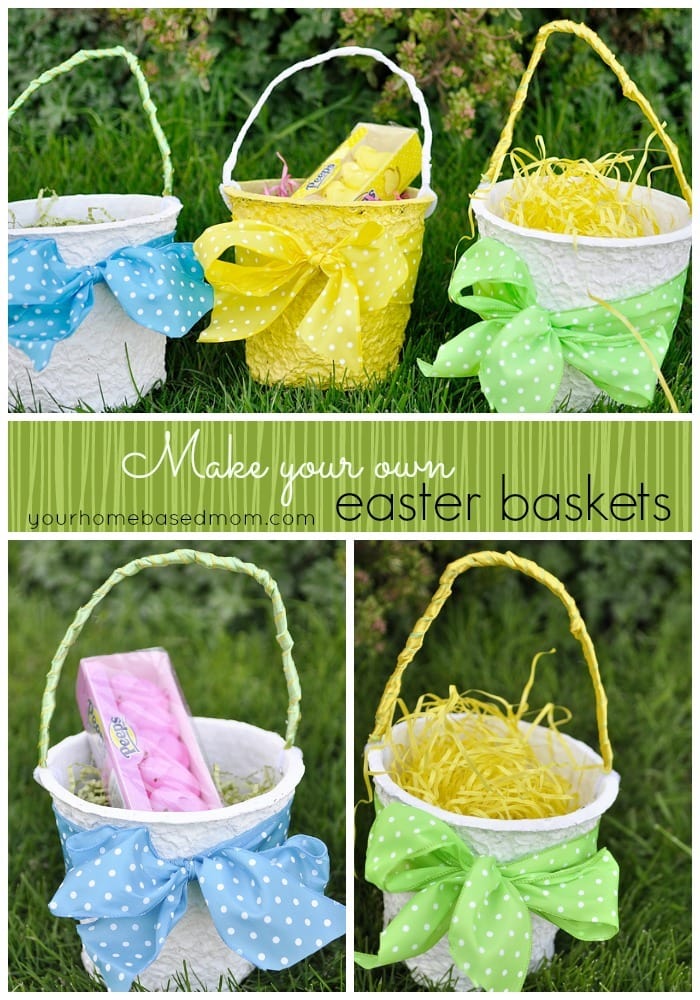 So this post is what happens when I am bored on a Friday night.
I wasn't going to post this. I figured it was too late as Easter is on Sunday and I should just save it for next year. But it just turned out too cute and like I said I'm bored – so you get two posts today!!
I had seen this idea over here. A super cute Easter photo shoot. I loved everything about the shoot but I particularly fell in love with the fun Easter baskets. They are made out of nursery pots. So I headed on over to Fred Meyer and bought me some.
I bought the six inch size and the ten inch size but decided the ten inch was just too big and I'd have to have too much stuff to fill it!!
I tried both spray paint (the yellow one) and just regular acrylic craft paint.  The material the pots are made out of is very porous so it really soaks up the paint.  I found it was easier to just use a sponge brush and paint with the regular acrylic paint versus spray paint.  Both will work but I found the spray paint soaked in a lot more and required more coats.
After it dried I used my trusty old ice pick and poked holes in the sides to make a handle.
The handle is made out of pipe cleaners that I twisted together in the middle to make it longer.
Next I tied a big bow around each pot.  The ribbon came from the Dollar Store.
And then I covered the pipe cleaner with ribbon too.  I secured the end of it with some hot glue and then just wrapped it around.
Pretty cute, don't you think!?
One for Tessa and then the other two I delivered tonight to two of my favorite little people – Owen and Addy.
Of course I had to add a few Peeps to their baskets.
So just in case you have nothing to do tomorrow…..