Do you have a surplus of zucchini in the garden?  You need this recipe for Double Chocolate Zucchini Cake!  If you don't have a surplus, I bet you have a neighbor that does!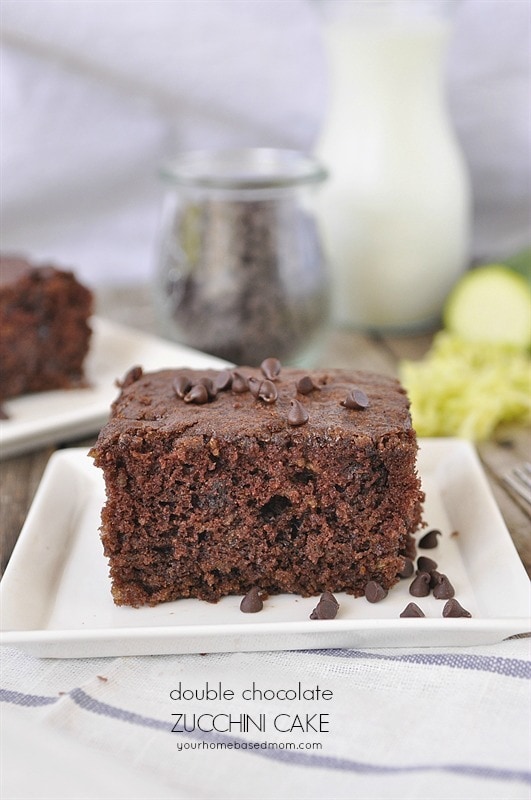 No one will ever know they are eating their vegetables with this Double Chocolate Zucchini Cake unless  you tell them.
Typically this time of year I have a surplus of zucchini and I'm scrambling to find ways to use it all and for people to take it off my hands!  Well, this year, my husband didn't plant any zucchini in the garden.  I guess he got tired of walking up and down the street in our neighbhorhood trying to get rid of it!!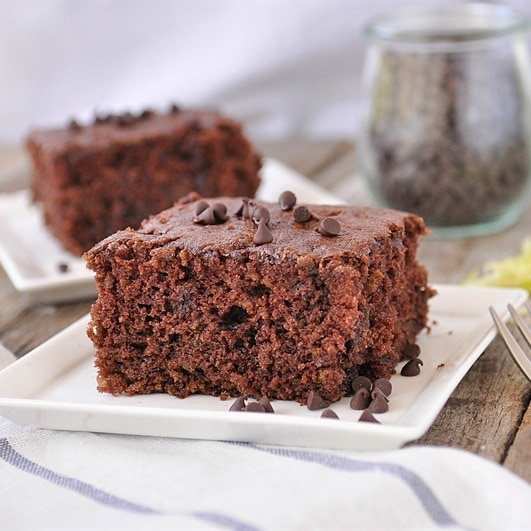 I actually had to go to the grocery store to buy some zucchini and it just felt wrong.  I'm making sure that next year we plant zucchini because let me tell you, you are going to want to get all the zucchini you can get so you can make this double chocolate zucchini cake as much as you want!!
The addition of zucchini in this cake gives it amazing texture.  The cake is light and moist.  Yum!  And like I said, no one will ever know they are eating zucchini unless you tell them!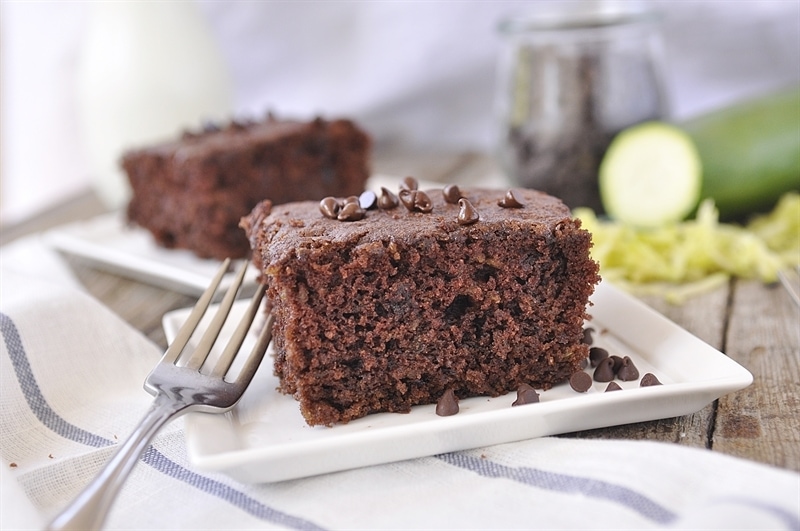 One trick when working with zucchini,  after peeling (I used a potato peeler) and grating the zucchini is to place it on a paper towel.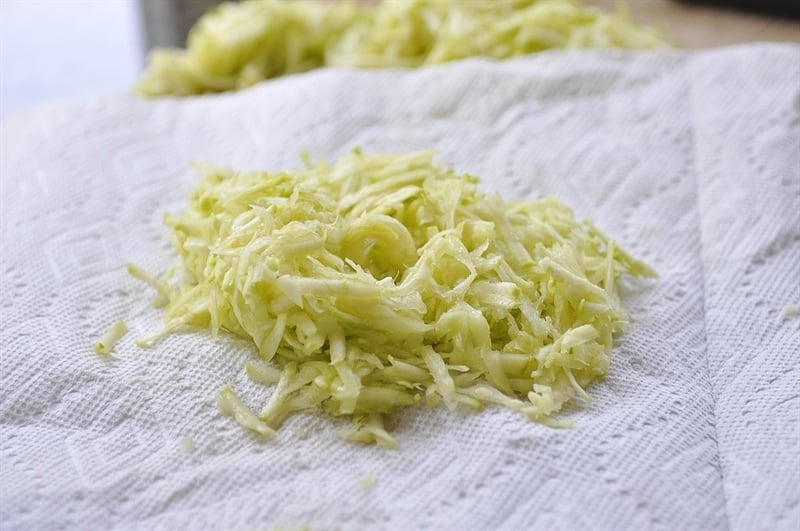 Then wrap it up and squeeze it to get some of the water out of the zucchini. This will help prevent your cake from being too moist.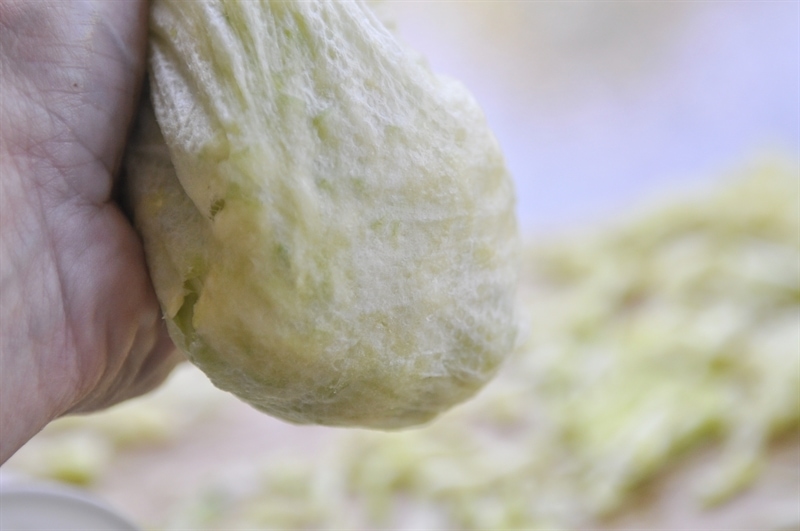 You need about 2 cups of grated zucchini which is about 2 small (like you find in the grocery store) zucchinis.  If you have it in your garden and it's gotten rather big and out of hand you will want to deseed it as it can get pretty seedy as it gets bigger.  I didn't need to deseed the ones I bought at the store.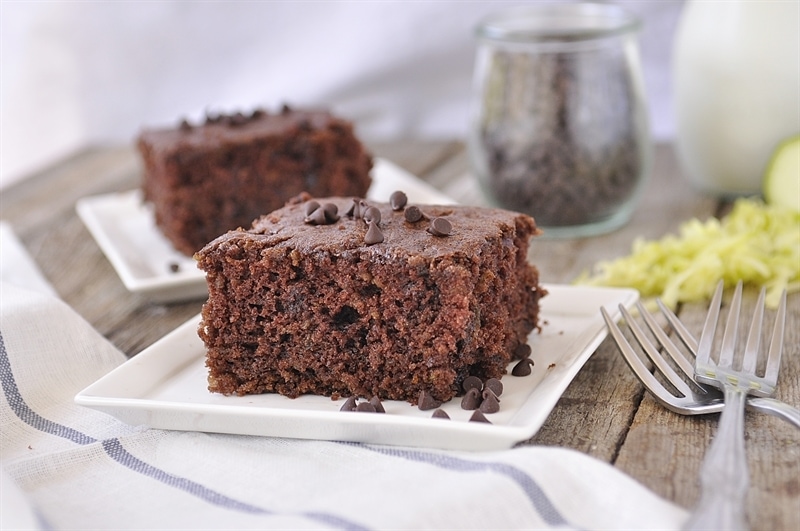 I added some cinnamon and orange peel in the cake for some extra flavor.  You can leave either one or both out if  you prefer. This is the perfect summer dessert and is great for a picnic, a potuck or just because.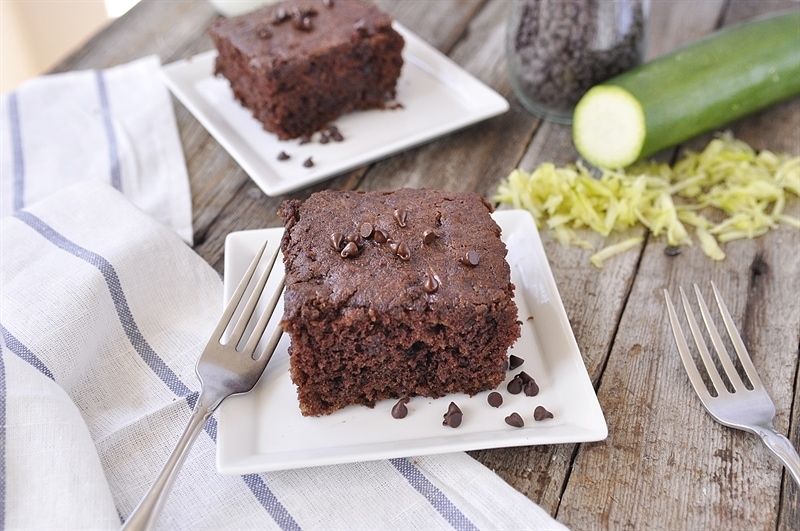 Go find yourself some zucchini – I bet you have a neighbor that has some extra!!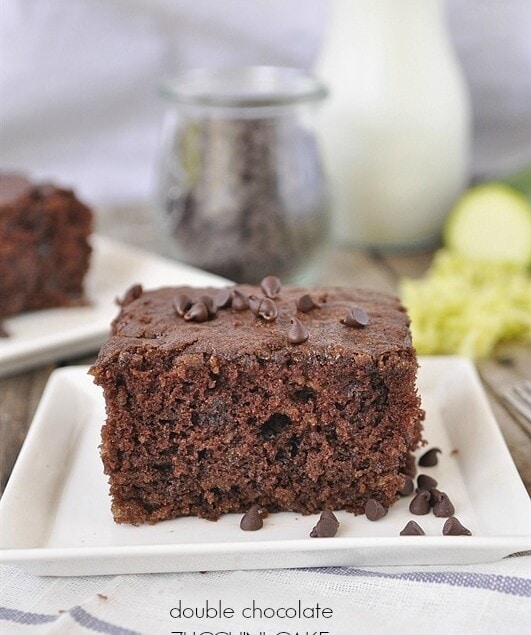 Double Chocolate Zucchini Cake
Ingredients
2 1/2 cups all purpose flour
1/4 cup cocoa powder
1 tsp baking soda
1/2 tsp baking powder
1/2 tsp salt
3/4 tsp cinnamon optional
2 tsp orange peel optional
1/2 cup butter softened
1/2 cup canola oil
1 3/4 cup sugar
2 eggs
1 tsp vanilla
1/2 cup whole milk
2 medium zucchini peeled and grated (2 cups)
1 cup semi sweet chocolate chips
Instructions
Preheat oven to 325 degrees F.

Grease a 9 x 13 pan.

Combine dry ingredients.

In mixer, beat butter, oil and sugars together.

Add in eggs, vanilla and milk and mix until combined

Add in dry ingredients and mix until well combined.

Add in zucchini and chocolate chips.

Pour into pan and bake for 45 minutes or until tooth pick comes out clean.