For my birthday this year my four sweet children (and Logan's girlfriend, Shayla) all chipped in and bought me a panini grill.  Now you may think – wow – how did your kids come up with that idea??  Well – to be honest – about two months ago I hung the page featuring the Breville Panini Grill from the Williams Sonoma catalog on our refrigerator – I guess they took the hint!  I learned many years ago to be VERY specific in my gift requests.
We have had so much fun playing and experimenting with it.  We have made lots of yummy, toasty sandwiches.  It makes a great quick fix for dinner.  We have tried all different kinds of combinations and flavors.  One night I just opened up the refrigerator and pulled out what was there – roasted red peppers, onions, bacon, turkey, chicken, pepperjack cheese, provolone cheese, pesto, apples (yes, apples),  and everyone made up their own combination and put in their order.
I have decided that my favorite combination is pepper bacon, pepperjack cheese and thin slices of a tart green apple with pesto mayo – yummy!  We have used all different types of bread – everything from a crusty, artesian bread to plain old white bread, even ciabatta rolls work great too.
You don't even really need a panini grill to make toasty sandwiches.  If you have a George Foreman grill it will work or just pop them in a frying pan and cook one side at a time.  Just brush each side of the bread with a light coat of olive oil and they grill up just great (you just  won't have the fun grill marks if you use a frying pan).
To make the pesto mayo for the sandwiches I just use about 1/4 – 1/3 cup mayo to 1 Tbsp. of pesto.  Spread a thin layer on the inside of the bread and then layer on whatever you want.
Another fun combination that we love makes a great dessert panini.  Use plain old white bread, spread a layer of nutella, slice up some banana (or leave them off – I don't like bananas!) and a layer of mini-marshmallows (don't leave these off!). Toast until the marshmallows are melted.  Yummy!!!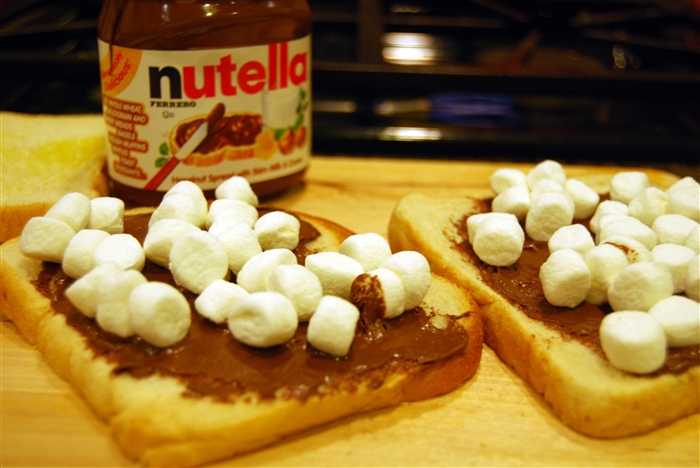 The possibilities are endless and it's a great way to use up what's in the refrigerator.  I had lunch at Paradise Bakery the other day and they had a great chicken and artichoke panini.  I also had lunch at the Daily Cafe this week and had a black forest ham, Jarlsberg cheese, apricot aioli on rye bread panini.  O.K. so it was my birthday this week and I've been going out to lunch a lot!   Use your imagination and see what fun combinations you can come up with.  Leave a comment below and let us know what your favorites are!
Stay Updated!
Need more recipes and creative ideas? Sign up and get a FREE copy of my ebook! Do you think your friends would love this too? Please share my blog with them. Thanks!