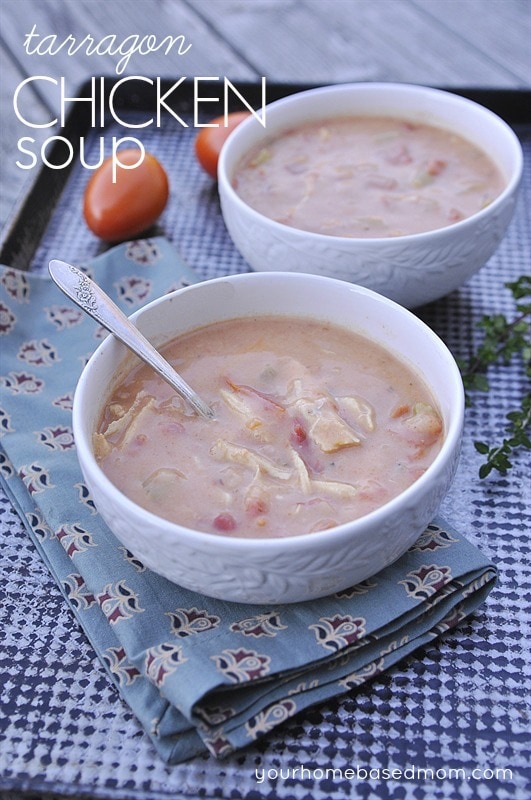 Today's recipe for Tarragon Chicken Soup is a Recipe Redo from Oct of 2007.
We have enjoyed two weeks of glorious Indian Summer here in Portland and I don't want it to end but I know that all good things must come to an end and those chilly, rainy fall days are on their way.,
What better than a pot of soup simmering on the stove on one of those cold, rainy days?!
The thing I love about soup is, you can make it ahead of time, first thing in the morning or even the night before and then just pop it in the refrigerator until you are ready to heat it up and serve.  There is no better peace of mind than to know what is for dinner and even have it ready to go before lunchtime.
This week I fixed this yummy soup that is a recipe shared with me by a neighbor – everyone needs to have  a recipe sharing neighbor!  The recipe originally came from Portland's famous Elephant's Deli.  I usually make the soup first thing in the morning and then add the chicken  when I heat it up for dinner.
This soup has a secret ingredient.  I can't tell you how many times I've been asked "now, what's in that soup?" I shared some of the soup last week with a friend who had just had surgery and as I expected, I got a phone call. "Now, what was in that soup?"
There is a secret, a little hard for some to identify, flavor in the soup.  It is tarragon.  It gives the soup amazing flavor so DO NOT leave it out.  The tarragon totally makes this soup.
For other yummy soup recipes try: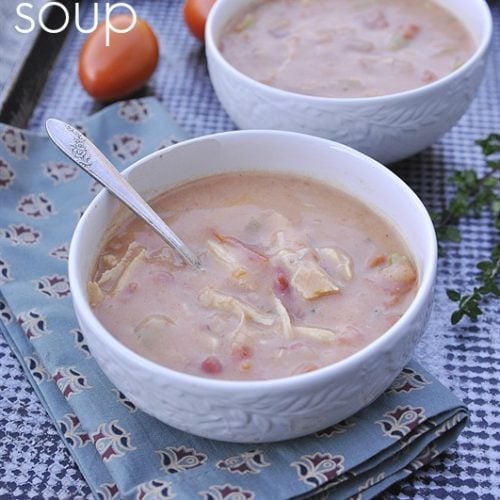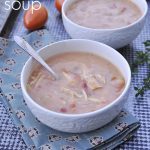 Print
Chicken Tarragon Soup
Ingredients
2

cups

cooked chicken

see tip below for preparing chicken

2

tsp.

kosher salt

1/2

tsp.

pepper

2

Tbsp.

vegetable oil

3

Tbsp

butter

2

medium onions

diced (I buy the pre chopped and frozen onion in the freezer section - I hate to chop onion!)

3

stalks celery

diced

1

Tbsp.

minced garlic

1/2

tsp.

dried tarragon

1/2

tsp.

dried oregano

2

tsp.

paprika

can use less if you want it less spicy

1/2

cup

and 2 Tbsp. flour

8

cups

chicken broth

1

14.5 oz. can diced or crushed tomatoes in juice. I use crushed as my kids don't like big chunks of tomato.

3/4

cup

whipping cream.
Instructions
Put oil and butter in a large pot over medium heat.

Saute onion, celery until onion is transparent, 6-7 minutes.

Add tarragon, oregano, garlic, and paprika, salt and pepper.

Cook and stir 3-4 minutes.

Slowly add flour.

You will get a thick roux like mixture.

Once combined, slowly stir in chicken broth, stirring well as you pour in.

Bring to a boil and it will thicken.

Add tomatoes and cream.

Reduce heat to low and simmer for 20 minutes.

Add chicken and simmer 10 minutes more (this last step can be done right before serving if you have made the soup ahead of time)
Chicken Tip:
I buy the boneless, skinless chicken breasts.

This tip was shared with me by one of the wonderful women I have met through my direct sales business!

Fill a 9 x 9 or 9 x 13 (depending on how many chicken breasts you are cooking) with about 1/4 - 1/2 inch of water.

Place chicken breasts in water.

Cover with wax paper.

Place in microwave.

For two chicken breasts (this will make about 2 cups of chicken) I cook them about 10 minutes (will vary depending on the size of the breast and the strength of your microwave, mine is old!)

If they are not quite cooked all the way let them sit and "steam" for a few minutes and they will continue cooking.

It makes the meat nice and moist and it is quick and easy method!
Enjoy!
Leigh Anne
You can also visit me on Facebook, Pinterest, Twitter, Instagram
and Google+
For a list of where I Link Up each week go here