Today I want to share with you another fast and easy dinner you can prepare for your family – perfect for the night you have a home event or a team meeting.  It only takes about 15 minutes to prepare!  Just in case you are wondering – my family thinks I am crazy for taking pictures of what we are having for dinner!!
I served the soup with a simple salad with a balsamic vinagrette dressing, toasted almonds (from Trader Joes!), gorgonzola cheese and a yummy roll from my favorite Portland bakery – Baker and Spice Bakery in the Hillsdale area.  It is conveniently located just a few doors down from Tessa's dance studio!  I love everything they make – their cookies, flatbreads, galettes, cakes – I could go on and on!!  If you are in Portland they are worth the trip! I bought their soft white dinner rolls yesterday (and of course a Duncan 's Delight cookie for me to munch on on the way home)
With our fall weather here in Portland I love making soup for dinner.  This recipe came from The Oregonian last year – it was one of their favorite recipes for the year.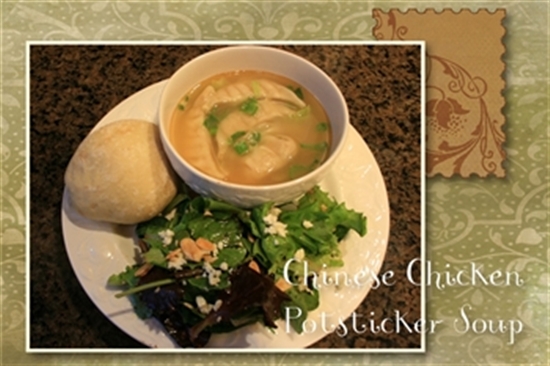 Dinner Time – Chinese Chicken Pot Sticker Soup
Ingredients
1

bunch green onions

divided

5

cups

reduced sodium chicken broth

2/3

cup

water

2

inch

piece ginger

peeled and thinly sliced (I used about a tsp. of minced ginger)

1

clove

garlic

peeled and smashed (I used some prechopped garlic I keep in the refrig)

1

15 oz. package frozen chicken and vegetable pot stickers , also called gyoza (I buy these at Trader Joes, they are smaller than the ones at Costco and I like the smaller size, I only used about 16 (4 per person).

2

cups

thinly sliced Napa cabbage

1

tsp.

toasted sesame oil
Instructions
Coarsely slice three green onions and set aside; thinly slice the remaining ones for a garnish.

In large saucepan over medium heat, add broth, water, ginger, coarsely sliced green onions and garlic.

Bring to a boil, reduced heat to a simmer and cook another 5 minutes.

With a strainer, remove ginger, green onions and garlic and discard.

Return soup to a boil and add potstickers.

Follow package directions for cooking (about 8 minutes for frozen)

Two minutes before that cooking time is up, add cabbage.

When pasta is tender, remove soup from heat and stir in toasted sesame oil.

Check for seasoning, add salt if needed.

Just before serving, top each portion with a handful of the remaining sliced green onions.

Enjoy - if you have an fast and easy soup recipes I'd love for you to share!
Get my Weekly Menu Plan for FREE!
Receive my FREE "What's for Dinner?" Meal Planning Course, a copy of my FREE ebook that includes my most popular recipes and my FREE weekly Meal Plan.