Quick -What color is your desktop?  If you are like me you may have forgotten because you haven't seen it for a while!   Part of it may be that during the holidays I tend to let things "pile up", especially in my office.  In fact you can see from the picture what it usually looks like – not an inviting work environment!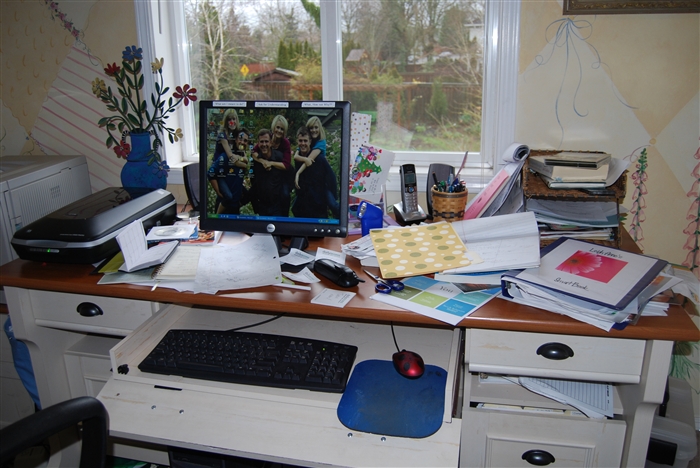 One of my goals for 2008 is to live a more "clutter free" life – and the first place I am starting is my desk!  In an article I recently read (I'd give you the source – if i could find it!) it said that "a desk is not a storage area, it is a work space."   So this week I worked on "uncluttering" my desk to make it a better work space.  My tips and ideas for getting control of your work space are:
1.  Remove everything from the desk!  (pile it all on the floor).   Guess what – the top of my desk is brown!  Sort all papers into 3 piles – To File, (file all those away – do not put them back on top of your desk), To Act/Do (these go into a file and can be put back on the desk), recycle/shred (do this NOW!).   I also have a pile for To Blog (this is also put back on the desk).
2.  Get rid of any horizontal filing/inbox you may have.  Things just seem to get buried and lost when they are filed or stored horizontally.  Did you know that the average person spends 150 hours a year looking for things they can't find!  (I am currently looking for a $50 rebate check I can't find!)   For my birthday a friend gave me a darling  leopard print, vertical file box so that is what I am using on my desk.
3.  Keep only what you need on your desk – file everything else away.  The only 3 files in my new vertical leopard file box are-
To file -there should be nothing in here when you put it back on your desk. This is the easiest file to let get out of control -spend a few minutes at the end of each week filing away what has accumulated in here during the week.
To do/pending -active projects
To blog – ideas I want to share with you
All other paper that was on my desk is now filed away in my file drawer (I'll share what files are in there later) or in my Smart Binder (more on that next week).
The only other things on my desk are:
–Smart Binder -coming soon!
–Inspiration Journal – where I write down ideas, thoughts etc.
–Message Pad – I use a spiral notebook for my phone messages,  do not use slips of paper or sticky notes!  This message notebook seems to have a habit of disappearing from my desk anytime my family seems to need a piece of paper so, I have written on the front of mine "DO NOT REMOVE FROM DESK" and have tied it to my desk with a ribbon.   It seems to help!
– Something Pretty – I have a piece of artwork I was given when I promoted to Executive Director, a picture of my children and a yummy smelling candle.
– Business tools -fax machine, computer, speakers, rolodex, phone and a container of pens.  I also have an inbox for mail (mainly bank statements) that need to be dealt with.  You can see by the picture below that it is a little bit more inviting work space.
4.  Lastly, each day, before you "leave the office", take a few minutes to be sure it is picked up and clutter-free.  Coming to work each day will be much more fun when you can actually see the top of your desk!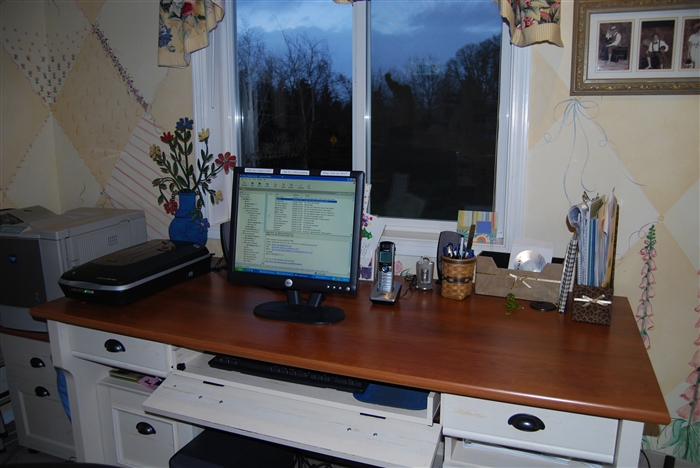 So schedule some "decluttering" time this week and enjoy your work space!
Get my Weekly Menu Plan for FREE!
Receive my FREE "What's for Dinner?" Meal Planning Course, a copy of my FREE ebook that includes my most popular recipes and my FREE weekly Meal Plan.