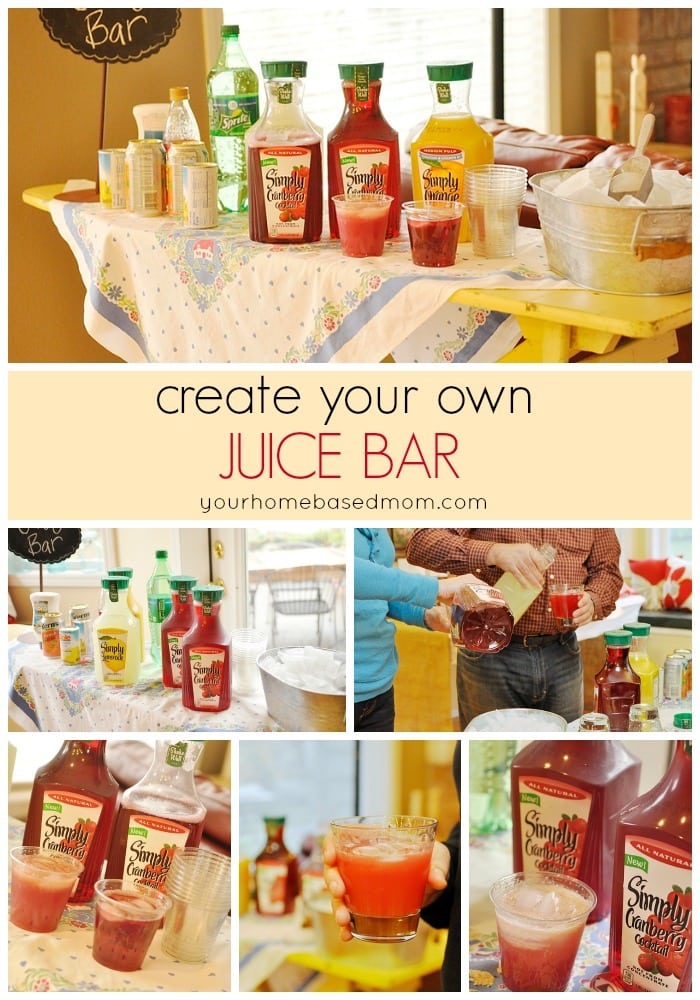 I love to throw a party–a full-out themed birthday party or a simple dinner party. I love the creative process involved, and I love spending time with people I love with good food and drink.
At our house good drink is non-alcoholic. At a party I recently hosted our good drink was fruit juice. I love having my guests get involved with the food, and so I love to do "food bars or drink bars" where the guests actually assemble their own food.
It also cuts down on the work for me as the hostess. I don't have to spend all my time in the kitchen; I can be part of the party, too.
At my most recent party, I put together a Juice Bar starring a new product by Simply Orange Juice Company – Simply CranberryCocktail which they asked me to try. I also made them work for their dinner. I'll be posting about that tomorrow.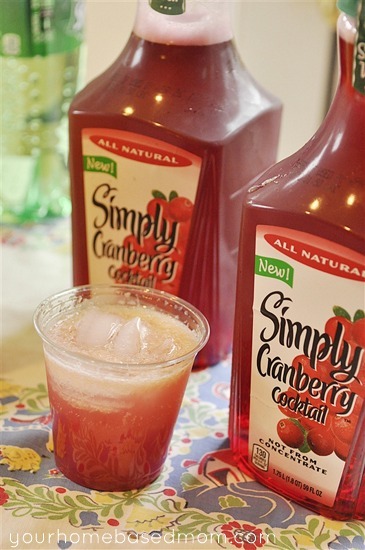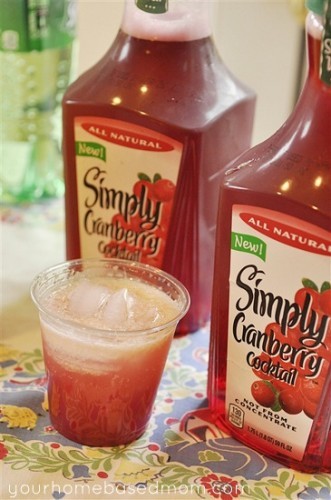 For the Juice Bar I covered my old vintage ironing board with a vintage table cloth.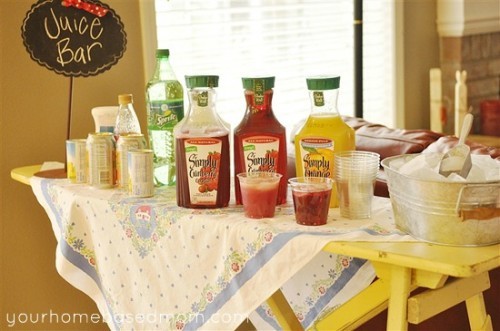 I provided a selection of juices including Simply CranberryCocktail the newest in the line of Simply beverages as well as Simply Orange® and Simply Lemonade®.
In addition we had some other "mixers"–peach juice, apricot nectar, pineapple juice, coconut, and lemon-lime soda. Simply CranberryCocktail is not made from concentrate so it has a fresh, pure cranberry taste, both sweet and tart and just a little different than the other cranberry cocktails you may have tried. Because it has no added preservatives you will find it in the refrigerator section of the grocery store; it is chilled from the time it's blended.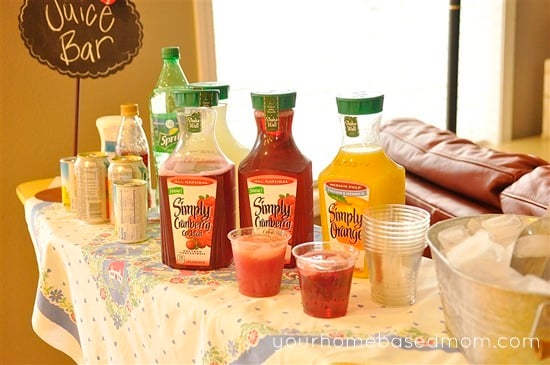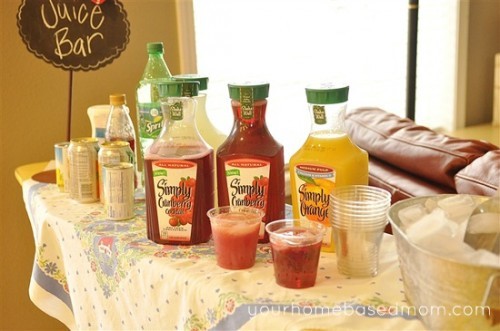 I grew up drinking cranberry juice blends and I love cranberry cocktail all by itself but my favorite drink combines cranberry cocktail, orange juice and lemon lime soda. It was our own little "mocktail."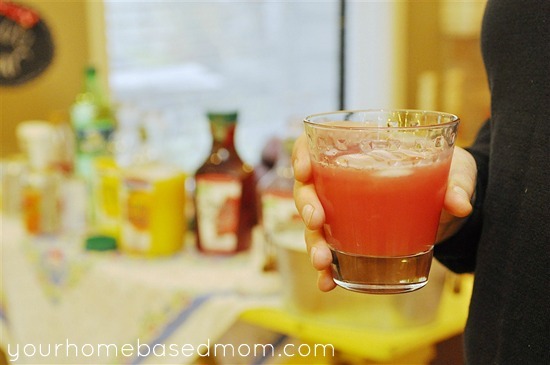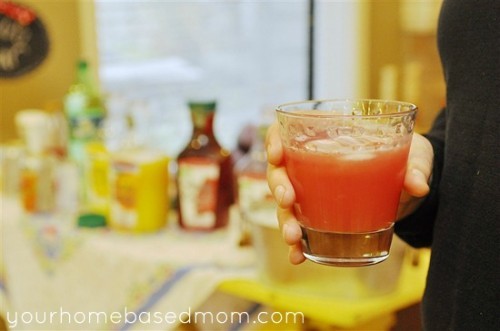 It was fun to see how creative everyone got with their juice mixtures.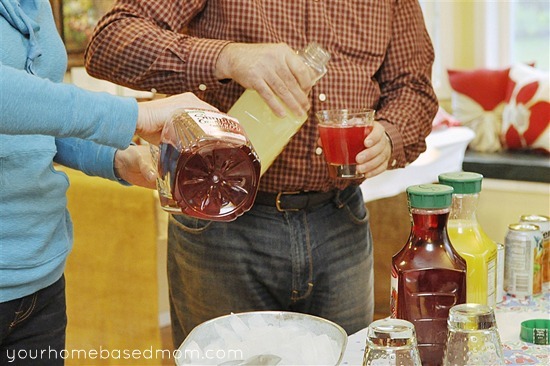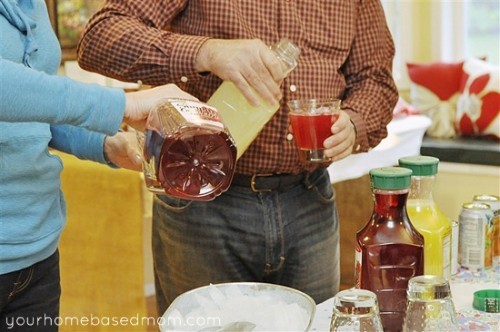 Simply CranberryCocktail comes in a fun carafe so no need to pour it into a pretty container; it comes in one, either 59 oz. or a smaller, personal size of 13.5 oz.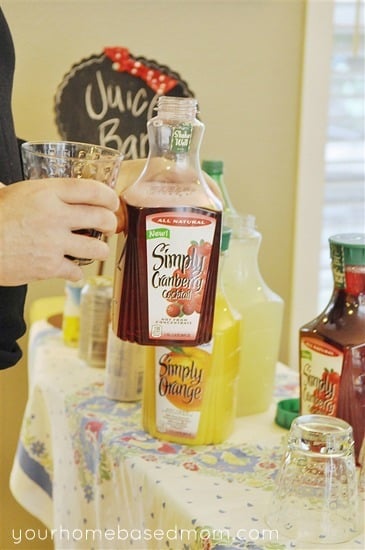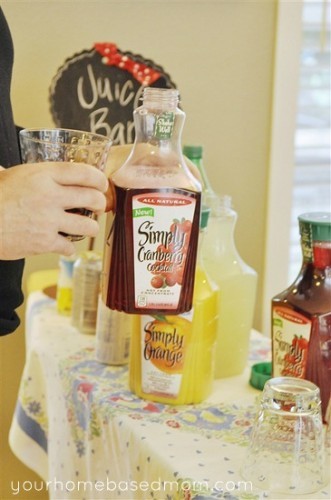 Some of our other favorite juice bar combinations were: Simply CranberryCocktail, pineapple and lemon lime soda; Simply CranberryCocktail, orange juice and lemon lime soda; Simply CranberryCocktail, peach juice and lemon lime soda; Simply CranberryCocktail, lemonade and pineapple.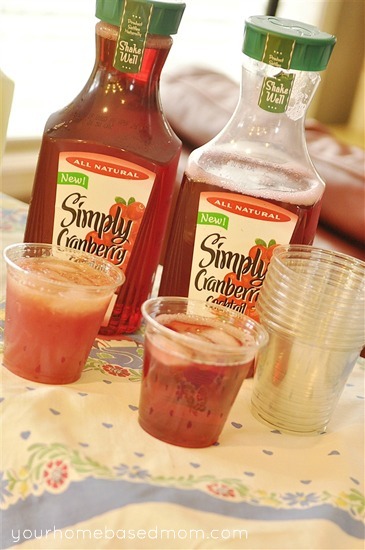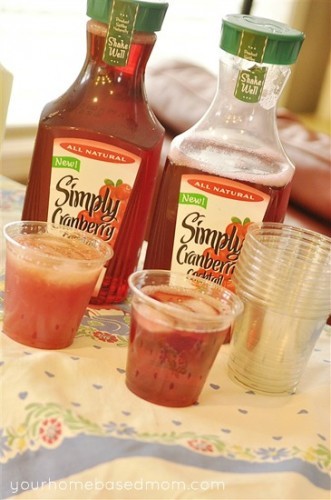 I highly recommend a Juice Bar at your next party or dinner party. People love the hands-on process and being able to experiment with all different combinations.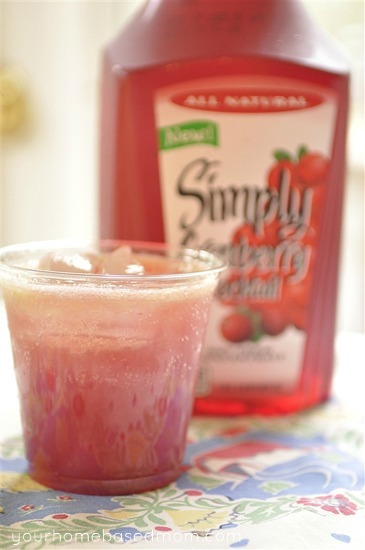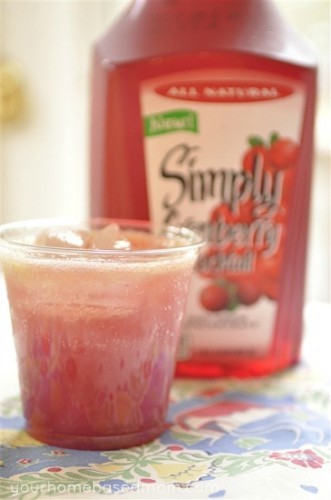 As the hostess you provide the ingredients and let your guests do the mixing!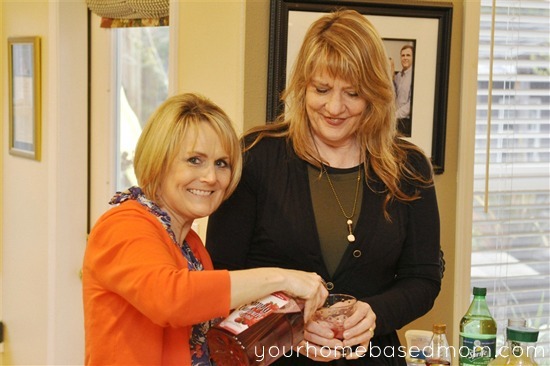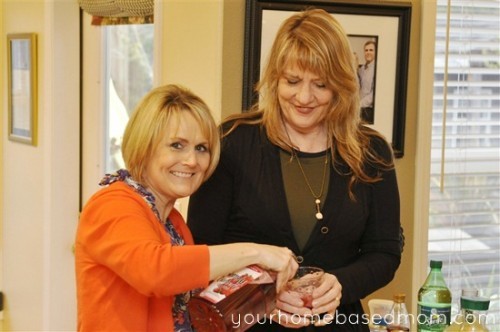 Simply CranberryCocktail is also giving away a $100.00 VISA card to one of my readers – how cool is that?
What is your favorite way is to make a party or get-together at your home more festive? Tell me about it in the comments for the chance to win a $100 gift card!
Don't forget to come back tomorrow to see what we had to eat at the party. Here's all you need to know to enter:
Rules:
No duplicate comments.
You may receive (2) total entries by selecting from the following entry methods:
a) Leave a comment in response to the sweepstakes prompt on this post
b) Tweet about this promotion and leave the URL to that tweet in a comment on this post
c) Blog about this promotion and leave the URL to that post in a comment on this post
d) For those with no Twitter or blog, read the official rules to learn about an alternate form of entry.
This giveaway is open to US Residents age 18 or older. Winners will be selected via random draw, and will be notified by e-mail. You have 72 hours to get back to me, otherwise a new winner will be selected.
The Official Rules are available here.
This sweepstakes runs from 5/7/2012 – 6/6/2012
Be sure to visit the Promotions & Prizes page on BlogHer.com where you can read other bloggers' reviews and find more chances to win!
"Simply Cranberry™" is a trademark of Simply Orange Juice Company.