Check out Blue Apron and be one of the first 20 to receive three free meals!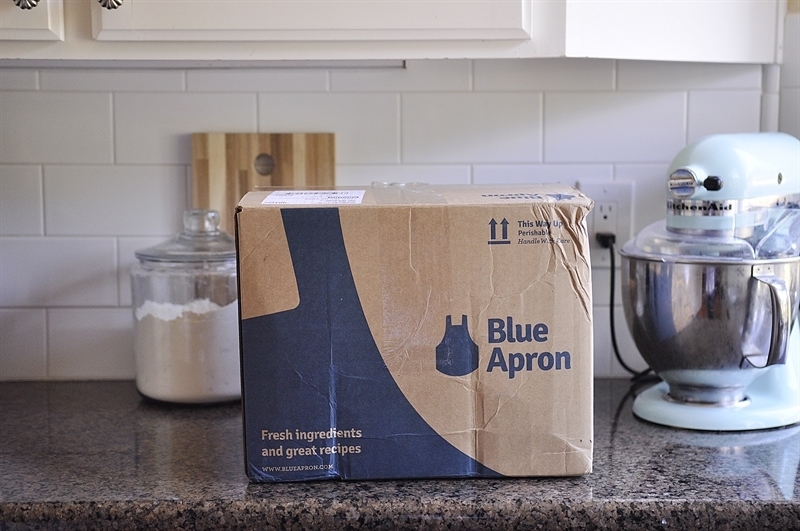 Sponsored by Blue Apron
When Blue Apron reached out to me and asked if I'd like to try out their service, I was so excited!  I was familiar with the company and had seen it online but had never tried it.  It is a meal delivery service that delivers all the fresh ingredients you need, in the exact proportions and in a refrigerated box, to your doorstep each week! The plan I received was three meals per week, for two people. They were very generous servings.   There is a 2 Person Plan or a Family Plan.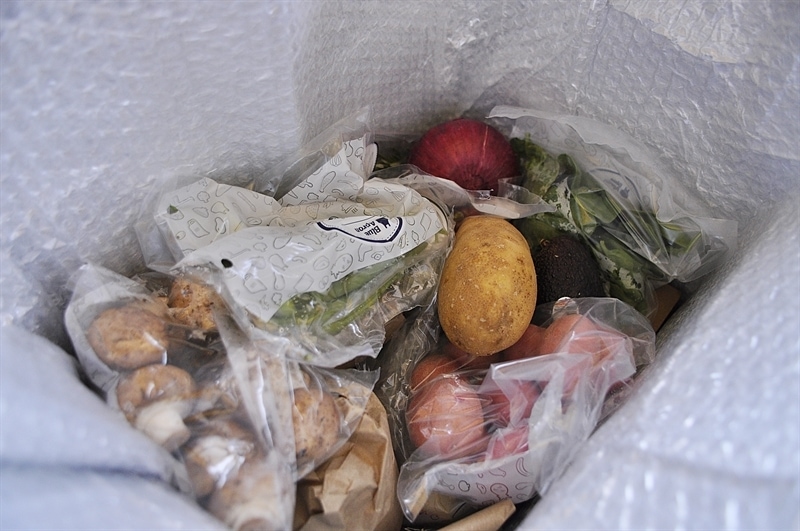 Blue Apron takes care of two of the biggest obstacles to getting dinner on the table for me and I am sure a lot of you.  First,  what do I fix for dinner?  I've been cooking dinner for 35 years and that's a lot of meal planning.  I like cooking, I just don't like having to decide what to cook all the time.  Blue Apron makes that so much easier.  Each week they have six meals to choose from.  I selected  Beef Aepas, Peruvian Roast Chicken and Potatoes and Mushroom & Potato Pizza.  They have a nice selection of recipes and are always adding new ones.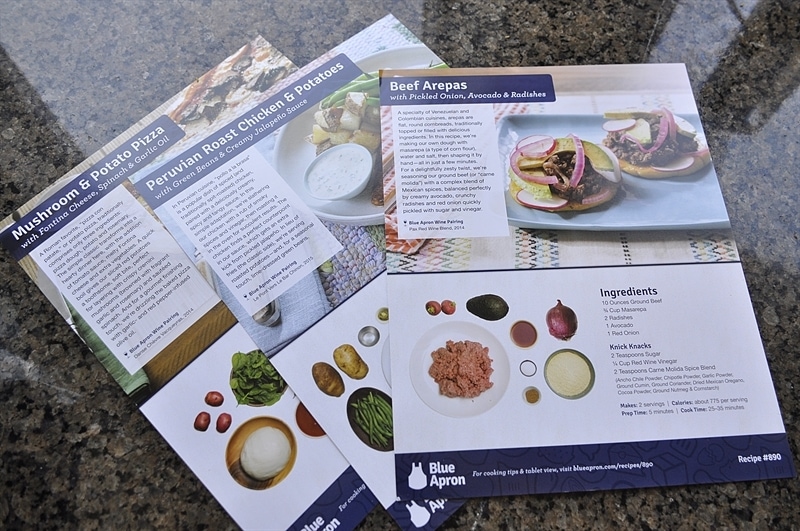 The second problem they solve is having all the ingredients on hand.  They do the shopping for you.  The quality of the ingredients was excellent and it was all farm fresh ingredients in exactly the right proportions. No trips to the grocery store and no waste from unused ingredients. I can't tell you how many times I have had to run to the store because there is one ingredient I forgot!
Here was everything that was needed for Beef Arepas.  The only thing I had to add in was a few teaspoons of olive oil and salt and pepper.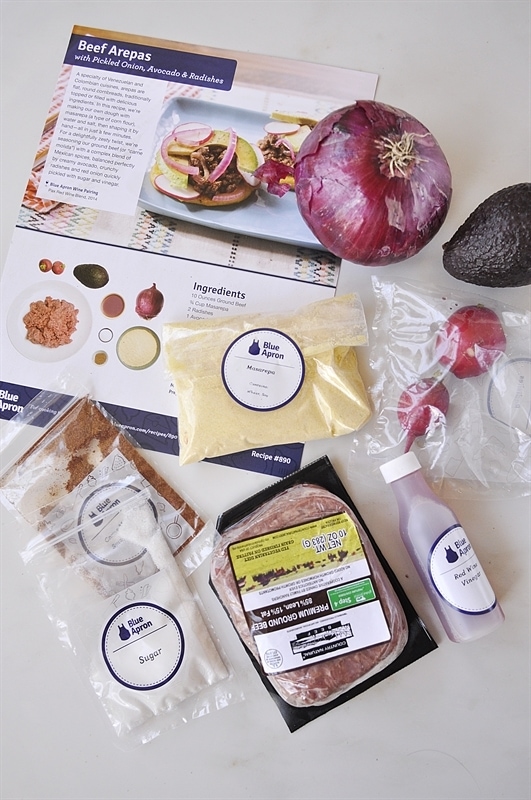 My husband isn't much of a cook.  He can handle the grill and a few breakfast dishes but that's about it. Following a recipe is just not his thing.  I decided to put them to the test by having Jim fix dinner for us.  I figured if he could do it, than just about anyone could do it.  He's good at a lot of things but cooking is just not in his top skill set.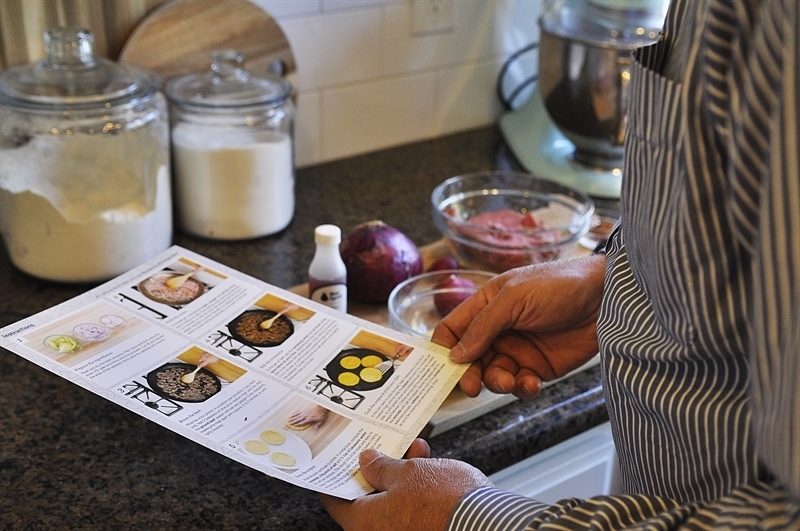 The recipe card walked him through each of the steps – first was the chopping.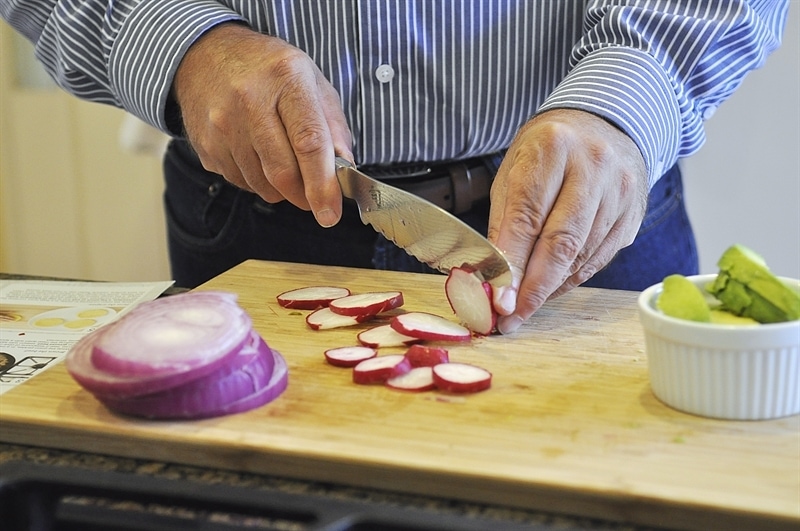 He learned how to pickle onions…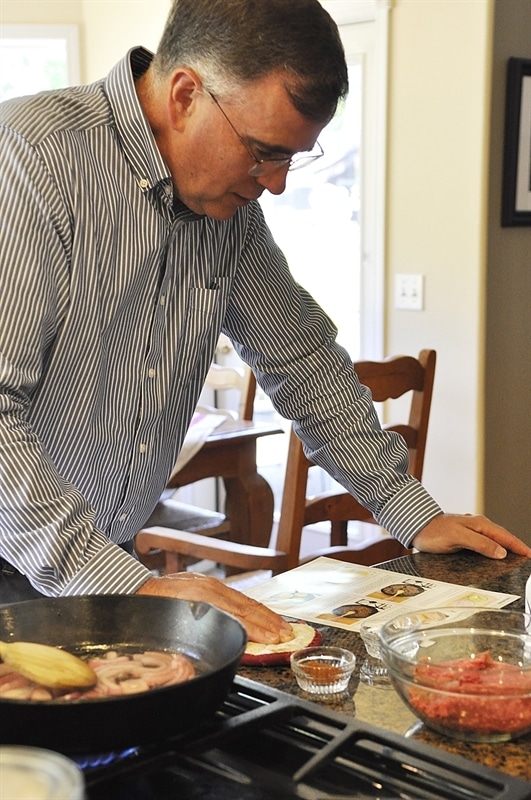 and how to make Arepas which is like a thick corn tortilla.  They were yummy!  One of the things I really like about Blue Apron is the opportunity to experiment with new recipes and new flavors that I wouldn't have done on my own. It is a fun way to expand your cooking repetoire and get out of that cooking rut.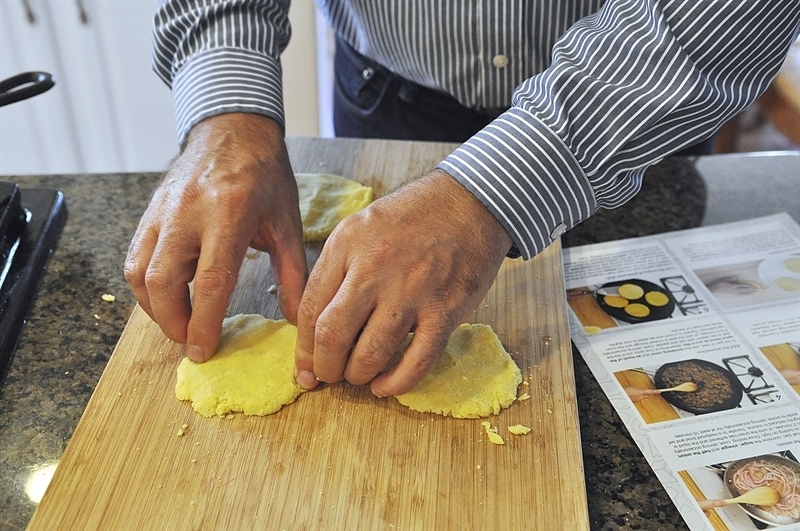 Jim found it really easy to follow along with the directions and the photos.  Even a non cook can do it!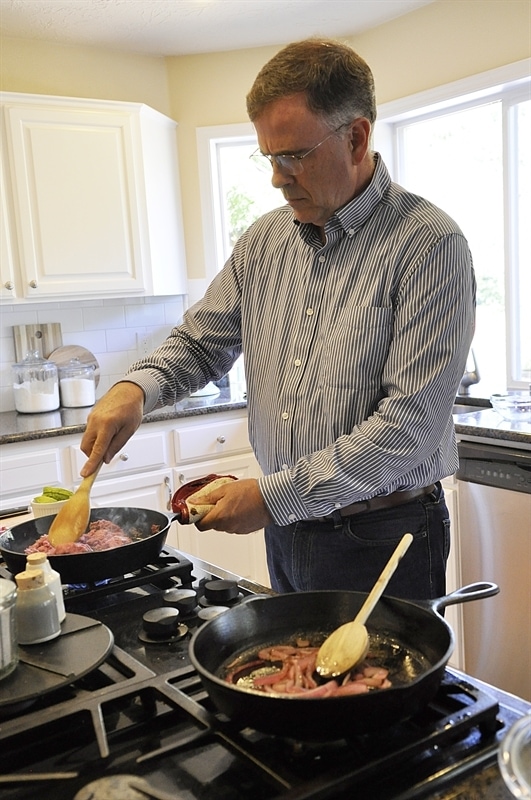 He even used the pictures to see how to plate the food and make it look pretty.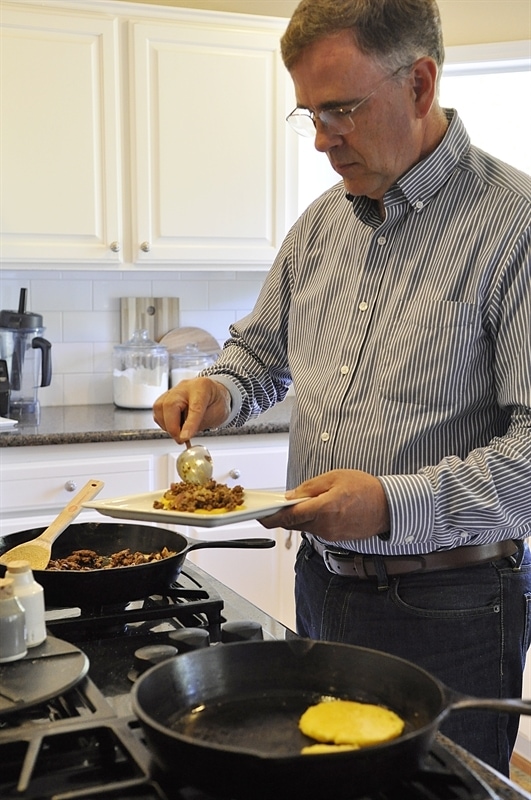 I loved it when he grabbed a cloth and used it to make the plate look a little nicer.  He said, "I've seen you do it!"  What a good food blogger husband he is!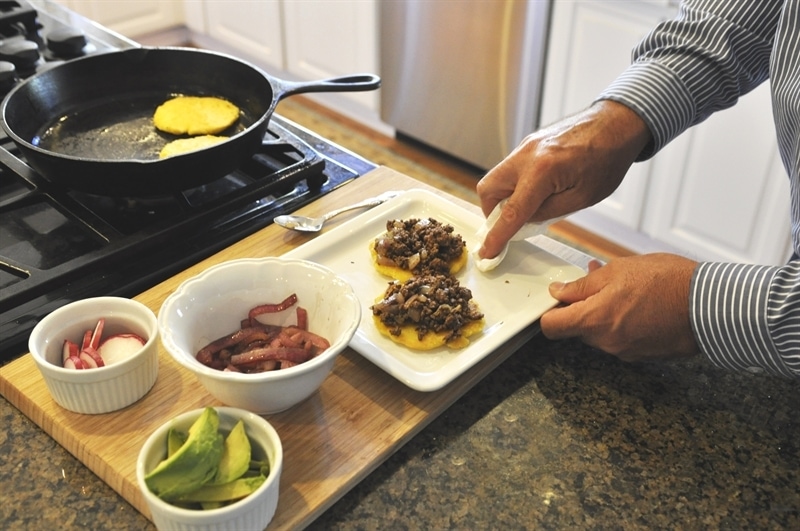 The Beef Arepas were delicious.  They were something we had never had before and we loved them.  The seasoned meat is served on top of the arepa and topped with pickled onions, fresh avocado and radish.  Look how pretty it is!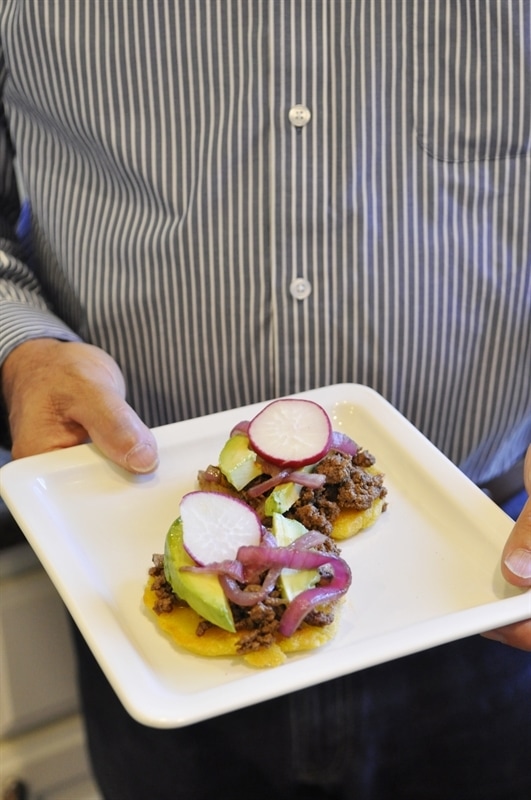 The best part!  I didn't have to decide what to make, I didn't have to go shopping for the ingredients and Jim had fun making dinner for us.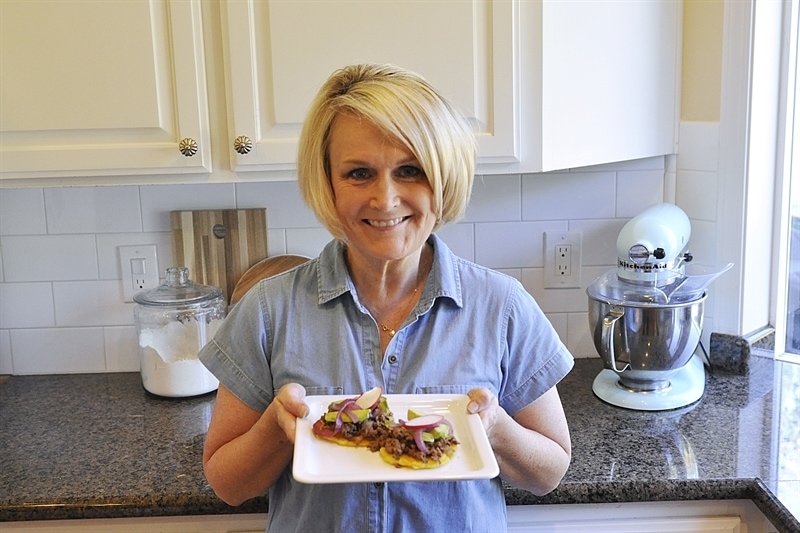 You can sign up to try Blue Apron for just one week or set it up on a regular basis. There's no commitment – you can skip or cancel the service at any time!  Each meal has a calorie count of about 500-800 calories per person and the average time to prepare the meal is 40 minutes or less.  To check out all the fun recipes available go here.
Blue Apron is offering the first 20 readers  who sign up through this post, three free meals on their first Blue Apron order! Just click here to be one of the first 20.