Banana Bars with Cream Cheese Frosting are the perfect way to use leftover bananas!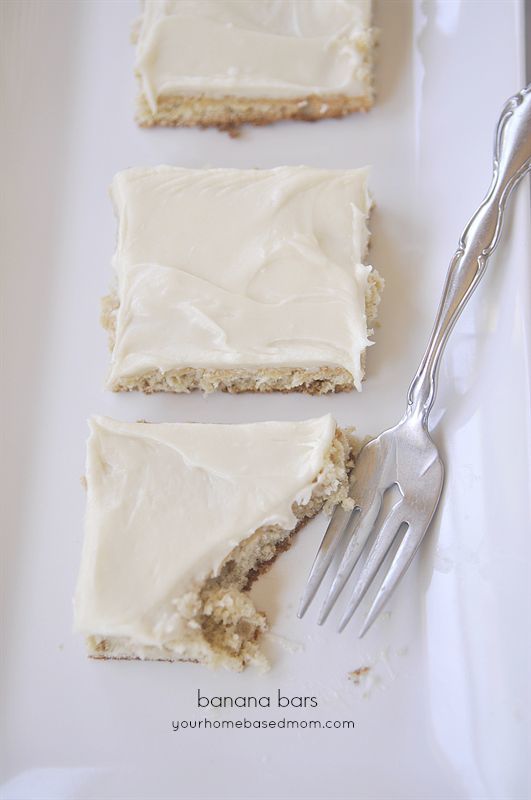 When you find a couple of ripe bananas on your counter what is the first thing you think of ?  Most likely – it's banana bread!  Well, next time you find a couple of ripe bananas give this recipe for banana bars a try – they are so yummy!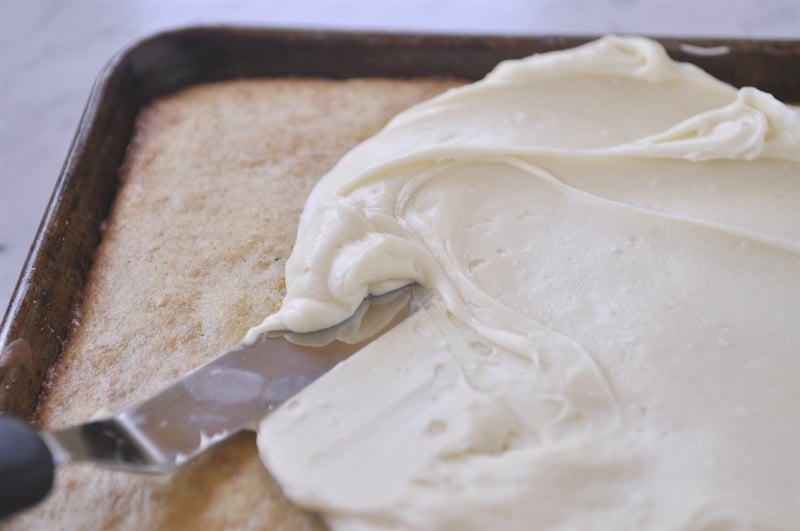 It makes a huge batch since it uses a big jellyroll pan so there are plenty to share.  It's a good "potluck" dessert since it makes so much  My friend Jane Densley shared this recipe with me and it has become a family favorite.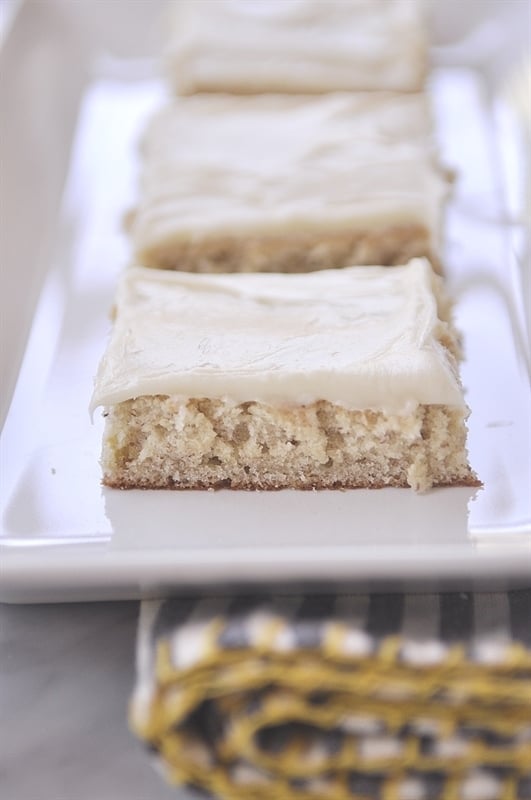 My favorite part is the cream cheese frosting on top. Even people who don't like bananas (that would be me) will love these banana bars.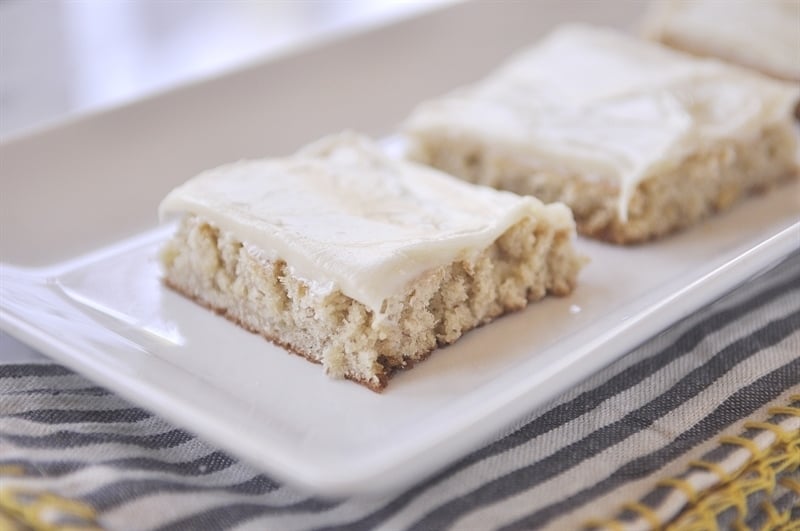 They are moist and full of yummy banana flavor and the cream cheese frosting is amazing.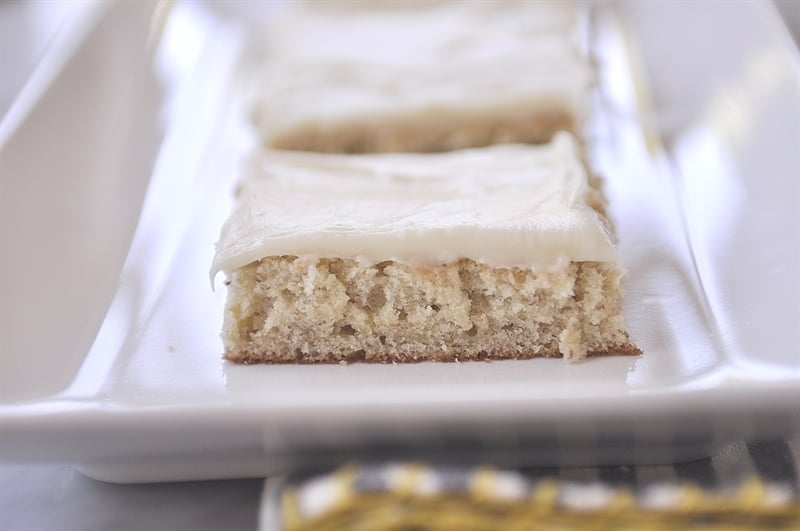 So if you have any leftover banana bars be sure and refrigerate them so the cream cheese doesn't go bad.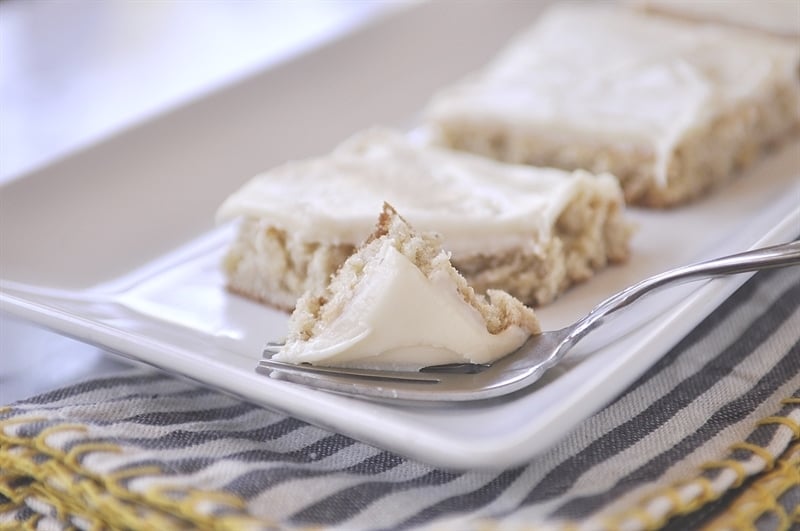 This recipe was originally posted on December 2, 2007 but was in sore need of new photos.  It's just too good of a recipe not have good photos!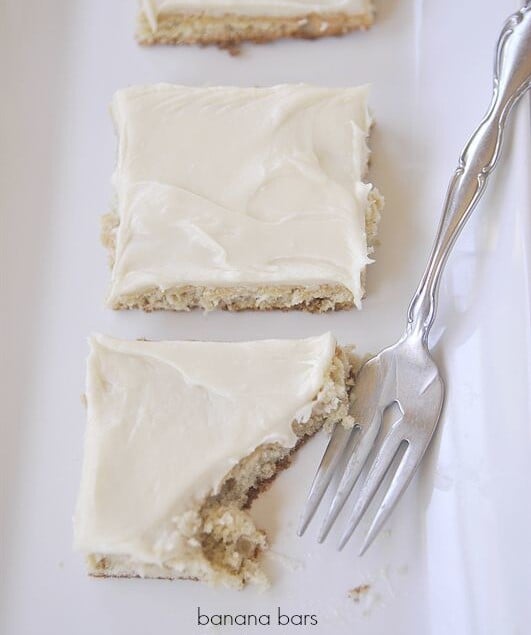 Banana Bars
Ingredients
1 1/2 cups sugar
1/2 cup butter
2 eggs
1 cup sour cream
1 tsp. vanilla
2 cups flour
1 tsp. baking soda
1/4 tsp. salt
2 medium ripe mashed bananas enough to make 1 cup
Frosting:
8 oz. cream cheese softened
1/2 cup butter soft
2 tsp. vanilla
4 cups powdered sugar
Instructions
Cream: sugar, butter, eggs

Add: sour cream, vanilla

Combine and add dry ingredients: flour, baking soda, salt

Stir in ripe mashed bananas (enough to make 1 cup).

Bake at 350 for 20-25 minutes in jelly roll pan
Frosting:
Mix all ingredients together. Spread over cooled banana bars