Welcome Martha of A Family Feast to the blog today!  I have been virtual friends with Martha for a while and we recently met up in person at Blogher Food in Miami and in Ohio at a blogger event.  I love spending time with Martha and always learn something new from her.  She blogs along with her husband which I think is so fun (You up for it Jim??) Be sure and visit her over at A Family Feast and enter to win a Blendtec Blender and then check out what Mique and Cindy are sharing as part of the Craft and Sew!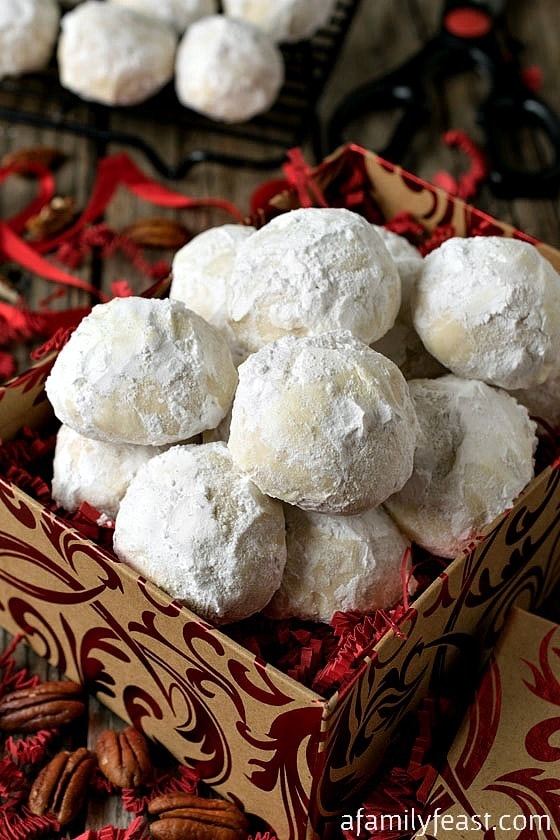 I'm Martha and I'm part of the husband and wife team that blogs over at A Family Feast! On our blog, Jack and I share family-friendly recipes of all kinds – from appetizers and soups, to entrées, side dishes and desserts – including recipes like these Coconut Snowball Cookies! We're so happy to participate in this year's Bake, Craft, Sew event along with so many other talented bloggers!
Homemade gifts are truly some of my favorite kinds of gifts to receive – and I so appreciate the time and effort that is put into a gift from the heart! These Coconut Snowball Cookies are a sweet little treat that anyone on your gift list will love!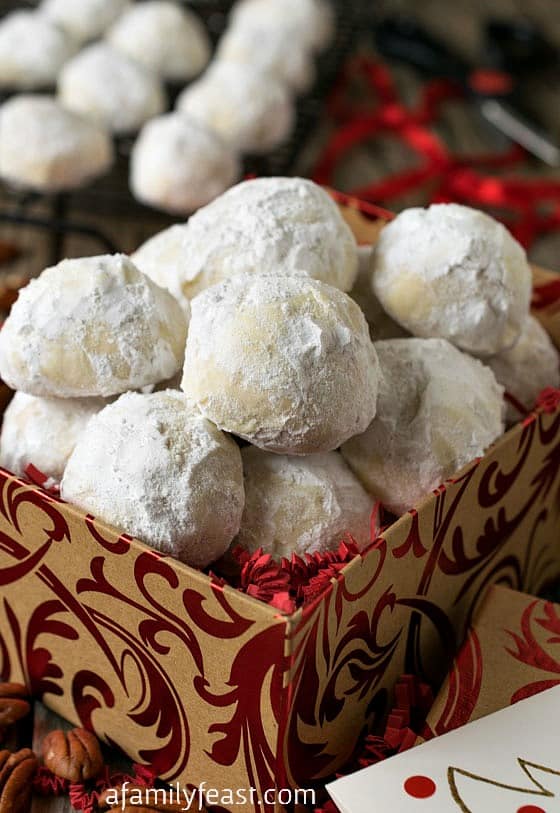 They are a delicious and different twist on the classic snowball cookie recipe because we've added coconut flour to the batter – giving the cookies a distinctively different taste, but still with the same light and crumbly texture of the traditional version!
These cookies are quick and easy to make and they are a perfect recipe when time is tight during a busy holiday. We hope your family and friends enjoy these Coconut Snowball Cookies as much as we do! Happy Holidays everyone!
Follow A Family Feast on Pinterest, Facebook, Instagram, Twitter, Google+, and Email.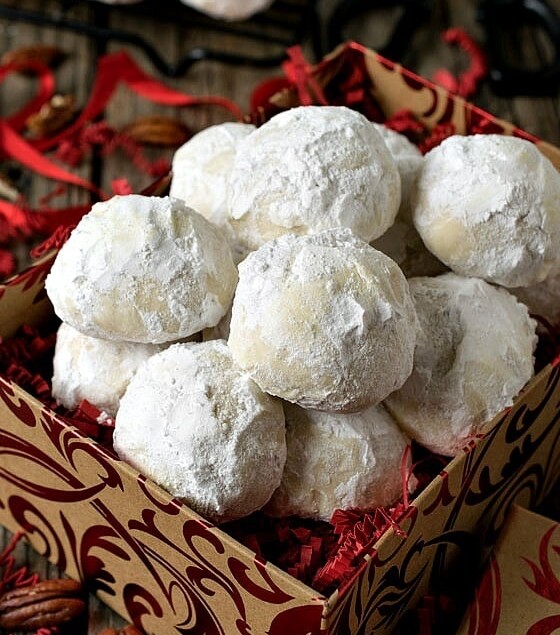 Coconut Snowball Cookies
Ingredients
1 cup softened unsalted butter 2 sticks
2/3 cup powdered sugar
¼ teaspoon salt
2 teaspoons vanilla extract
3 tablespoons cornstarch
1 ½ cups flour
½ cup coconut flour
½ cup chopped pecans or walnuts
1 to 1½ cups powdered sugar
Instructions
Preheat oven to 350 with rack in center.

In the bowl of a stand mixer with paddle attachment, cream butter for about 20 seconds. Add 2/3 cup powdered sugar and salt and cream to combine. Add vanilla and combine.

Sprinkle the cornstarch over mixture but do not combine (the corn starch will help disperse the flour evenly).

Add one cup of flour over the corn starch and blend slowly. Add the ½ cup of flour and the half cup of coconut flour and blend to combine.

Remove bowl from mixer and add chopped pecans or walnuts, mixing by hand.

Roll out the dough into a log and cut in half. Cut each half in half. Cut each quarter in half. You now have eight mini logs. Cut each of these into thirds to yield 24 total pieces.

Roll each piece into a ball and place on parchment lined cookie sheets and bake one pan at a time for 18 minutes.

Place one cup of powdered sugar into medium bowl.

Once pan(s) come out of oven, let pan cool for 5 minutes then roll each cookie in the powdered sugar and place on a rack to finish cooling.

Once completely cool, roll again in the powdered sugar and press sugar to thickly coat all sides. Use the other ½ cup of sugar if needed.

Store cookies tightly covered and eat within a few days.