Welcome Maegan of The Baker Mama to Bake Craft Sew today.  I met Maegan at Blogher Food earlier this year and she is a doll and man can she bake!  Be sure to visit her blog to enter the Blendetec Giveaway and then check out what Mique and Cindy are sharing as part of the Craft and Sew!
Maegan Brown of The BakerMama shares how to make candy coated popcorn with dried cranberries, shredded coconut, crunchy pistachios and a generous drizzle of dark chocolate for a festive holiday treat that's great for gifting!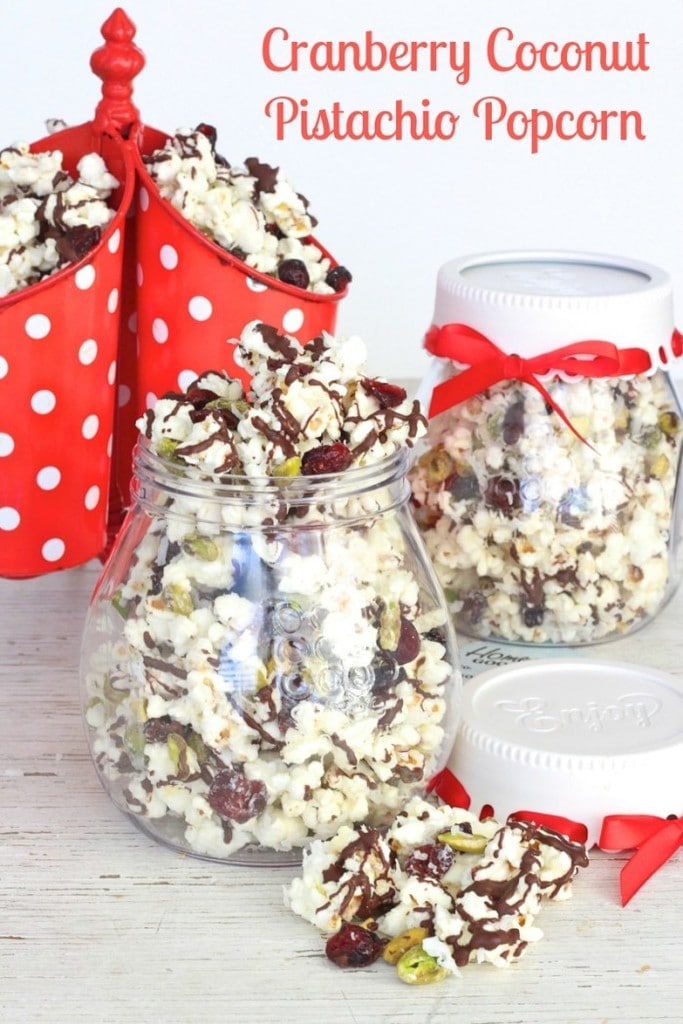 The holidays are sneaking up on us and that means gifts and goodies galore! So much fun & yum ahead!
I love giving tasty treats to friends, family, neighbors (who are also friends!), and teachers during the holidays. Tis the season! So when this time of year nears, I'm always thinking of yummy, easy and economical gifts to make and give.
I'm obsessed with candy-coated popcorn these days! Yummy yum! It's always a hit at parties or girl's nights, so one of the tasty gifts I've decided to give this year is this festive cranberry coconut pistachio popcorn mix. Mmmm…mmmm!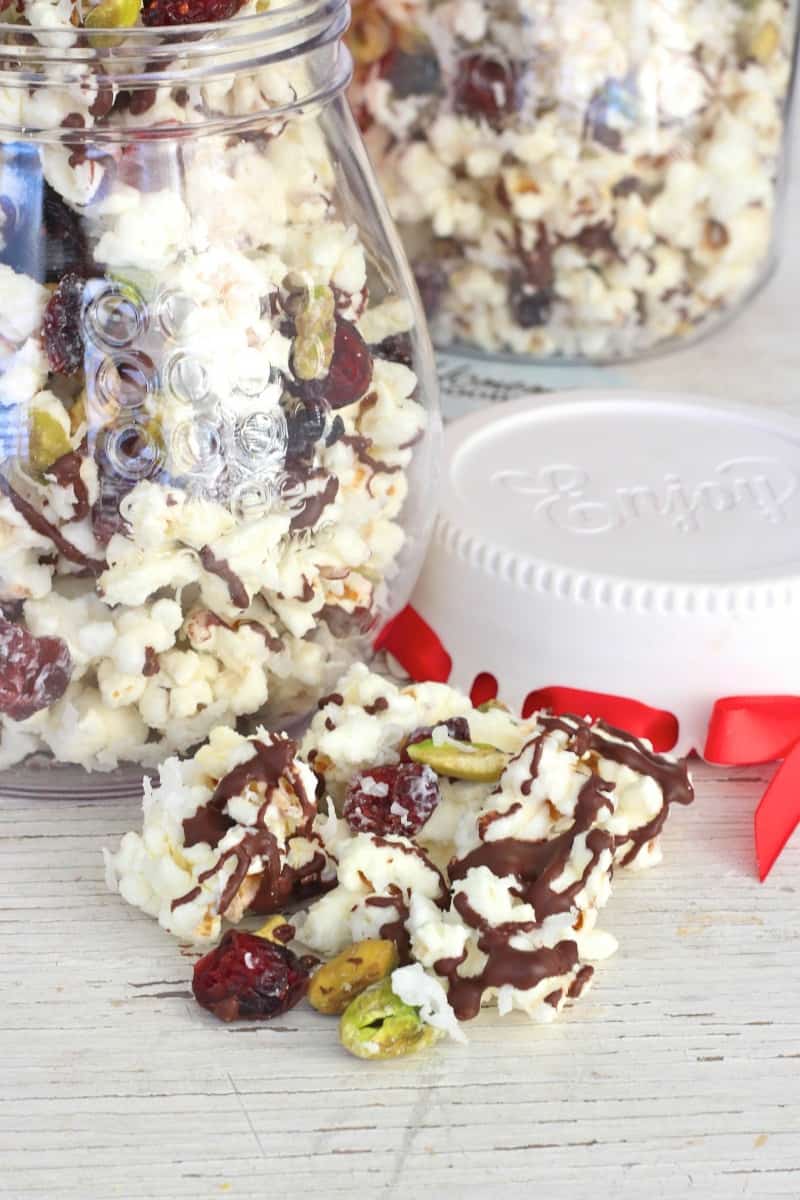 It's so sweet and snackable! Crunchy popcorn is coated in vanilla flavored candy, covered in sweet coconut flakes, garnished with dried cranberries and pistachios, and finished off with a generous drizzle of dark chocolate. Once it's set, it can be broken into clumps and put in jars or baggies for giving or into a big bowl for serving and snacking.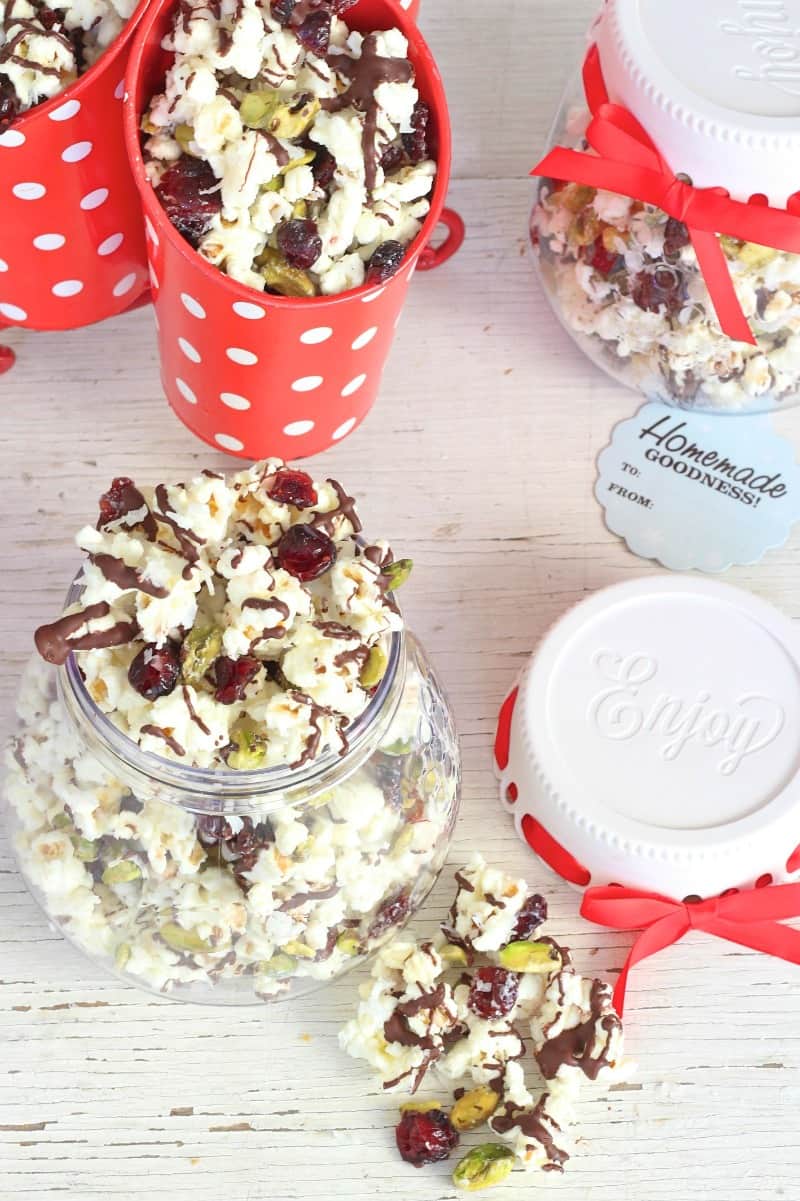 Anyone would love receiving this fabulous popcorn during the holidays! They can put it out for their family and friends to munch on before or after the feast or they could just snuggle in with the jar on their lap and a good holiday movie on the TV.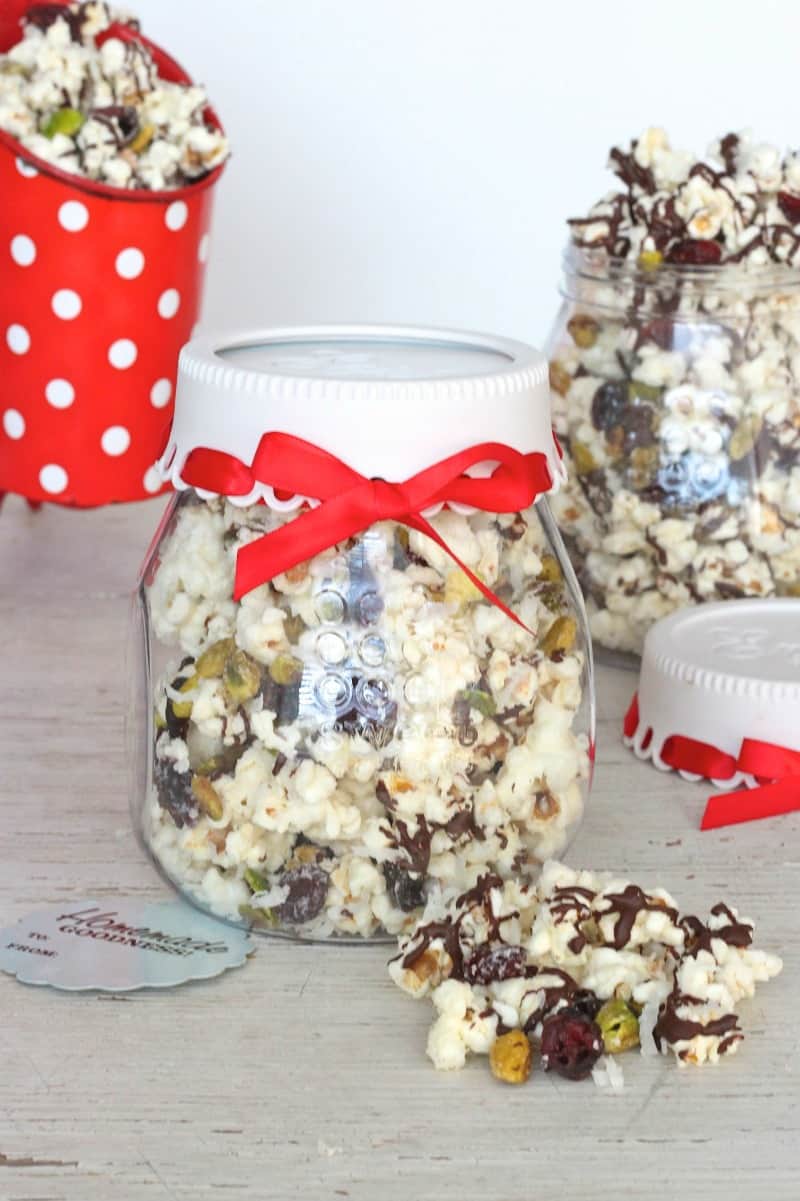 Happy Holidays! Enjoy!
~Maegan
Follow The BakerMama:
www.thebakermama.com –  Facebook – Instagram – Twitter
Be sure to visit Maegan over at TheBakerMama for a chance to win a new Blendtec Blender!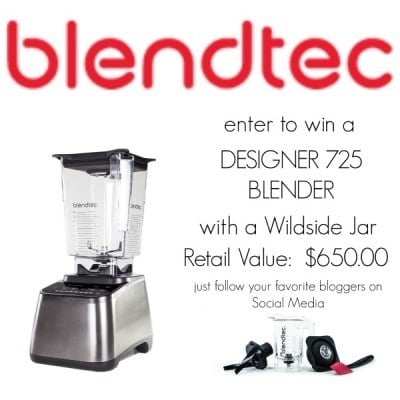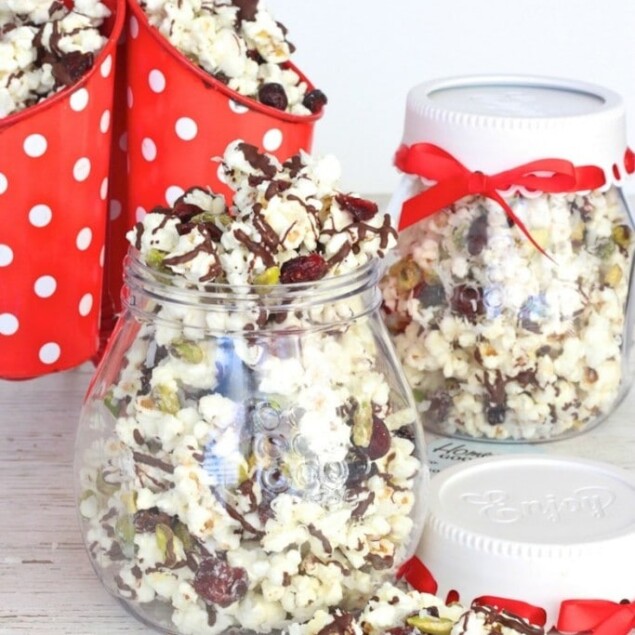 Coconut Cranberry Pistachio Popcorn
Total :
1
hour
35
minutes
Ingredients
2 3 ounce bags microwave popcorn
1 24 ounce package vanilla candy coating
1-1/2 cups sweetened coconut flakes
1 cup dried cranberries
1 cup pistachios
1 cup dark chocolate chips
Instructions
Pop popcorn according to package directions. Pour into a large bowl and pick out any unpopped kernels.

Melt candy coating according to package directions and pour over popped popcorn. Gently stir popcorn until it's completely coated.

Spread popcorn in an even layer on foil or parchment paper. Immediately sprinkle with coconut, dried cranberries and pistachios. Toss gently and spread back out into an even layer. Let set until candy coating is dry, about 20 minutes.

Melt dark chocolate and drizzle it all over the popcorn. Let set until dark chocolate is dry, about 1 hour. Break into clumps and divide into jars or baggies.