I spent the week trying to get caught up after being out of town for ten days and enjoying having one of my kiddos back home.
I was also glad to see I didn't totally miss my beautiful tulips.  They were still going strong in the garden.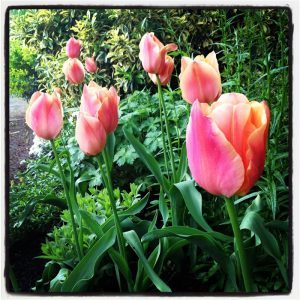 We also made our first trip of the season to the Farmer's Market.  We went to the one in Hillsboro and picked up some strawberry starts and some herbs for the garden.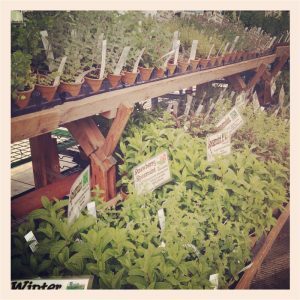 I had some fun playing with paper this week creating a table centerpiece for a birthday party at church.  I was asked to decorate one of the tables.  Here's a preview of what I did.  I'll be sharing the final results and the how to's later this week.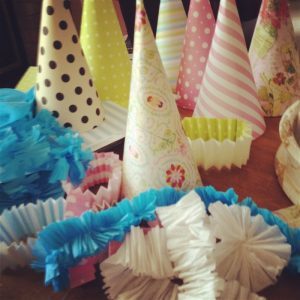 I baked some baby cakes to use as part of my table decor.  I used the best chocolate cake recipe.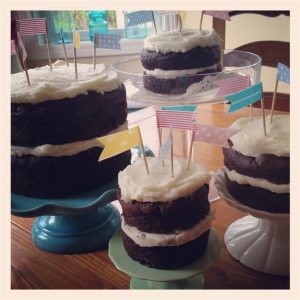 Tessa and I also had a couple of fun "play dates" this week.  On Friday we headed down to our favorite pizza place, Escape from New York Pizza,  because Friday is always olive pizza day which is Tessa's favorite.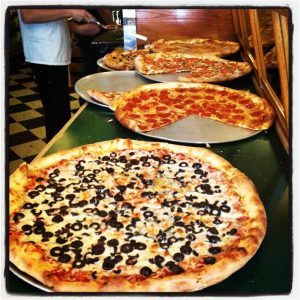 We were also excited that just down the street from our favorite pizza place, our favorite local ice cream shop had opened a second location.   We tasted several flavors but ended up with our favorite Sea Salt with Caramel Ribbon!  So glad Salt & Straw is now much closer to home!!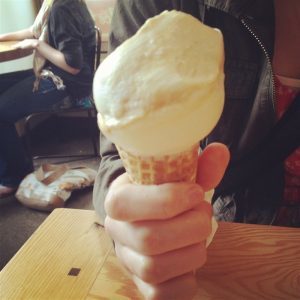 The highlight of the week though was an evening out at Cirque du Soleil.  I have been to Cirque three times but I think that the show we saw this week, OVO, is my all time favorite.
If you have ever thought about taking your children to a Cirque show this is the one!  It is all about bugs!
 "OVO" (which means egg in Portuguese) has an insect theme. The insects are fascinated with an egg that appears out of nowhere. Everything from the elaborate sets to the costumes to the various acts are visually stunning. However, your experience at OVO is not just for the eyes, but it will also engage many of your other senses. A giant flower blooming over you to the scent of flowers sensuously moving across the audience. With a final explosion of butterflies into the sparkling air.  The Latin inspired songs evoke feelings of passion and energy.    The bugs, grasshoppers, dragonflies and butterflies that grace the stage under the big top will leave your entire family with a once in a lifetime magical experience.
I have seen Cirque in the Rose Garden and under the big top and I much prefer the smaller, more intimate environment of the big top.  Cirque du Soleil is currently set up out at the Expo Center.
Prior to the show I had the opportunity to meet and ask questions of one of the members of Cirque du Soleil, Sebastian Sevard, a violinist on tour with Ovo.  It was fun to hear about what life is like in the circus!  Sebastian has two young children and a wife that tour with him.  His children are living every child's dream of running away with the circus.  I was amazed by how much family time they have and what a family friendly environment Cirque is.  They even have a school that travels with them for the children.
When you go to the show look for Sebastian on stage as a violin playing cricket!
Tessa and I loved every minute of it and spent the evening oohing and aahing and lots of clapping!!
Cirque is only here in Portland until May 20th.  KidzList, a local online resource for all things kids is giving away 32 tickets to OVO – 8 family packs of four tickets.  You can enter to win by visiting their Facebook Page (don't leave a comment on the blog)
Enter by visiting KidzList's Facebook page.   Use the Purple Giveaway Tab underneath the banner.
 More info for Cirque du Soleil and discount tickets at 25% offered through
KidzList 
(you don't need a promo code it automatically does it for you)
If you are looking for a good place to grab dinner before the show check out
The Rock.
  It is just across the river in Vancouver (only about 10 minutes from the Expo Center).  We loved it!!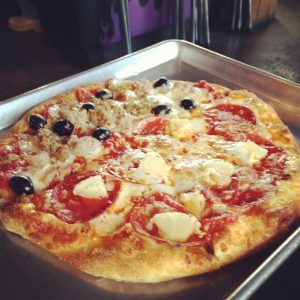 Yes, we had pizza twice this week.  We like pizza at our house.
Stay Updated!
Need more recipes and creative ideas? Sign up and get a FREE copy of my ebook! Do you think your friends would love this too? Please share my blog with them. Thanks!