Ashley of Wishes and Dishes joins us today with a fun and yummy treat  you can make in the slow cooker!   Be sure to visit her blog to enter the Blendetec Giveaway and then check out what Mique and Cindy are sharing as part of the Craft and Sew!
Hello to all of you lovely Your Homebased Mom readers! My name is Ashley and I blog over at Wishes and Dishes. The main focus on my blog is cooking and baking no-fuss dishes that are tasty, yet not time-consuming. Therefore, most of my recipes are easy to put together and taste delicious! I am guest posting today for Leigh Anne in honor of her fun "Bake, Craft, Sew" holiday series. I had the pleasure of meeting Leigh Anne at a cooking event a few weeks ago in Wooster, Ohio. She is a lovely person and I'm glad to have met her and that I had the chance to get to know her better.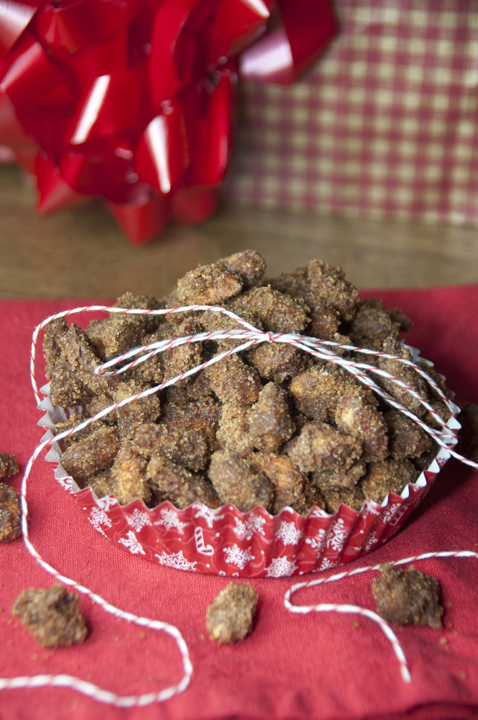 Leigh Anne asked me to come up with a perfect food idea for giving away as little gifts for the holidays that are so quickly approaching. These crunchy cinnamon sugar almonds I'm sharing with you today are made, believe it or not, in the slow cooker and are a great edible gift idea! They were gone in a flash at the church event I brought them to a few weeks ago. I have to admit that I had a hard time keeping my hands out of the bowl and they almost didn't last long enough for me to bring them to share with everyone. They are the perfect gift-giving snack because they can easily be wrapped or boxed up to look pretty and presentable and you can also make a large batch at one time! It doesn't get much easier than this and everyone will love them. You can't go wrong with sweet, salty, crunchy, sugar-coated nuts when it comes to the holidays, don't you agree? Also, your house will smell AMAZING! If you don't have a slow cooker, I also have these Cinnamon Vanilla Toasted Almonds that are similar or even this Candy Cane Puppy Chow that would work just as well for homemade gifts.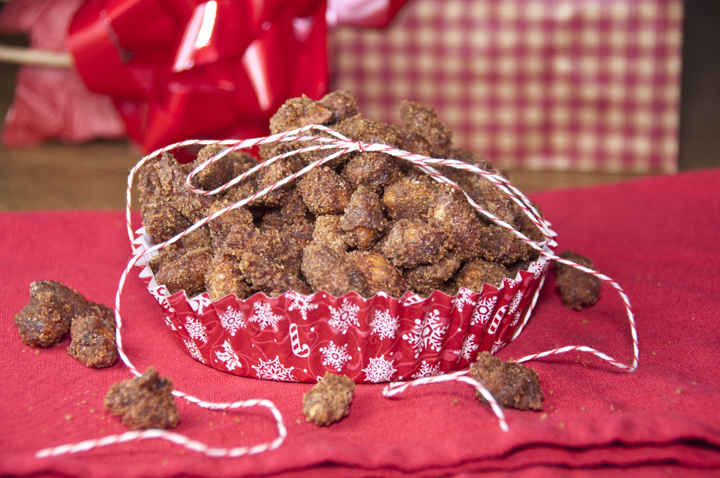 I'd love for you to come follow along with me on Pinterest, Twitter, Instagram or Facebook and see what other great recipes I'm posting. Enjoy!
Be sure to click on over to Wishes & Dishes to enter the Blendtec Giveaway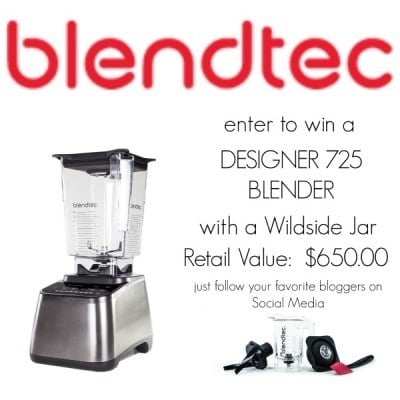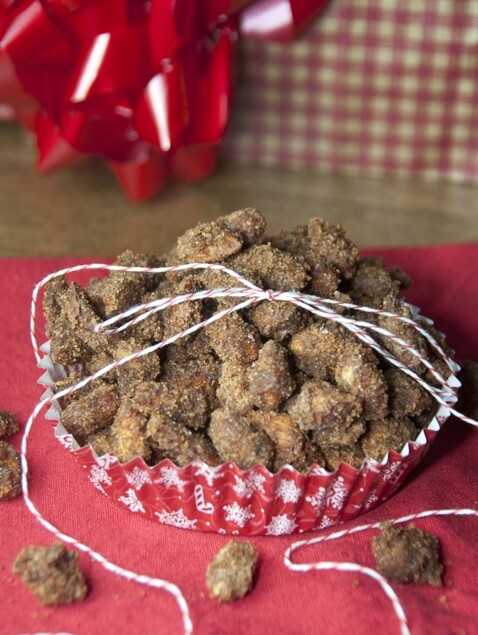 Cinnamon Sugar Almonds
Ingredients
1 1/4 cup granulated sugar
1 1/4 cup brown sugar
3 Tbsp. ground cinnamon
1/8 tsp. salt
1 egg white from large egg
2 tsp. vanilla extract
3 cups raw unsalted almonds
1/4 cup water
Instructions
Mix together in a large bowl both sugars, cinnamon, and salt.

In another bowl, whisk together the egg white and vanilla until it is frothy. Add the almonds to the bowl and stir to coat thoroughly.

Spray your slow cooker well with non-stick cooking spray (I used a 2.5 quart slow cooker). Add the cinnamon sugar mixture to the almonds and turn it on low heat. Stir until the cinnamon sugar mixture is coated well on all the almonds.

Cook on low for 3-4 hours. Mine took only 3. Stir every 20 minutes. After two hours, add 1/4 cup water and stir well until no clumps remain.

Line a baking sheet with parchment paper or silicone mat and spread the almonds onto the sheet to cool. (The almonds will be dark and may clump together so be sure to separate them the best that you can while cooling).
Recipe source: adapted from KWWL.com