I thought maybe it was a little late to post photos of my holiday decor but when I asked on Facebook you assured me it wasn't and that you were already pinning ideas for next year!  So here we go.
I changed things up a bit this year with my decor.  I decided to go with a white and gold theme in my entry way and I have to say I LOVE it!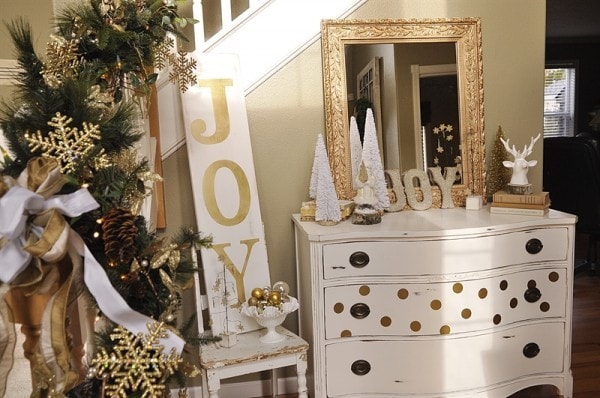 I made my Joy sign this year out of a board I had laying around in my garage.  Love the way it turned out.  I also added white bottle brush trees from Target.  As you will soon see I have a bit of an addiction to bottle brush trees.  The mirror was actually a frame I found at Goodwill.  I gave it a coat of gold spray paint and then took it to a local mirror place to have the mirror put in.  I had great plans for the mirror but it just didn't happen th is year – there is always next year.  My deer head is a new addition too.  Picked it up while I was in Utah at DownEast.  I cut out some gold vinyl circles on my Silhouette to dress up the dresser a bit.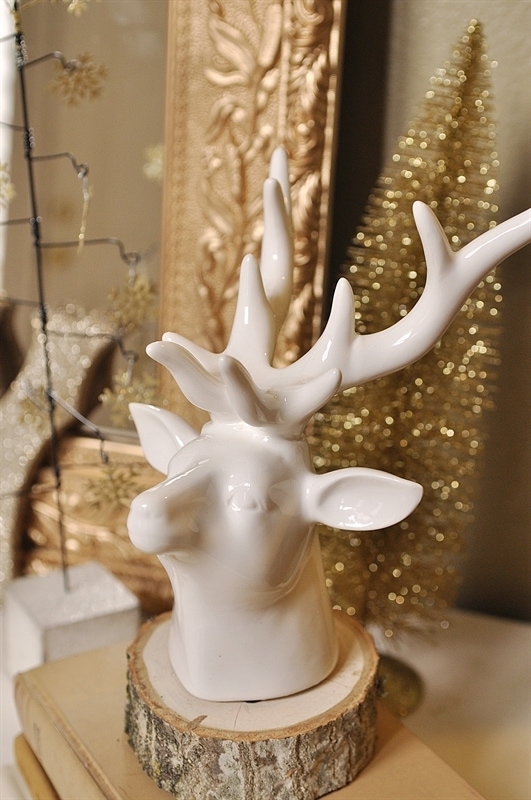 For my banister I used gold snowflakes from Tai Pan and some cute little gold glitter reindeer I found at the Dollar Store.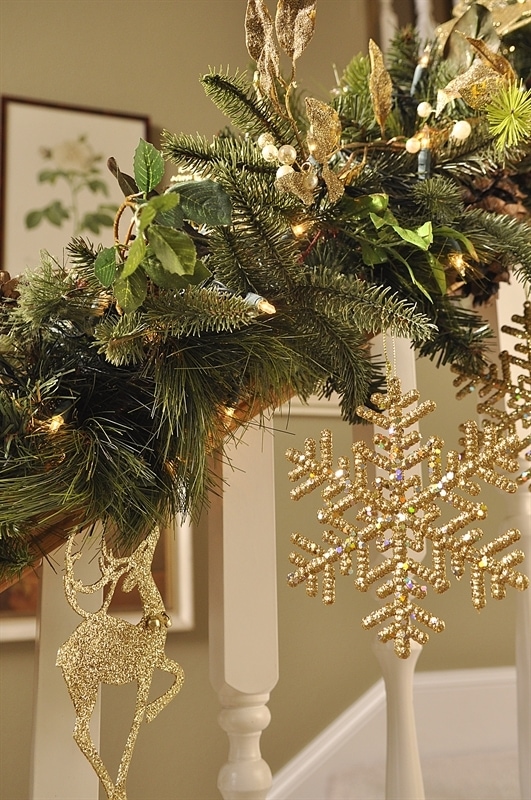 Loving the way the entry way turned out.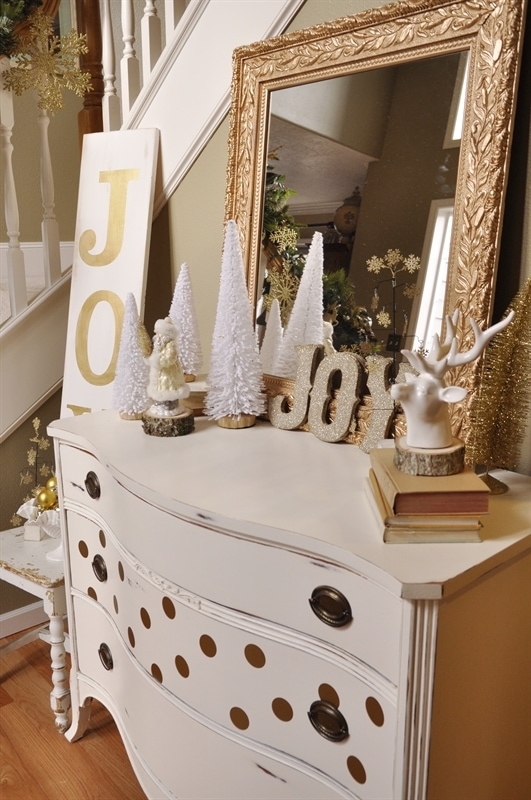 Also in the entry way is this vignette I put together.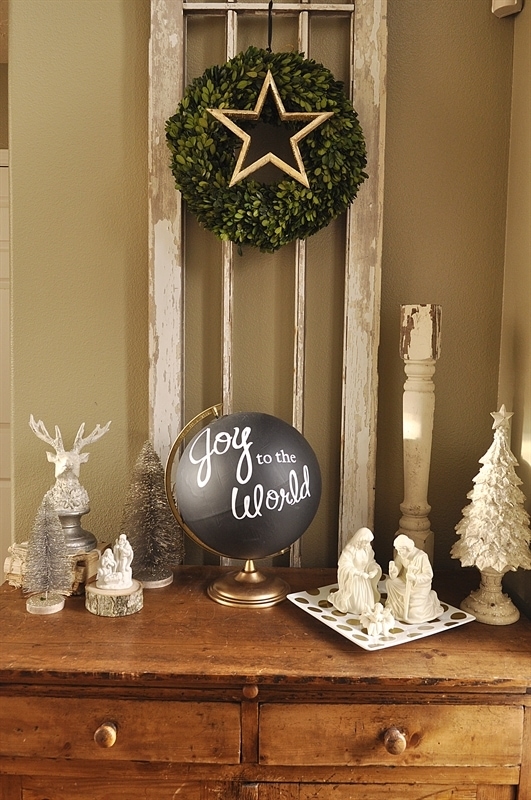 The globe came from Goodwill and with a little gold spray paint and some chalkboard paint and some vinyl lettering  it underwent a bit of a transformation.  I am a total fan of boxwood wreaths and I added this new one this year on my old door that always hangs on the wall.
I love taking decor that is already in place and just adding a bit to it to make it Christmasy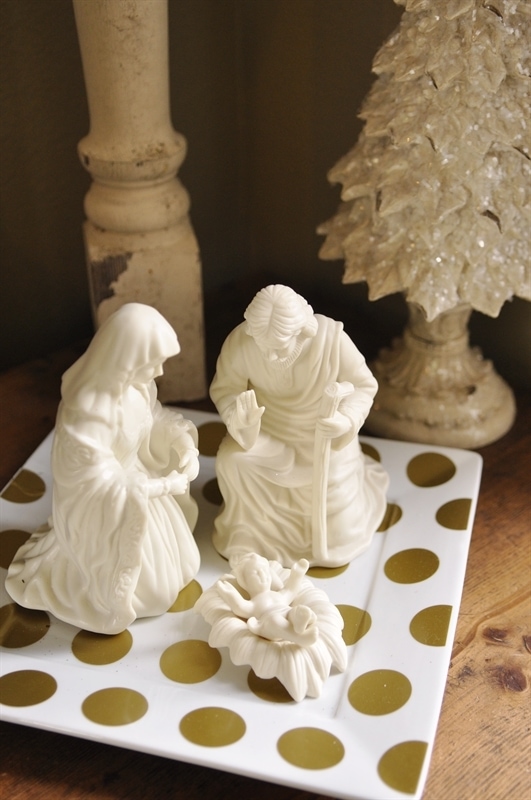 In the living room is our "formal" tree.  If you'd like some tips on how to decorate a tree check out my post here.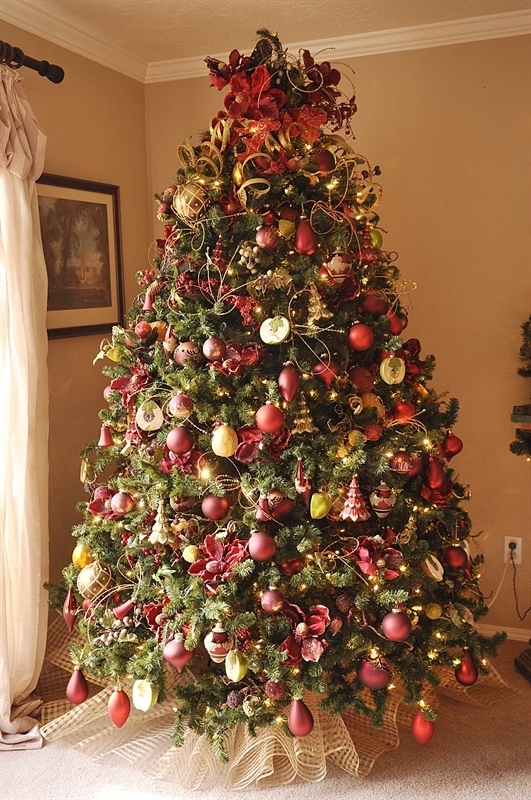 My bottle brush addiction came on full force with the living room mantel.  The gold ones I picked up this year at Home Depot!  The other tress were from Target a few years ago.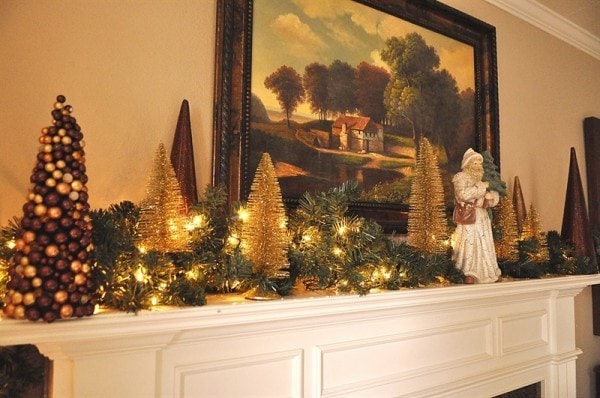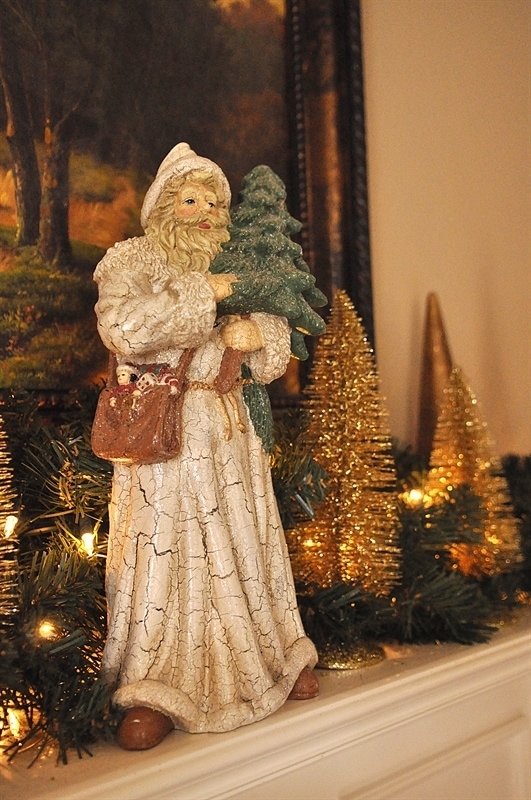 In my dining room this printable from Kiki & Co. looks perfect.  I had it printed at Costco.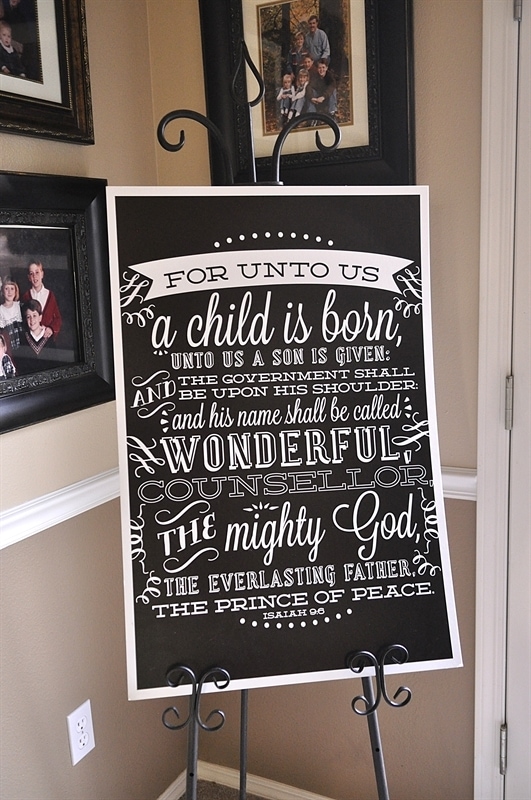 In the family room I have my Joy tree.  I love t his tree.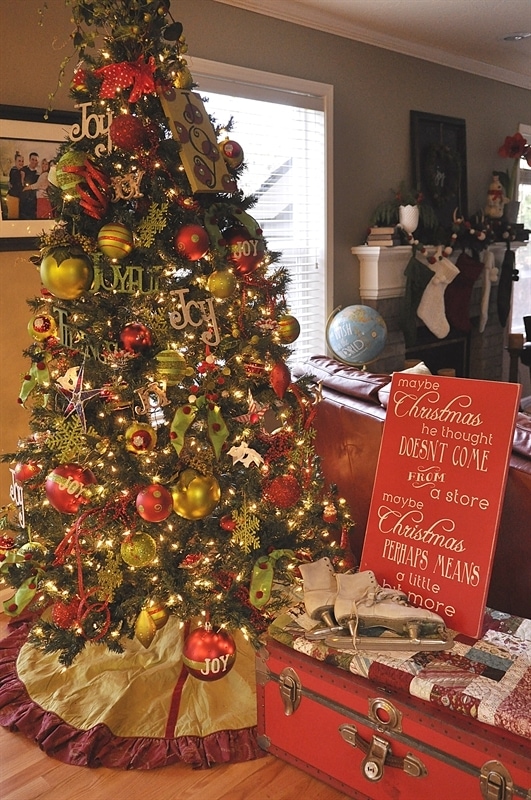 This year my good friend Marsha who knows me all too well found this amazing red trunk and gave it to me as a Christmas gift.  I love it!!!  I topped it with a Christmas quilt I made several years ago and finally got it quilted this year and added a pair of vintage ice skates I picked up in Utah  (they came complete with vintage socks tucked inside too!)  and then added my Dr. Seuss quote – one of my favorite holiday quotes.
I'm loving the vintage light reflectors I added to my tree this year.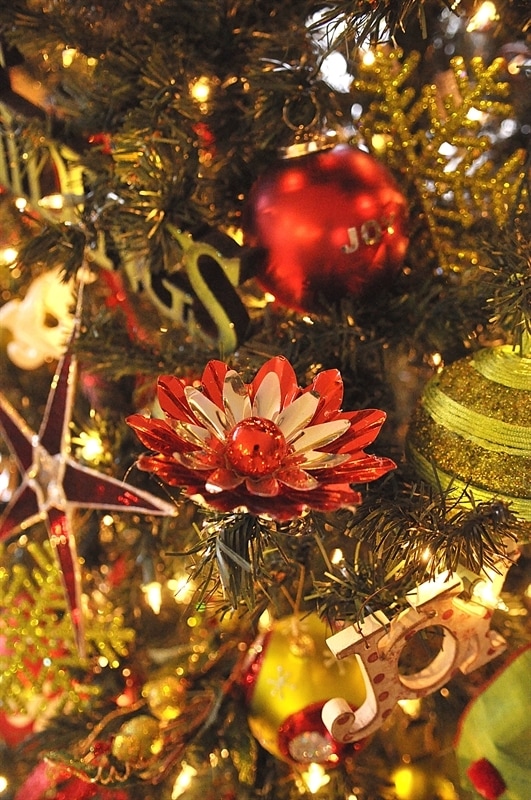 More paper whites and pinecones on my coffee table with a cloche full of ornaments.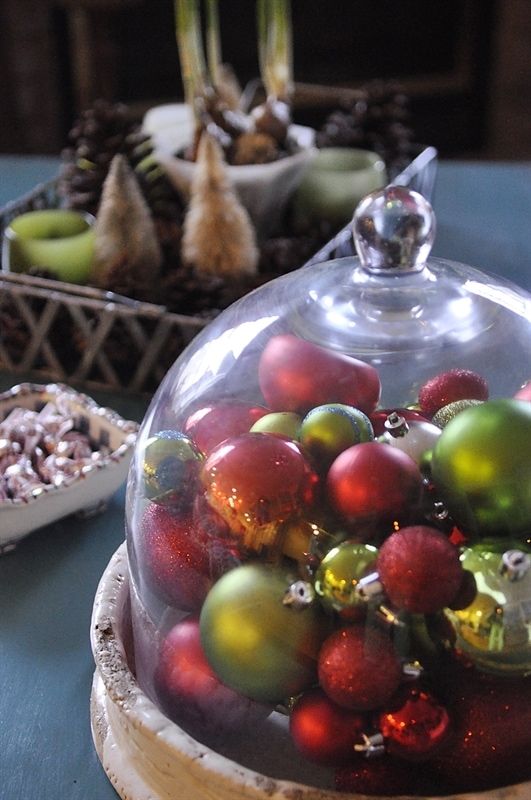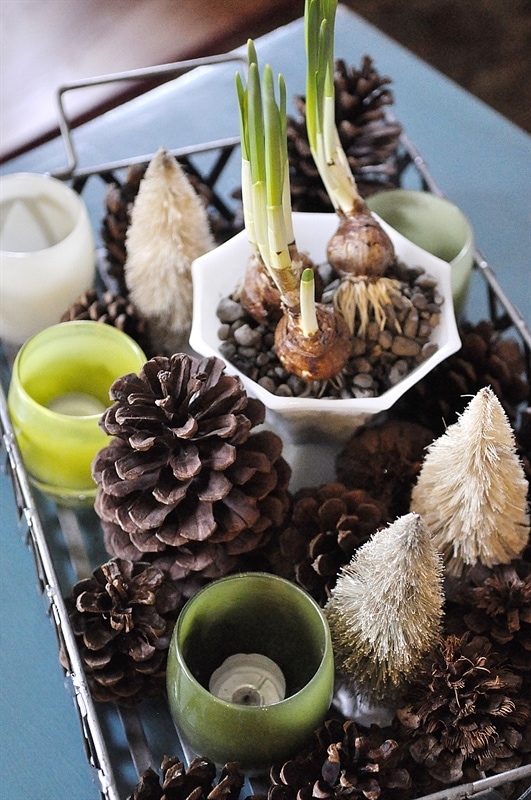 In my family room is my collection of vintage inspired Santas and more bottle brush trees.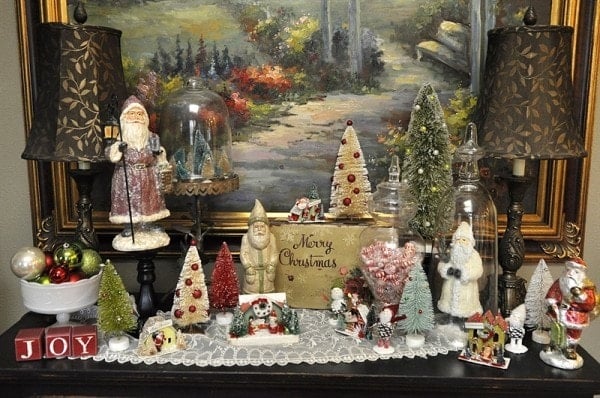 Love these little vintage houses I have started collecting from a local Portland artist Magpie Ethel. She has an etsy shop too.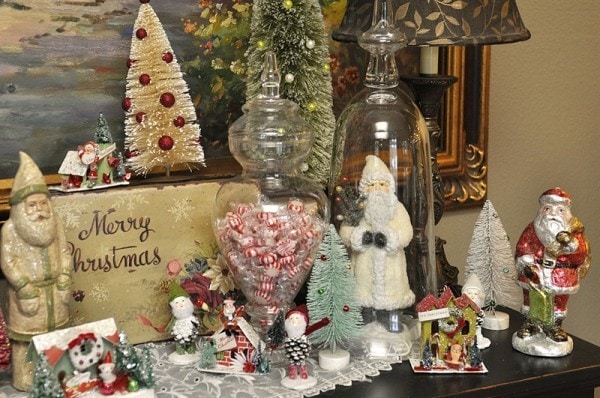 Keeping with the Joy theme in my family room I have my Joy chalkboard on the mantel.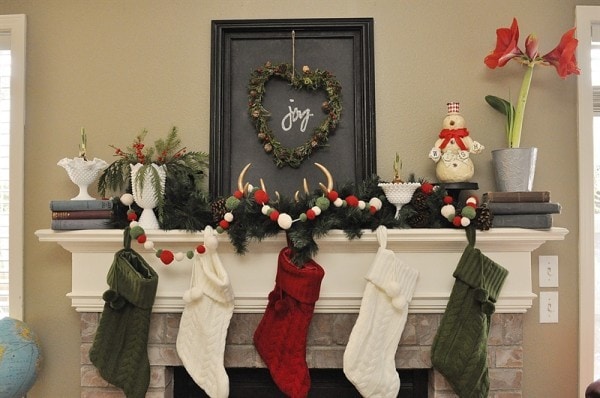 It was so fun to add a  new stocking to our mantel this year as all our children will be home for Christmas including our son and daughter in law!   Had to jump into the antler fad and picked up these gold ones at Target. My husband thought I was crazy!!  I also love paper whites and I am patiently waiting for mine to bloom.  Used some of my milk glass collection to hold them.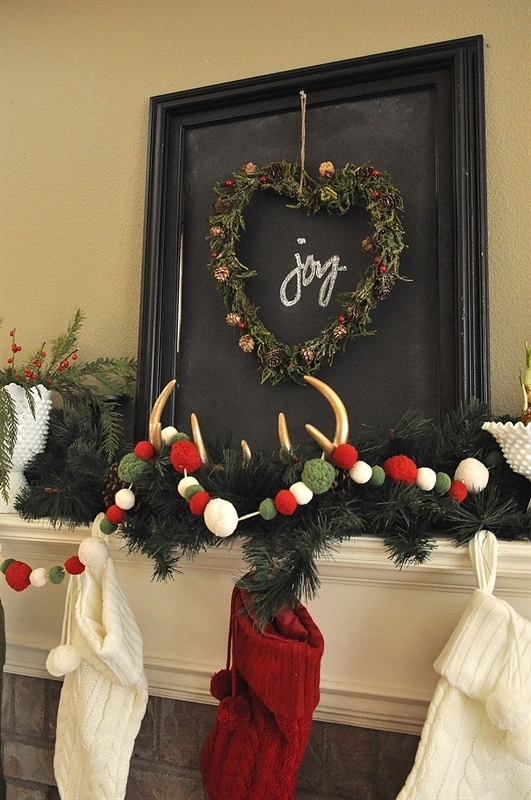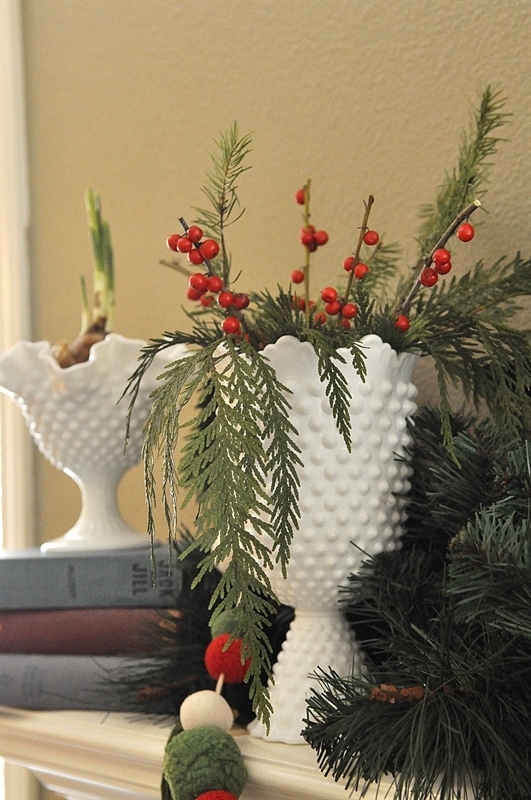 Since we have artificial trees I love adding some fresh greens in with my decor.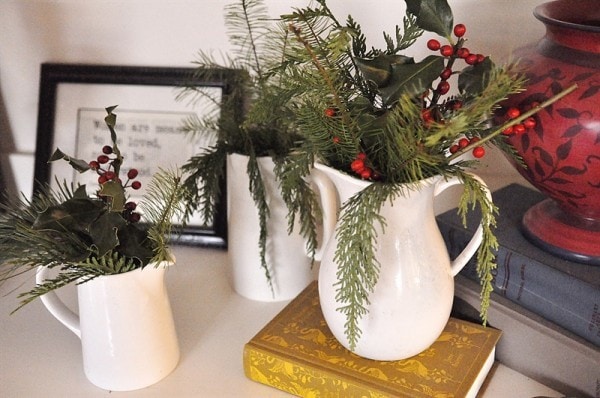 In my kitchen I hung our family Joy canvas from our family Christmas card a few years ago.  I love this photo!    This Christmas card even made the Wall Street Journal.
I've got my snow scene blue mason jars on the kitchen table.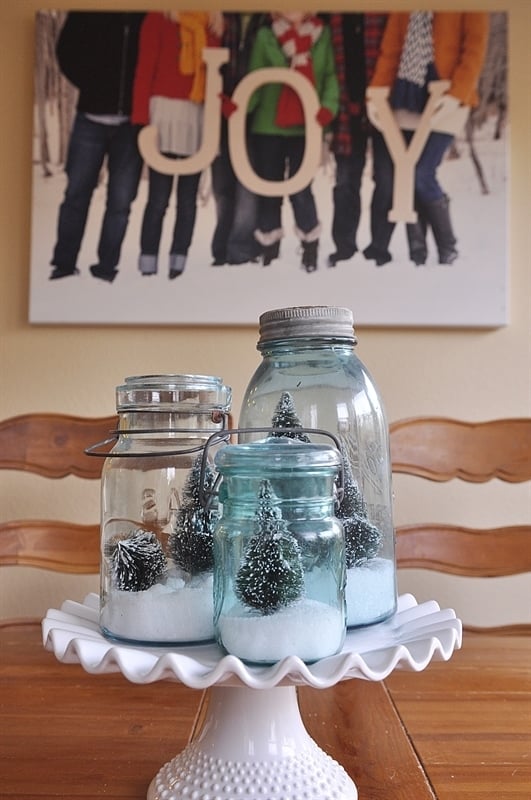 Hope you enjoyed the tour!