Today I'm sharing my Christmas Decor for this year.
Well, my house is finally decorated. Except for the banister.
Decorating the banister is my least favorite part of "decking the halls." I always leave it for last. My girls always give me a hard time about not doing it so this year I have left it so they can help me. We'll see if it gets done!
But the rest of the house is ready. I have given you a couple of peeks over the last few weeks of a couple of the spots of holiday decor but today you get the whole Christmas Decor 2012 tour. Enjoy!
First the entryway.
This was a new vignette for me this year. This piece of furniture is usually in the living room but in order to make room for the tree it gets moved out to the entryway.
I decided to put my collection of milk glass to good use and I loved how it turned out.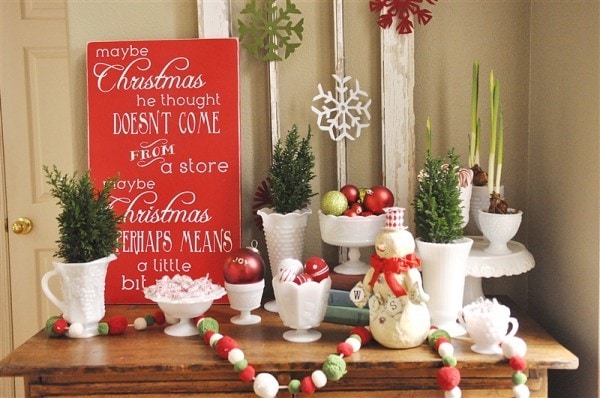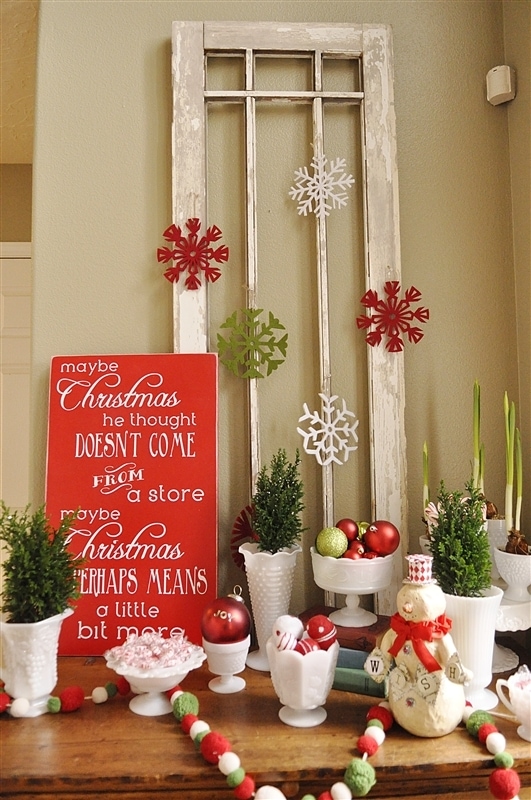 Also in my entry way – I am loving my new estate sale $35.00 find that I painted white. I usually do something more formal in my entryway but I kept it pretty simple this year. I used a few of my new bottle brush trees from World Market that I love along with the poster I printed at Costco and hung on the wall. The artwork is from Kiki and Company. I purchased the download and then had it printed.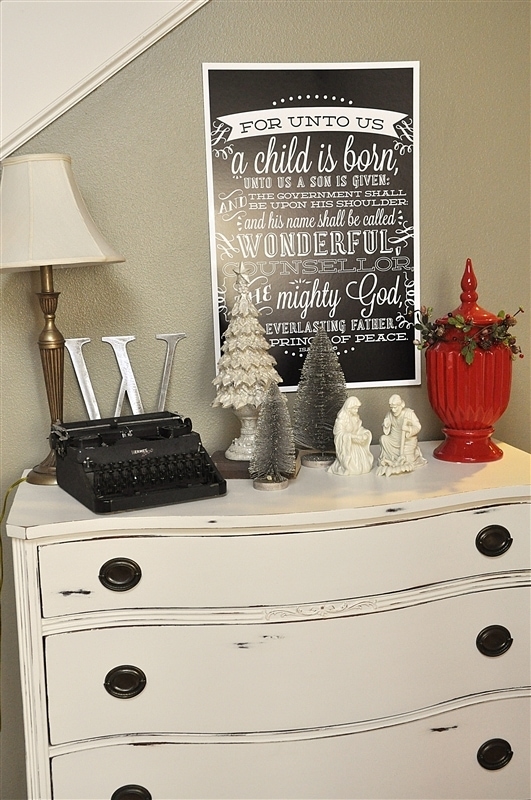 I think my father in law's old vintage typewriter has taken up permanent residence in the entryway. I love it.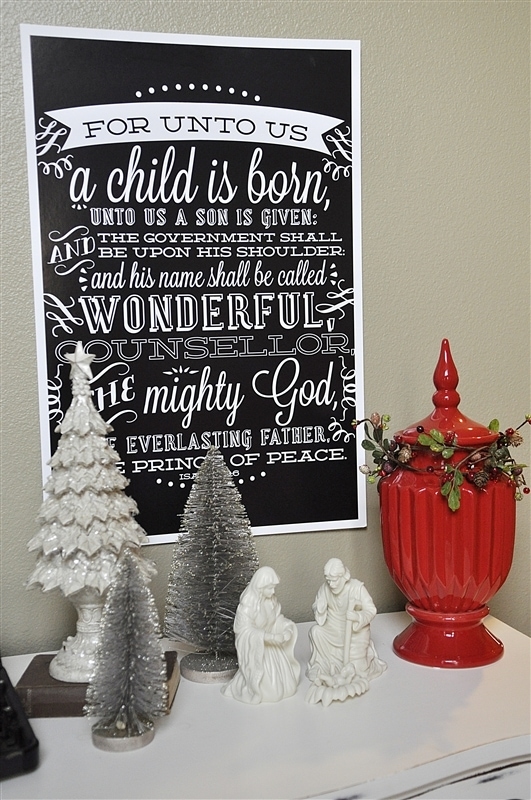 If the banister were decorated I would show it to you next, but it's not.
From there we go into the family room where I changed things up a bit this year too. My new love and infatuation with bottle brush trees is clearly evident in this room. I also have a thing for vintage inspired Santas.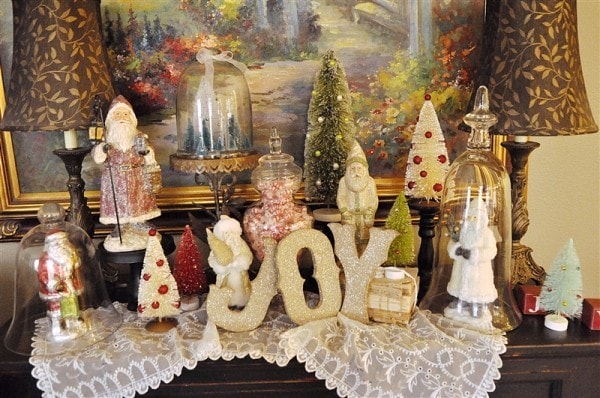 The smaller, colorful bottle brush trees were a new purchase this year from World Market along with the white vintage Santa I love.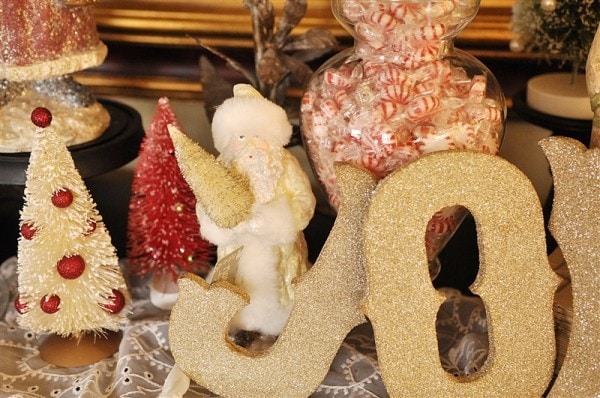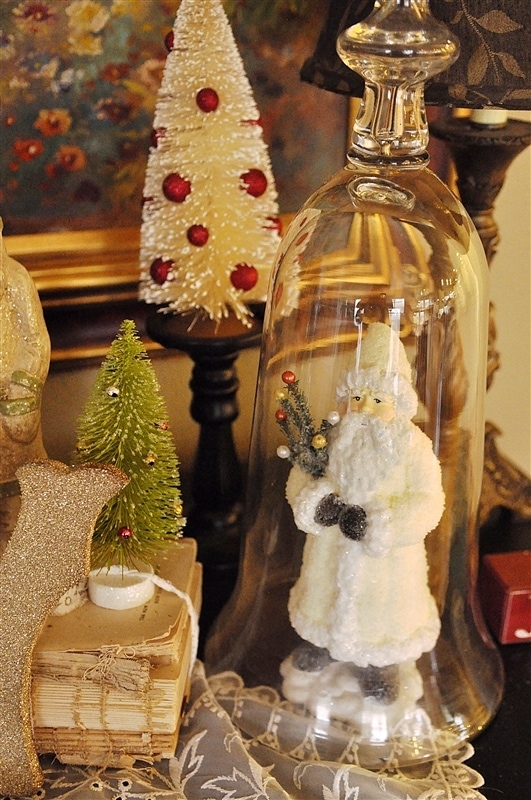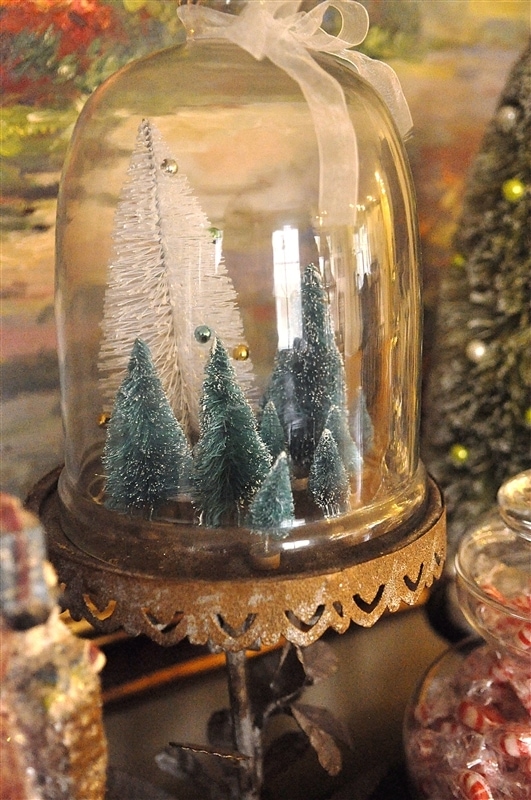 Also in the family room is the mantel. This is where I put my little forest of bottle brush trees I bleached myself. Check out my bottle brush tree bleaching tutorial.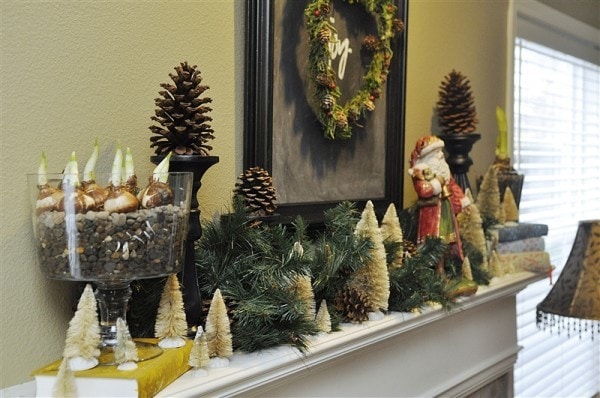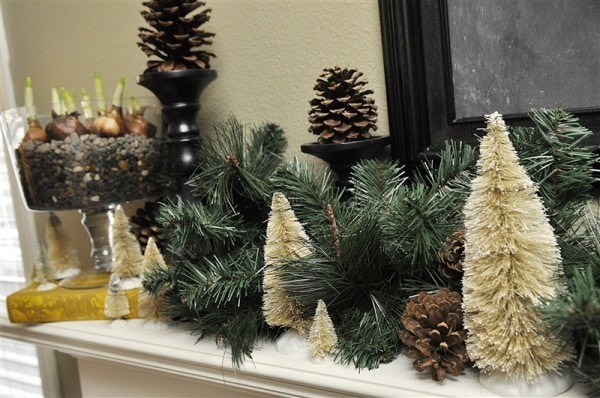 I am especially loving the framed Joy I put together this year thanks to Pinterest. The heart shaped wreath is from World Market. They had a wonderful collection of holiday decor items this year.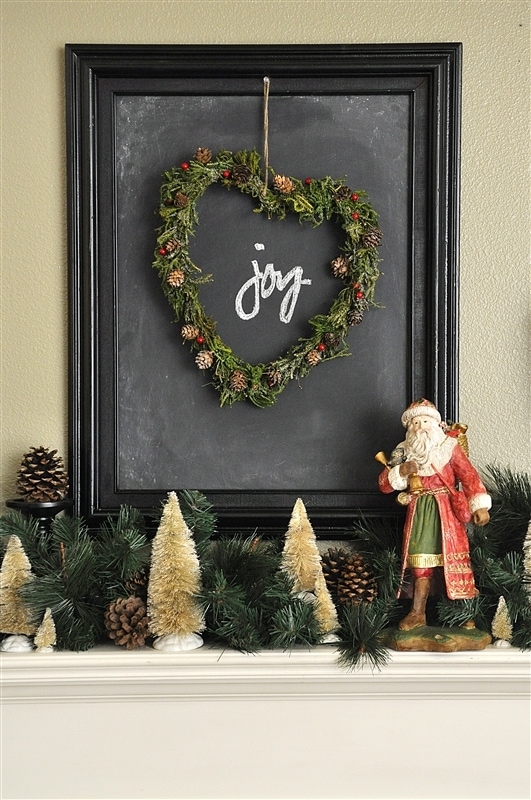 My Joy tree also resides in the family room.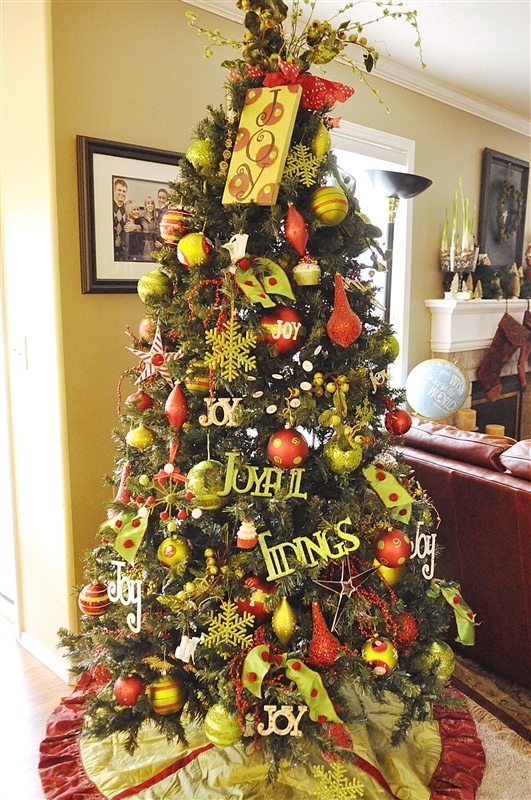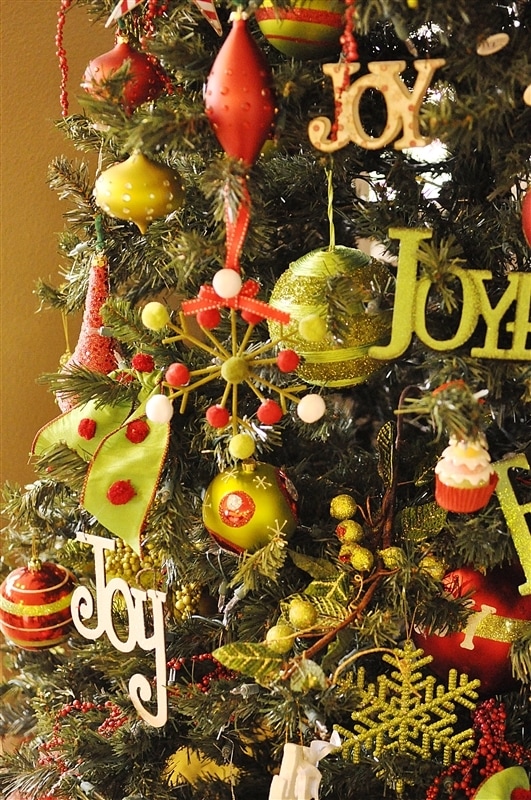 Also in the family room is one of our nativity sets. This is one that we made years ago – probably almost 25 years now. A similar nativity was on the cover of our church's magazine for children and I fell in love with it. I drew up a pattern and Jim cut it out of wood and I painted it. We made several to give as gifts to family members too. I especially love it because on the bottom of one of the wisemen there is a set of teeth marks. Those belong to Clark who decided to teeth on the wise man!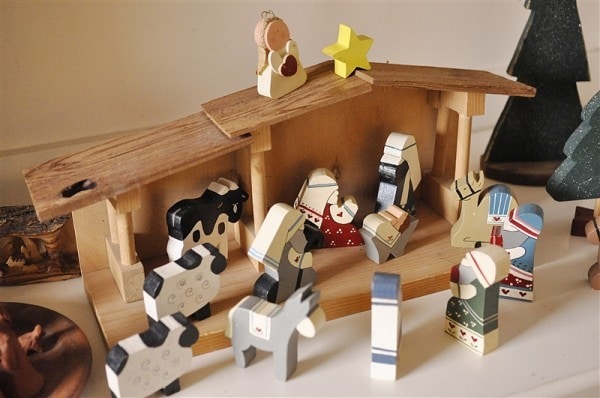 Next we head into the dining room where there is a spot of holiday decor on the yellow sidetable. Nothing fancy.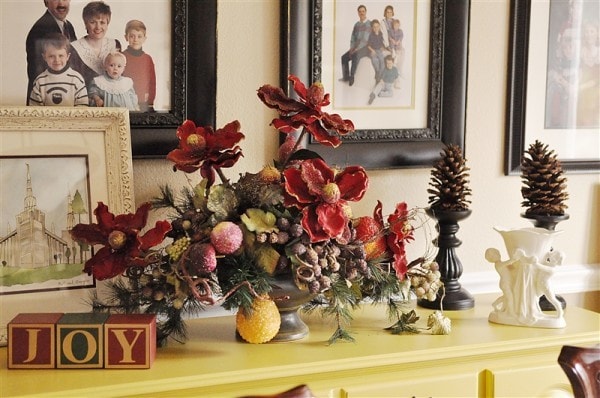 Last but not least is the living room. You may recognize something from the Wedding Carnival!?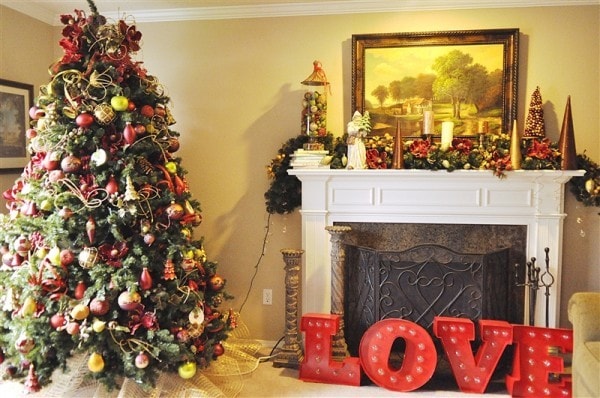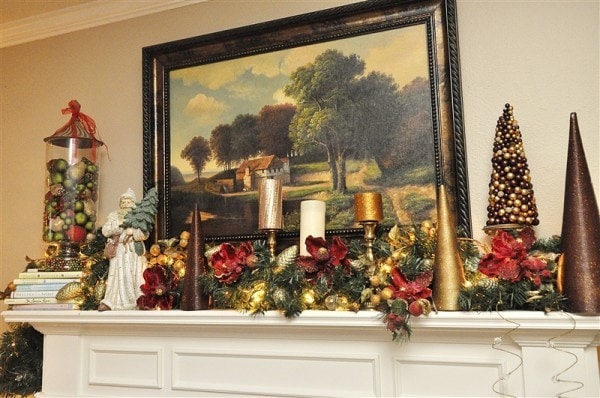 If you missed my tutorial on How to Decorate a Christmas Tree be sure and check it out for more details on how I do my tree.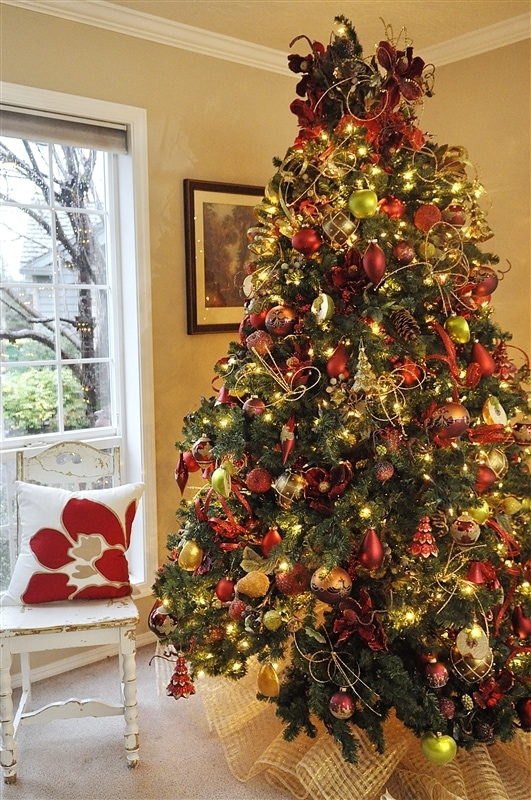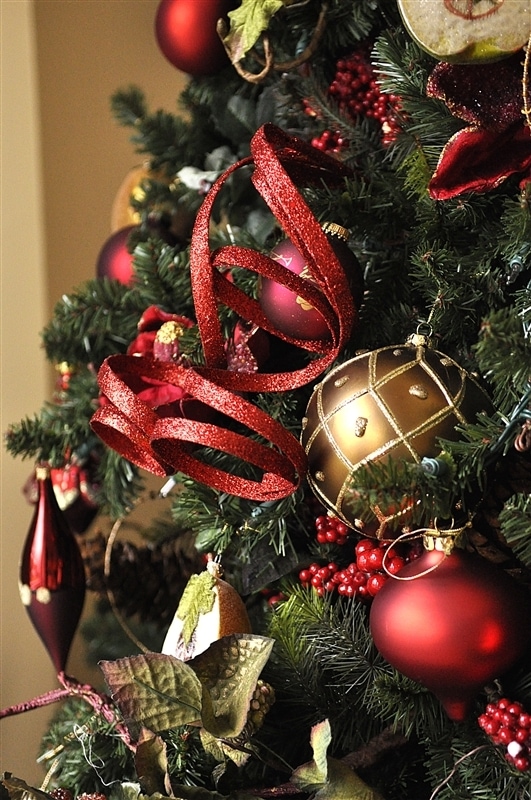 We have another nativity set that my mother in law made that sits on top of our piano in the living room.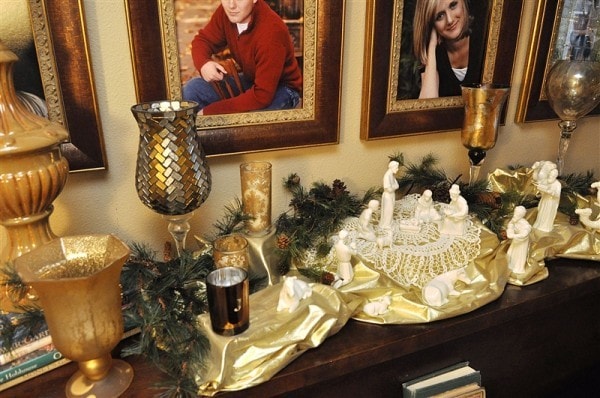 There you have it! Hope you enjoyed the tour.
Enjoy!
Leigh Anne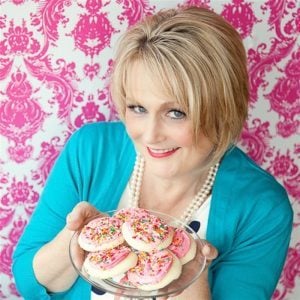 You can also visit me on Facebook, Pinterest, Twitter or Instagram.