These days Christmas morning starts a lot later than it use to. In fact we usually have to wake the kids up now that they are all young adults.
But when they were little we use to buy ourselves a few extra minutes of sleep and Santa would leave their stockings outside their bedroom door. When they woke up they could entertain themselves with what was in their stockings for a while and let mom and dad sleep just a bit longer.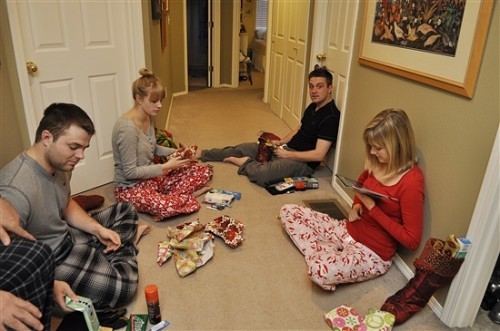 Some of the favorite stocking stuffers at our house are new toothbrushes, toothpaste, deodorant, shaving cream, socks, makeup and candy.
Clark was a little naughty this year and he got some coal in his stocking. (At least it tasted good!)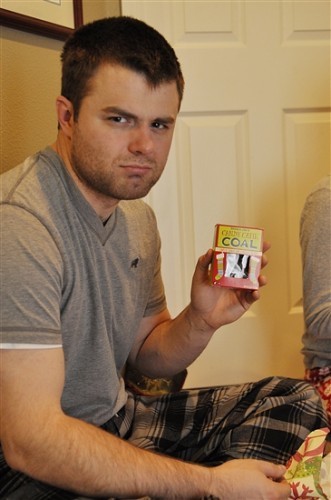 Then it is time for the traditional "on the stairs, ready to run into the living room and see what Santa brought" shot.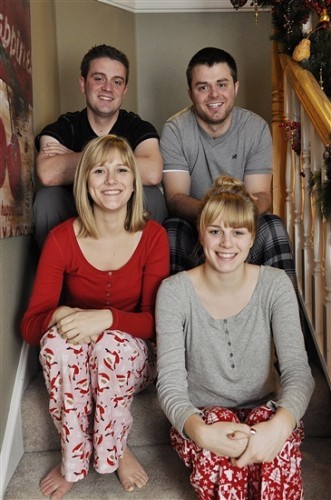 Dad is always in charge of handing out the gifts.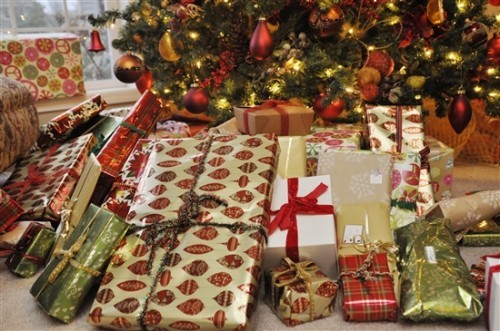 Each year I purchase four different types of wrapping paper – one for each child. That way I don't even have to put name tags on them if I get a bit lazy. I know the green paper is for Clark, the ornament paper belongs to Cali, etc.
Cali looks cute in her new hat.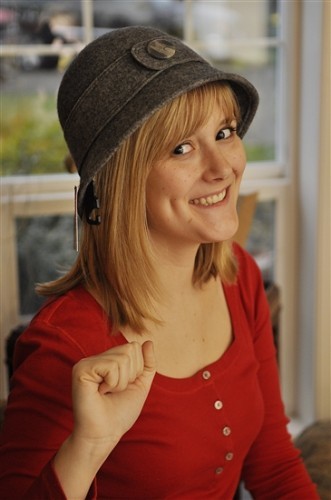 Tessa was a little confused when she unwrapped her gift from Clark – it was full of toilet paper.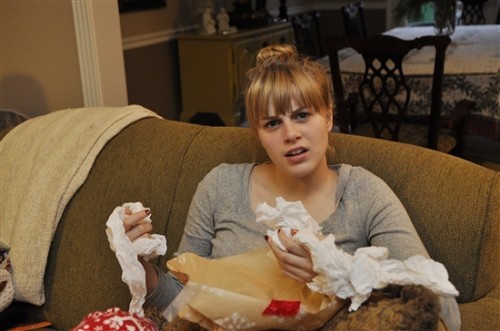 He was just joking with her and pulled another gift out from under the sofa with these cute mittens in it!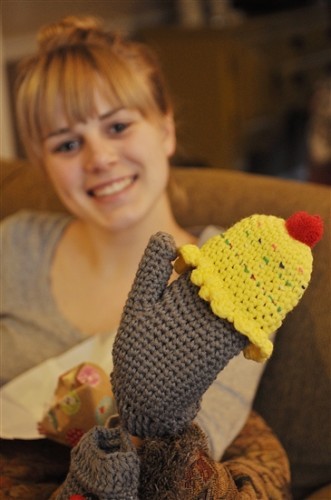 Jim got what he wanted for Christmas – tickets to go see Jimmer and the Sacramento Kings play the Blazers thanks to Logan!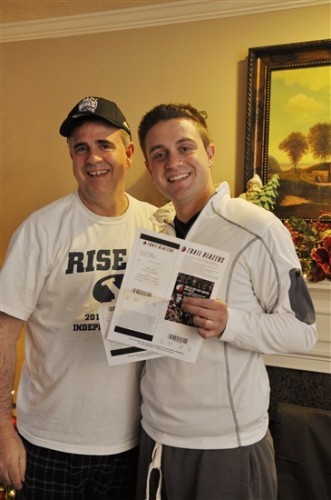 There is always a lot of sports themed gifts at our house.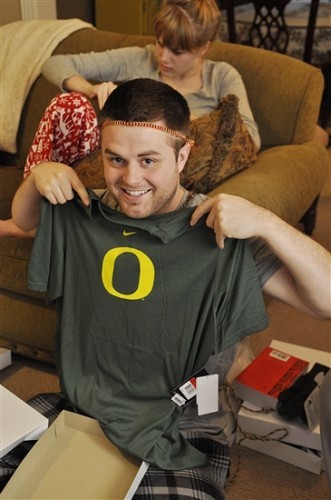 Jim and I don't usually exchange gifts but this year he cheated. I am glad he did. The first gift I unwrapped was a box full of vegetables!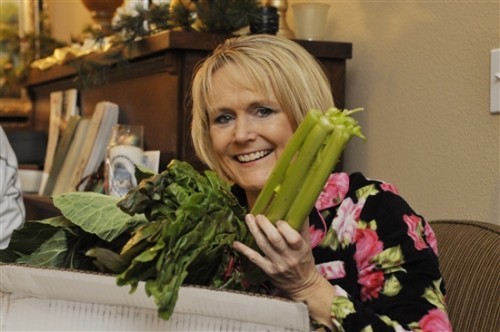 I was excited because I knew exactly what it meant – a new Vitamix so we could make green smoothies. I'd been wanting one for months! The timing was perfect as just two nights before I had broken my blender and ended up with pumpkin milkshake all over my ceiling, cabinets and floor!!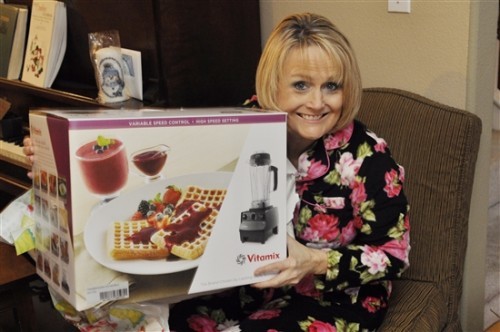 After all the gifts are opened there is one more gift. That gift goes to the person who finds the pickle ornament which is hidden on the tree somewhere. This year Cali was the winner.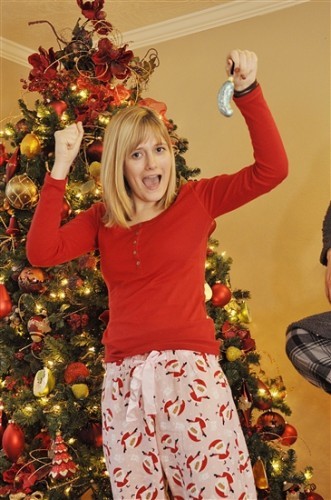 Then we have the traditional photo of the kids in all the wrapping paper.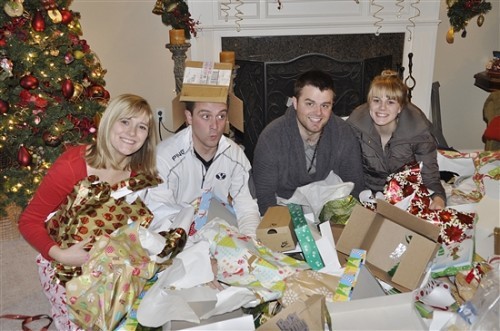 Then dad is in charge of cleaning up the mess while mom starts breakfast which always consists of breakfast pizza, cinnamon rolls (I use Rhodes frozen cinnamon rolls this time!)and hot chocolate. I am proud to say I came up with a complete gluten free/dairy free version of this breakfast too for Cali. I bought a gluten free pie crust and made a quiche using coconut milk and no cheese – just sausage, hash browns and eggs. Gluten free cinnamon rolls courtesy of Udi's and Almond Chocolate milk made great hot chocolate.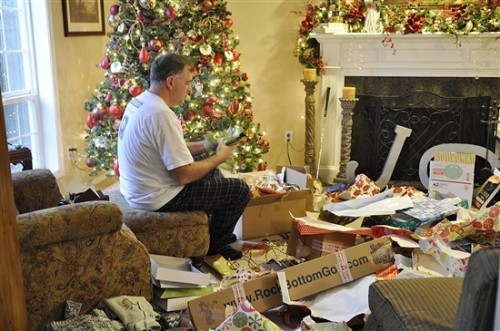 Since Christmas fell on Sunday this year we all got ready for church after breakfast and enjoyed a lovely Christmas service. One of the speakers got sick at the last minute so since Jim was conducting the meeting he asked Logan to fill in at the last minute. Of course he did an amazing job!
After church we headed home and started dinner preparations while the boys watched a few ball games.
Dinner is always prime rib at our house. Since we discovered this time last year that Cali is allergic to red meat I also did a turkey breast for her, there were mashed potatoes, green beans, spinach salad, jello salad, home made rolls and ice cream pie for dessert. There was coconut milk ice cream for Cali. There was sparkling cider too.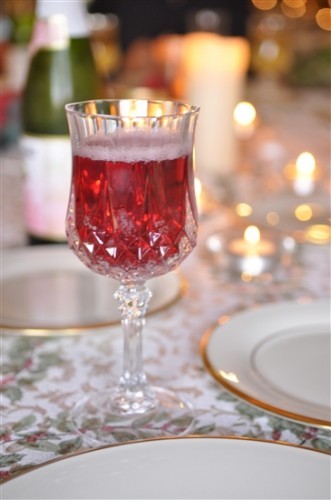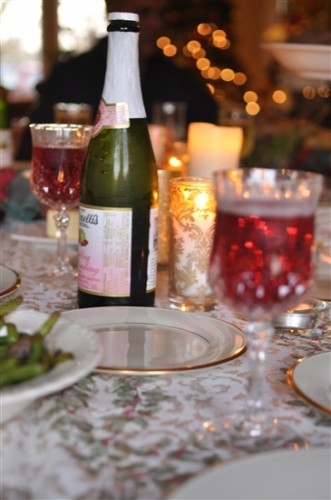 The boys always do the clean up after dinner and there was a photo shoot of us dressed up in our Christmas/Sunday best.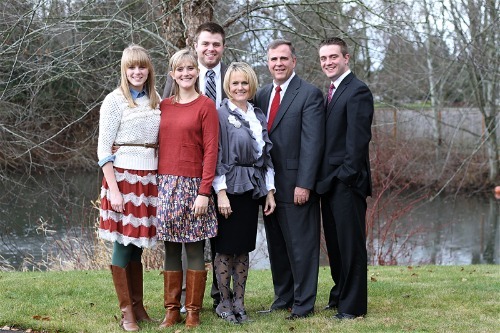 One thing we started years ago was to take a picture of the child with all of their Christmas gifts. It is a fun thing to look back at over the years.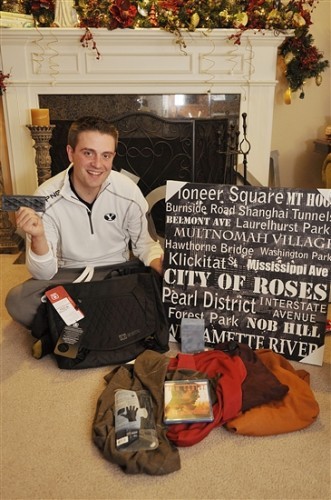 We spent the rest of the day just hanging out at home, enjoying each other, visiting with the neighbors and playing some games. That is pretty much how the whole week between Christmas and New Year's will be. We'll see some movies, play some games and just enjoy being together! I hope you will do the same.
Stay Updated!
Need more recipes and creative ideas? Sign up and get a FREE copy of my ebook! Do you think your friends would love this too? Please share my blog with them. Thanks!