These Christmas Cream Cheese Cupcakes are sure to get you in the mood for Christmas and they are delicious too!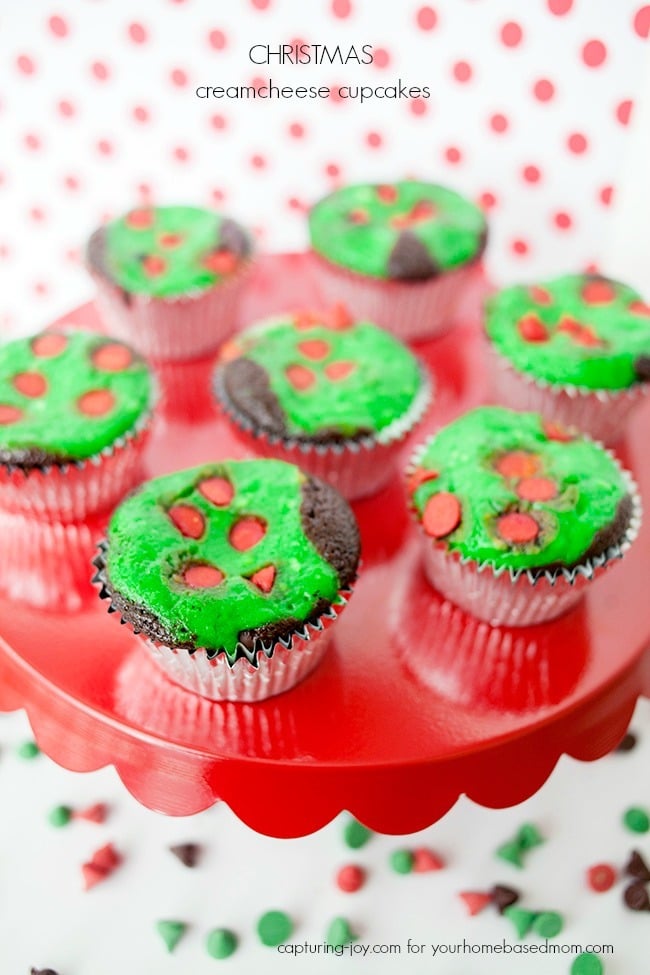 I am so excited to welcome my good friend Kristen to the blog today.  She is one of my best blogging friends and I adore this girl!  I so appreciate your friendship and amazing energy and love for life, her family and all that she does. And she is an amazing photographer too.  Please be sure and visit her at Capturing Joy with Kristen Duke.
These delicious Christmas Cream Cheese Cupcakes are a holiday spin-off of our family favorite cupcakes, with a rich chocolate base and a dollop of chocolate chip filled cream cheese mixture resting on top.
Hi there, I'm Kristen Duke, and I share my creative adventures over at Capturing Joy.  I've just got a mish mash of everything family fun!
How about a FUN picture of my family last year at the Christmas Tree Farm? Click that link to see more from that excursion. I kinda love taking family pictures in fun new places!
It's fun to get festive with the bright green and red at Christmas-time with treats, and that's just what I did here. The kids will have fun helping you make them, and they'll be delighted to take plates full to friends and family. I used the holiday chocolate chips found in the baking aisle, and though it's a trio of colors, I picked out the red, to sprinkle on top of the cupcakes, leaving the green and brown to go inside the chocolate mixture. Can't get rid of those, now can we?
Here is the simple recipe:
Christmas Cream Cheese Cupcakes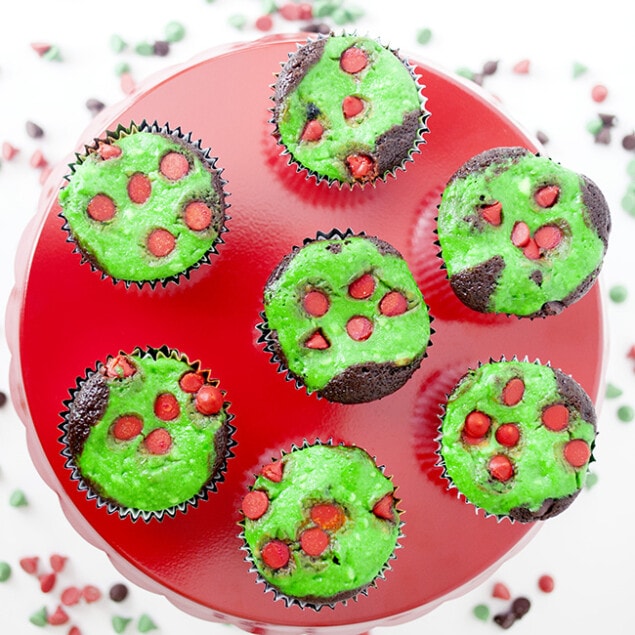 Christmas Cream Cheese Cupcakes
Favorite family recipe, adjusted for Christmas
Ingredients
Filling:
8 oz. cream cheese room temp
? cup sugar
1 egg room temp or clumps cream cheese
? tsp salt
green food coloring
cake:
1½ cup flour
1 tsp. salt
¼ cup cocoa
1 T vinegar
1 cup water
1 tsp. baking soda
1 cup sugar
? cup vegetable oil
1 tsp. vanilla
1 cup red chocolate chips
1 cup other chocolate chips semi
Instructions
Set oven to 350 degrees.

Mix the filling, turn green, and set aside.

Mix dry cake ingredients together and then add the oil, vinegar, and vanilla.

Pour the water over everything and mix with electric beaters.

Fill cupcake liners half full of cake batter.

Mix batter with brown chocolate chips or other

Drop a heaping tablespoon of filling into the center of the chocolate batter.

Top with 1 cup red chocolate chips sprinkled

Bake at 350 degrees for 25 minutes.

Eat warm and gooey or put them in the fridge to chill for a more textured taste.

Makes 15-18 cupcakes
I'd love you to come on over to Capturing JOY, and see all of my other shares, or follow me on your favorite social media!
Instagram // Facebook // Pinterest
Here are a few other Christmas ideas I've shared in the past that you might enjoy: