Chocolate Peanut Butter Bars – about the best flavor combination ever invented.  Don't you agree!?


Today's recipe for Chocolate Peanut Butter Bars is compliments of Emily.  Technically Emily is my niece in law (my husband's brother's daughter in law) but Emily is more like a sister to me some days and other days she has to listen to my motherly advice and she is more like a daughter.  But whatever she is, she is wonderful and amazing and I love her.  She allows me to stay at her house whenever I am in Utah.  She allows my son to live at her house all summer.  She feeds my children on a regular basis and she is always there for us when we need her.  Yes, everyone should have an Emily in their life. And her husband Wynn is pretty great too!
On my most recent visit Emily was yet again preparing to feed the entire Wilkes' clan (and that is a lot of clan!)  Unfortunately, Jim and I were flying out before dinner. Fortunately for us, dessert was done before we left and Emily sent us out the door with a plate of these Chocolate Peanut Butter Bar goodies.  The fact that most of them ended up in Jim's lap in the car is another story.
We ate them anyway.
Emily said they reminded her of the Chocolate Peanut Butter Bars the lunch lady use to make at school.  I was a brown bagger at school so I'm not sure if our lunch lady ever made these but if she didn't she should have and if she did I'm sorry I missed them!

The base of the bars is a moist cookie base made with quick oats, flour, butter and of course sugar.


The base is spread into a jelly roll size pan and then baked.  Be sure to not overbake it.  While it is still warm, you spread the top with some peanut butter that has been whipped with vanilla.  It will soak into the cookie base.  Yum.


The top is then crowned with a mixture of butter, cocoa and some more sugar.


Then let them set up and they are ready to cut and eat or if you are like we are – you don't let them cool and you eat them!!

I think these would make the lunch lady proud! I am thinking these bars would also be pretty amazing with Jif's new Chocolate Hazelnut Spread.  If you haven't entered the giveaway to get some for FREE along with a $50.00 gift card you need to!  Head over here.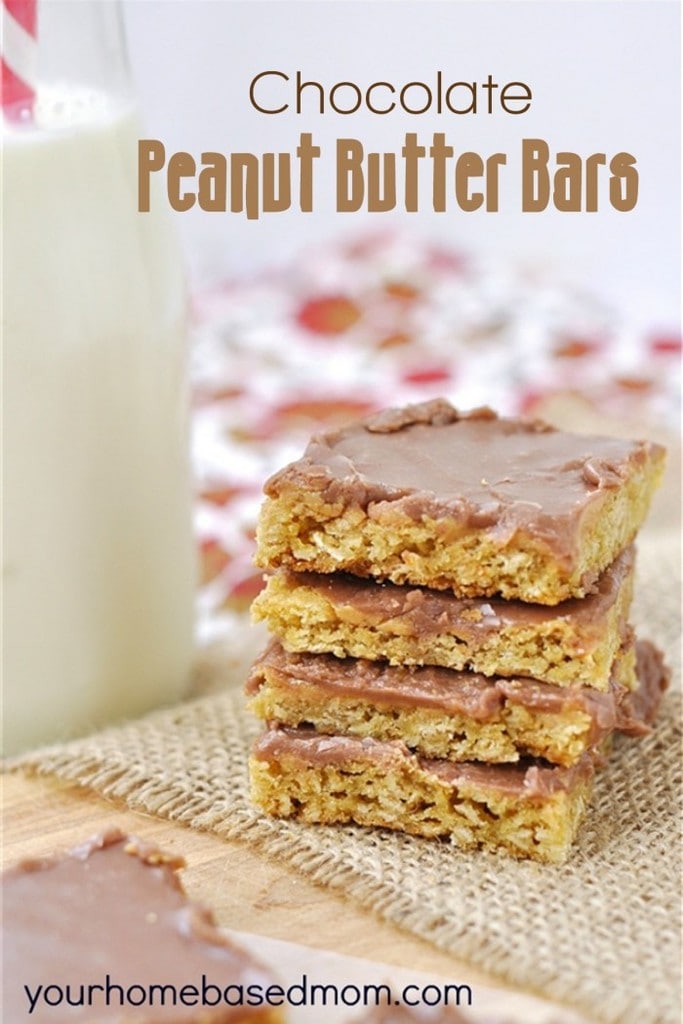 Chocolate Peanut Butter Bars
Ingredients
3/4

C

butter

3/4

C

sugar

3/4

C

brown sugar

2

eggs

3/4

tsp

baking soda

1/4

tsp

salt

1 1/2

C

flour

1 1/2

C

quick oats

3

tsp

vanilla

divided

1

C

peanut butter

1/4

C

butter

1 1/2

Tbsp

cocoa

3

Tbsp

milk

2

C

powdered sugar
Instructions
Cream together sugars and butter.

Add in eggs and beat until fluffy.

Add in soda, salt, flour, oats and 1 1/2 tsp vanilla.

Dough will be moist but not sticky.

Spread on to a jelly roll size cookie sheet

Bake at 375 degrees for 10 minutes. Don't overbake

Whip together peanut butter and 1 tsp vanilla in mixer.

Spread over top of warm cookie base.

Heat 1/4 C butter and stir in cocoa until dissolved and smooth.

Add in milk, powdered sugar and 1/2 tsp vanilla.

Mix until smooth and spread over peanut butter layer.
Stay Updated!
Need more recipes and creative ideas? Sign up and get a FREE copy of my ebook! Do you think your friends would love this too? Please share my blog with them. Thanks!