This post was sponsored by Country Crock®. All opinions are my own.
Chocolate Candy Bar Cookies are the perfect match – your favorite candy bars and a cookie all in one!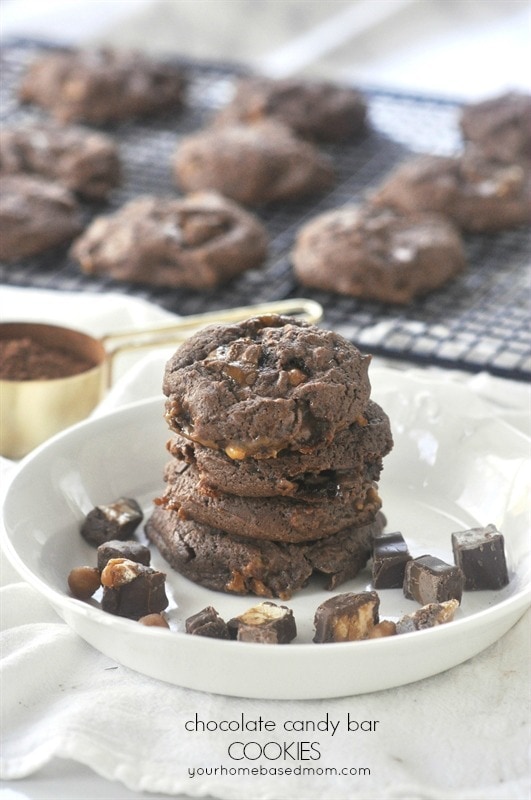 Deciding what is going to go on my holiday cookie plate is serious business around here. All the magic happens at our annual cookie baking day. You can read my tips for hosting your own cooking baking day here. There is a science to deciding what cookies are going to make the cut and have a spot on the plate. I want to make sure I have a balance of flavor, texture, shape and shelf life. You just can't throw any old cookies on your holiday cookie plate! If you'd like to read more about our top tips on putting together the perfect holiday cookie plate check out this post.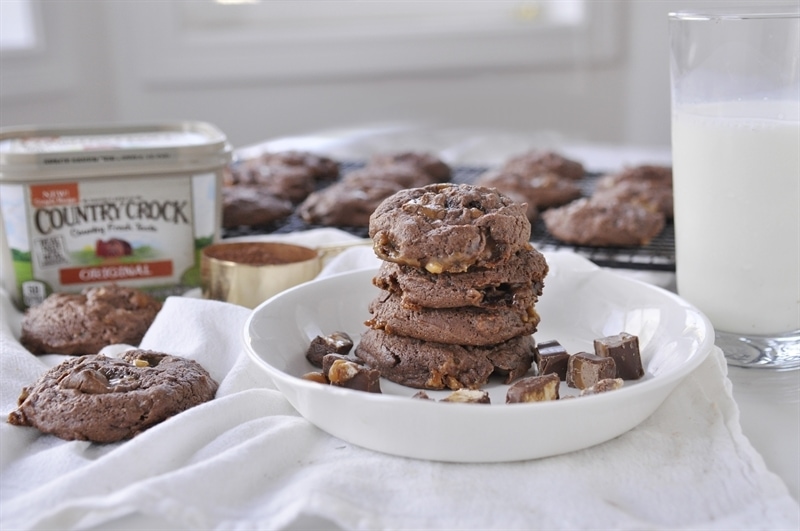 One of my top tips though is to look for a cookie recipe that is versatile. Ideally, a cookie recipe that you can quickly and easily change up to create a variety of different cookies is the best.
A while ago I shared with you this yummy recipe for Apple Pie Cookies. Today I have a recipe for Chocolate Candy Bar Cookies and guess what – they both use the same basic recipe. All I did was switch out the mix-ins! This time I used cocoa powder, some leftover candy stash and caramel chips.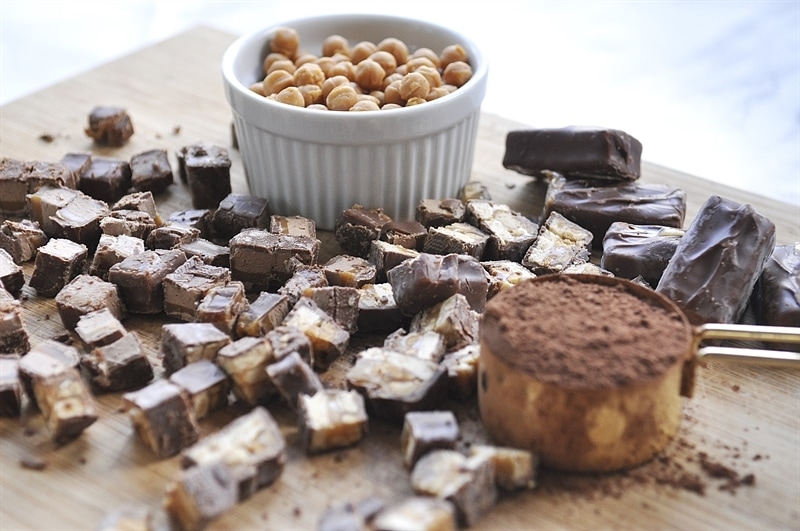 All the rest of the ingredients are exactly the same! This great Country Crock® Make It YoursTM Cookie Recipe is the queen of versatility. The possibilities are only as limited as your imagination. Use the basic recipe and then just change out what you mix in.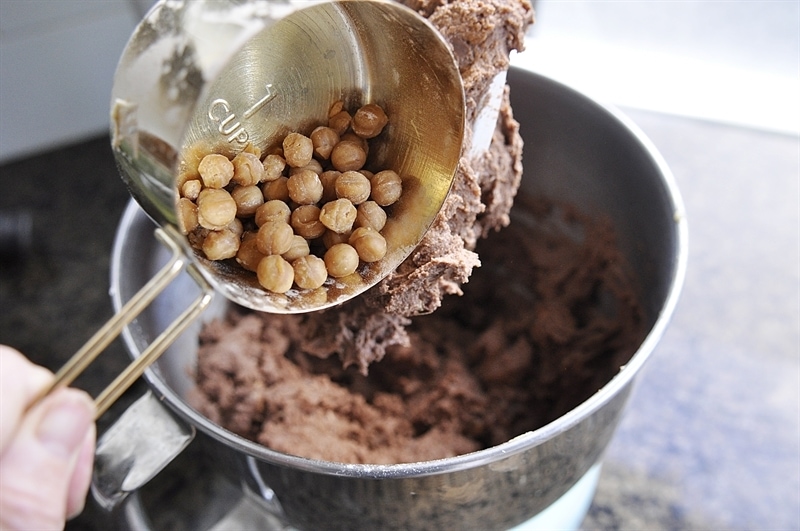 If you don't have a secret stash of candy at your house, you'll have to make a trip to pick up your favorite candy bar mix-ins, sorry! My favorite candy bars to use are those with lots of caramel in them and a little bit of crunch too.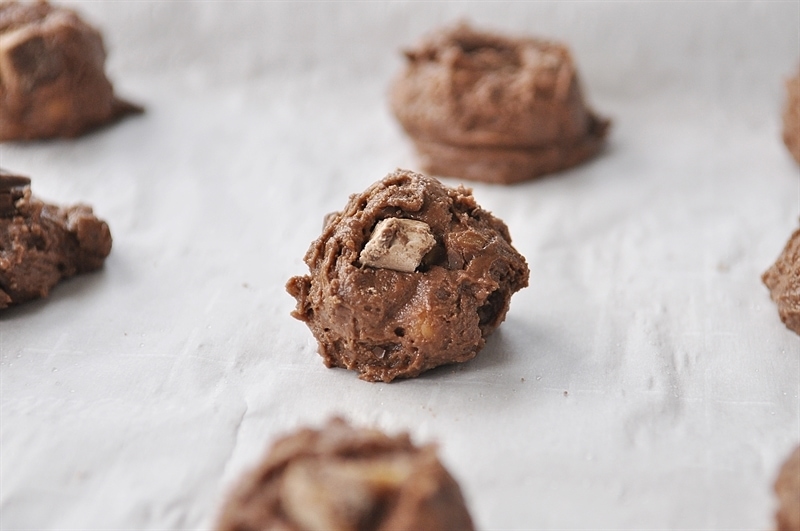 This cookie can make an appearance over and over again on your holiday cookie plate and no one is ever going to know it is the same cookie.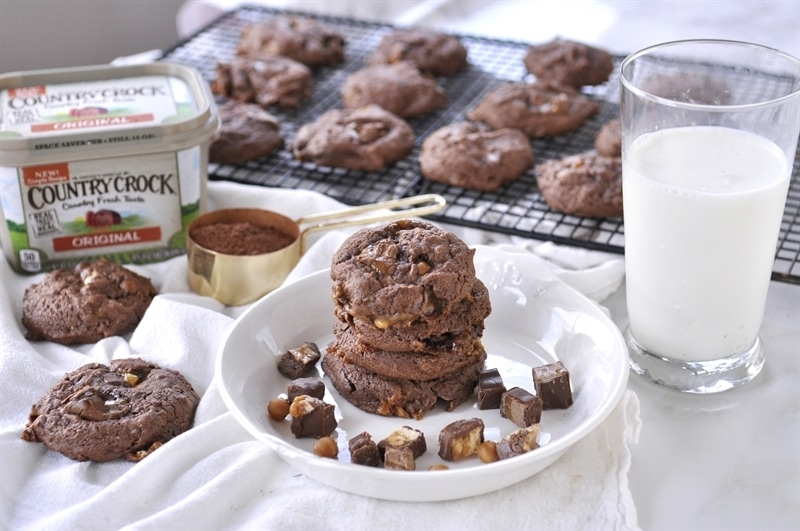 For even more inspiration and ideas be sure and visit CountryCrock.com. Share your own cookie creations using the hashtag #MakeItYours on Facebook, Instagram or Pinterest.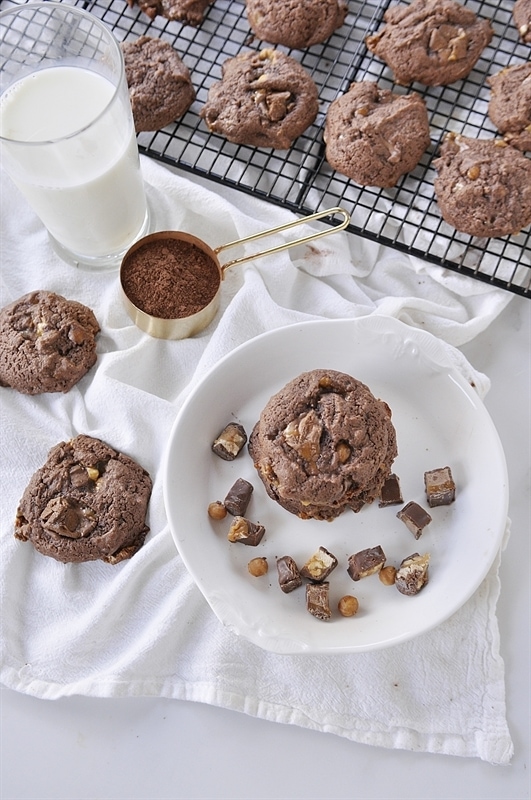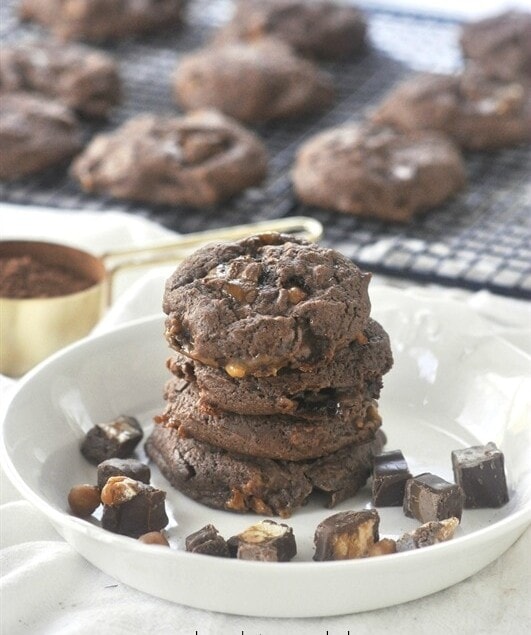 Chocolate Candy Bar Cookies
Ingredients
1 cup Country Crock® Spread
3/4 cup granulated sugar
3/4 cup firmly packed light brown sugar
1 large egg
1 large egg yolk
2 tsp. vanilla extract
3 cups all-purpose flour
1/4 cup unsweetened cocoa powder
1 tsp. baking powder
3/4 tsp. salt
1/4 tsp. baking soda
1/2 cup caramel bits
16 fun size candy bars cut into pieces about 3 cups
Instructions
Preheat oven to 375°.

Mix Country Crock® Spread, granulated sugar, light brown sugar, egg, egg yolk and vanilla in large bowl until well mixed.

Stir in flour, baking powder, salt, cocoa powder and baking soda until blended. (Dough will be soft and creamy.)

Add caramel bits, and chopped candy bars.

Drop dough by rounded tablespoonfuls on ungreased baking sheets 3-inches apart.

Bake 10 to 12 minutes until edges are lightly golden. Cool 1 minute on wire rack; remove from sheets and cool completely.