Quick and easy dinners are always needed and these chicken tostadas are the perfect solution.
Today's recipe for chicken tostadas uses my favorite  chicken marinade which is quick, easy and delicious!  What more could you ask for you?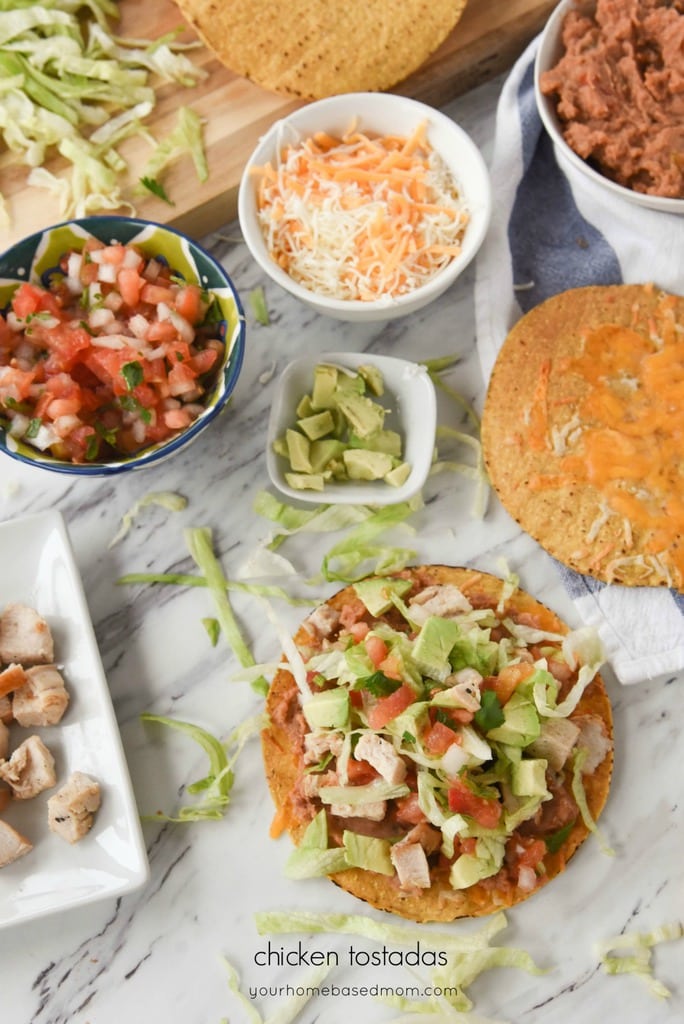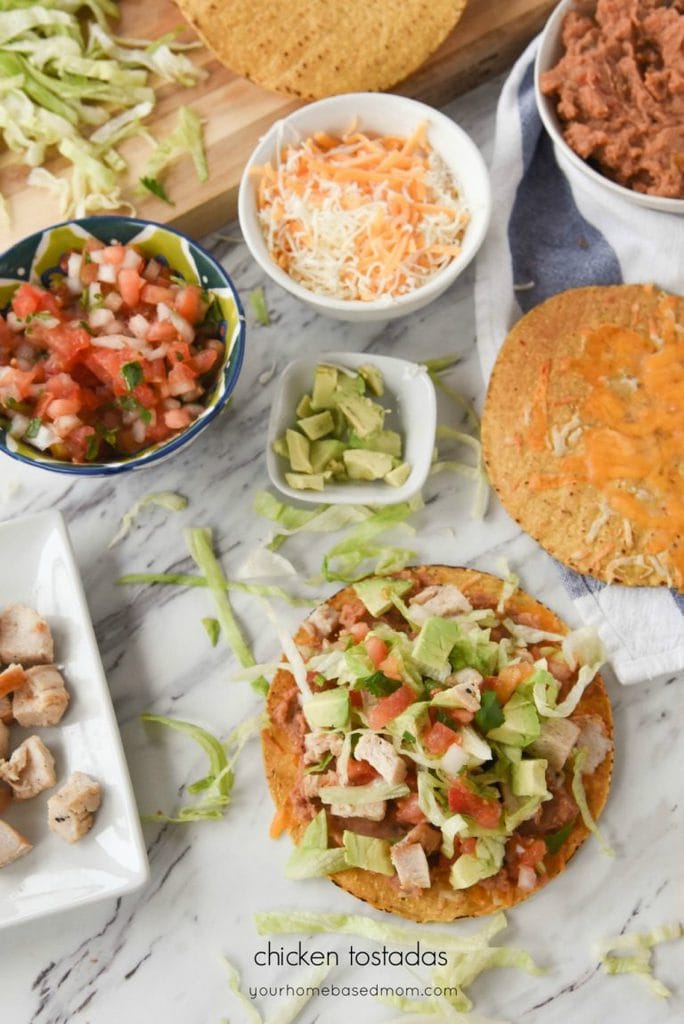 This recipe is one of those weeknight dinner ideas that you will make over and over again.  Not only does it work perfectly with my favorite chicken marinade but it is a perfect way to use any leftover meat you have on hand.  It is also a perfect meatless meal too.  Instead of adding meat, just add some sautéed or grilled veggies.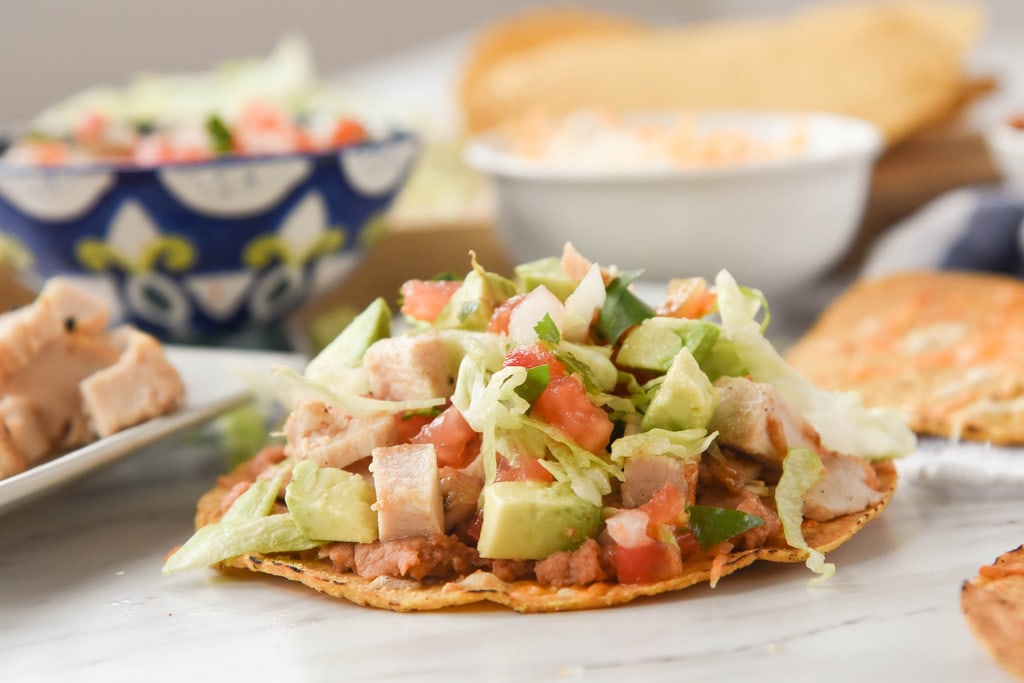 The secret to today's recipe is "in the sauce" or rather in the marinade. Marinaded chicken can be used for all kinds of things. You can just grill the chicken and serve with rice or potatoes. You can cube it up and put it on some skewers with some favorite veggies for shiskabob. It is also great diced up and made into tacos, enchiladas or burritos.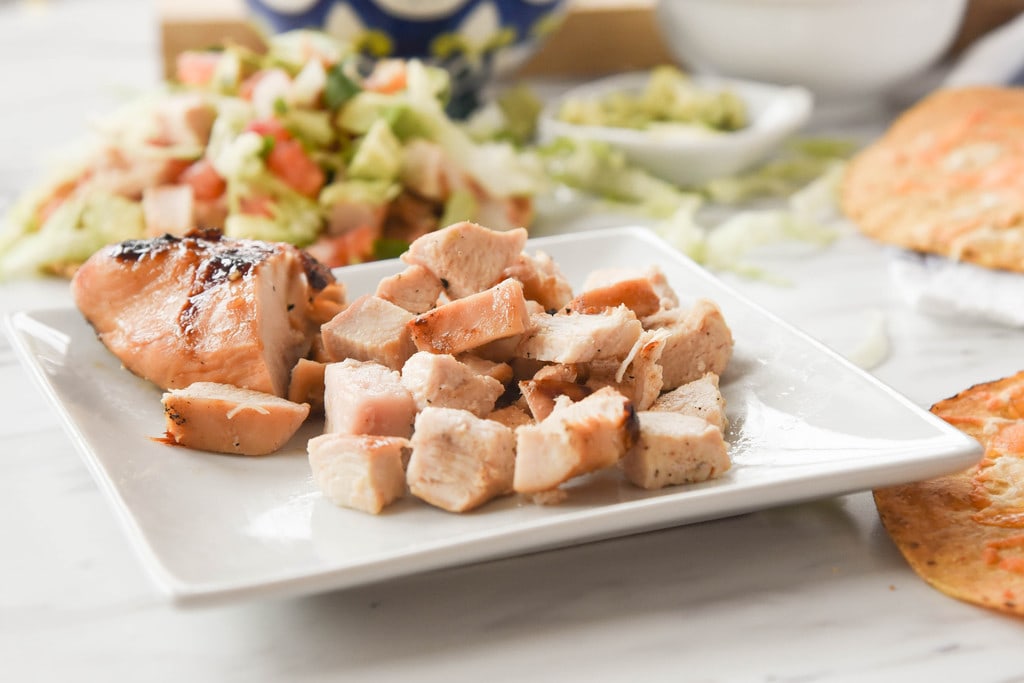 My personal favorite though is a tostada. I just put the chicken in to marinade first thing in the morning.  We grilled the chicken that evening or you could bake it too. But I prefer grilling.
All you need to do is dice it up and then you are ready to build your tostada.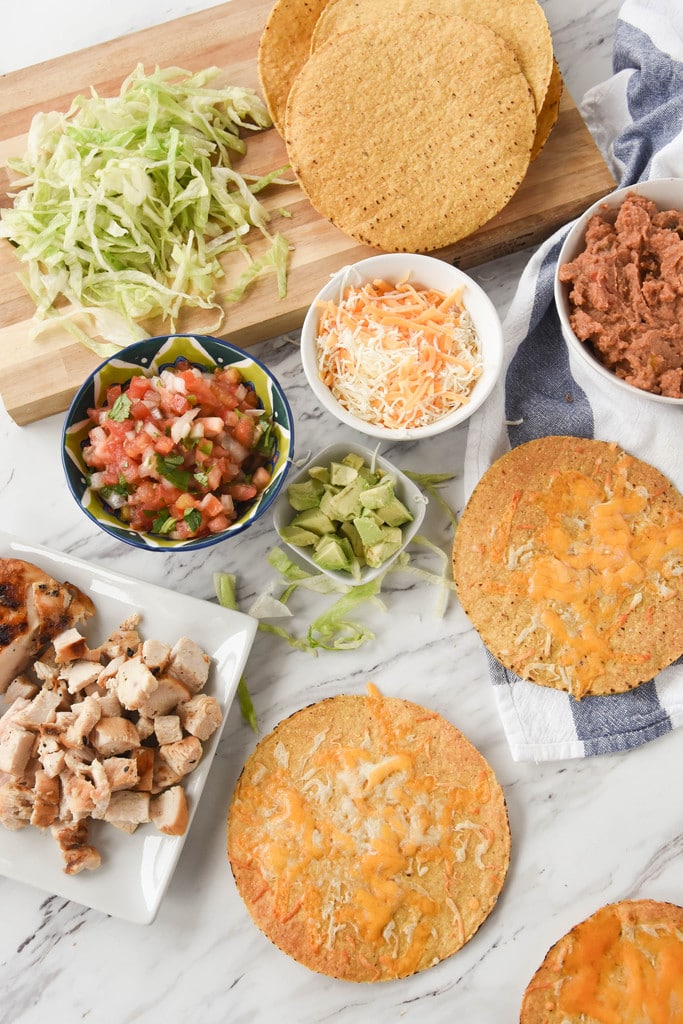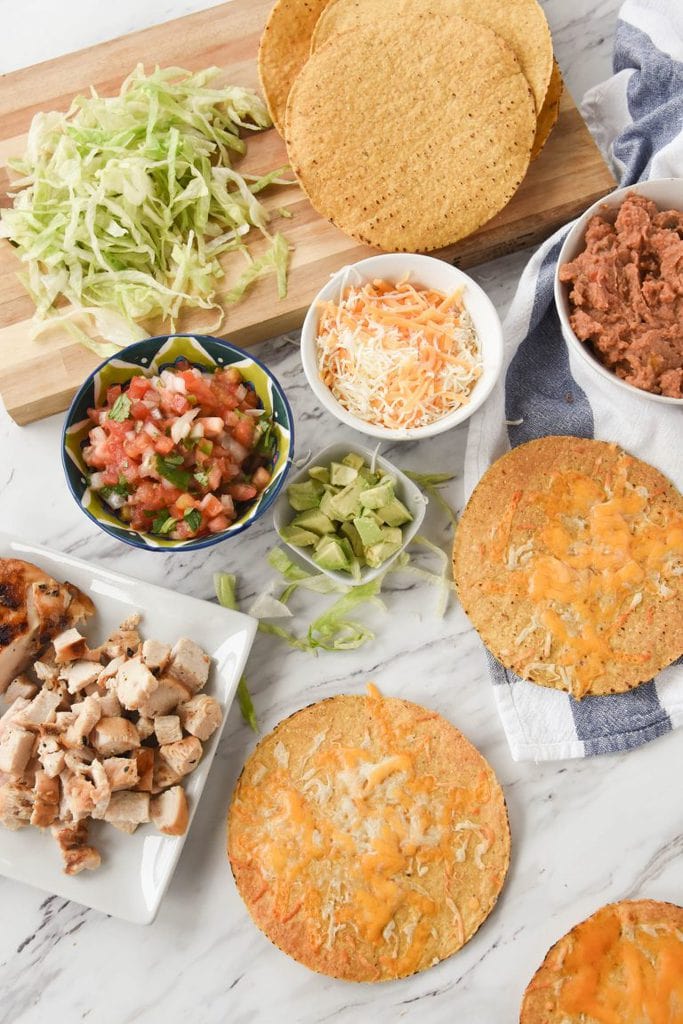 I use the pre made tostada shells which are available in the grocery store in the tortilla section.  I jazz them up a bit by covering them with some cheese, I used a Mexican blend that came pre-grated (quick and easy.) Then I stick them under the broiler until the cheese melts and the edges get a little golden brown.  Watch them closely because it doesn't take long
Now you are ready to build.  We like to start with a layer of refried beans.  (I usually add in a little salsa into the canned refried beans).
How to make chicken tostadas: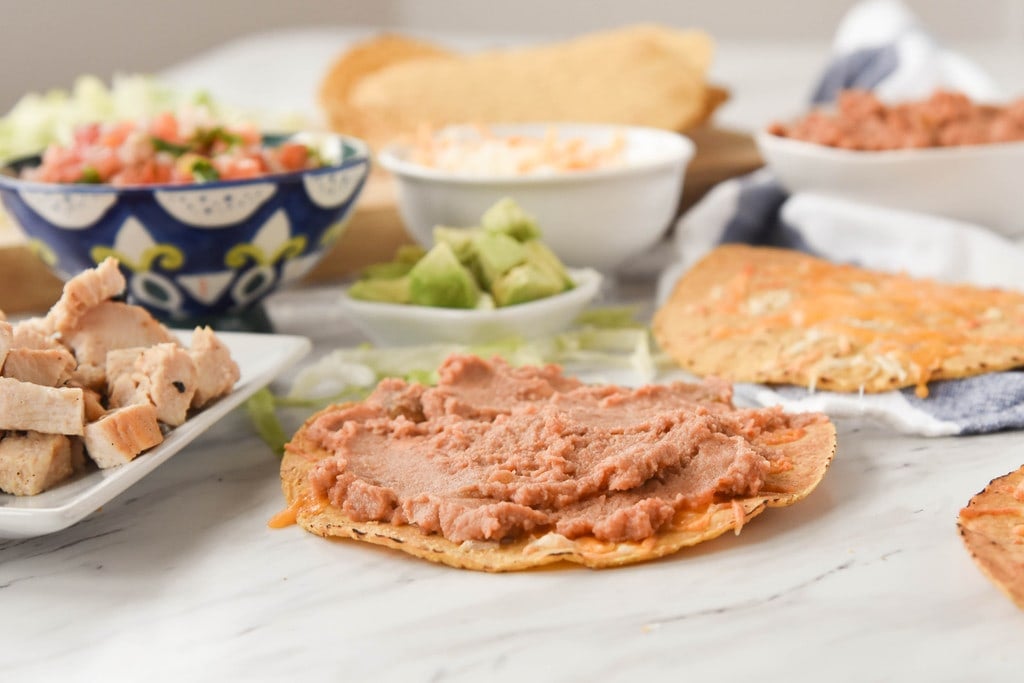 Next, I add the chicken, lettuce, cheese and some salsa and avocado.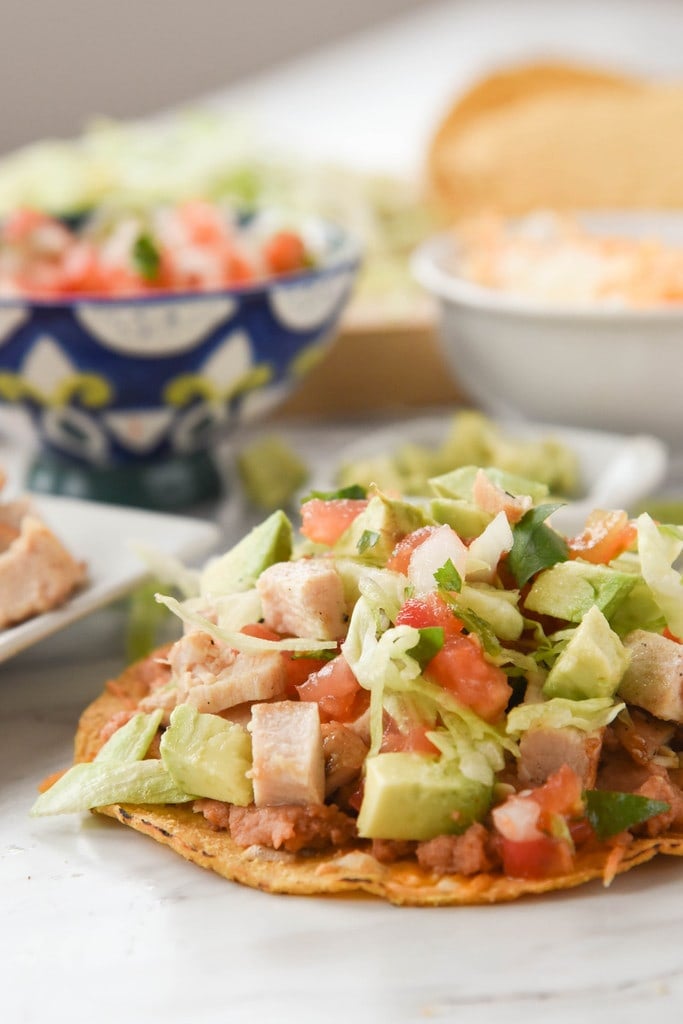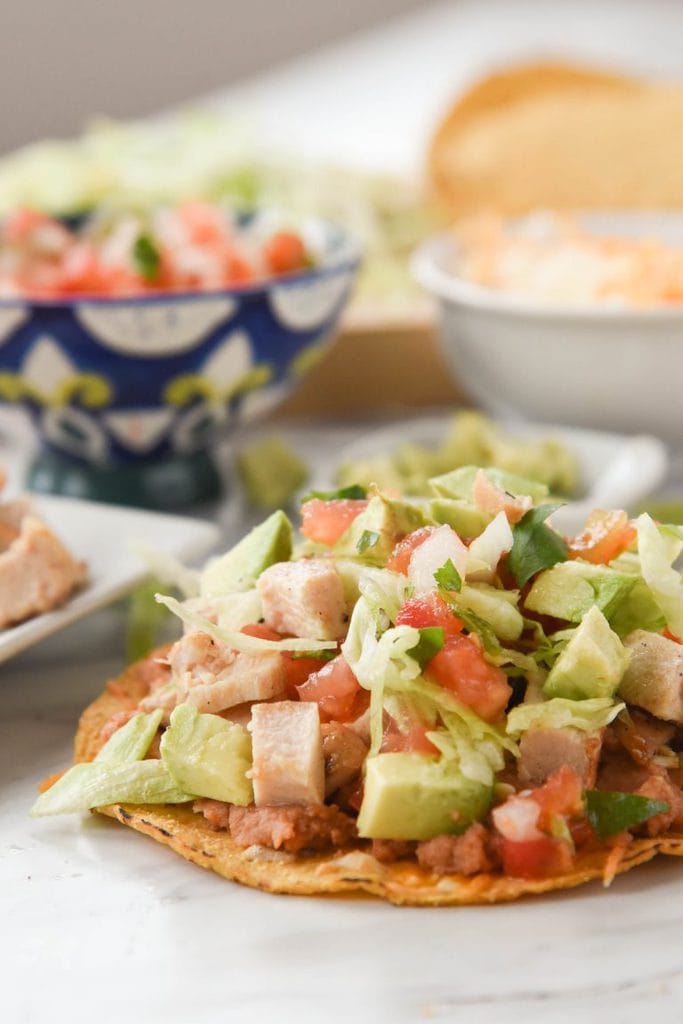 Finally,  pick it up, take a bite, and enjoy.  Yes, tostadas are finger food!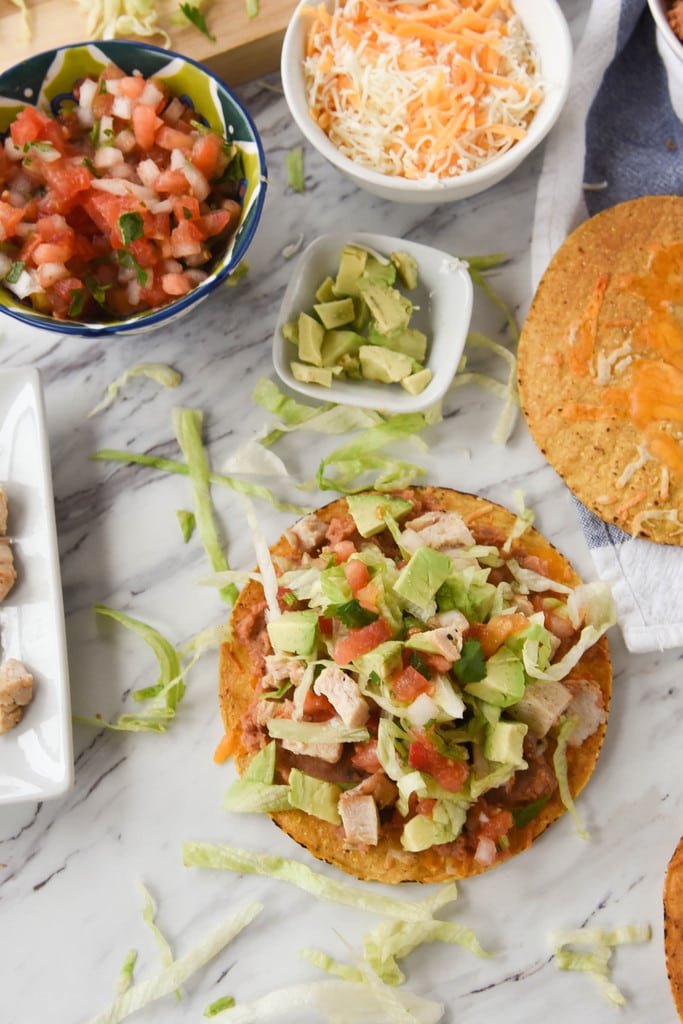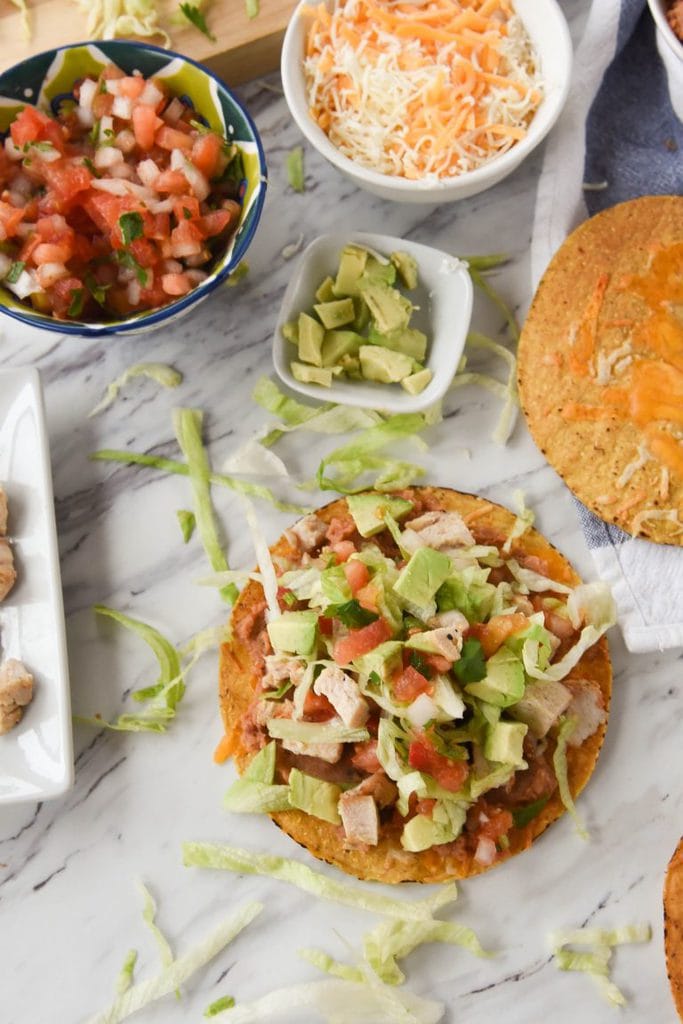 You can get creative and come up with your own toppings.  It is a great meal for a group because everyone can custom make their own tostada!
Some of other quick and easy dinner ideas include Easy Chicken Lettuce Wraps which are another family favorite we make over and over. Slow Cooker Cashew Nut Chicken will be put on repeat often!  Balsamic Chicken and Peppers comes together quickly and easily and the whole family will love it.
Find my Favorite Chicken Marinade recipe here.
Chicken Tostadas Recipe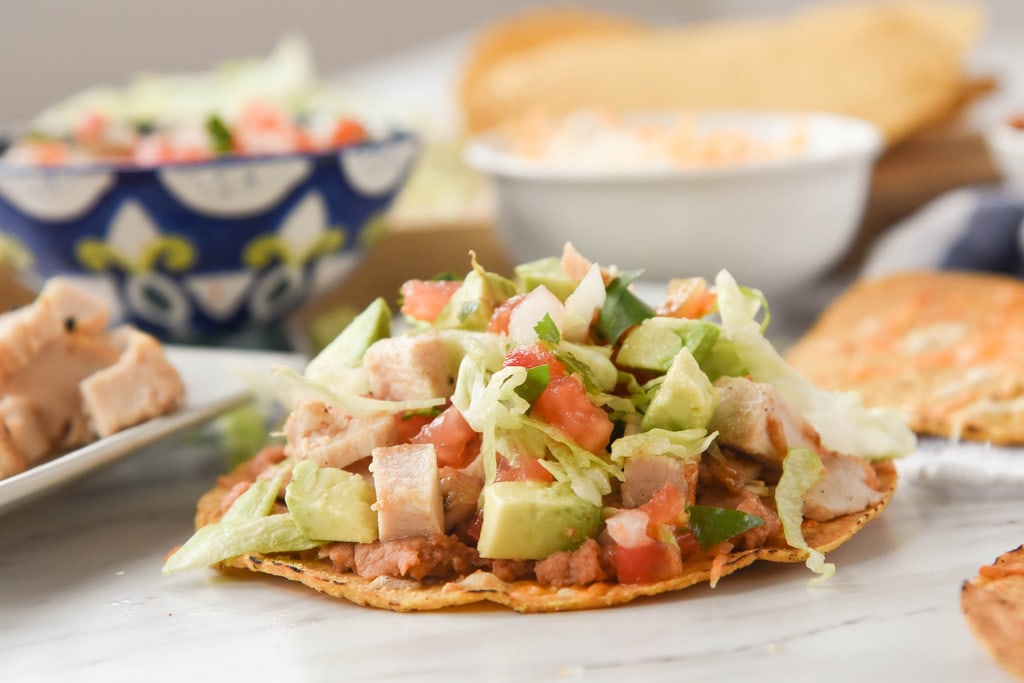 Chicken Tostadas
Quick and easy dinners have been a necessity around here lately and these chicken tostadas with my favorite chicken marinade are the perfect solution.
Ingredients
Chicken Marinade - see note below for link to recipe
Tostadas
Tostada Shells

cooked, diced marinated chicken or other meat

cheddar cheese

grated

refried beans

lettuce

chopped

pico or salsa

avocado

diced
Instructions
Sprinkle tostada shells with grated cheese and place under broiler until cheese is melted.

Add a layer of refried beans to tostada.

Add cooked, chopped chicken or other meat

Top with lettuce, pico, avocado and additional grated cheese if desired.
Notes
For my favorite chicken marinade recipe that I like to use with these tostadas go here.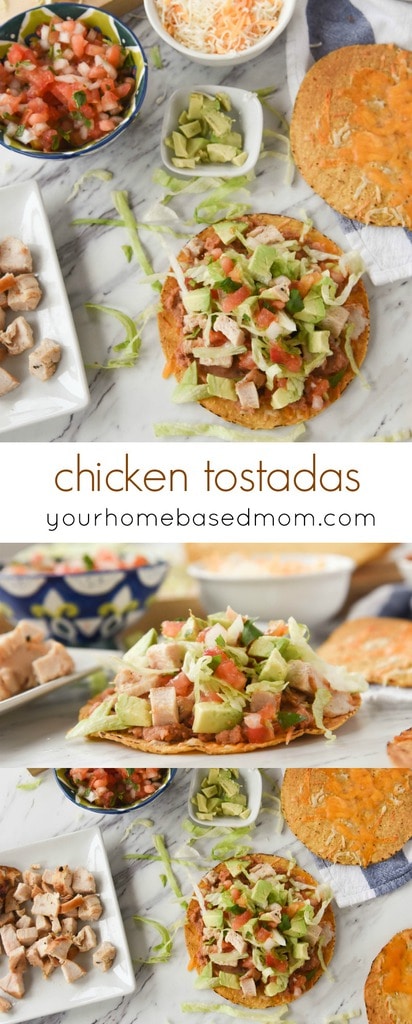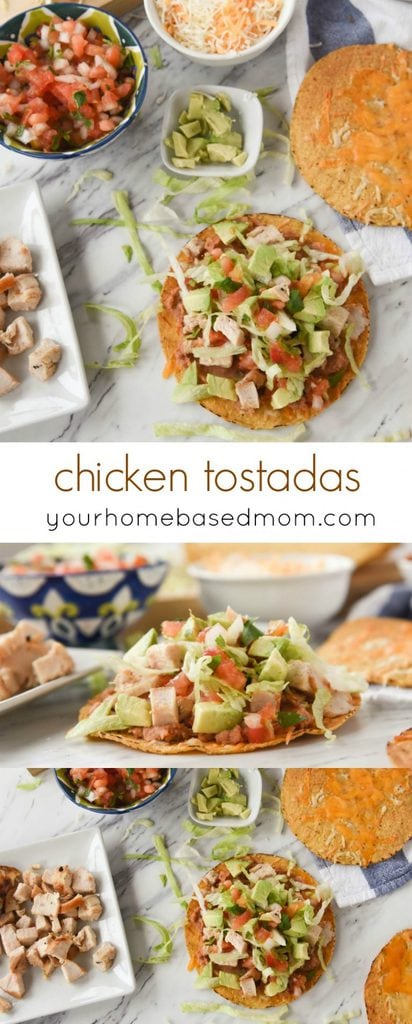 Stay Updated!
Need more recipes and creative ideas? Sign up and get a FREE copy of my ebook! Do you think your friends would love this too? Please share my blog with them. Thanks!