Waffles aren't just for breakfast anymore! These Chicken and Sweet Potato Waffle Sliders are sure to be a big hit at your next game day party or anytime!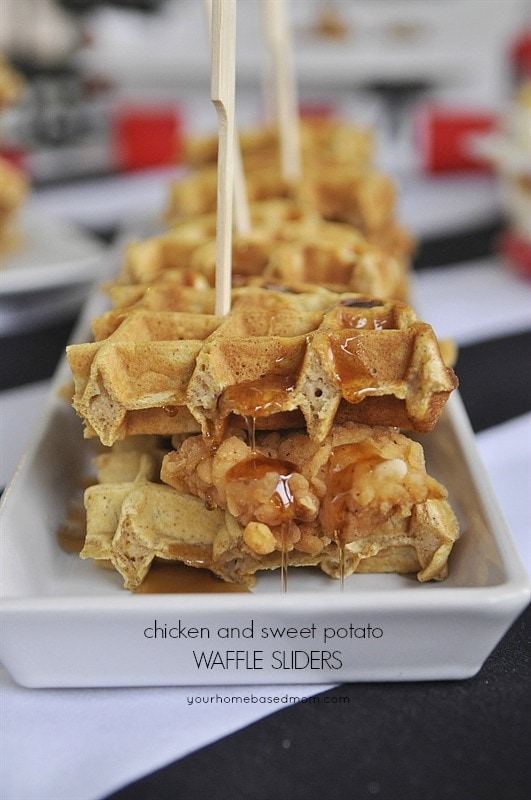 This post was sponsored by KFC. My thoughts and opinions are my own.
For those of you who know the men in my family, calling them sports fans is more of an underestimate. They are sports fanatics! My boys like their ball games, whether it be football, baseball or basketball. I am sure that someday someone is going to discover the sports gene and it will have come from my husband's side of the family. My mother in law is the one that will have passed it on, yes, my mother in law!
Whenever my boys are together there will always be a lot of sports watching and at our house sports watching is always accompanied by eating. Once they have decided what game they are going to watch, the next question will be, "What are we going to eat?" Game day food is just about as important as the game at our house.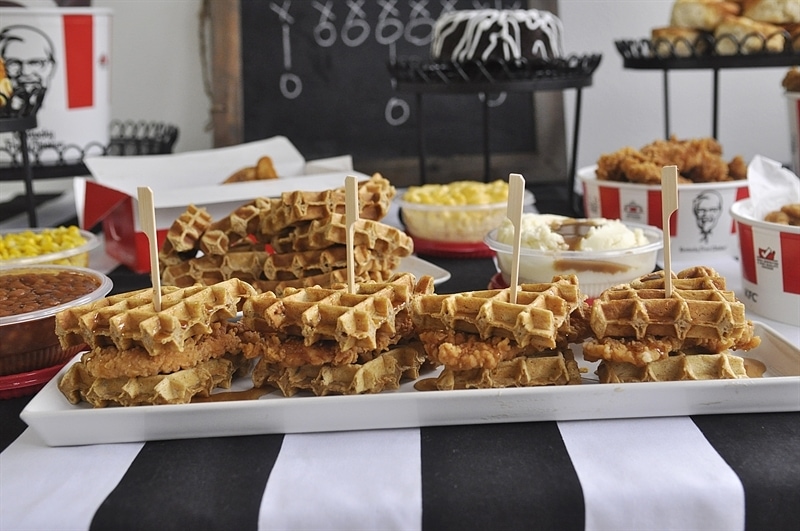 My boys are big fans of chicken and waffles and if it is ever on the menu at a restaurant they are bound to order it. So, with the help of Kentucky Fried Chicken and their $10 Chicken Share option I put together an amazing game day feast! Be sure and scroll all the way down for your chance to win $100.00 of free chicken!!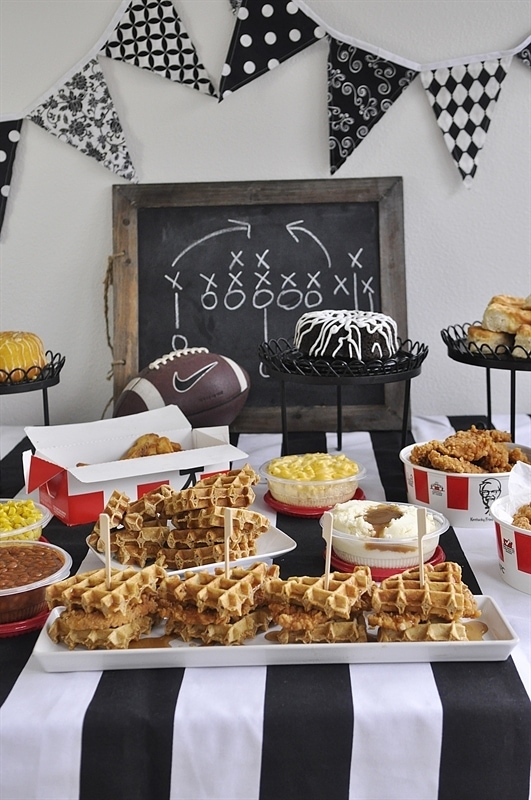 One batch of sweet potato waffles and a trip to KFC later and we had a party! My boys love their fried chicken. I picked up one of each of the$10 Chicken Share buckets so they didn'thave to make a choice and for $10.00 how can you go wrong? The $10 Share Bucket is smaller than the traditional bucket and designed for two to share. We did one of each of the Share Buckets, a nine piece Extra Crispy™ Chicken Tenders; six pieces of fried chicken; Popcorn Nuggets and 12 Hot Wings™—all freshly prepared by someone other than me! I also got a dozen biscuits because those are my favorite and one of each of the sides and we had food for everyone and then some!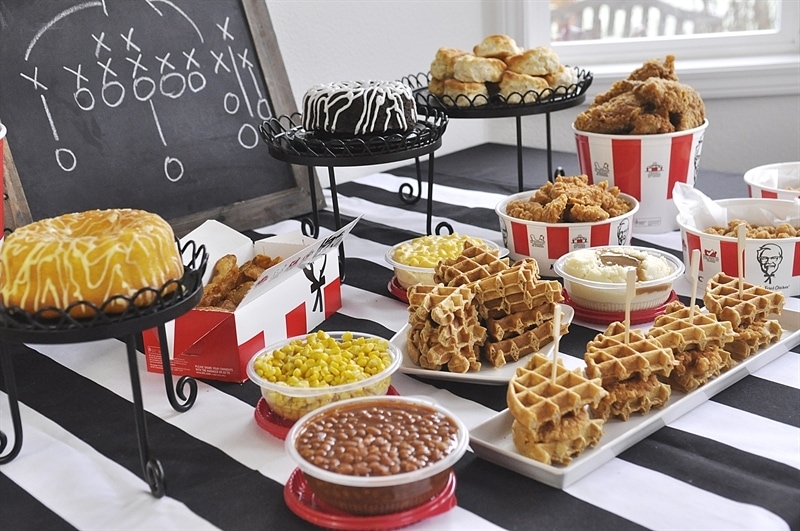 And did you know you can get dessert there too? I picked up a chocolate and a lemon cake.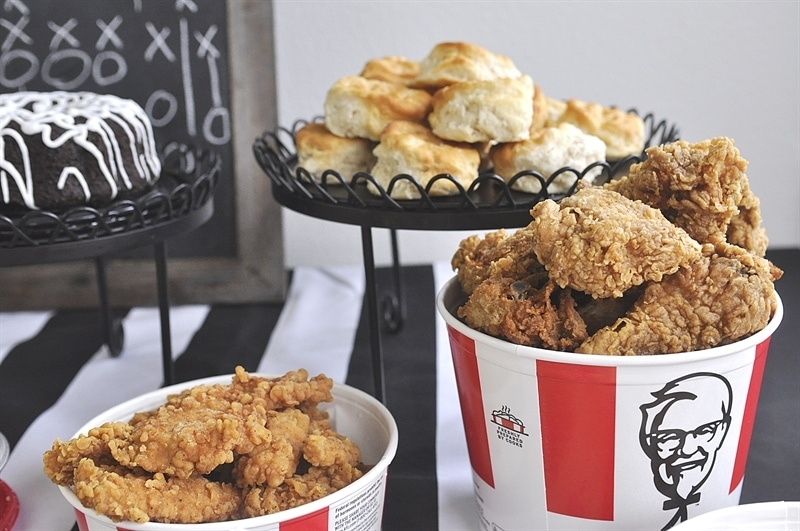 All I had to do was make up a batch of sweet potato waffles. I used my round Belgian waffle maker and cut each waffle into quarters and put a chicken tender in between two waffle quarters. A drizzle of maple syrup over the top and you will have a group of happy fans!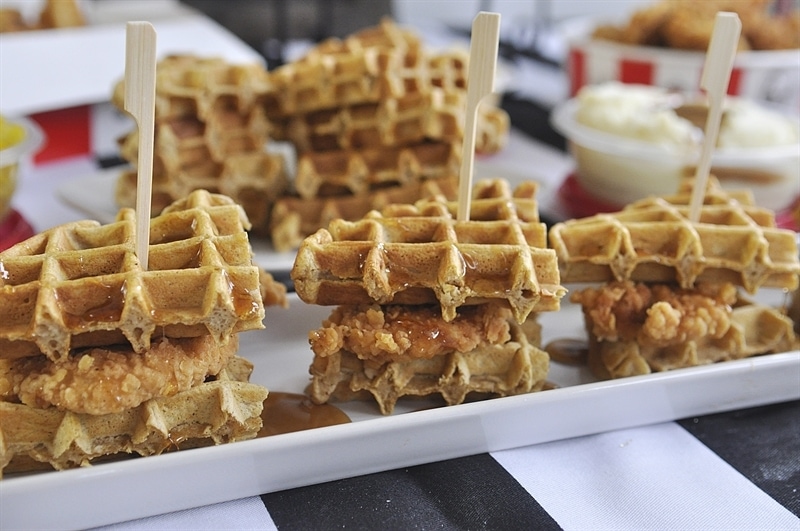 Of course the sweet potato waffles are good all on their own too and make a yummy breakfast treat.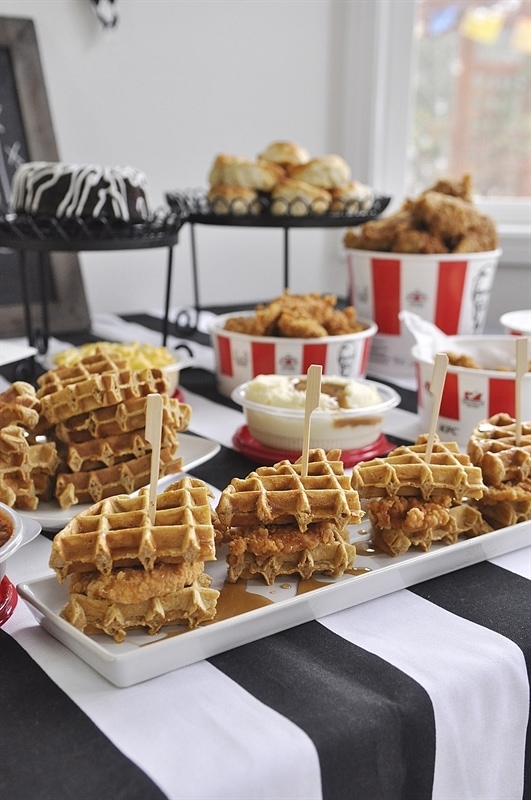 Sweet Potato Waffles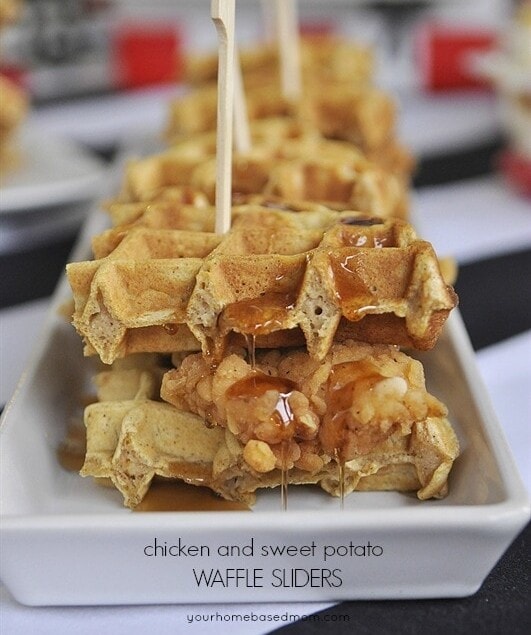 Chicken and Sweet Potato Waffle Sliders and $200.00 Giveaway
Ingredients
1 15 oz. can cut sweet potatoes masahed
1 cup milk
2 eggs
2 Tbsp butter melted
1 1/2 cups all purpose flour
2 Tbsp brown sugar
2 tsp baking powder
1 tsp cinnamon
1/4 tsp ground nutmeg
1/8 tsp salt
Instructions
Preheat waffle iron.

Mix together sweet potato, milk, egg and butter.

In another bowl, combine flour, sugar, baking powder, cinnamon, nutmeg and salt.

Add flour mixture into potato mixture and stir until just combined.

Spray waffle iron with non stick spray and add in waffle batter.

Cook until golden brown and crisp.