Almond Chicken is an easy and delicious way to get dinner on the table quickly. It is made with fresh veggies, almonds and a delicious sauce.
Chicken is always a hit at our house and this Sesame Chicken is another go to, family favorite. A fun and different way to serve chicken is in these Asian Chicken Wraps. And of course chicken is always good in a taco, just cook up a batch of this Slow Cooker Salsa Chicken.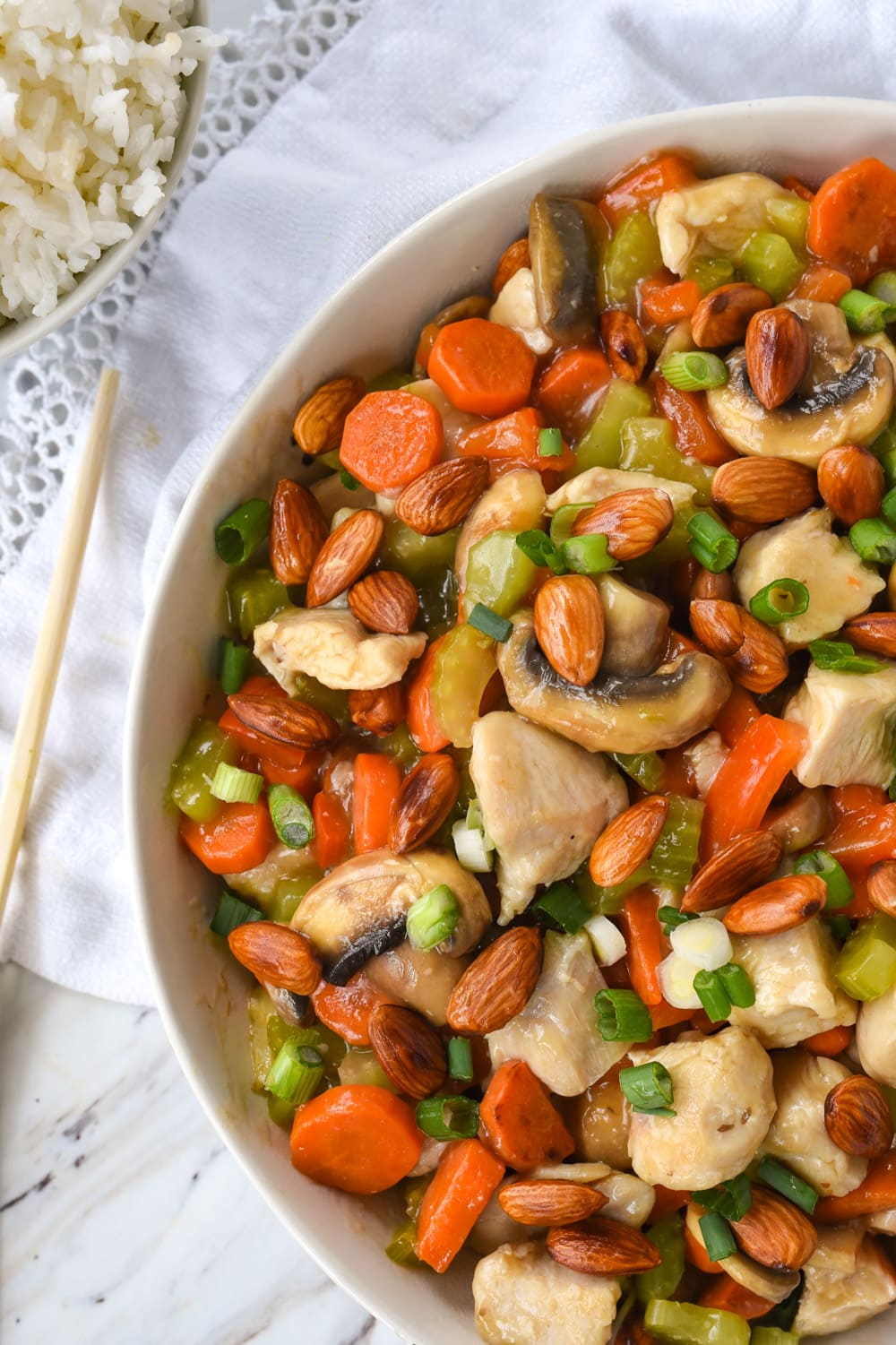 Weekly Meal Plan
I'm all about getting dinner made faster. As much as I love food and I love to cook, sometimes I just don't like the every day, "it's almost dinner time, what are we going to eat" thing! You would think as empty nesters that whole thing would get easier, but in fact I think it's gotten harder. One of my least favorite parts of cooking dinner is deciding what to eat. I am happy to cook it, I just want someone else to make the decision. That's half the battle for me, deciding what to serve.
I have found that the solution to that is my weekly meal plan! Have you signed up yet? Scroll down to the bottom of this post and sign up to get my FREE weekly meal plan.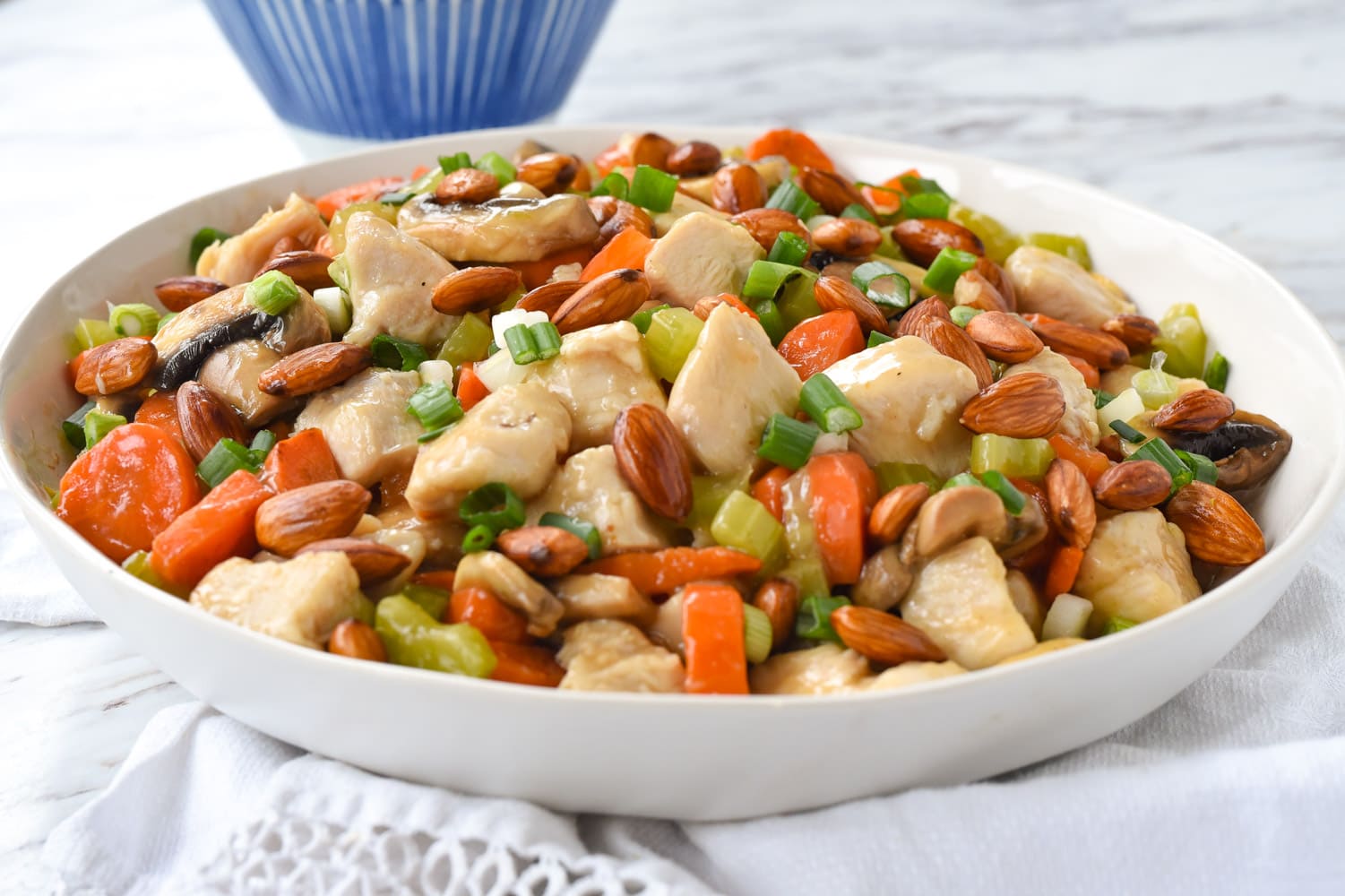 Quick Dinner Idea
Whenever I asked my husband what he wants for dinner, his usual response is "stir fry." Stir fry really is a great way to get dinner on the table faster. I especially like it because it is a very flexible style of cooking and fairly health. You can pretty much go to the refrigerator and see what you've got and use it in a stir fry. Just grab the veggies you have on hand and some type of meat, do a little chopping, mix up a sauce and you've got a delicious dinner ready in 30 minutes.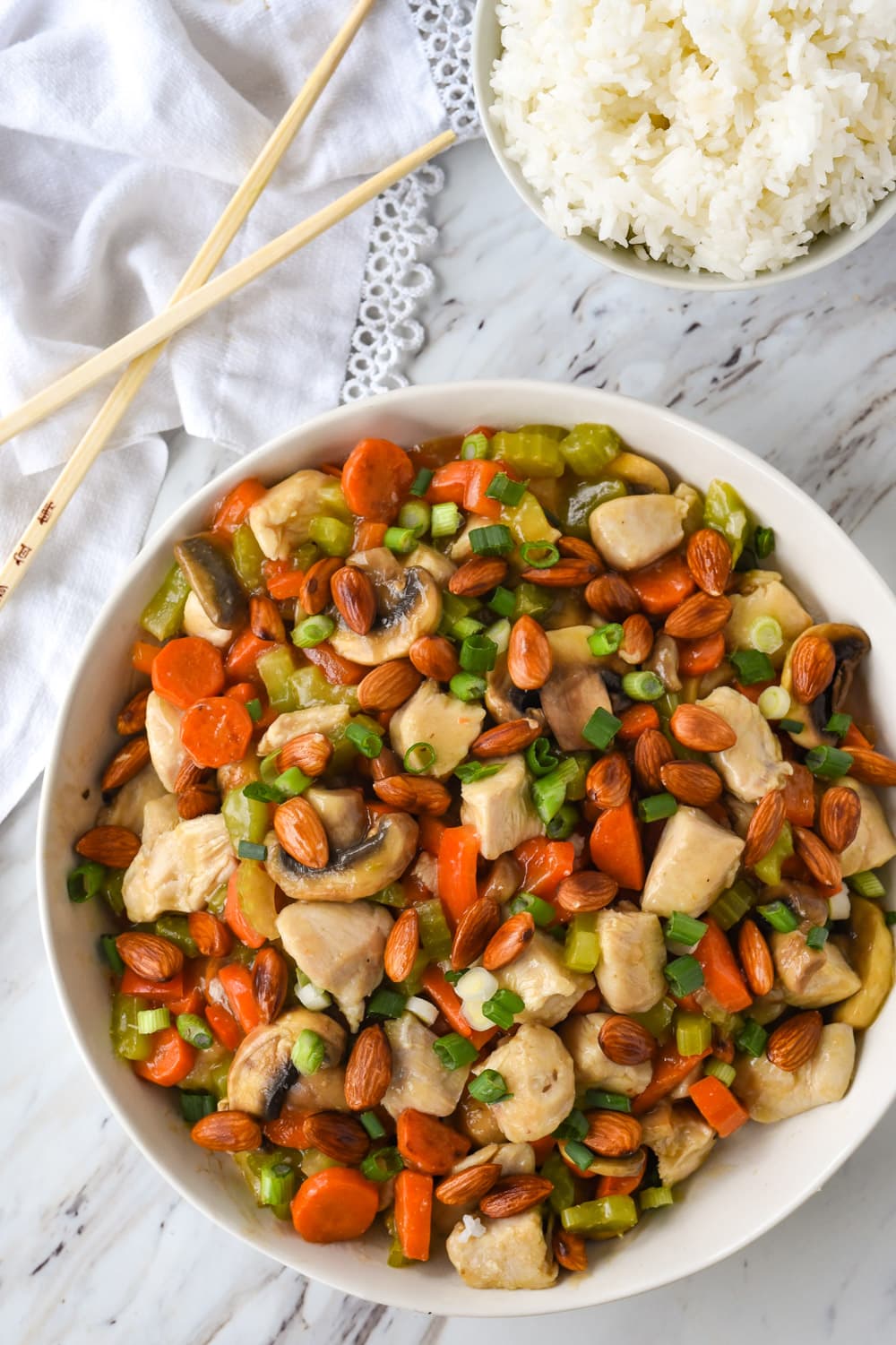 Easy Stir Fry Ingredients
Meat – Chicken is my go to meat for stir fry but I have also used pork or beef.
Veggies – For this recipe I used celery, carrots, red pepper and mushrooms. I also like broccoli, snow peas and asparagus. Use what you have on hand.
Nuts – I love a little crunch in my stir fry and will use cashews, peanuts or almonds. I toasted whole almonds for this dish.
How to Make Almond Chicken Stir Fry
Put the meat in the mixture first, and then let it sit while you are chopping your vegetables. You will also be making a sauce to pour over the stir fry which combines water, cooking sherry (or substitute), cornstarch, soy sauce, chicken broth and sugar. This is cooked in a pan until it thickens. Set it aside to pour over everything once it is all cooked. The meat can be cooked in a wok or a frying pan in oil. I try to use as little oil as possible but usually have about 1/4″ depth in my frying pan. The less oil you have, the longer it will take the chicken to cook. Once it is cooked through, move it to a paper towel-lined plate while you stir fry up the vegetables.Before I add in the vegetables
Nuts. I like to give my nuts a toss into the oil left in the frying pan. Just stir them around a bit until they start to brown. I love toasted nuts.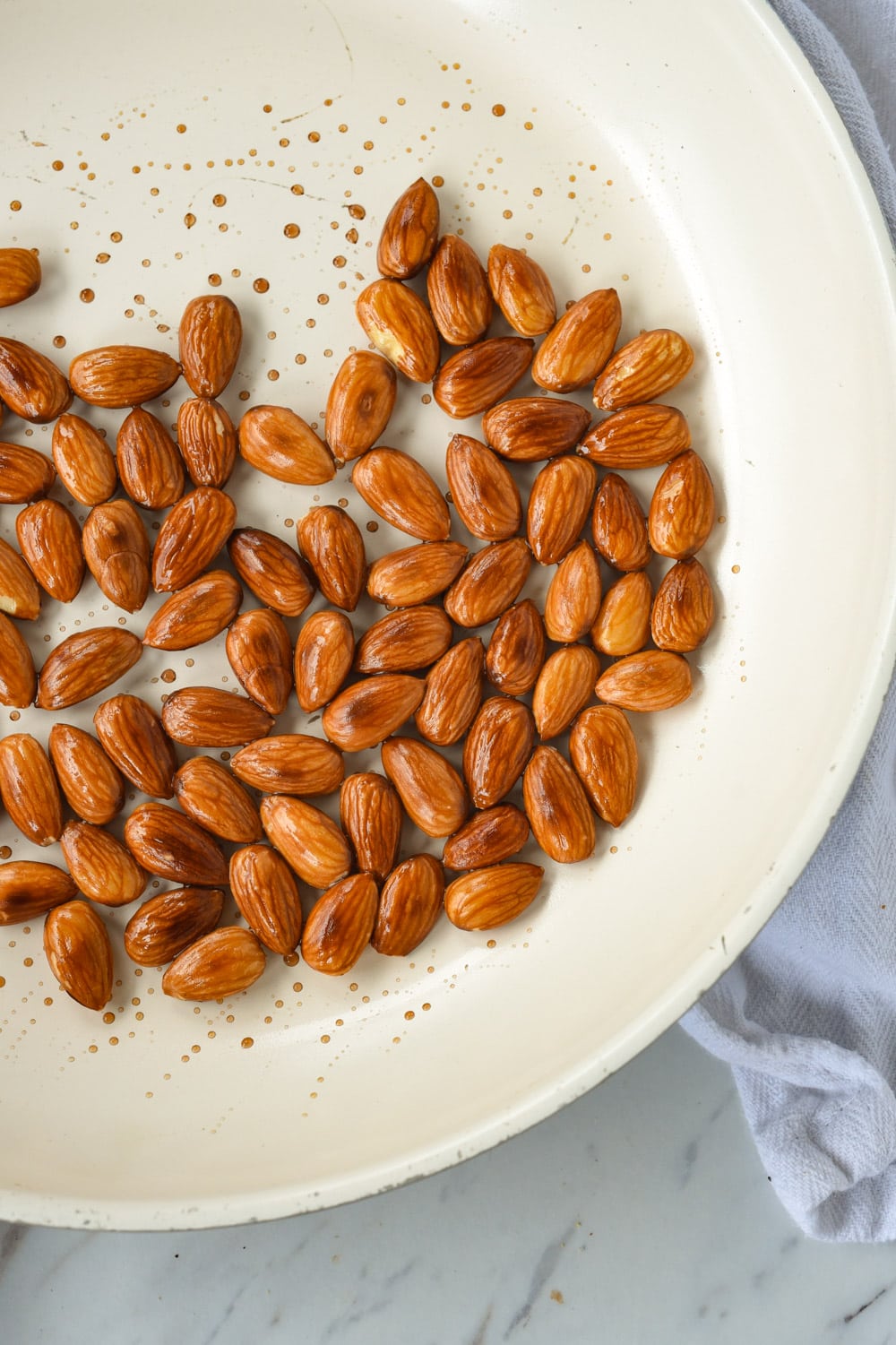 Chicken. I always use boneless, skinless chicken breasts and cut them into bite size pieces.
Vegetables. I add in the carrots first, because they are the firmest, with a little minced ginger. When they are crisp-tender, add in your celery, mushrooms, and red peppers. I save the green onions for garnish. As soon as your vegetables are to your liking, add back in the chicken and nuts along with the sauce you made and give it a few tosses until everything is warm.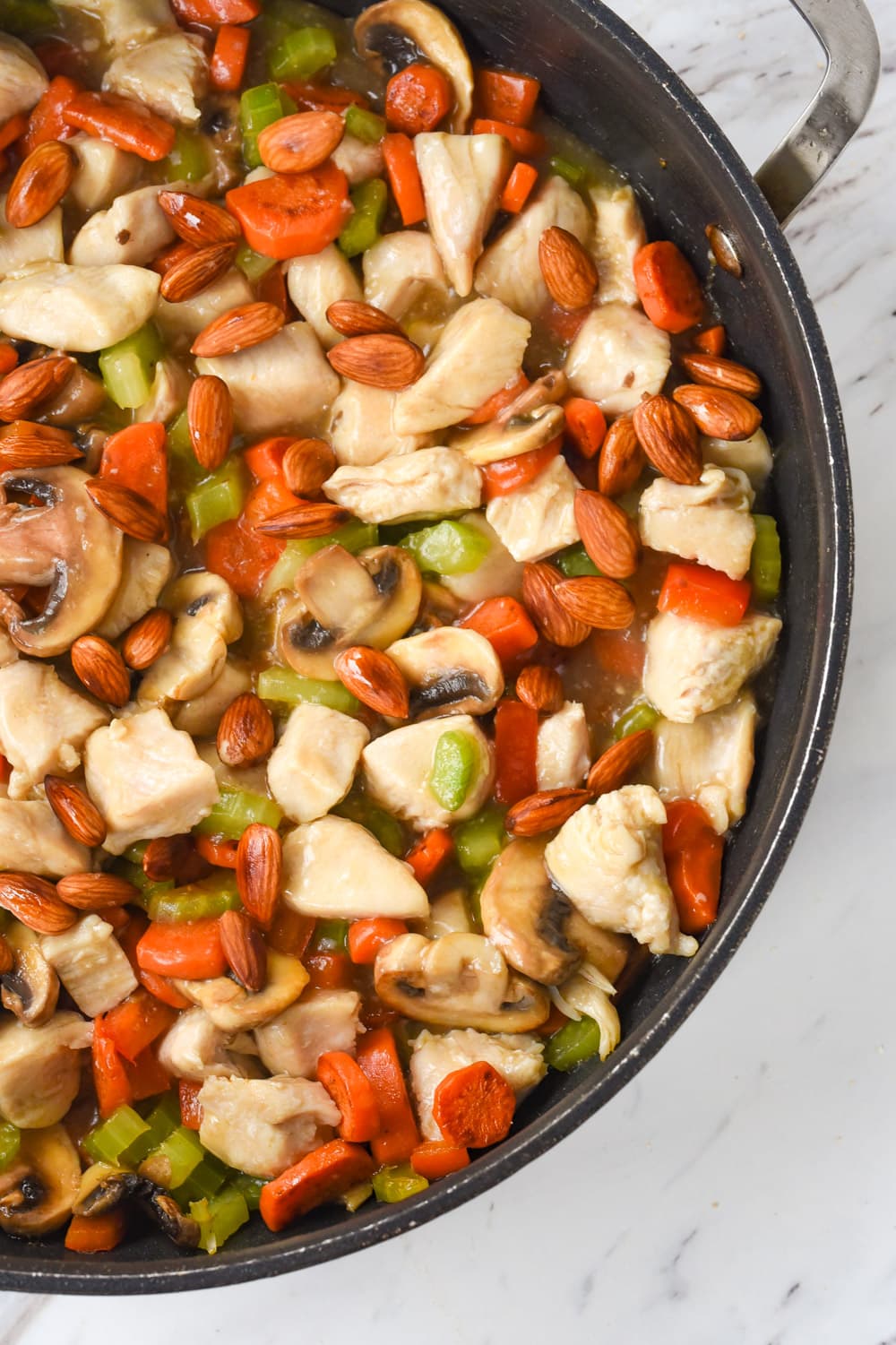 Sauce. The sauce has amazing flavor thanks to a combination of cooking sherry and soy sauce. If you don't have cooking sherry you can substitute in chicken broth.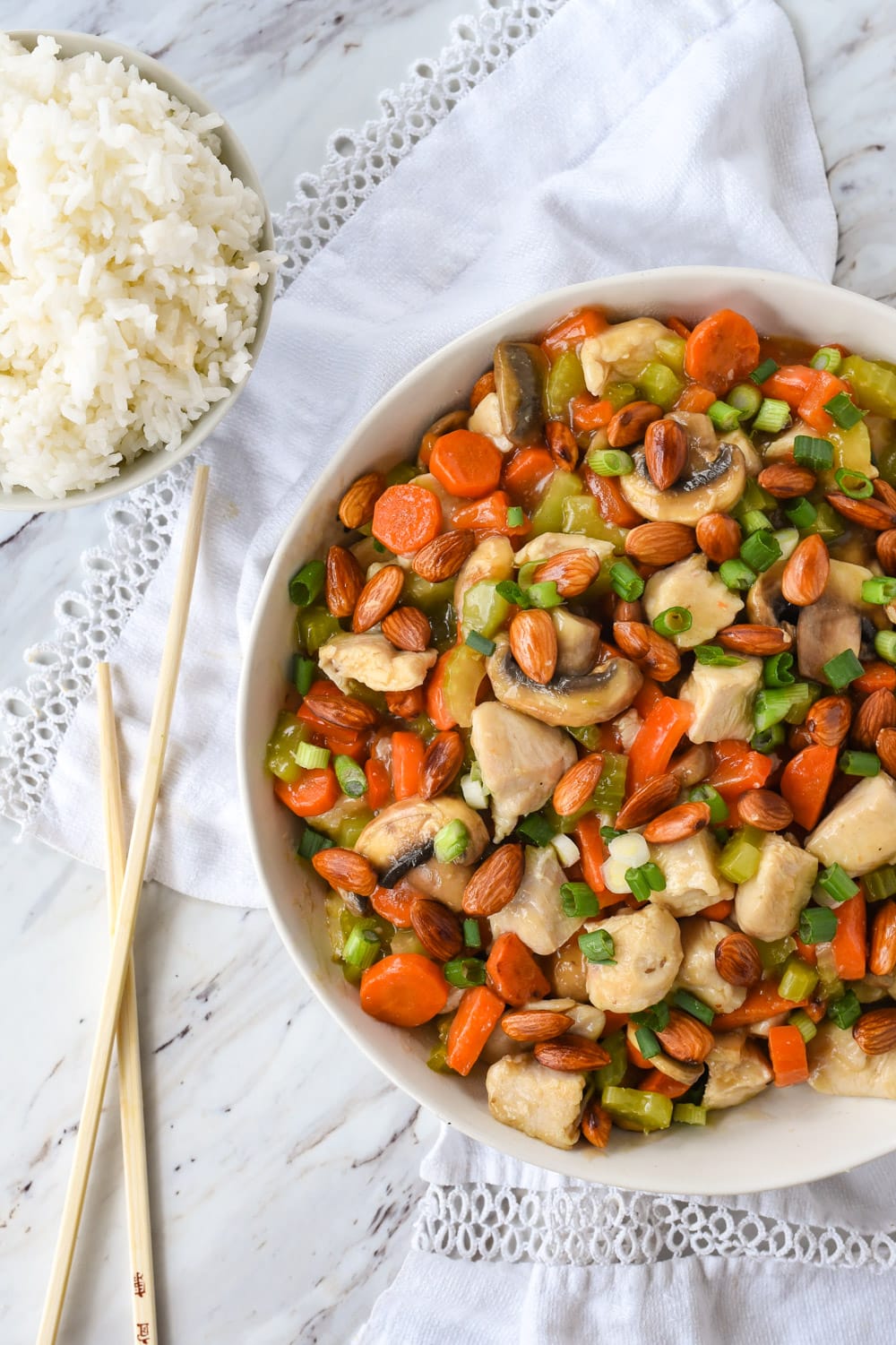 Serve Almond Chicken over a bed of rice and you have a delicious, fast, and healthy dinner.
Check out more easy stir fry recipes: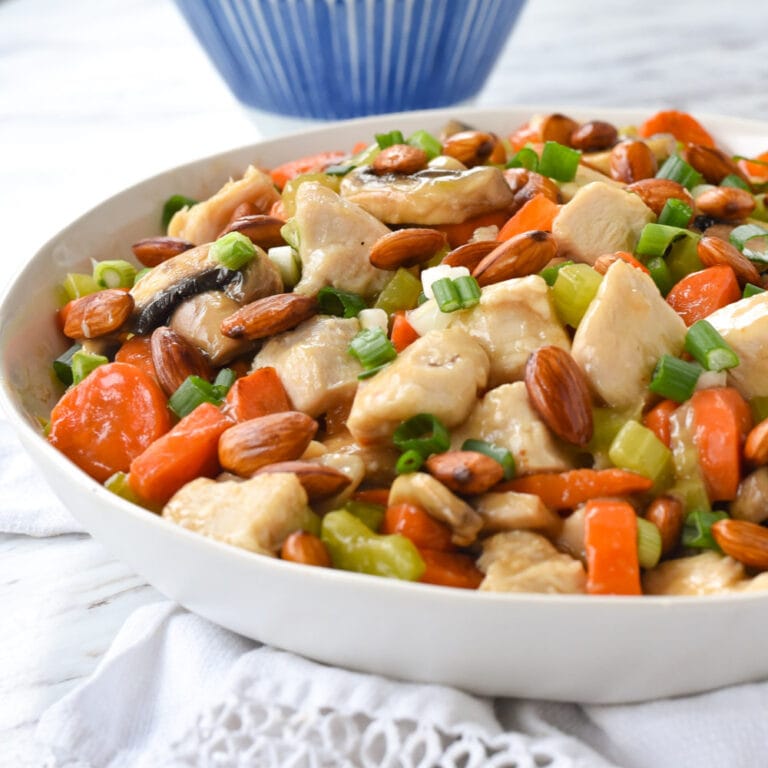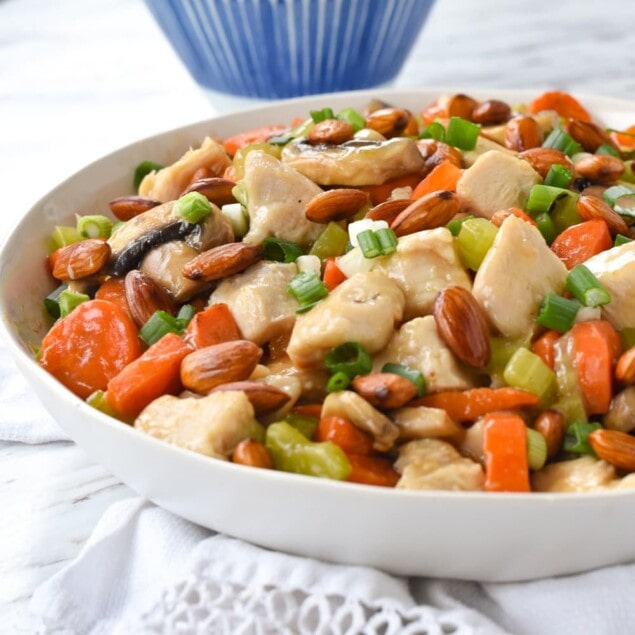 Almond Chicken Stir Fry
Full of flavor and easy to make, this Almond Chicken will quickly become a family favorite.
Ingredients
1 1/2 c chicken broth
4 tbsp cooking sherry see notes for substitute
2 1/2 tbsp cornstarch
4 tsp soy sauce
2 chicken breasts large, cut into bite size pieces
1 egg white
1/2 tsp salt
1 tsp sugar
2 carrots diced
2 stalks celery diced
6-8 mushrooms sliced
1 red pepper sliced thinly
1/2 cup whole almonds
1 tsp ginger fresh, minced
3 green onions chopped, for garnish
oil vegetable or canola, for cooking
Instructions
Combine chicken broth, 2 tbsp sherry or substitute, 1 1/2 tbsp of cornstarch, sugar and soy sauce and ginger.

Bring to a boil in a sauce pan and allow to boil for 5 minutes It will thicken.

Place chicken into 2 tbsp sherry or substitute, 1 Tbsp cornstarch, egg white, and salt. Allow to sit while you chop the vegetables.

Heat oil in wok or frying pan. Add chicken and cook until light brown.

Depending on the size of wok or pan you may need to do in batches. You want it in a single layer.

Drain on a paper towel and repeat until all chicken is cooked.

Add nuts into remaining oil and stir fry a few minutes until brown and toasted. Remove and set aside.

Add in carrots (add more oil if needed) and cook until crisp tender. Then add in celery, mushroom, and red pepper and cook until tender. Add chicken and nuts back in and pour in sauce. Stir until everything is hot.

Serve over rice
Tips & Notes:
Instead of cooking sherry you can substitute chicken broth.  
Nutrition Facts:
Calories: 310kcal (16%) Carbohydrates: 17g (6%) Protein: 31g (62%) Fat: 12g (18%) Saturated Fat: 1g (6%) Cholesterol: 72mg (24%) Sodium: 962mg (42%) Potassium: 928mg (27%) Fiber: 4g (17%) Sugar: 6g (7%) Vitamin A: 6150IU (123%) Vitamin C: 50mg (61%) Calcium: 75mg (8%) Iron: 2mg (11%)
* Disclaimer: All nutrition information are estimates only. Read full disclosure here.