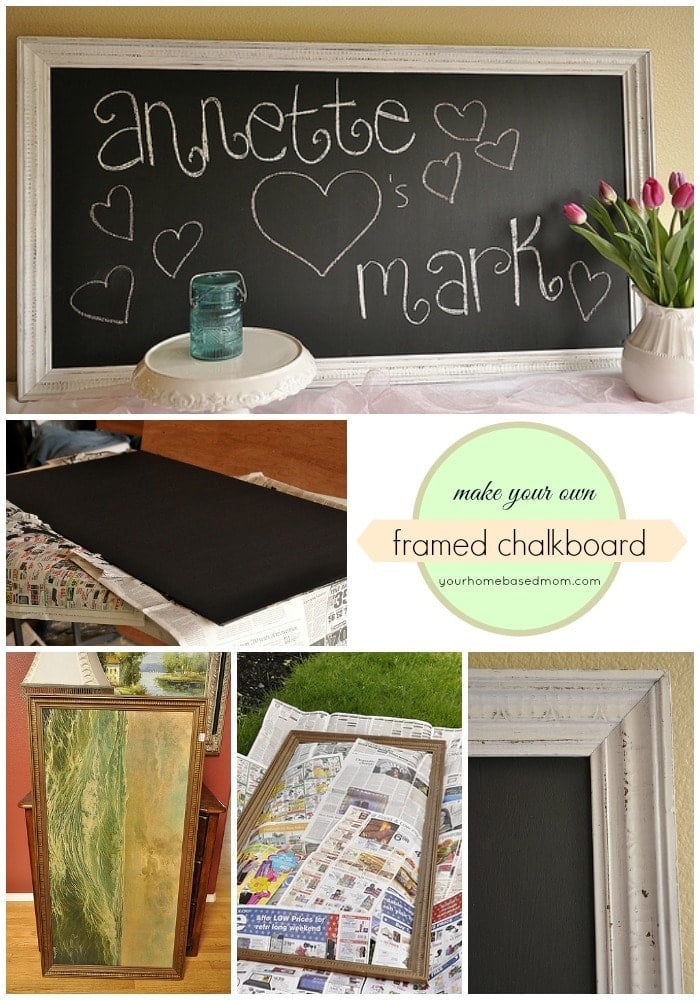 I love using signage at parties.  I like people to know what they are eating!  Pretty signs just add that extra touch.
Over the years I have acquired quite a collection of signs, easels and other various things to use as signage at parties.  One of my favorite things to use is a chalkboard.  I have several small chalkboards that I have used at parties but I decided I needed a big chalkboard.  I mean really big – 28 x 50 inches to be exact.
We are planning an Italian soda bar for Tessa's graduation party and I wanted something to sit behind the table with instructions on how to build your own soda.
So I headed off to Goodwill where I always find all kinds of treasures.  I was looking for a big picture frame I could turn into a framed chalkboard.
I lucked out and found this one.
It's almost as tall as I am.  When looking for a frame I prefer one that has a bit of "texture" to it so when you paint and sand it you end up with more character and more of a vintage look to it.
I removed the lovely painting from the frame and got out the spray paint.
I decided to paint it white.  If you have a dark frame you might want to spray it with primer first so your paint covers easier.
I laid some newspaper out on the front lawn and sprayed away.  I had some overspray onto the lawn but the grass needed to be cut anyway!  I've learned not to do it on the garage floor because even with newspaper laid out I usually end up with paint on the garage floor and that doesn't make my husband too happy!

Because I didn't use primer it took several coats of spray paint to cover the frame.
After it was dry I took some sandpaper and just sanded away to give it  a distressed look.
My husband bought a nice sheet of wood at Home Depot – it's about 3/8 inch thick and nice and smooth.  Jim cut the board to fit inside the frame.  We just used the painting we removed as a pattern.
I also picked up a can of chalkboard paint at Home Depot.  You can buy it as spray paint too but since I was covering a fairly large area it was much easier to brush it on.
I put on two coats of paint.
After it was nice and dry I just popped it back into the frame.
I couldn't wait to use it so I decided it would make a perfect backdrop on the table at the bridal shower I am hosting this Saturday.  What do you think?  We're having a crepe bar and I think it's perfect.