Cashew Sesame Chicken is an easy and delicious dinner anytime. It's gluten free too!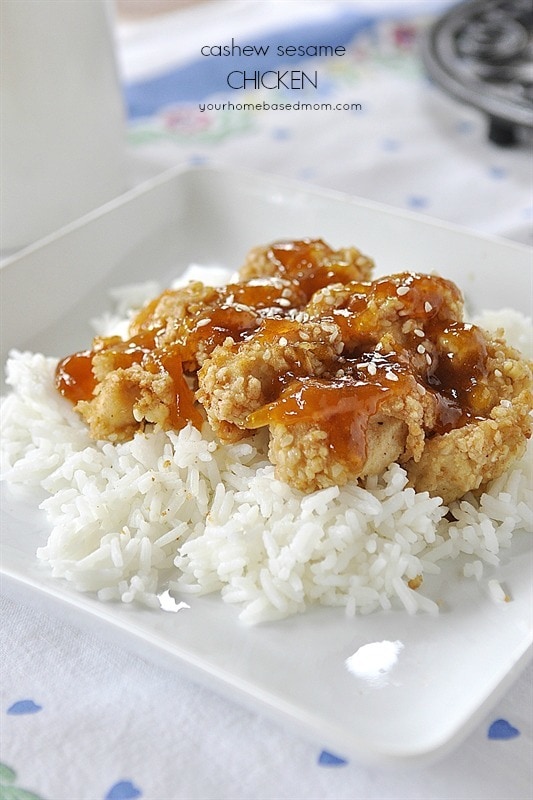 So I totally freaked myself out last Friday.  I was rushing around like a wild woman trying to get a Valentine's package put together for my kids in Utah and I was also stressing that I hadn't share this amazing dessert recipe with you that would be perfect for Valentine's Day.  I was stressing because for some strange reason I thought Valentine's Day was this week!  I was only 3 weeks ahead of myself!  Not sure where that came from but when I finally looked at my calendar and realized what date it really was I felt so much better.
So instead of a yummy chocolate/strawberry dessert recipe today you get a yummy chicken recipe.  I promise the dessert recipe will come.
About a year ago we determined that my daughter Cali has a lot of various food allergies.  A whole new world of ingredients, cooking and way of eating opened up to us.
I have discovered a new sense of excitement – discovering a recipe that isn't usually gluten free but is adapted to be gluten free.  I love it!  Those of you who don't have people with food allergies in your life may not understand but it is quite a thrill.
Today's recipe is gluten free but if you are like my son Clark who "only eats food with gluten in it" (he's quite the comedian) you will want to give this recipe a try.
Normally breaded food is out for people with gluten issues but not anymore.  I have found a fun and delicious way to do it that is also gluten free.  I used chopped cashews and sesame seeds as the breading.  Delicious!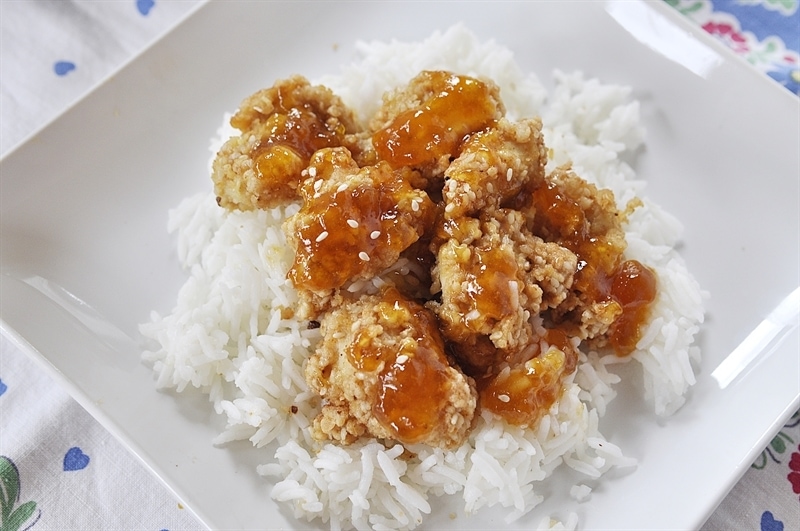 The chicken is cut into bite size pieces and marinated in a combination of garlic, ginger, lemon juice and rind,chicken broth,  soy sauce or tamari sauce if cooking gluten free and salt.   Allow the chicken to marinade for 3 hours or overnight (I only did it for an hour!)
Next,  I chopped up the cashews in my food processor and combined them with the sesame seeds and cornstarch.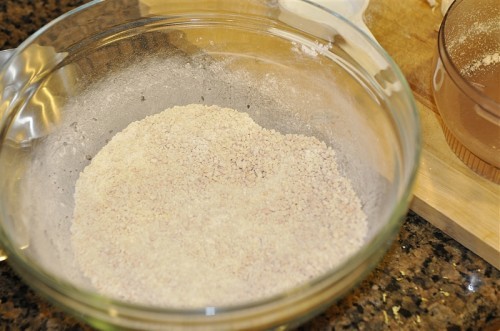 You are then ready for the cooking process.  I used my cast iron skillet and vegetable oil (about 1 1/2 inch deep)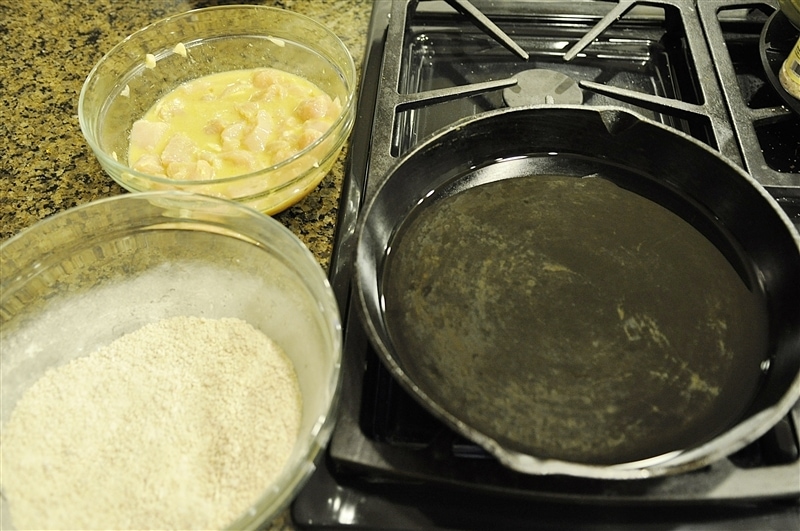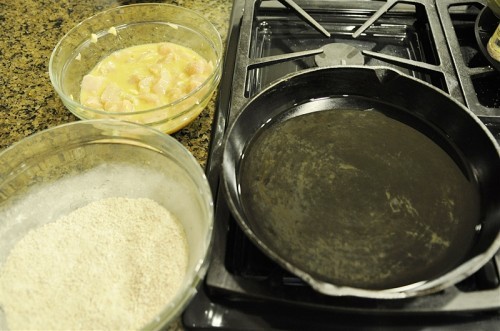 Dip the chicken into the chopped nuts, cornstarch and sesame seeds and coat all sides.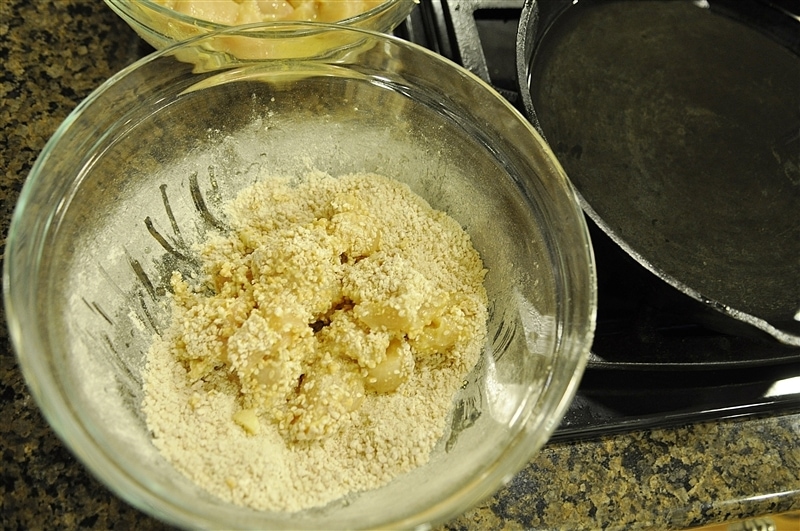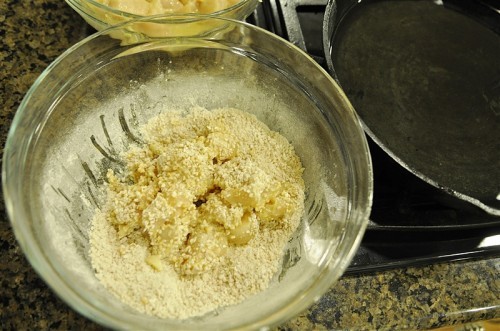 Then place into the hot oil.  You know your oil is hot enough when you insert a wooden chopstick or skewer into the oil and bubbles form around it.
Cook the chicken on both sides until golden brown.  You will need to do it in batches.
The chicken will be nice and golden brown when it is done.
I covered it with  a yummy apricot sauce made from apricot jam with a few things added in.  I love the sweetness it brings to the dish.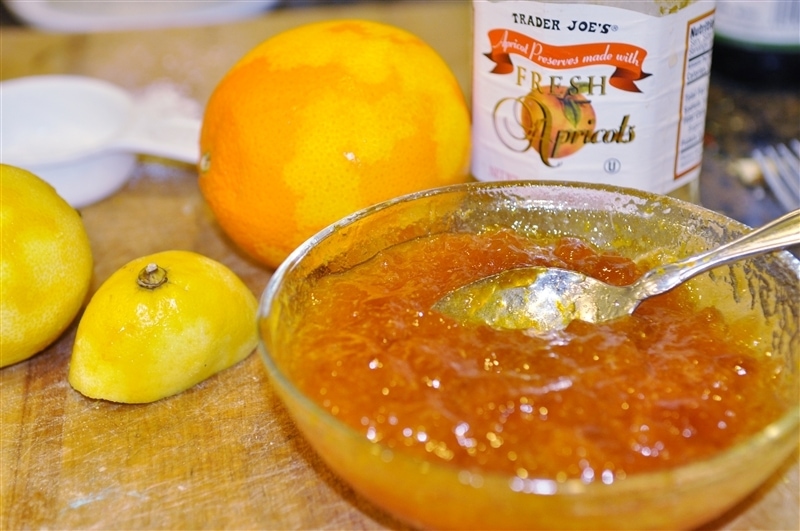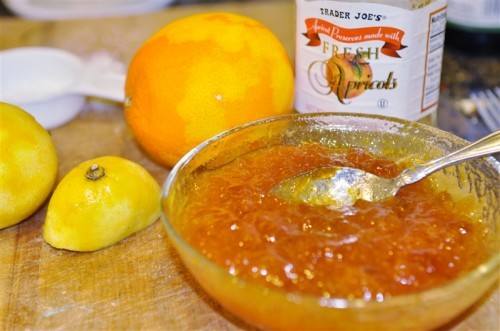 You have the lovely crunchiness of the cashews and sesame seeds with the nice sweet addition of the sauce.
Served over rice and you have a nice gluten free dinner!  My husband is always complimentary of everything I cook but I know when he really likes something because he will repeat himself multiple times during the meal.  This was one of those meals!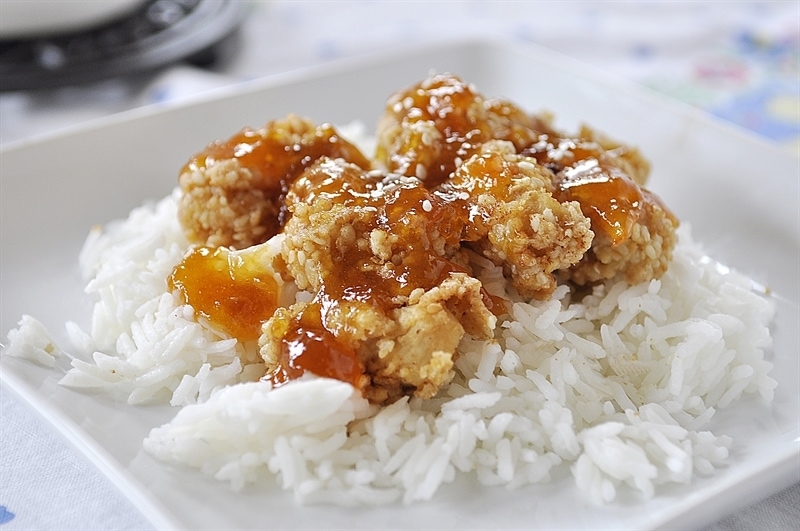 Sesame Chicken Recipe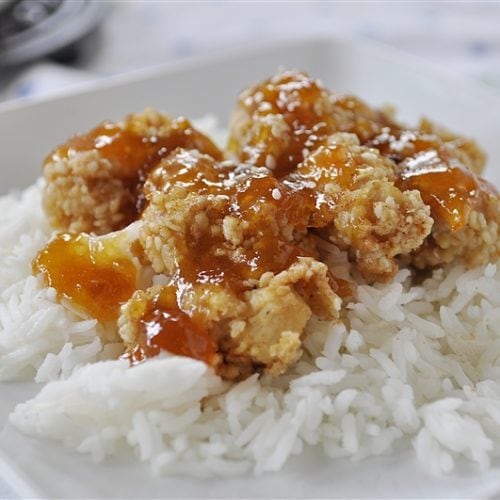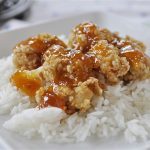 Print
Cashew Sesame Chicken
Flavorful Sesame Chicken with cashews.
Ingredients
Marinade
3

chicken breasts

boneless, skinless

2

cloves

garlic

chopped

1

tsp

minced ginger

1

egg

2

Tbsp

chicken broth

1

Tbsp

lemon juice

1

Tbsp

lemon rind

1

tsp

soy sauce

1/2

tsp

salt.

1

C

cashews

unsalted dry roasted

1/2

C

sesame seeds

1/4

C

cornstarch

1/2

tsp

salt
Apricot Sauce
12

oz.

apricot jam

1

tsp

dry mustard

1

tsp

lemon rind

1

tsp

orange rind

Vegetable oil for frying
Instructions
Combine all the marinade ingredients and add chicken.

Marinade at least 3 hours or overnight in the refrigerator.

Chop cashews finely and mix with sesame seeds.

Add in cornstarch.

Heat oil until about 375 degrees.

Roll chicken in nut mixture and fry in batches until golden brown on both sides.

For dipping sauce combine all the ingredients.

Serve over rice with dipping sauce.
Nutrition
Serving:
4
g
|
Calories:
1197
kcal
|
Carbohydrates:
11
g
|
Protein:
168
g
|
Fat:
49
g
|
Saturated Fat:
11
g
|
Cholesterol:
488
mg
|
Sodium:
776
mg
|
Potassium:
2879
mg
|
Fiber:
3
g
|
Vitamin A:
50
IU
|
Vitamin C:
3.7
mg
|
Calcium:
175
mg
|
Iron:
6.4
mg