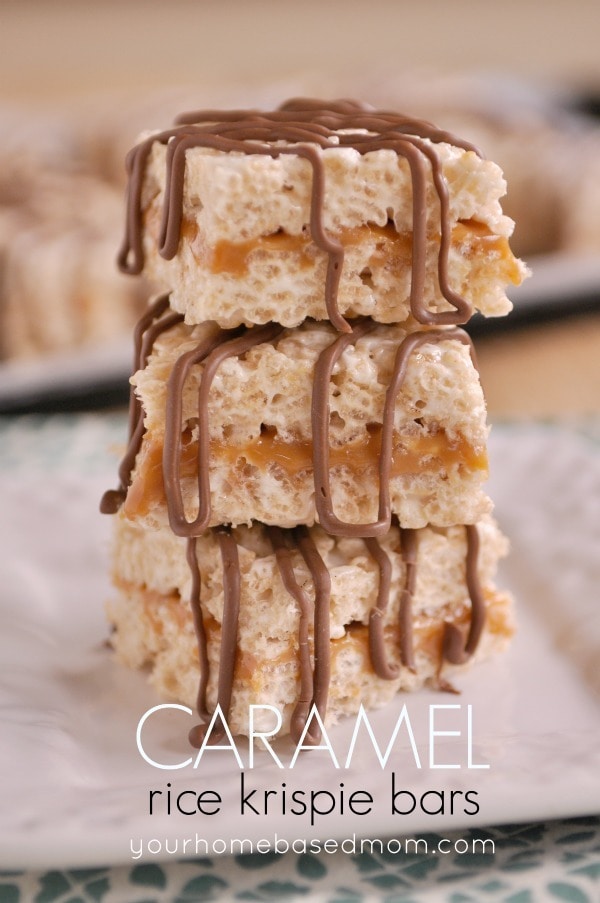 I love a good rice krispie treat.  For me a good rice krispie treat is not  too crispy!  I like mine a little softer and a little more gooey than the standard recipe.
So I do my treats a little different.  I use a whole bag of marshmallows but instead of just a couple of tablespoons of butter like the recipe usually calls for I add in a 1/2 a cup.  I promise you won't be sorry!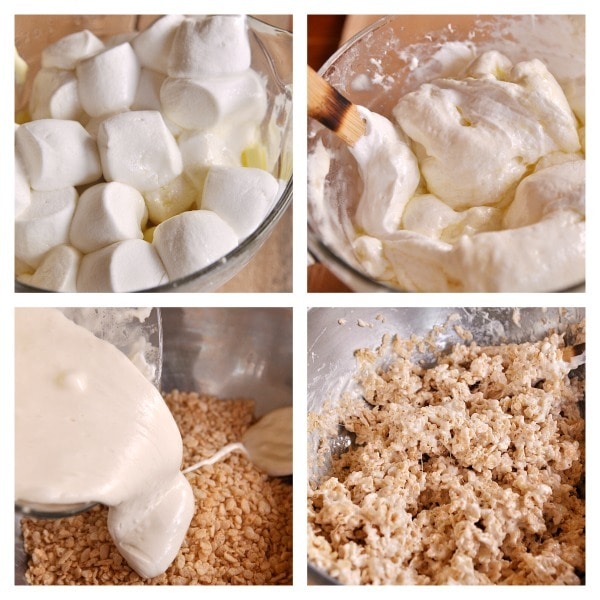 I put it all in a nice big glass container and then heat it up in the microwave.  Stir it up good and then add the rice cereal.  I use about 7 cups or until it gets to just the right gooeyness that I like.
Sometimes a regular old rice krispie treat will suffice but sometimes it needs to be dressed up a bit.  Nothing dresses up a treat better than some caramel and chocolate.
I greased a large cookie sheet/jelly roll pan and pressed my marshmallow mixture into the pan.  Let it set up and even stick it in the refrigerator if you are in a hurry.  Then cut through the middle with a knife or spatula.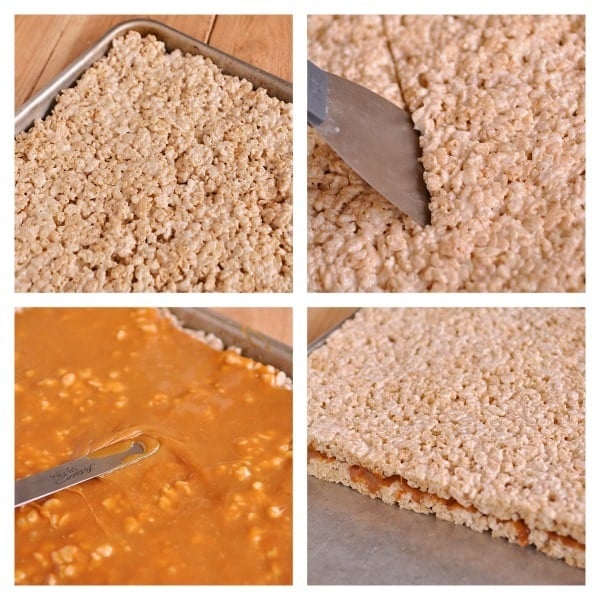 For the caramel I used the Kraft caramel bits which you don't have to unwrap and they melt easily in the microwave.  Spread the caramel on half of the pa .  Then fold one half of the  bars over on top of the other half, sandwiching the caramel in between.  Cut them into squares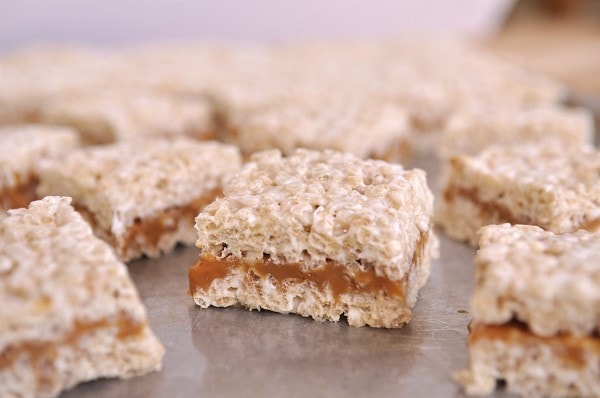 Then drizzle with melted chocolate for the finishing touch!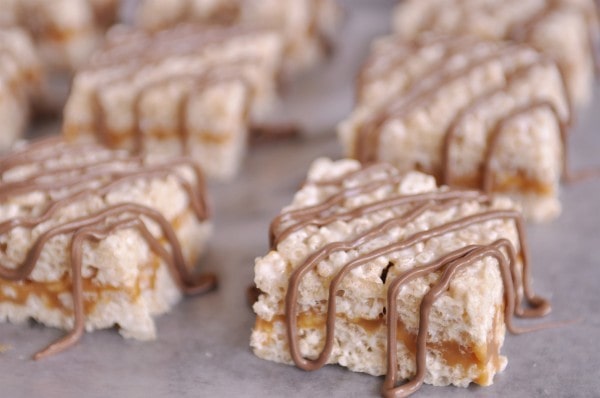 You may never eat a regular old rice krispie treat again!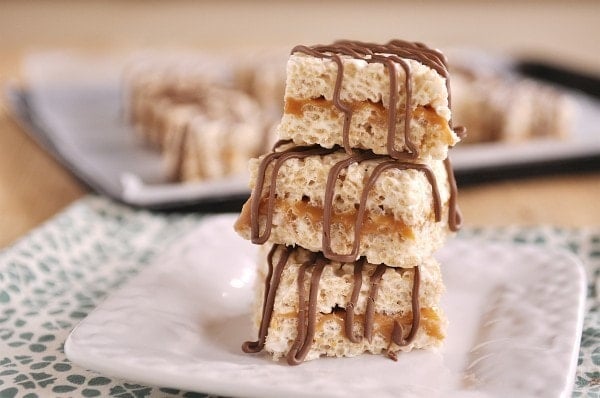 Because I knew if left alone I would eat the entire pan myself, I posted a photo on Instagram and invited the neighbor kids to come over and have some.  The message I got back was that on a scale of 1-10, they rated an 11.  Not bad!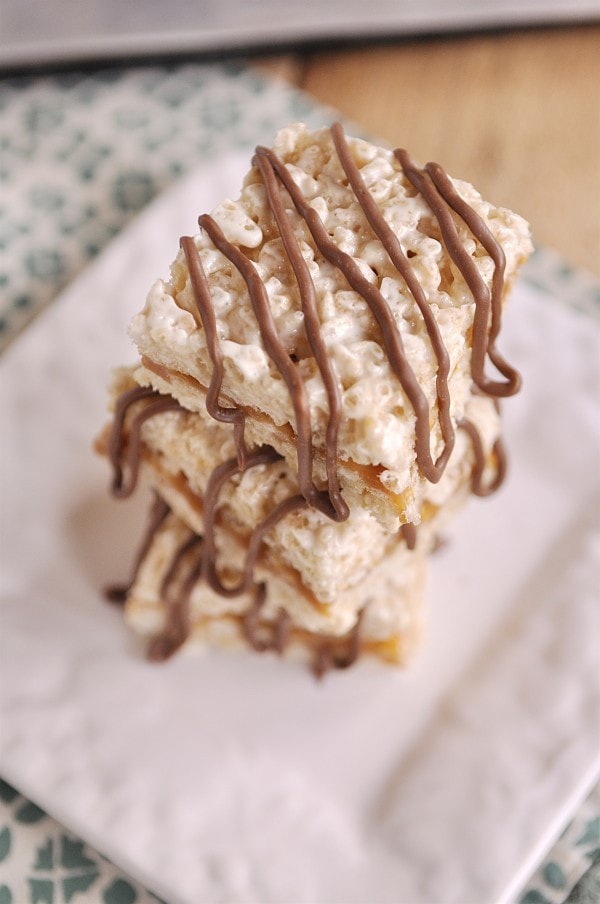 Your new favorite way to eat a rice krispie bar!  I promise.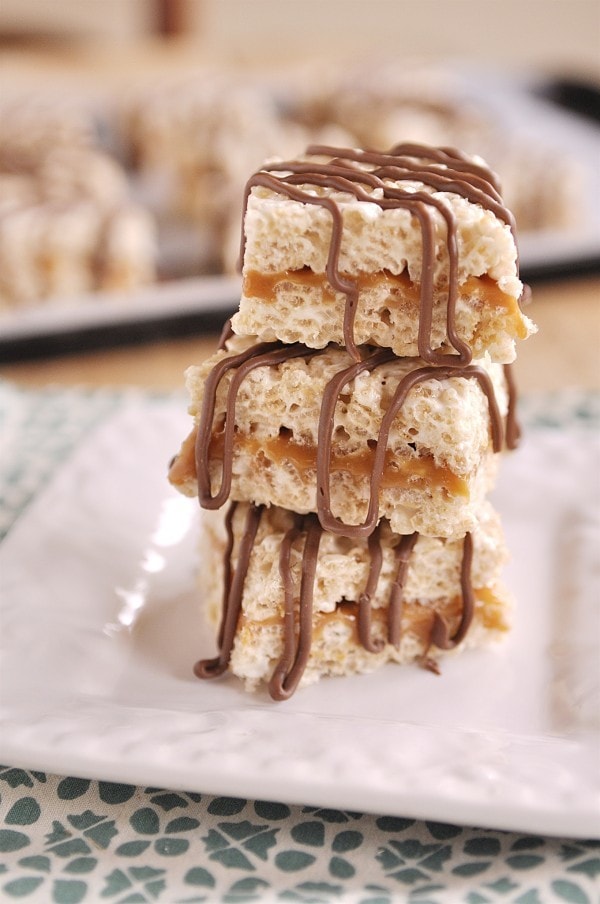 For other rice krispie treats try these:
Cinnamon Rice Krispie Treats
Crispy Chocolate Cherry Treats
Candy Corn Rice Krispie Treats
Leigh Anne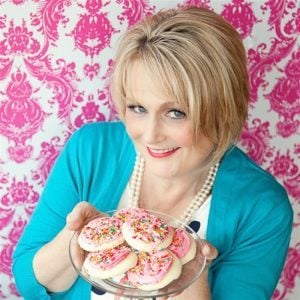 You can also visit me on Facebook, Pinterest, Twitter, Instagram
and Google+
For a list of where I Link Up each week go here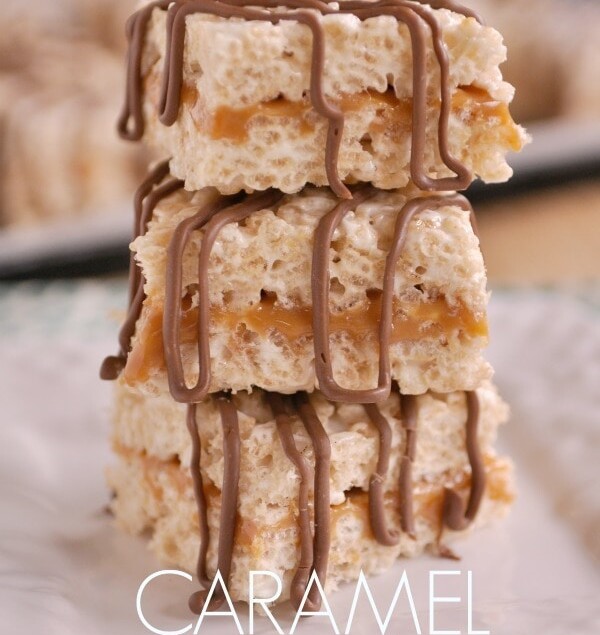 Caramel Rice Krispie Bars
Ingredients
1 bag of large marshmallows
1/2 C butter
7 C rice krispie cereal
1 bag Kraft Caramel Bits
Chocolate chips melted for drizzling
Instructions
Add marshmallows and butter into a microwavable bowl.

Melt in microwave on high for 1 1/2 to 2 minutes.

Mix marshmallows and butter until butter melts and mixture is smooth. (If the butter doesn't melt, microwave for an extra 15 seconds or so.)

Add cereal into marshmallow mixture.

Mix away

What we're trying to avoid here is big gloppy amounts of white marshmallow

Once the marshmallow-butter mixture is evenly mixed in, pour into a greased 18 x 13" pan and allow to set

Cut in half.

Melt caramel bits and pour over half of the rice kris pies.

Cover caramel with other half of rice krispies.

Refrigerate to set up and then cut into pieces

Drizzle with melted chocolate.