This caramel corn ice cream sundae is so easy to put together and full of yumminess. Love the crunch the caramel corn adds!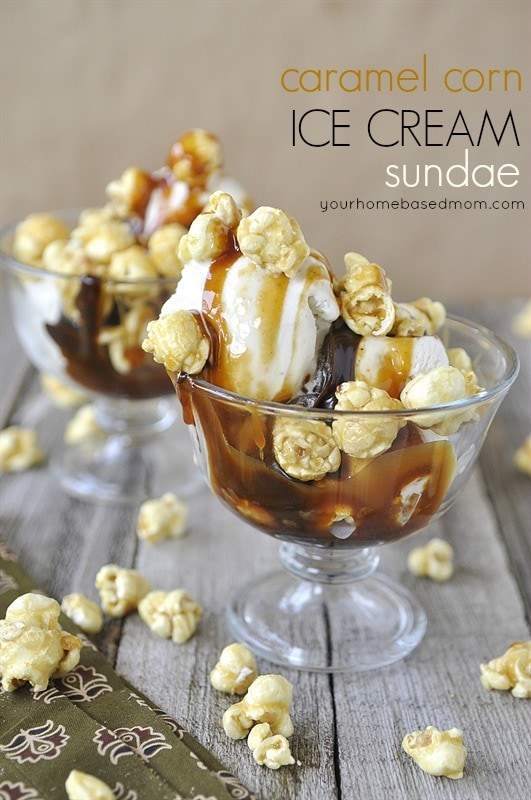 I first had a Caramel Corn Ice Cream Sundae when we were invited over to some friend's house for dinner.  These friends are amazing, creative cooks and I know whatever they serve is going to be delicious!
For dessert we had this fun dessert.  They had gotten the idea from a fancy restaurant in New York.    I love so many things about this Caramel Corn Ice Cream Sundae.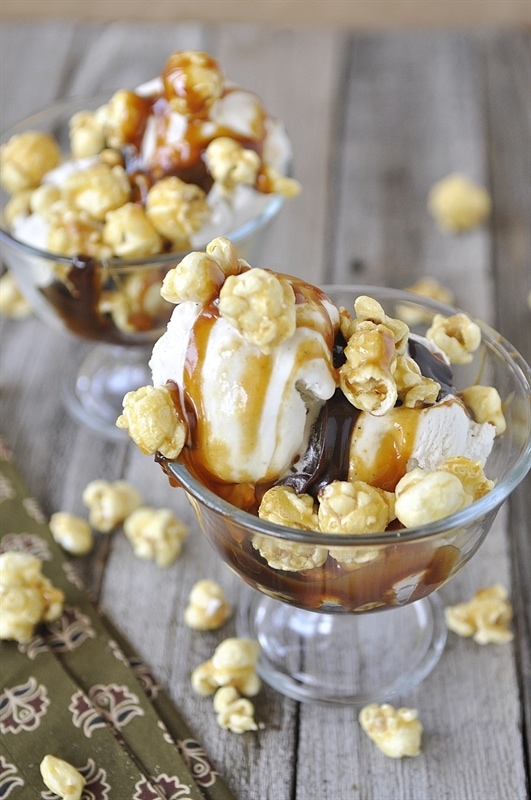 First,  I love ice cream. In just about any shape or form.  I love caramel corn.  I love a little bit of crunch in my food and the caramel corn provides that.  And last, but not least I love how EASY this is!!
In a matter of minutes you can wow your company or yourself and enjoy a delicious and fun to eat dessert.
There are only four things needed:  ice cream, caramel sauce, hot fudge sauce and caramel corn.  I bought all four of them.  Of course if you are feeling energetic you can make your own of all four things and I have provided links to recipes I have here on the blog.  If  you are short on time and feeling not quite so energetic you can make a quick run to the grocery store to pick up what you need.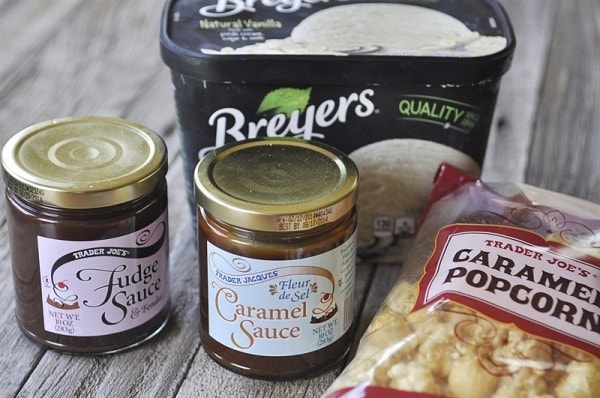 The assembly is easy.  Pick a pretty dish and fill the bottom with caramel corn.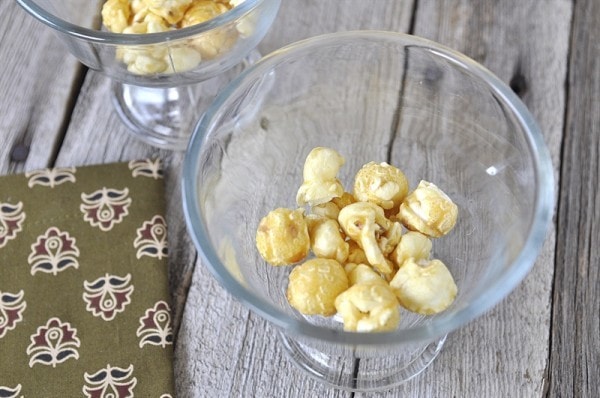 Next add in a few scoops of ice cream and then drizzle with lots of caramel sauce and hot fudge sauce.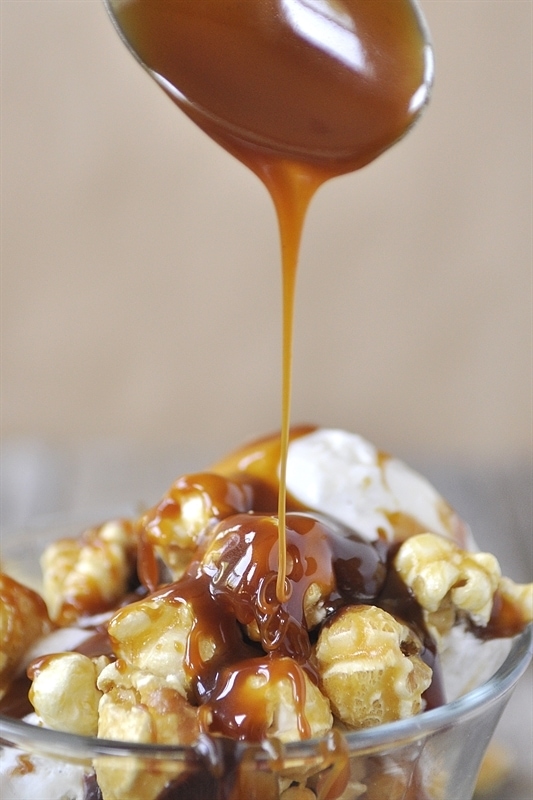 Be sure and top it off with plenty more caramel corn!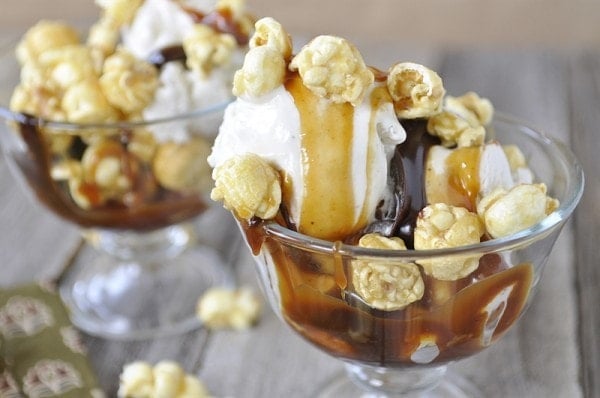 Then the only thing left to do is grab a spoon and dig in.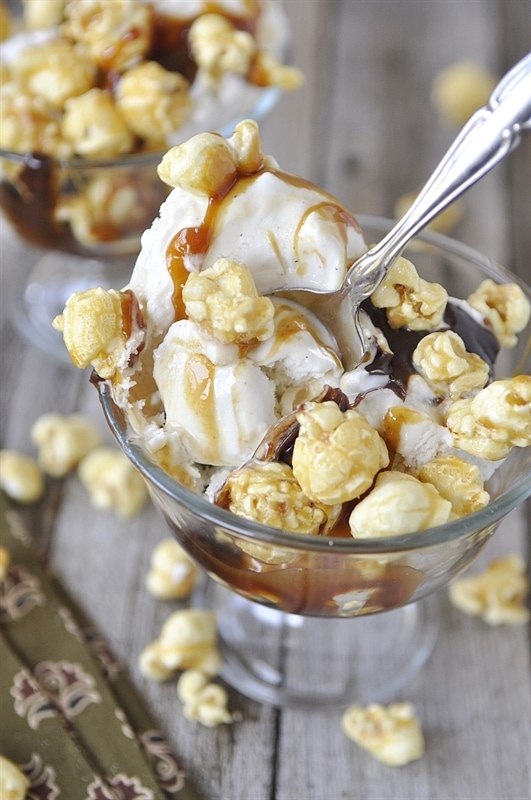 Oh and you might want to share, but maybe not!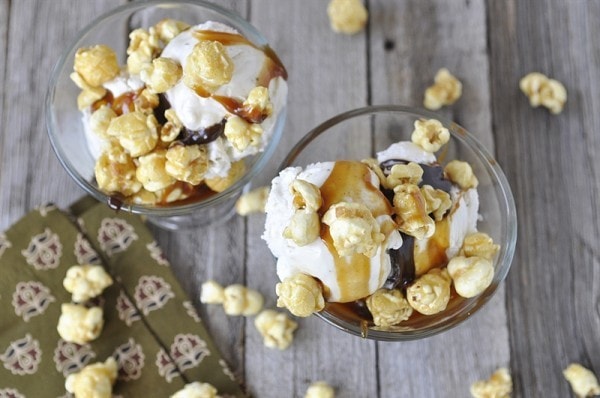 Keep all four of these ingredients on hand and you always have a yummy dessert to serve the family or any drop in company.
Other ice cream treats:
Lime Sherbet Freeze – Vanilla Malt– Vanilla Cherry Floats


Caramel Corn Ice Cream Sundae
Ingredients
Ice Cream flavor of choice
Hot fudge sauce
Caramel sauce
Caramel Corn
Instructions
Place caramel corn in bottom of dish

Put in desired amount of ice cream

Drizzle with hot fudge sauce and caramel sauce

Top with more caramel sauce.