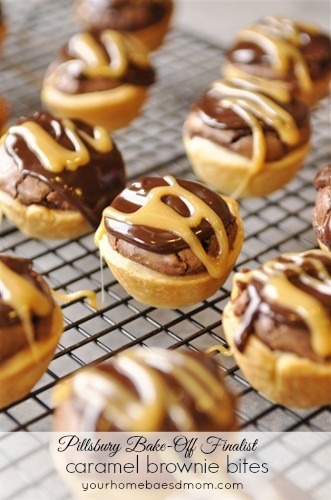 Today I get to introduce you to my friend Marjean.  Marjean is a finalist in the Pillsbury Bake Off!  Yes – that famous baking/cooking competition.  That contest where the prize is one million dollars!!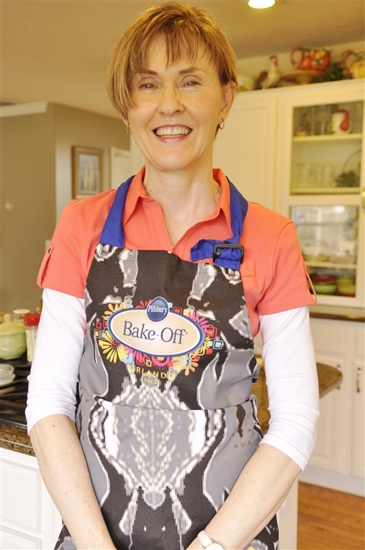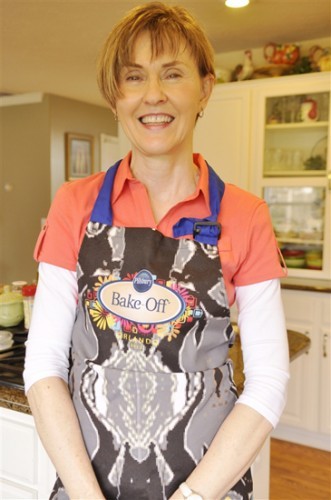 Marjean leaves for Florida in a couple of days to compete with 99 other Pillsbury Bake Off finalists so I thought it would be fun to share with you the yummy recipe she will be competing with and give you an opportunity to send her lots of positive thoughts and good wishes.
Marjean is a sixth grade teacher here in the Portland area.  So what inspires someone to enter the Pillsbury Bake Off?  Marjean said she has always followed the competition and one Sunday morning woke up and saw a box of Pillsbury pie crust in her refrigerator that needed to be used and thought – Why not?  She also had a box of Pillsbury brownie mix so she started playing around and her Caramel Brownie Bites were born!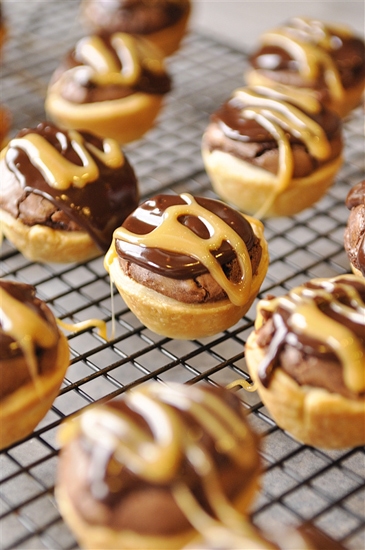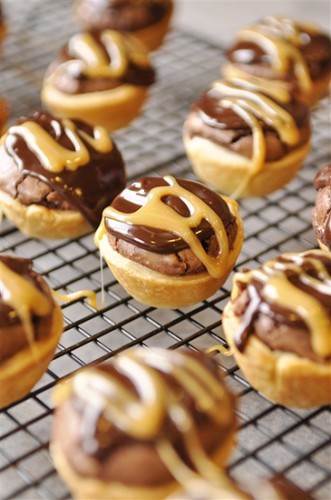 There was a lot of experimenting and baking that went into developing the recipe and a lot of sharing with her neighbors!  Fortunately she and her neighbor have a gate that goes through their fence so there was a lot of passing of treats through the fence!!  Lucky neighbors.  When I asked Marjean how many times she had made them her reply with a smile was "thousands!" I am sure she could do it in her sleep.
The rules are very specific for the bake off and she only has so much time to recreate her recipe in Florida.  She has to make it twice in the allotted time so she has everything timed down to the second.  She knows exactly how long it takes her to unwrap the package of caramels which is the first step.
The recipe is done in several steps and several of them can be done ahead of time if you are crunched for time.  The first step is to make the caramel filling which is a combination of caramels and cream and then melted in the microwave.
The next step is to mix up the brownie batter and then rolling out the pie dough. Use a round cookie cutter to cut the dough.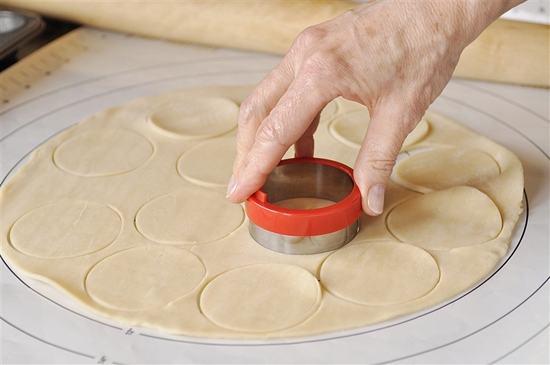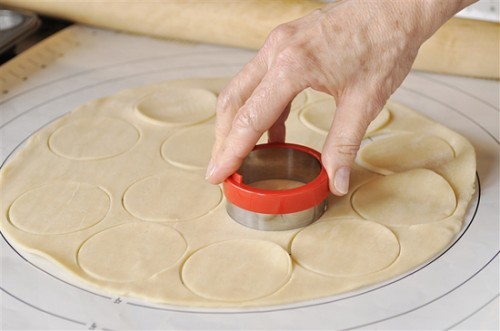 Marjean uses her mini muffin tins to make the brownie caramel bites. I loved her little tart tamper tool for getting the pie crust down into the muffin tin quick and easy.  Need to get me one of those!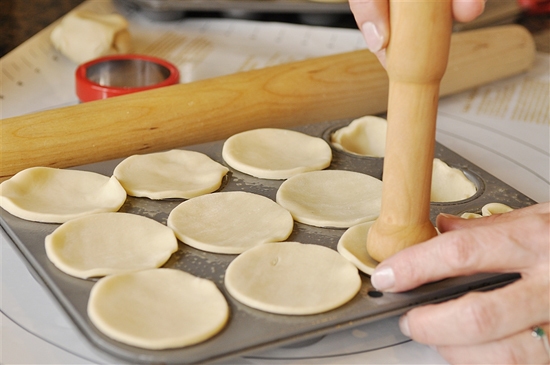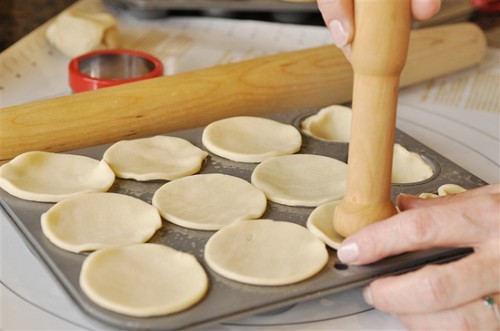 The next step is to start filling the tarts.  The first layer is chopped pecans.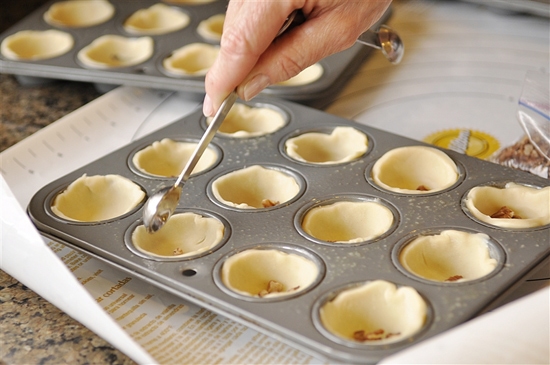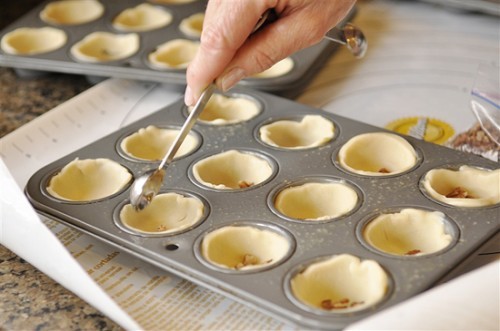 Then a scoop of caramel.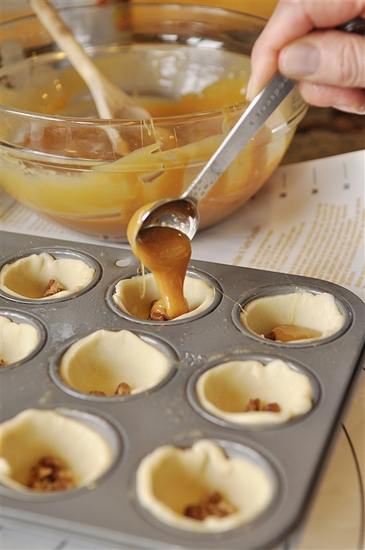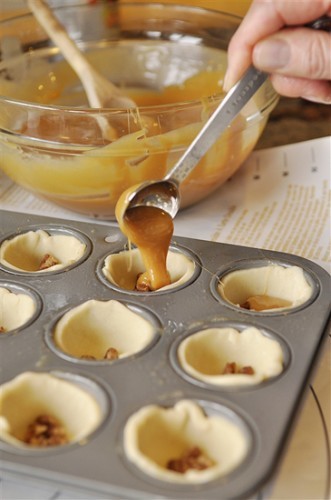 And a scoop of brownie batter.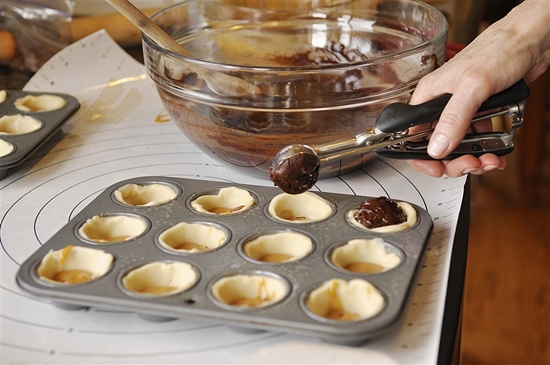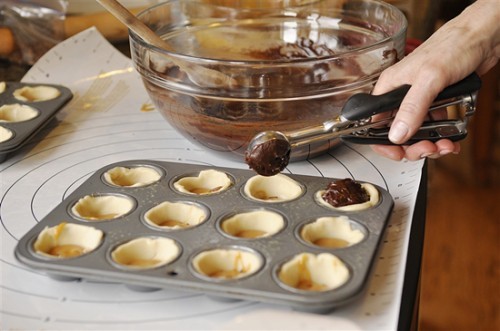 Then they get popped into the oven to bake.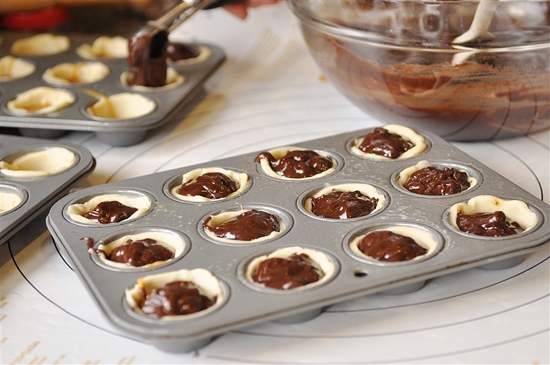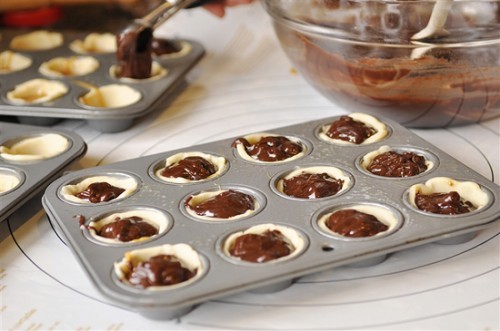 While they are baking you can make the chocolate ganache which goes on the top.  More chocolate and cream.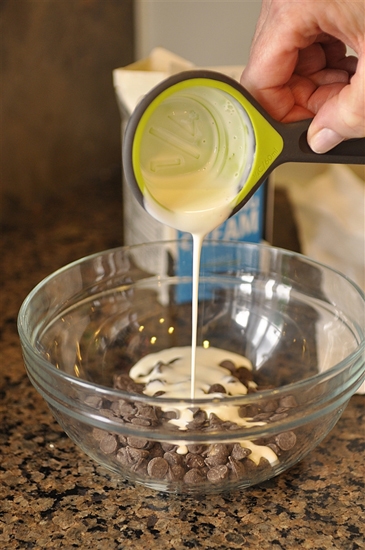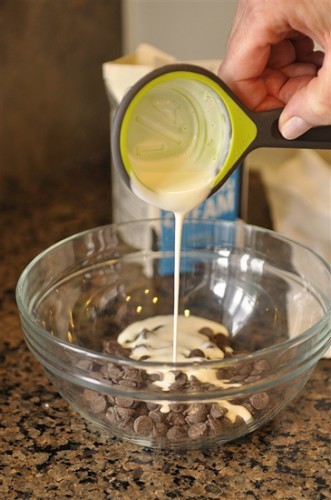 Marjean had a great tip for after you pull them out of the oven and they are cooling.  She uses a knife to lift them up and turn them on their side so they cool nicer, quicker and the bottoms don't get soggy.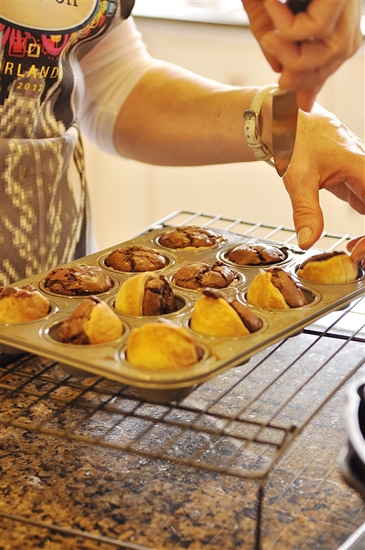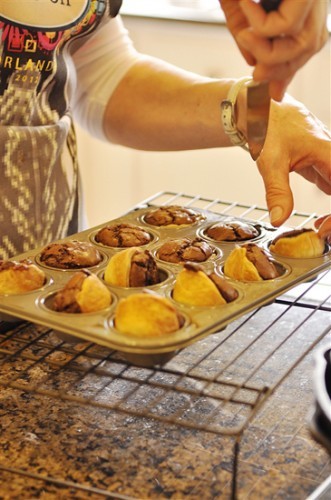 She will then remove them from the tin and put them on a cooking rack.  If you are in a hurry you can pop them in the freezer to cool them quicker.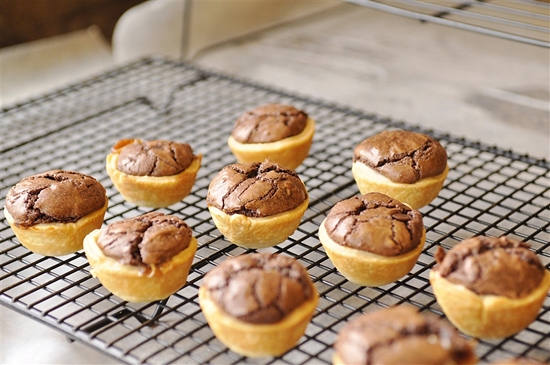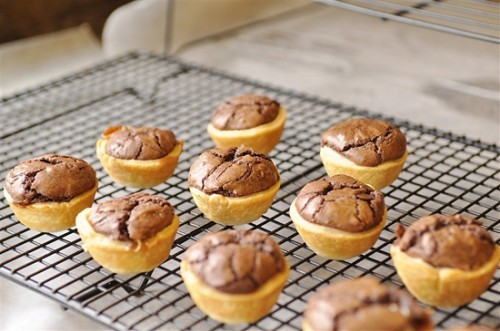 The next step, after they are cool,  is to give them a nice coating of chocolate ganache.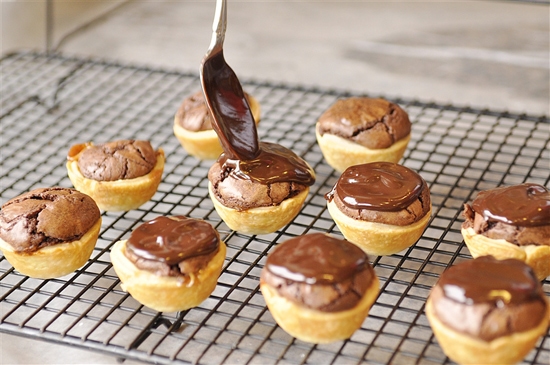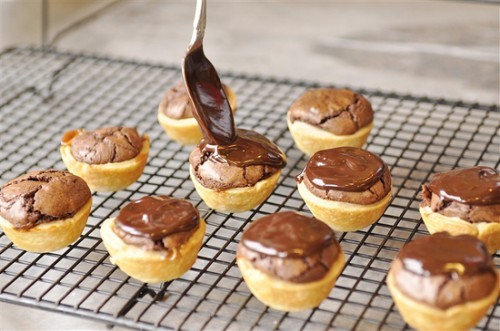 And then the finally touch is a drizzle of caramel.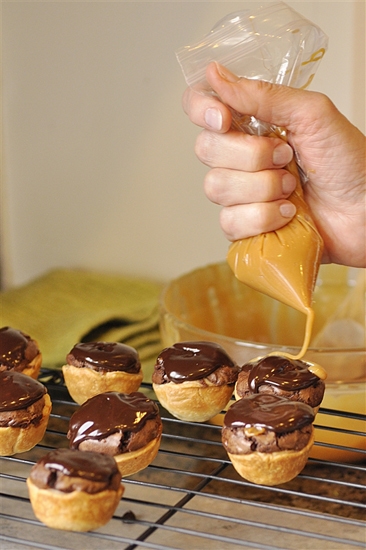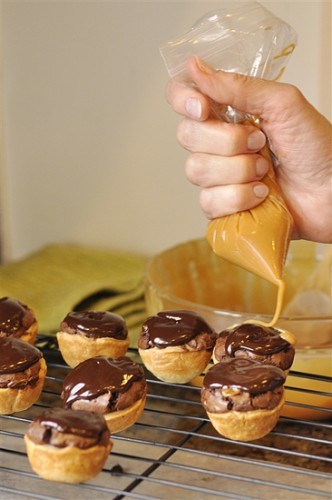 Marjean just fills a plastic baggie with the melted caramel, snips off a corner of the bag and uses it to drizzle the caramel.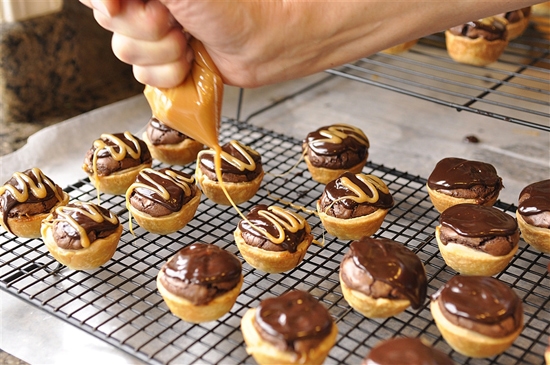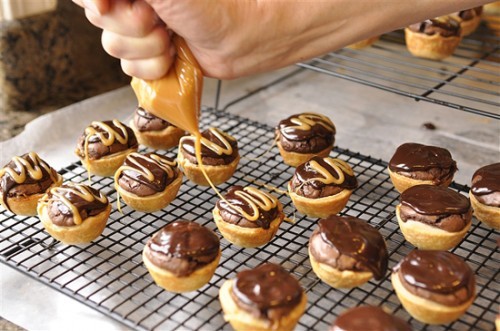 Aren't they pretty and they are delicious too – take my word on it.  They tastes yummy warm and gooey out of the oven or after they have cooled and all the flavors have had a chance to meld together.  That's Marjean's favorite way to eat them.  Even after making the recipe over and over, I asked her if she still enjoyed eating them and she does!
So please leave a comment and wish Marjean good luck this weekend in Florida!!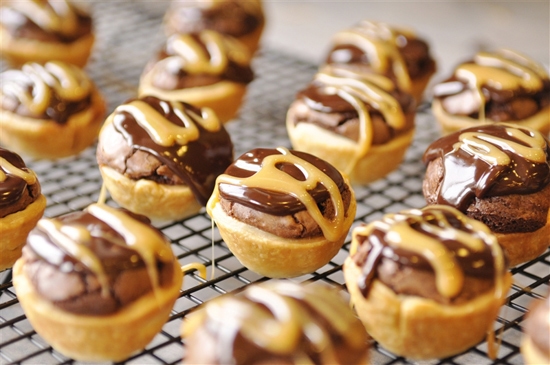 Caramel Brownie Bites – Pillsbury Bake Off Finalist!
Caramel and brownies baked in a pie crust and drizzled with chocolate ganache and caramel.
Ingredients
1 bag 14 oz caramels, unwrapped
1/2 cup whipping cream
1 box Pillsbury® refrigerated pie crusts softened as directed on box
1/2 cup Fisher® Chef's Naturals® Chopped Pecans finely chopped
1 box 15.9 oz Pillsbury® Chocolate Extreme Premium Brownie Mix
1/3 cup Crisco® Pure Canola Oil
3 tablespoons water
1 LAND O LAKES® Egg
2/3 cup Hershey's® semi-sweet chocolate baking chips
1 tablespoon light corn syrup
Instructions
In medium microwavable bowl, microwave caramels and 1/4 cup of the cream on High 2 to 3 minutes, stirring every 30 seconds, until melted and smooth. Cool 30 minutes.

Meanwhile, spray 36 mini muffin cups with Crisco® Original No-Stick Cooking Spray. Unroll pie crusts; roll each into 13-inch round. Using 2 1/2-inch round cookie cutter, cut 18 rounds from each crust, rerolling dough if necessary. Gently press each round on bottom and up side of muffin cup. Spoon scant 1/2 teaspoon pecans in bottom of each cup. Spoon about 1 teaspoon caramel mixture over pecans in each cup (cup will be 1/2 full); reserve remaining caramel mixture.

Heat oven to 350°F. In medium bowl, stir brownie mix (with syrup packet), oil, water and egg 50 strokes with spoon. Spoon 1 level tablespoon brownie batter into each cup.

Bake 18 to 24 minutes or until toothpick inserted into edge of brownie comes out clean. Cool in pans on cooling racks 10 minutes. Run knife around edges of cups to loosen; carefully remove from cups. Place on cooking racks. Cool completely, about 30 minutes.

Meanwhile, to make ganache glaze, in small microwavable bowl, microwave remaining 1/4 cup cream and chocolate chips on High 1 to 2 minutes, stirring every 30 seconds, until melted and smooth. Stir in corn syrup until blended. Spoon ganache over each brownie. Refrigerate about 30 minutes or until ganache is set.

Microwave reserved caramel mixture on High 20 to 30 seconds if necessary for drizzling consistency. Drizzle each brownie with about 1/2 teaspoon caramel mixture. Store loosely covered in refrigerator.
Nutrition Facts:
Calories: 92kcal (5%) Carbohydrates: 6g (2%) Protein: 1g (2%) Fat: 7g (11%) Saturated Fat: 2g (13%) Cholesterol: 9mg (3%) Sodium: 39mg (2%) Potassium: 36mg (1%) Fiber: 1g (4%) Sugar: 2g (2%) Vitamin A: 57IU (1%) Calcium: 7mg (1%) Iron: 1mg (6%)
* Disclaimer: All nutrition information are estimates only. Read full disclosure here.