A Candy Corn Bar is a fun addition to your Halloween party – so many fun flavors of candy corn are available.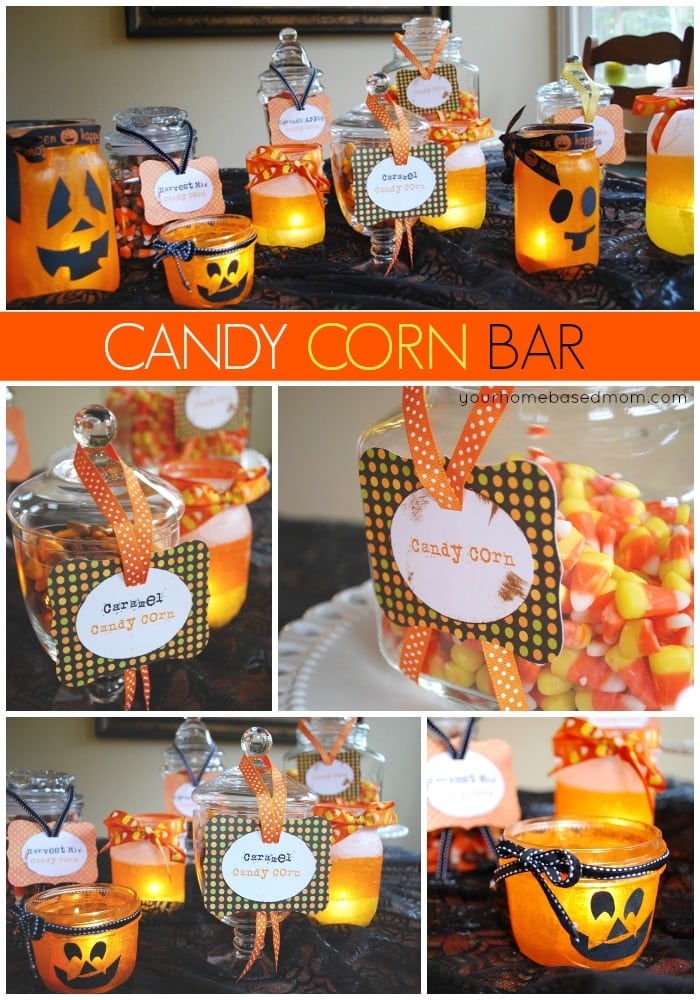 Now that my kids are all grown up and most of them gone from home I need to get my little kid fun fix with my neighborhood kids!
We have invited several of the neighborhood families over for a Halloweenie Roast on Friday night.
I have been busy working on a candy corn bar for the party. It turned out so stinking cute I couldn't wait to share it with you.
Did you know there are flavored candy corn? I managed to track down several different flavors for our candy corn bar.
Candy Corn Bar Ingredients
Caramel candy corn
Caramel apple candy corn
Harvest mix.
Candy Corn Kisses (or whatever flavor you can find.
Feel free to add in any other Halloween/candy corn themed candy you can find.
I placed the different candy in an assortment of jars I already had. You can often find great jars at Goodwill too.
Be sure and label the different types of candy corn.
Mason Jar Jack-o-Lanterns
For a little mood lighting on the table, I pulled out some of my old canning jars that have been gathering dust and turned them into a cute lantern. Since I was going to be using them on my candy corn bar I turned some of them into glowing candy corn as well as jack o' lanterns! Aren't they cute?
I created the lanterns by using mod podge and gluing tissue paper onto the jars. The jack of lantern faces were cut out of black construction paper.
You can also print off the patterns for the jack o' lantern faces here and here.
Have fun! What are your Halloween plans??