A Candy Corn Bar is a fun addition to your Halloween party – so many fun flavors of candy corn are available.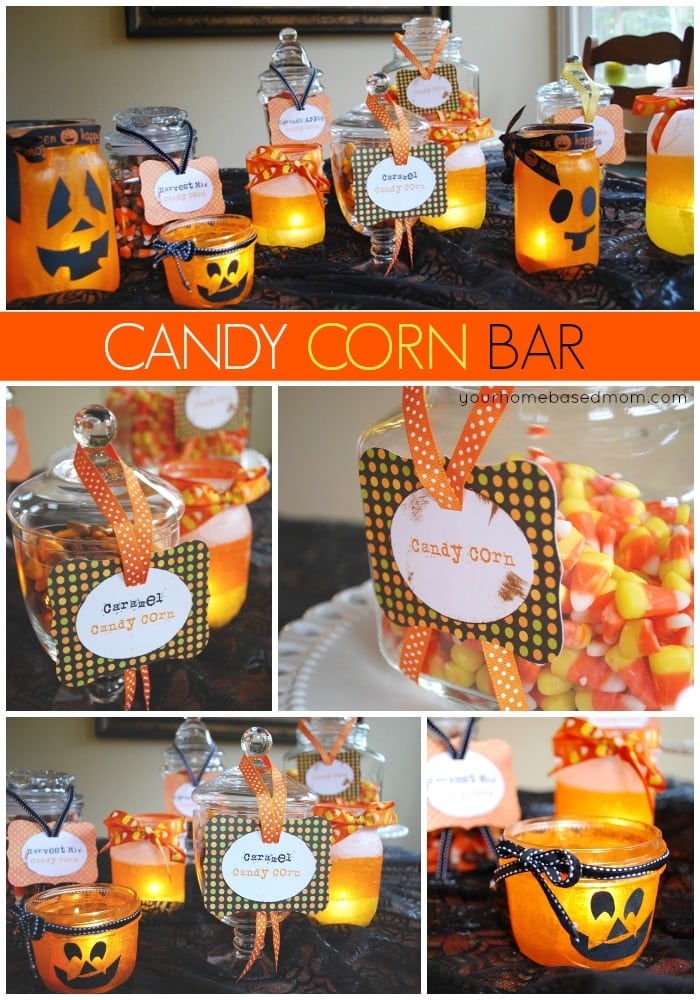 Now that my kids are all grown up and most of them gone from home I need to get my little kid fun fix with my neighborhood kids!
We have invited several of the neighborhood families over for a Halloweenie Roast on Friday night.  We are hoping for no rain so that we can roast hot dogs out on the fire pit!
I have been busy working on a candy corn bar for the party.  It turned out so stinking cute I couldn't wait to share it with you.
Did you know there are flavored candy corn?  I managed to track down several different flavors for our candy corn bar.
In addition to regular candy corn I found caramel candy corn, caramel apple candy corn and harvest mix.  I also threw in some candy corn kisses because who could resist these cute little things!!!
Mason Jar Jack-o-Lanterns
Several weeks ago I saw a cute Halloween craft idea over at a fun craft blog I like to visit – Not So Idle Hands.  I pulled out some of my old canning jars that have been gathering dust and turned them into a cute lantern.  Since I was going to be using them on my candy corn bar I turned some of them into glowing candy corn as well as jack o' lanterns!  Aren't they cute?
There is a great tutorial for making them over at Not So Idle Hands so check it out!!  She painted around the top of her jars.  But I used some of the cute Halloween ribbon I had picked up on sale at Michaels!
You can also print off the patterns for the jack o' lantern faces here and here.
Have fun!  What are your Halloween plans??