When we were planning out our crafts for camp we were working with a limited budget.  We were planning on 200 girls and have about a dollar a day for each girl and each craft.
I think we did pretty good.  We were able to make really good use of our paper and cut everything we needed for all four crafts from just two sheets of paper per girl!
For day three at camp we will be making these cute collage blocks.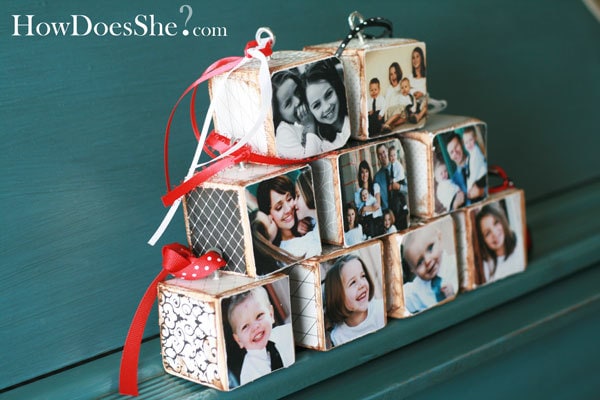 I don't have any pictures of the actual ones we are making but you can get the idea from this.  We are not having the girls add photos at camp, just different squares of scrapbook paper and we are going to print off the theme for camp, "Be strong and of good courage" from Joshua 1:9 for them to put on the block too.  Of course we will be using up more of that Mod Podge.  Hurray for Mod Podge!
We just bought wooden 4 x 4's and had them cute into cubes.
Here's a great post on fun things to do with a wooden block which is where we got the idea.
The final craft on the last day will be those cute decorative clothes pins I shared with you last Christmas.  My girls made them for their friends.
We picked up the clothes pins at the dollar store and again used left over paper from the other projects.
The girls will each get a bag with a yard of ribbon (to hang the photos on), five clothes pins and then be able to pick out their own paper and embellishments (leftover from the journals.)  We did precut the paper so we didn't run the risk of someone cutting a piece right out of the middle of the paper and wasting it.  We were being frugal with our paper.  We also found all the ribbon in the dollar bin at Michaels!
The paper is attached to the clothes pin with – you guessed it – Mod Podge!!

Enjoy the ideas and have fun getting crafty!