Layers of crust, butterscotch and chocolate to make the ULTIMATE Butterscotch Chocolate Shortbread Bars!
Welcome Nancy from The Bitter Side of Sweet.  I have been totally drooling over her recipe!!  Can't wait to make this myself.  My dad is a huge butterscotch fan so I'll have to save a piece for him.  Thanks for joining in all the fun Nancy and be sure and go pay her a visit at her blog.
In addition to all the Bake ideas here on the blog my friends Mique will be sharing Craft ideas and Cindy will be sharing Sew ideas and Mallory and Savannah at Classy Clutterwill be sharing decorate ideas!    Exciting right!?  Be sure to check out all the ideas they are sharing each day as part of Bake Craft Sew Decorate.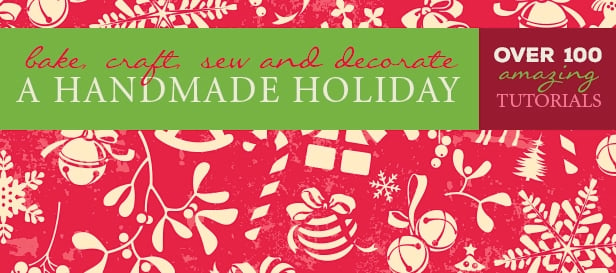 Hi everyone! I'm Nancy! I am a food blogger over at The Bitter Side of Sweet! I am a super busy mom of 5 who is just trying to balance life and food! I have so much fun doing it and getting to do things like Bake Craft Sew 2015. This is my first year participating and there have been so many great recipes so far! Thanks Leigh Anne for opening up her blog and letting us all join in the fun!
Today I wanted to share with you these Butterscotch Shortbread Bars. In all honesty these bars are not what I had intended to share with you. I wanted to give you fudge, but my fudge was being finicky so I went into my archives and remembered these chocolate pecan pretzel shortbread bars that I made and I knew that I could easily make them into these!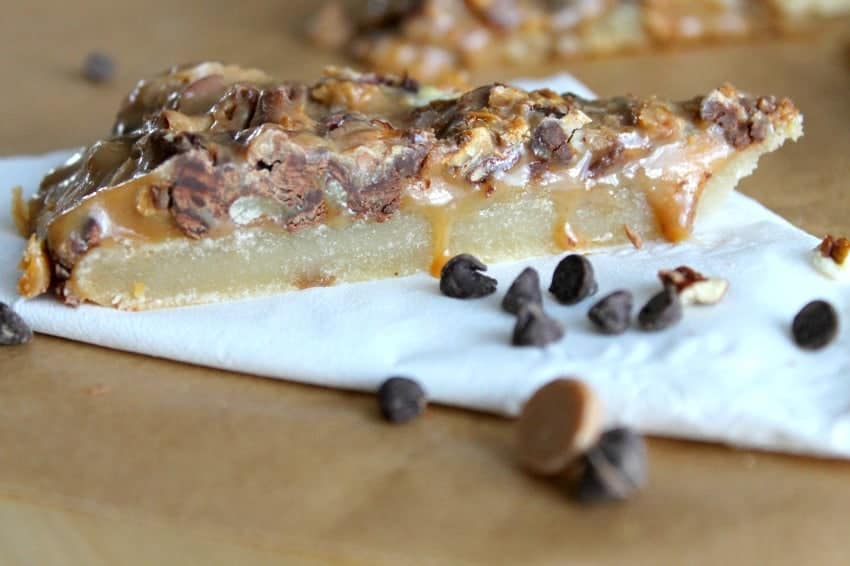 Holidays seem to scream all things, pecan and butterscotch. I thought why not combined these two flavors. I also added some chocolate just because chocolate makes everything better, right?
So to begin with I made a shortbread crust. Super easy to make with only three ingredients. Then I took what would of been my fudge mix and poured it on top of the crust. Sprinkled in some more pecans and chocolate. Then we let the oven do the rest! I keep these refrigerated because the butterscotch can be a little sticky. Refrigeration helps it hold it shape and makes less of a mess! ENJOY!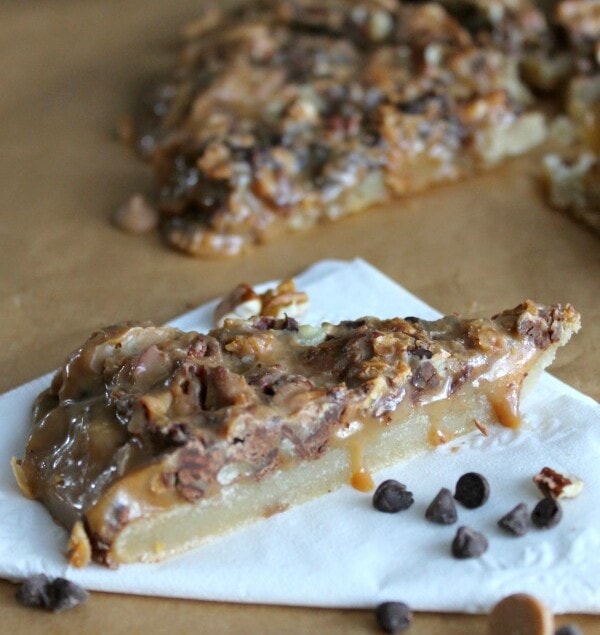 Butterscotch Chocolate Shortbread Bars
Layers of crust, butterscotch and chocolate to make the ULTIMATE Butterscotch Chocolate Shortbread Bars!
Ingredients
For the crust:
1 cup flour
6 tablespoons butter diced
4 tablespoons water
For the filling:
1 1/4 cup butterscotch chips
14 oz sweetened condensed milk
1/2 cup pecans
For the topping:
1/4 cup pecans
1/4 cup mini chocolate chips
Instructions
Preheat oven 350°F.

Line a 9 inch round cake pan with parchment paper.

Add flour and butter to mixing bowl. Mix until it looks crumbly. Add 1 tablespoon of water at a time until dough comes together and holds shape.

Spread into cake pan and bake for 10 minutes.

In the meantime add butterscotch chips and condensed milk to microwavable bowl.

Microwave for 1 minute. Stir till smooth. Add pecans and stir.

When shortbread is done pull out of oven and spread evenly the butterscotch mixture on the top. Sprinkle with 1/4 cup pecans and chocolate chips.

Place back in the oven and continue to bake for 25 minutes.

When done pull out and allow to completely cool. Place in refrigerator and allow to set for 1 hour.

Serve and ENJOY!
Want to connect more with TheBitterSideofSweet? Follow at:
Facebook | Bloglovin | Pinterest | Instagram | Google+ | Twitter