Brussels Sprout Salad is a fun and delicious way to eat your brussels sprouts. Dressed with a light citrus dressing.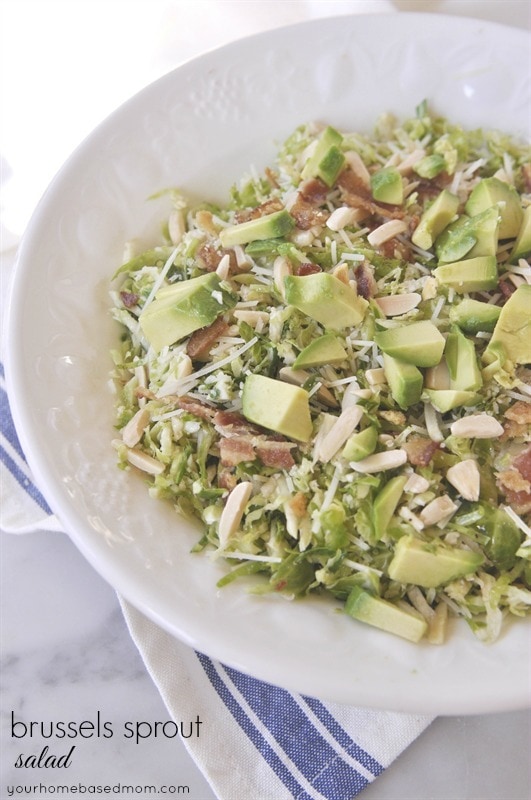 It always seem strange when I write or type the word brussels.  It seems like it shouldn't have an s at the end but it really does – it is brussels.  I have kind of fallen in love with these cute little fellas.  I am even growing them in my garden this year and they have been so fun to watch.  If you have never seen a brussels sprout plant before the leaves are huge and it seems like nothing else is going to happen until the little round sprouts start to form along the stem of the plant.  While I'm waiting for my brussels sprouts to grow I've been trying out lots of recipes using store bought brussels sprouts.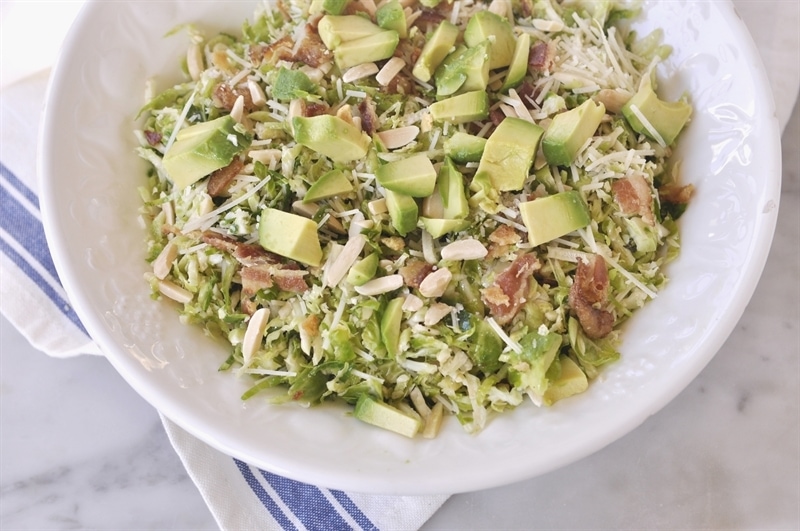 Most people wrinkle up their nose when  you mention brussels sprouts.  I use to do the same thing and I had never even tasted brussels sprouts before a few months ago.  They really get a bad rap!
I've shared a few different brussels sprout recipes here on the blog including these Teriyaki Glazed Roasted Brussels Sprouts and these Lemon Roasted Brussels Sprouts. A few months ago I took the Teriyaki Glazed Roasted Brussels Sprouts to our monthly Empty Nesters Family Home Evening  potluck dinner.  As soon as some of the people saw that they were brussels sprouts they decided they weren't going to like them.  For this month's get together I decided I needed to give brussels sprouts a go again but  decided to see if I could sneak it by them in the form of a salad.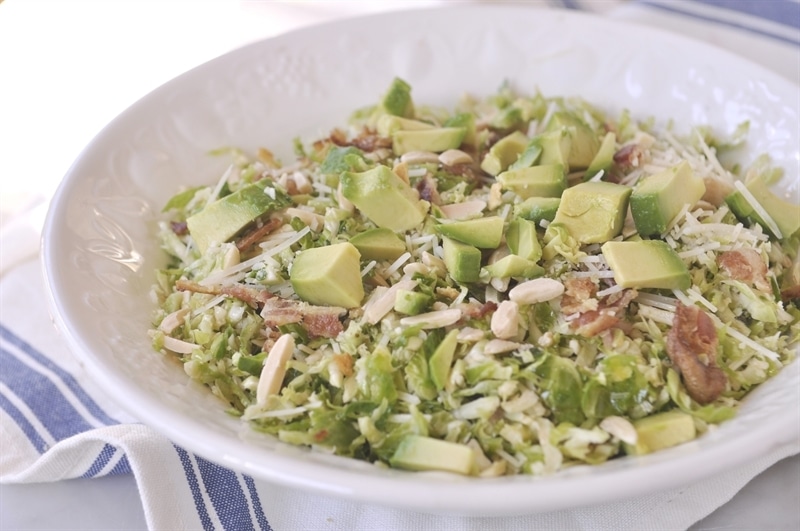 As soon as I put the salad on the table one of the men asked "what is it?"  I think they were leery after last month.  I told them they had to taste it first and then I would tell them.  The fact that there was bacon on top made them a little more agreeable to try it!  After they all tried it I told them what it was – brussels sprouts and they were all surprised.  Surprised but they ate it and actually liked it! To make the shredded brussels sprouts I used a knife to thinly slice half of the sprouts and then I put the other half through my food processer so I had a little variance in texture.  It really didn't take long to slice them up.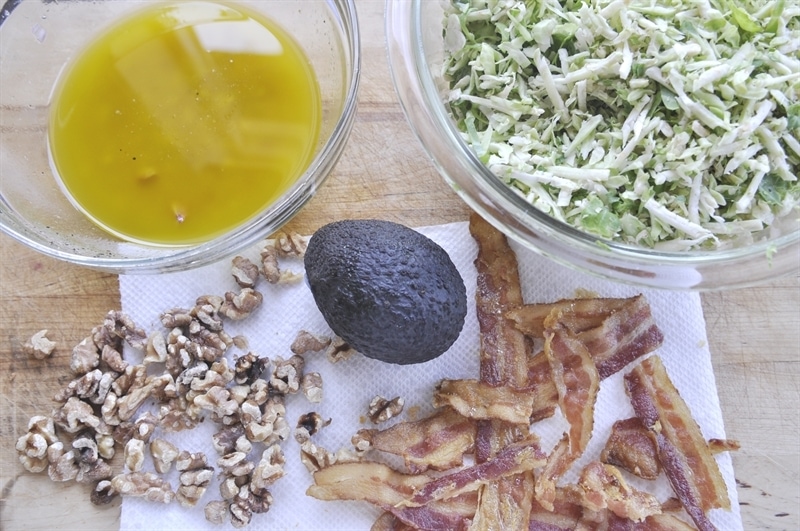 I made a dressing of lemon juice, orange juice, shallot and olive oil.  And then topped the salad with avocado, bacon and almonds.  Just pretend those walnuts in the picture are almonds.  I changed my mind at the last minute and used toasted almonds instead although walnuts would be good too!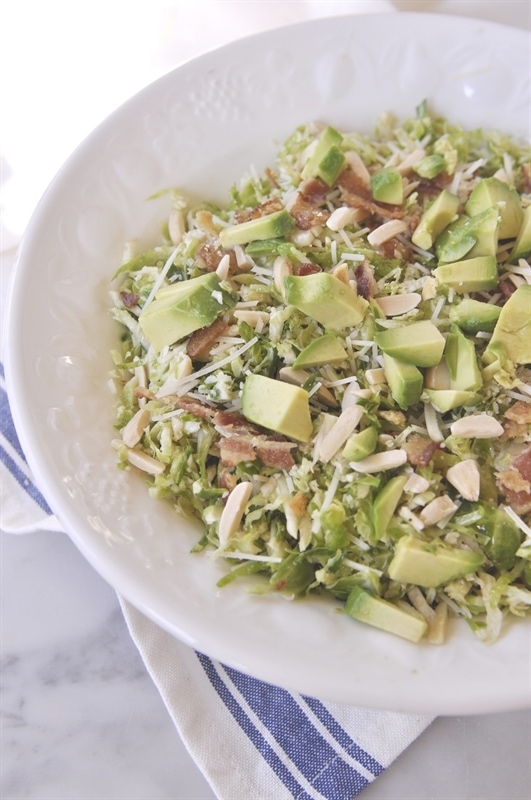 I then gave it a finishing touch with some grated Parmesan Cheese on the top.  I loved it and will definitely be making it again once my very own brussels sprouts are ready to harvest!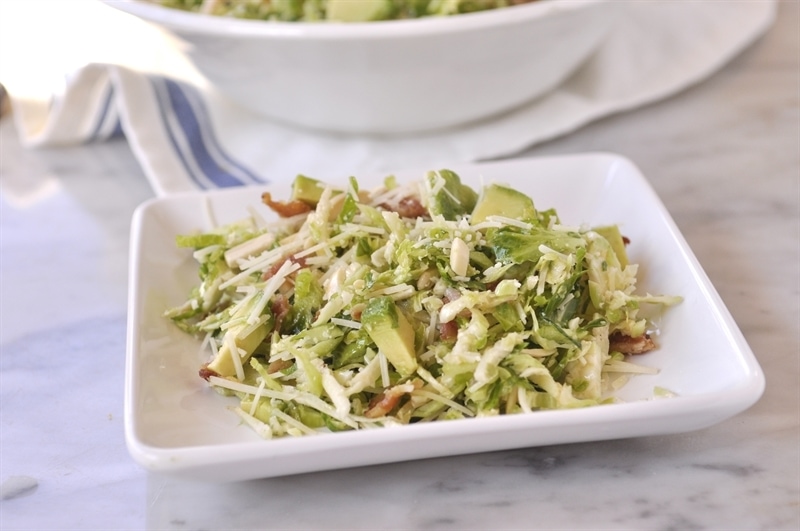 For other yummy salad recipes try:
Willamette Valley Salad – Caesar Pasta Salad – BLT Salad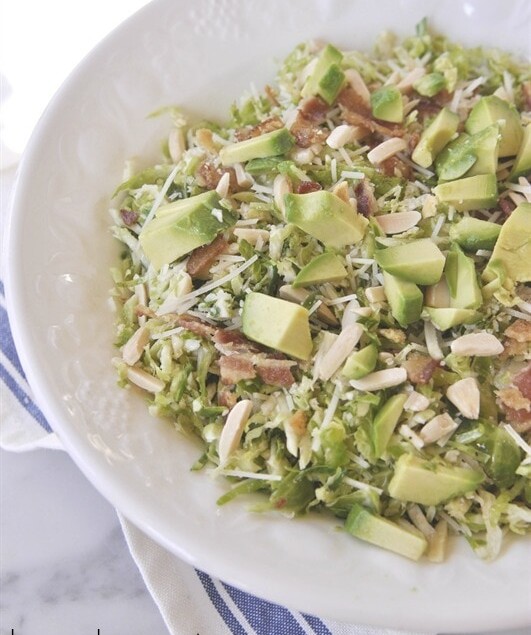 Brussels Sprout Salad
Ingredients
Dressing
Juice of 1 lemon
Juice of 1 orange
1 shallot minced
1/2 C olive oil
salt and pepper to taste
Salad
6 slices bacon cooked and crumbled
4 dozen brussels sprouts
1 C toasted slivered almonds
1 C grated Parmesan cheese
1 avocado diced
Instructions
Combine juices, shallots, olive oil and salt and pepper.

Stir together until it emulsifies and becomes creamy looking

With a knife, thinly slice half of the brussels sprouts and put the other half through the food processor with the grater attachment.

Add desired amount of dressing to brussels sprouts.

Add bacon, avocado, almonds and cheese.
recipe adapted from Pinch of Yum