I told you it was going to be Party Central here on the blog this week. But today we are switching gears. We are moving from graduation party ideas to a bridal shower.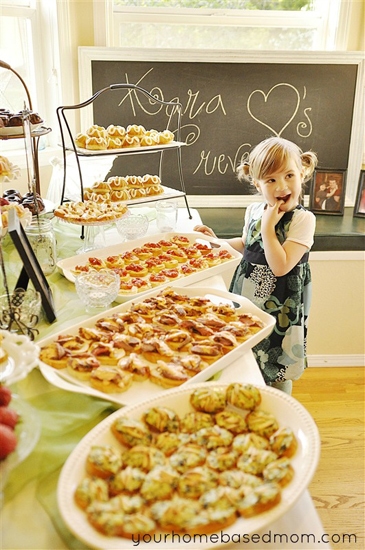 No, that is not the bride but one of our cute little party guests!
The bride is one of my daughter's high school friends. It seems just like yesterday she was in high school and I was teaching her in Young Women's at church. It probably seems like that because it really was – just a few years ago!
Well, every bride to be deserves a party and I was pleased to be able to hold a party for cute Kara.
I followed some of my own party planning tips and set up my table the night before.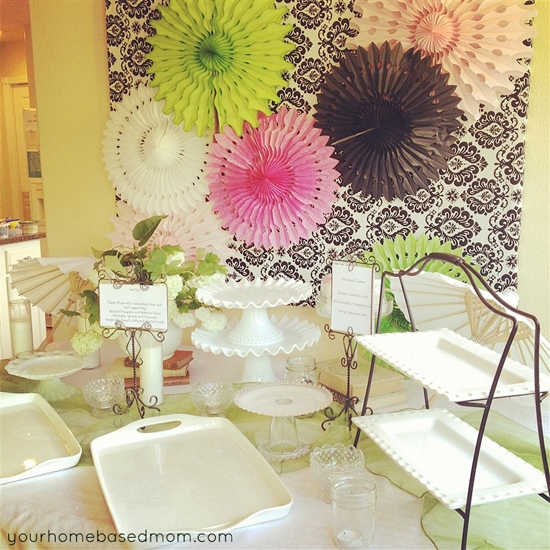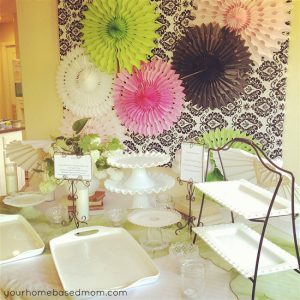 I also created this fun backdrop for the table. I'll have a tutorial next week for how we made it. I also purchased some paper fans from Polka Dot Market for the backdrop.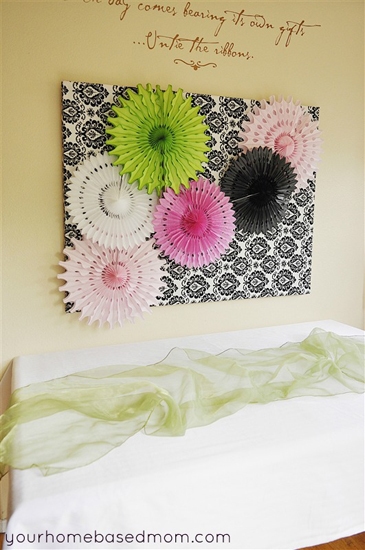 I added some flowers from my garden.
And then I let food become the rest of the decoration on the table. These little meringue cookies from Trader Joes were a pretty extra touch.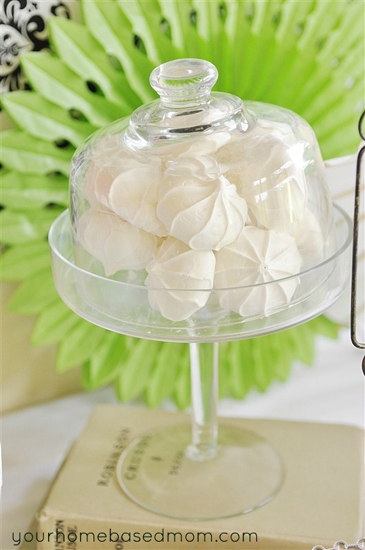 Food, flowers and a few candles make for a pretty table.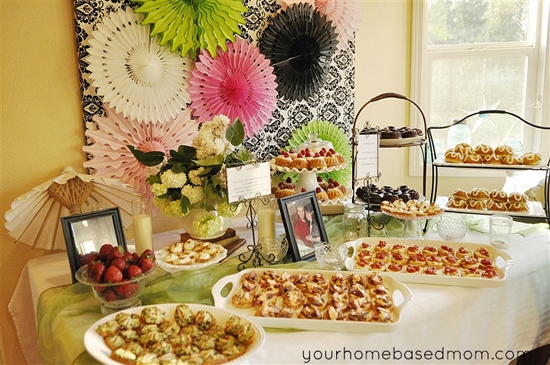 The menu consisted of an array of crostinis. I'll be sharing some recipes in the next week but we had a artichoke/spinach crostini with toasted almonds on top, flank steak with caramelized onions and red pepper mayo, Cambonzola cheese, roasted garlic and tomato jam and I mixed together some cream cheese and some roasted pineapple and habanero pepper sauce from Costco for another and added a piece of walnut on top.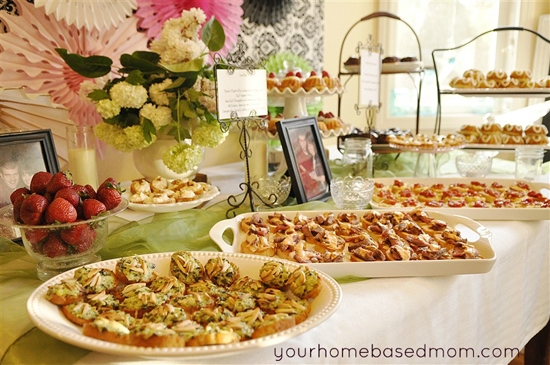 For the sweet side we had a selection of mini bundt cakes.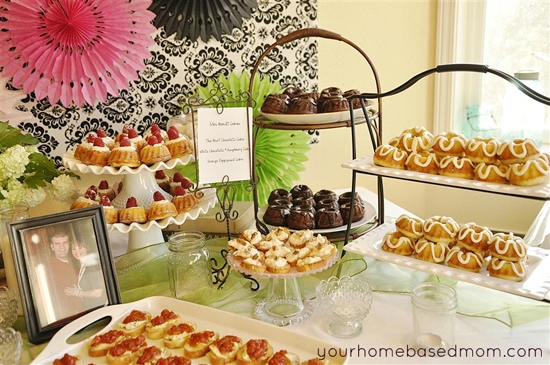 I made the orange poppyseed bundt cakes I shared a few weeks ago. My friend Meg made some chocolate bundt cakes. I'm not sure what recipe she used but this is my favorite chocolate cake recipe and the one I would use.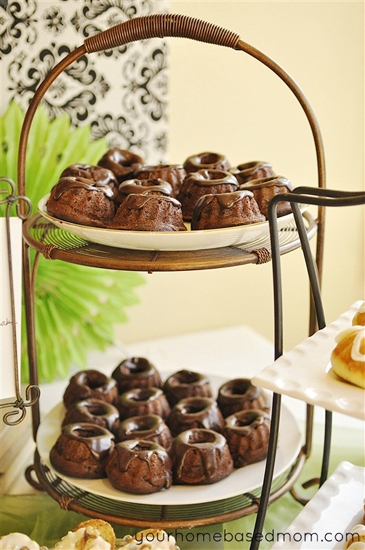 And the third flavor was a White Chocolate Raspberry Bundt Cake. So good! That recipe is coming and I think it was my favorite of the three types we made.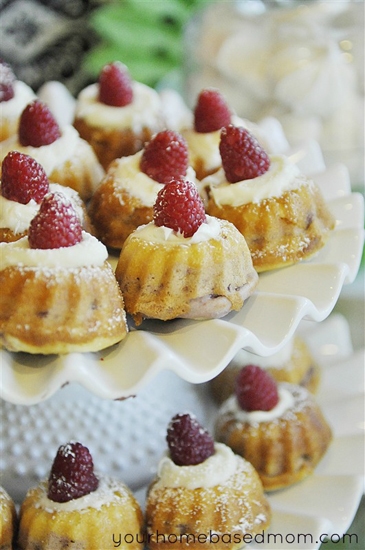 I used my big chalkboard as a little decoration and just added the bride and groom's name.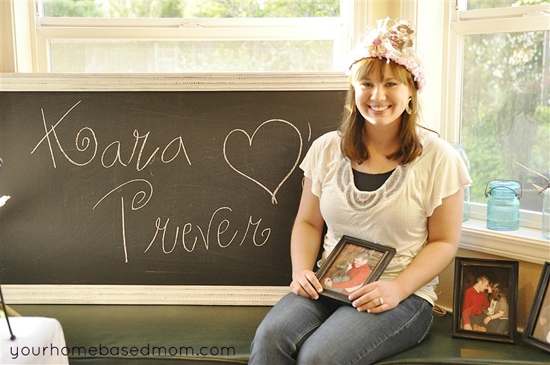 I decided our guest of honor needed a crown. What girl doesn't like to wear a crown? Especially a crown as cute as this one!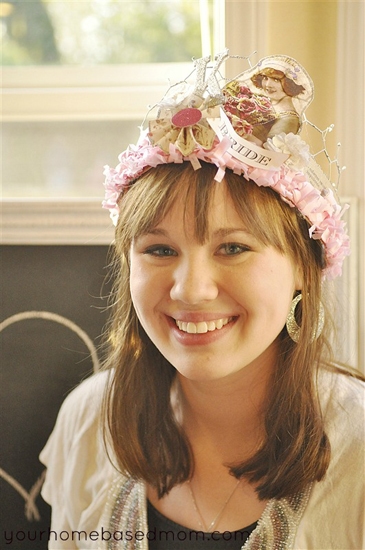 I'll share how I made the crown next week too. I've got lots of fun goodies for you next week!!!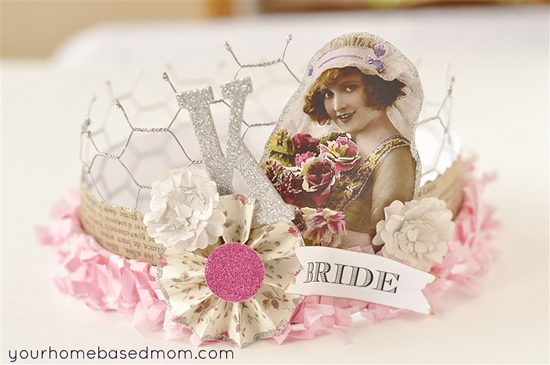 Be sure to come back next for more of the party details and recipes.