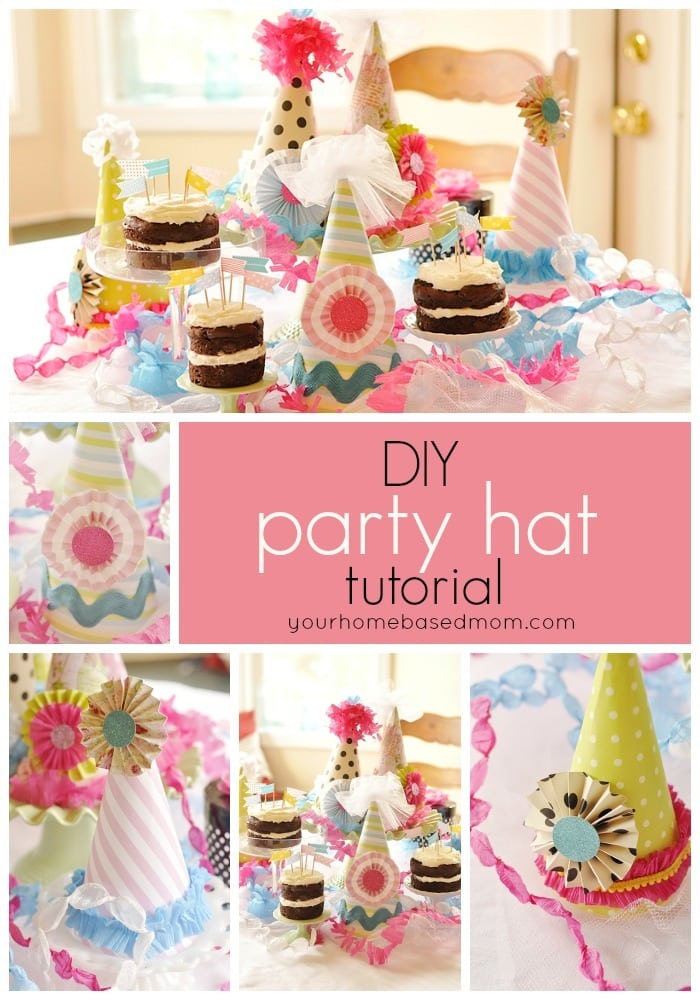 Several weeks ago I was asked to decorate a table for a birthday party at church for the women's organization.
I decided that some fun and pretty birthday hats would be the perfect thing.  I also decided that no birthday table is complete with out cake.  So I used both.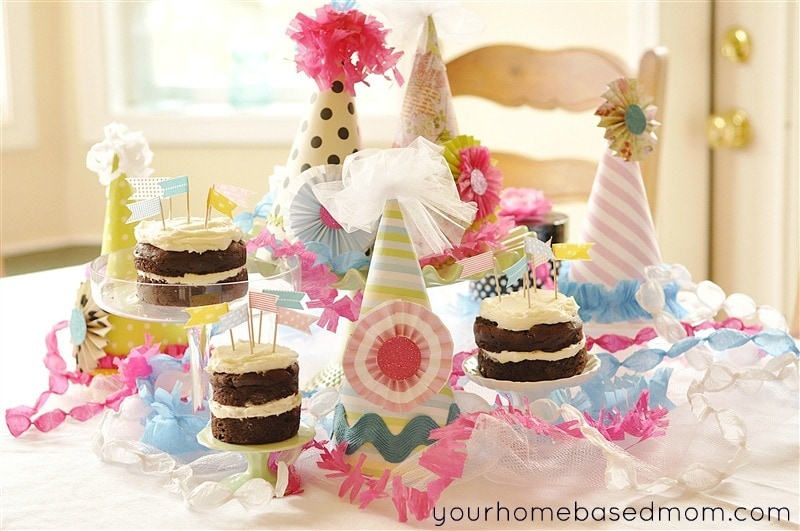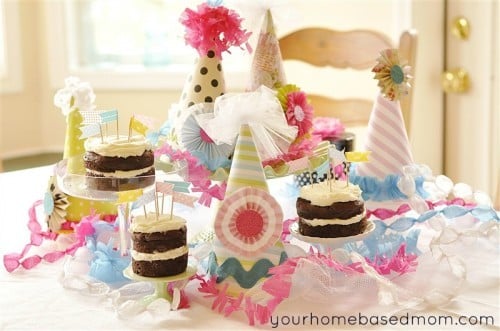 Today I have a Birthday Party Hat Tutorial for you.
I pulled an assortment of fun colored scrapbook paper out of my collection – pinks, blues, greens and yellows made a fun combination.  I also grabbed some crepe paper streamers and some rick rack I had in my craft room.
I first made some party hats.  I made a template out of some light weight cardboard.  I measured down ten inches on two sides and then connected those points with a curved line.  I just used a plate to get a nice even rounded line.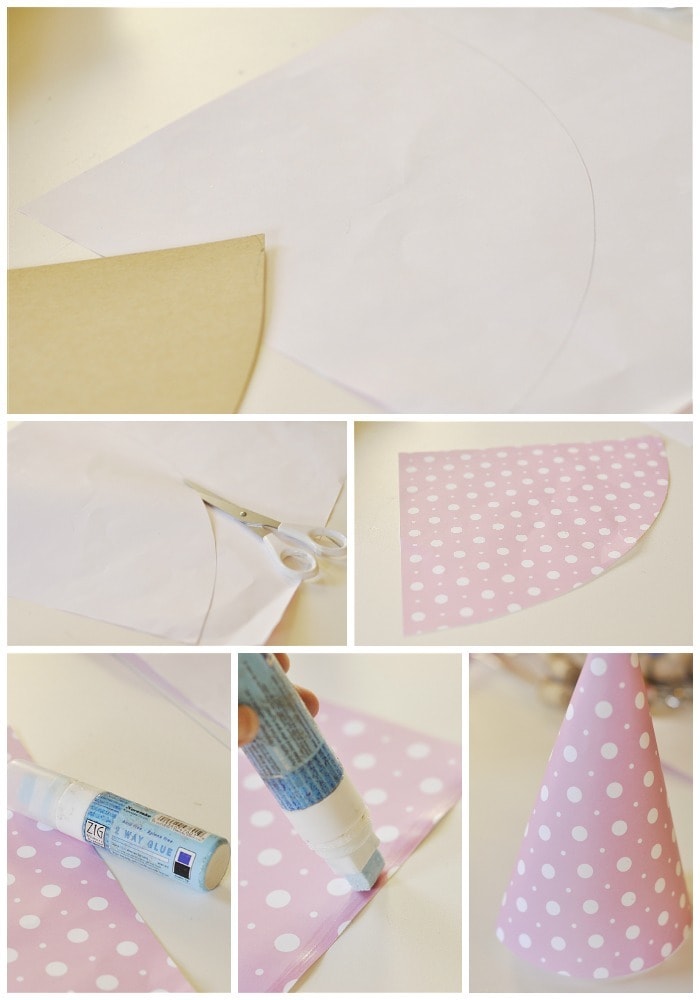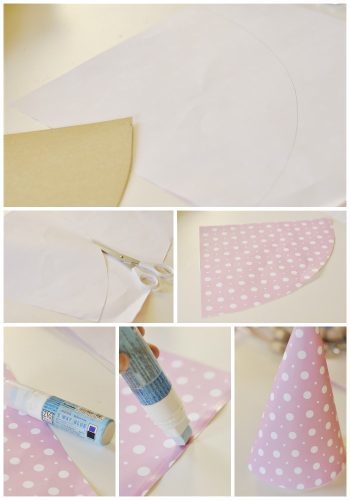 I traced the shape onto the back of my 12 x 12 scrapbook paper and cut out the hat.  Using some Zig Glue I glued along the straight edge and shaped the hat and glued the edges together.
The next part was the fun part – embellishing and decorating the hats.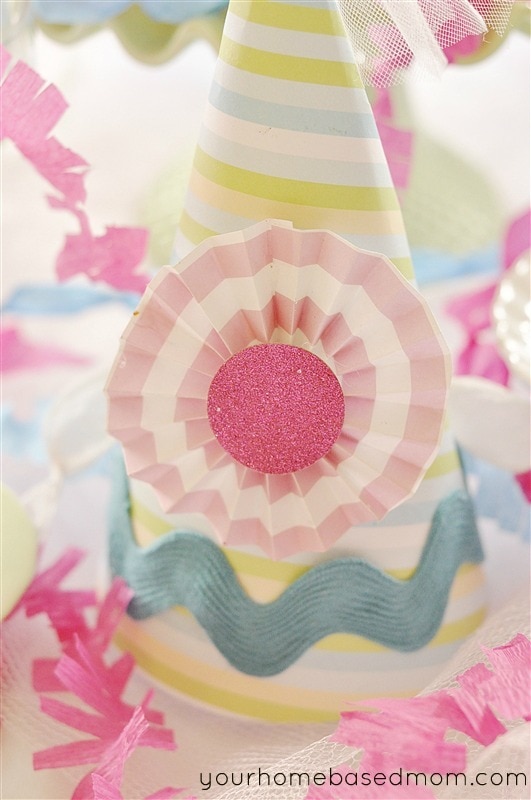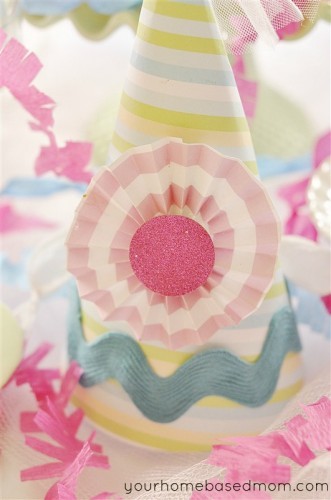 I used left over paper to make some paper rosettes.  Directions or paper rosettes can be found here.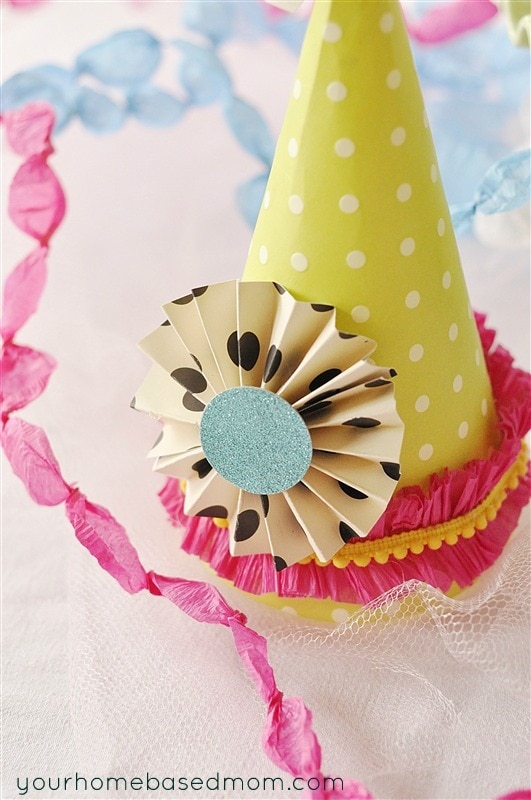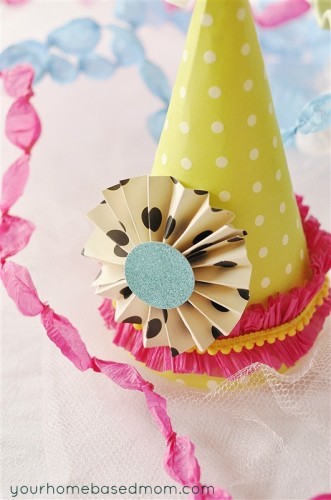 I had fun mixing and matching the papers for some fun color combinations.
I used some cake plates in the middle of the table to put the hats on and give them some height.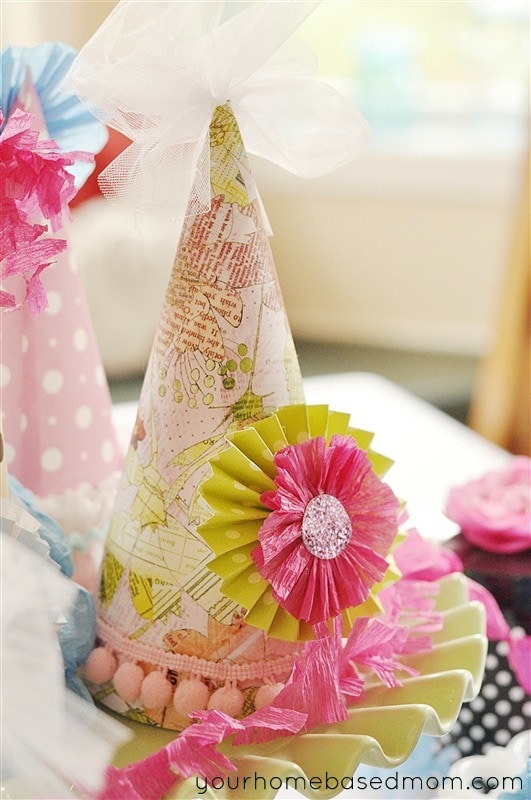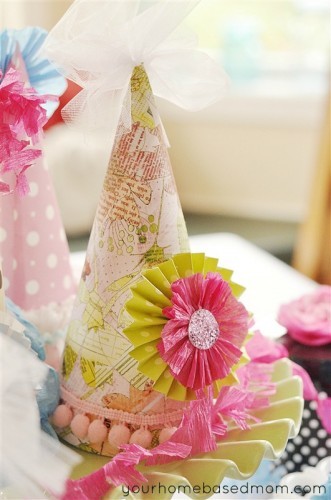 I used crepe paper streamers to create ruffles and rosettes to decorate the hats with.
All you need is some crepe paper and a needle and thread.  To make a ruffle just run a line of stitching down the middle of the streamer and them pull on your thread to gather it up.  Do it whatever length you need to go around the bottom of the hat. I used hot glue to attach the ruffle and other trimmings to the party hats.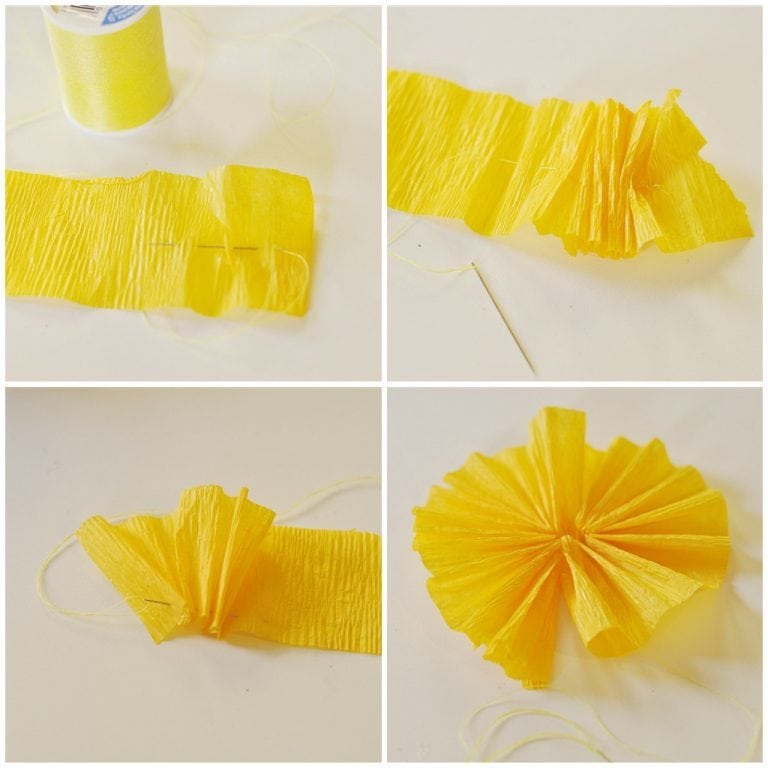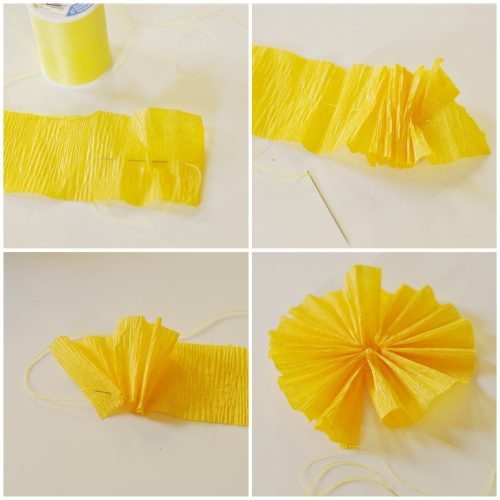 To make a crepe paper rosette I ran the stitching line along one edge of the streamer and then gathered it in.  I cut the streamer 20 inches long.  After you gather it up take a few stitches to close it up.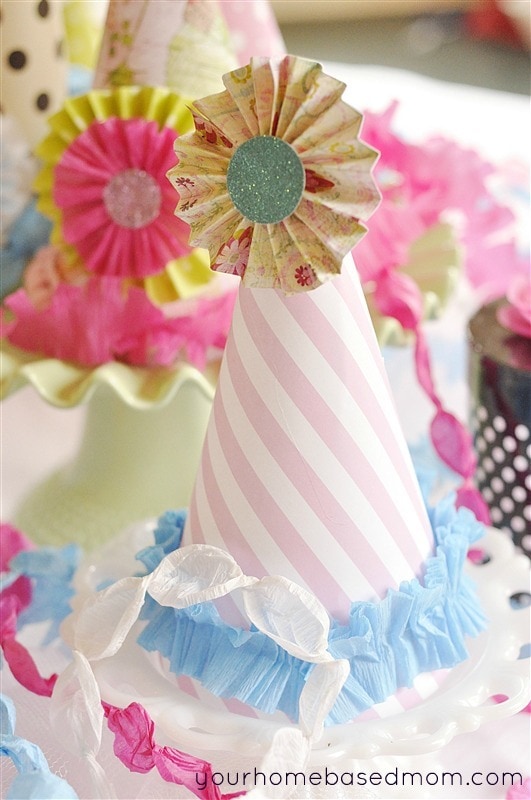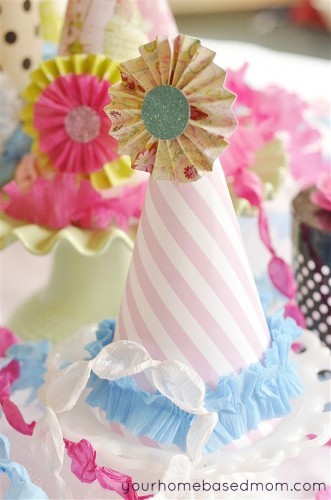 I created a fun little crepe paper tassle for a few of the hats.  Just fold over about 3 inches of streamer over and over again – about 10 times.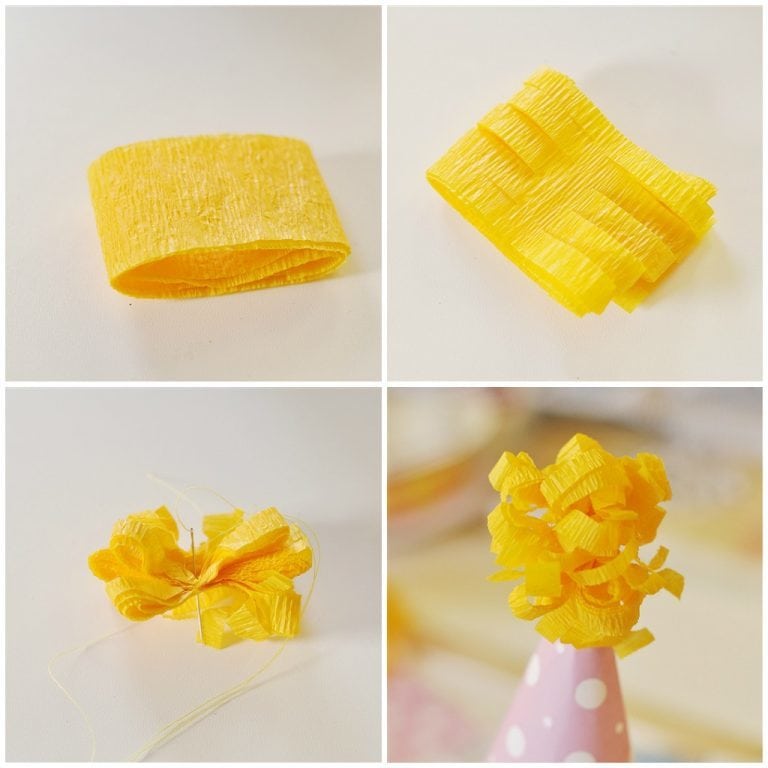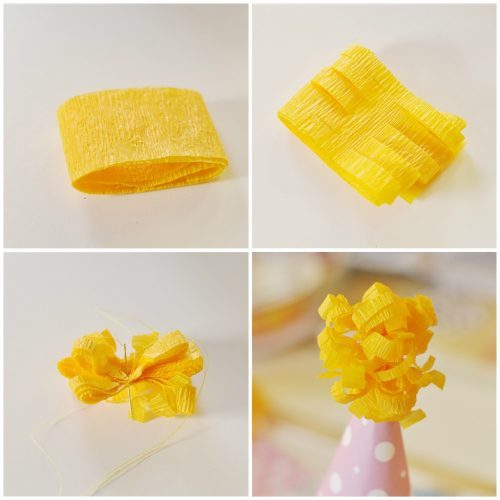 Make slits on both of the folded sides.  Leave about 1/4 inch of unclipped streamer in the middle.  Smoosh it together in the middle and put a few stitches through the middle to hold it together.  Gently pull out the loops and fluff.  You can either hot glue or stitch it to the top of the hat.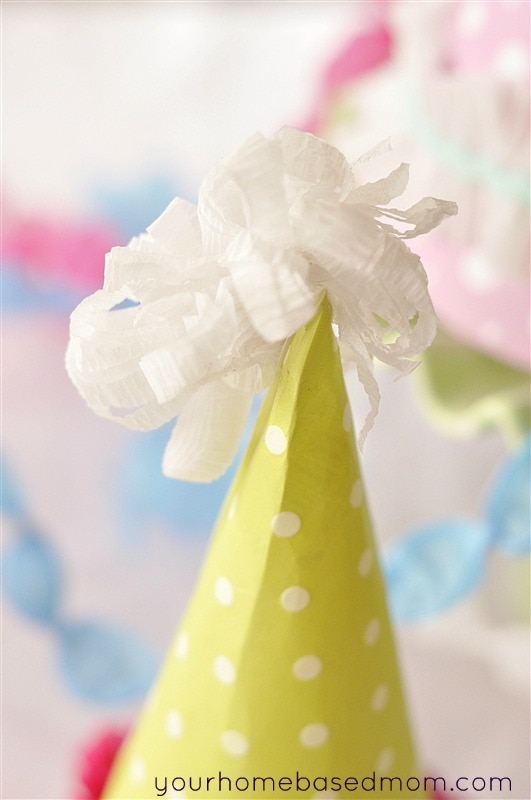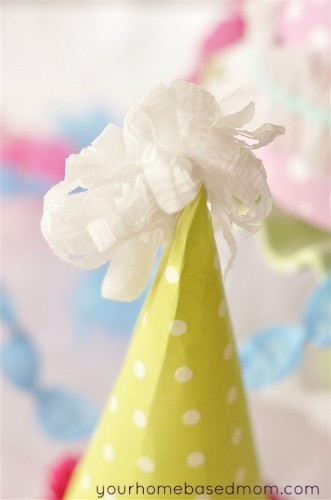 Then of course I had to add cake.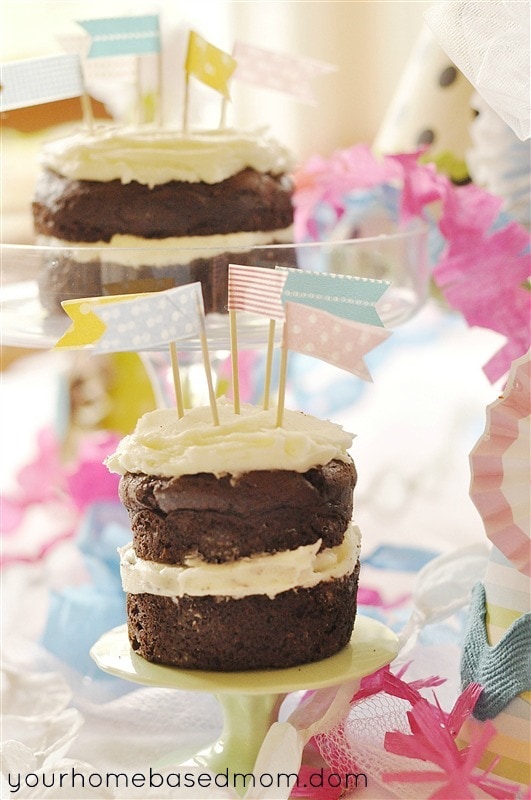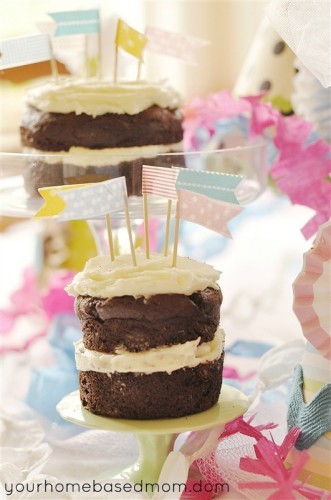 I made 3 little mini cakes using my 4 inch and 6 inch cake pans.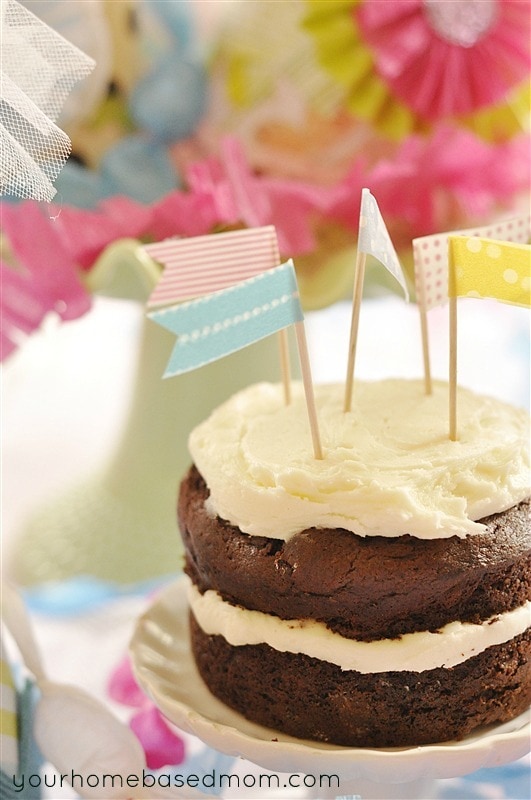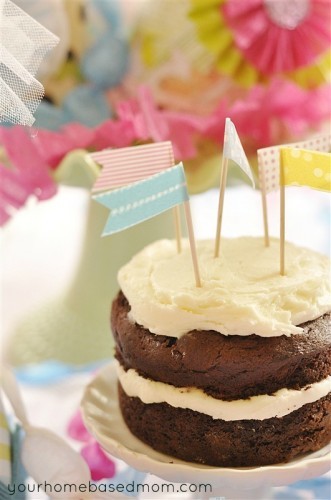 I made some little cake flags using toothpicks and washi tape.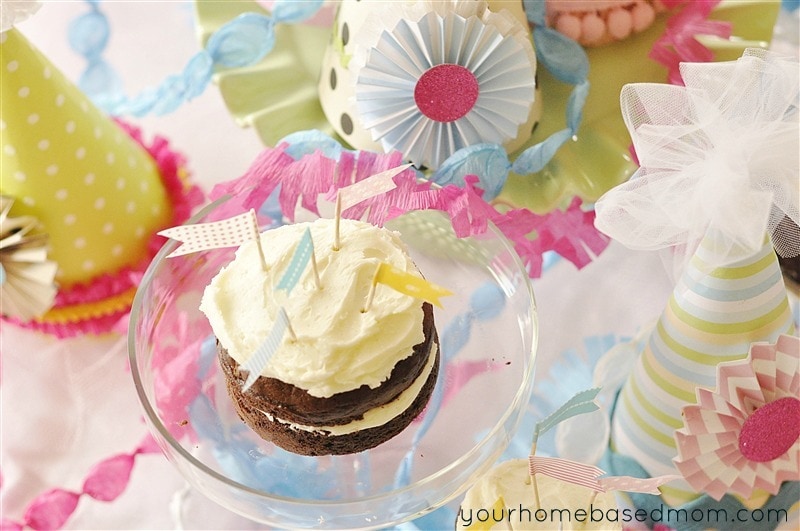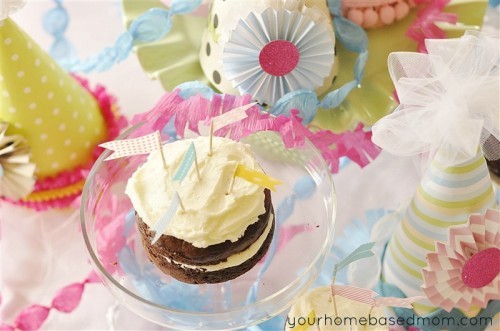 I also used my favorite and The Best Chocolate Cake Recipe ever!
Think it turned out pretty darn cute if I do say so myself!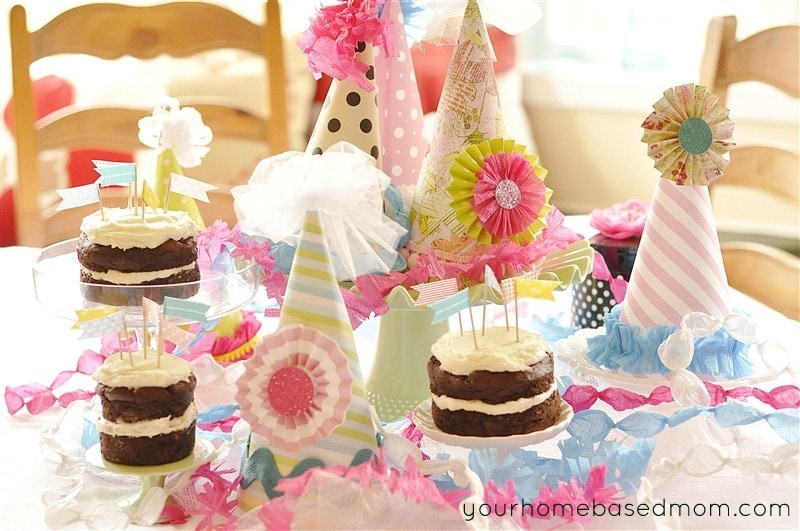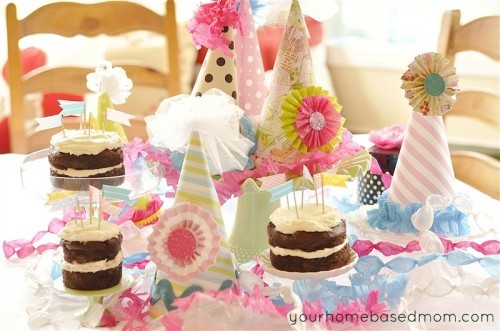 If you have a special birthday or other celebration coming up that you'd like to include family and friends that live far away, don't forget about hosting a Virtual Celebration.  Such a fun way to invite everyone to the party!
Happy Birthday!