A birthday party cart is the perfect thing to hold your cake, presents and an italian soda bar.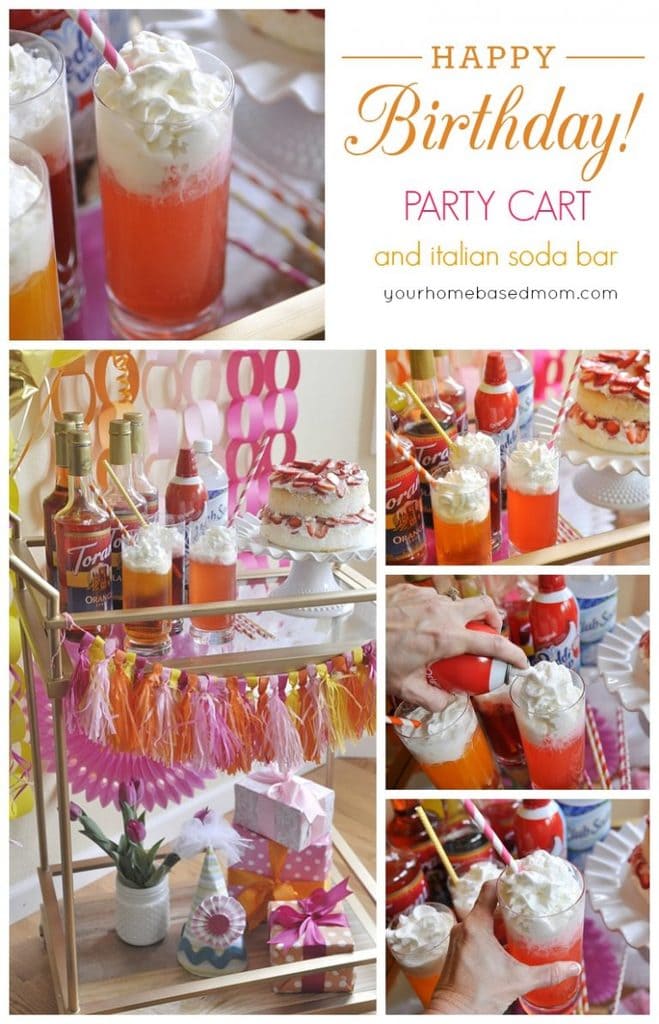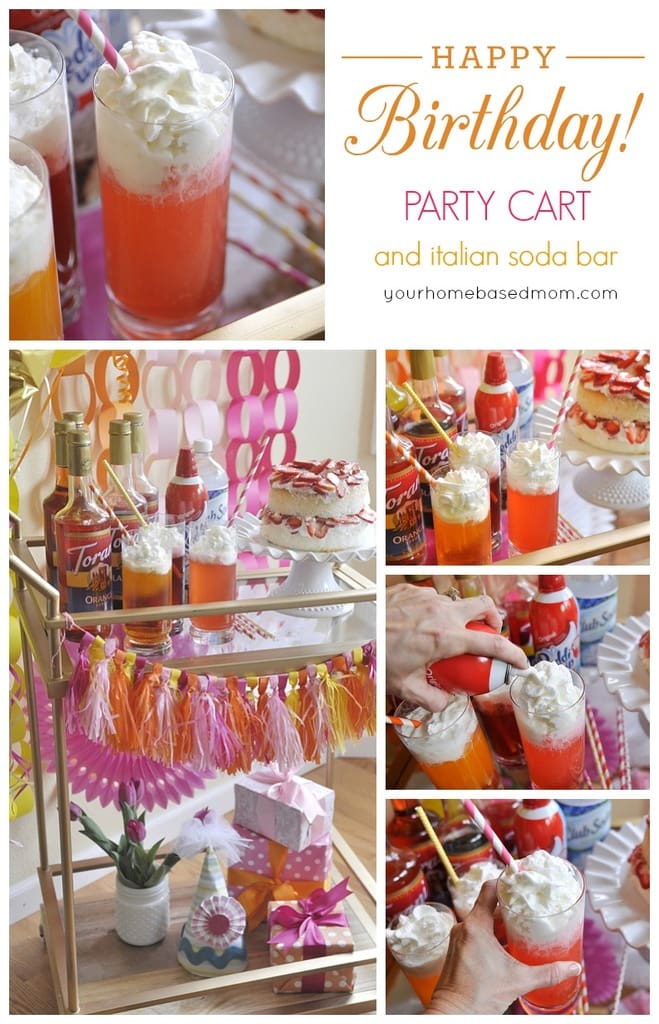 This post is sponsored by Reddi-wip®  but all opinions are my own. #PartyReddi
I love birthday parties!  When my kids were little I must admit I may have sometimes gone a little over the top with my party planning.  There was the year we had a Easter Bunny theme because one of my boys was born a few days before Easter.  Everything and I mean everything at the party was shaped like an Easter bunny.  It was a little out of control, if I do say so myself.  Especially considering the party was for a bunch of children under three!  They could have cared less that their pear looked like an Easter bunny.  All they wanted to do was eat it!
Believe it or not, in my old age, I have learned how to simplify a bit but still make things look like you spent hours and hours.  Today's Birthday Party Cart is a fun way to simplify while still making it look special.  This bar cart sits in my dining room and it comes in handy at party time.  It also makes your party portable.  You can move it inside or outside.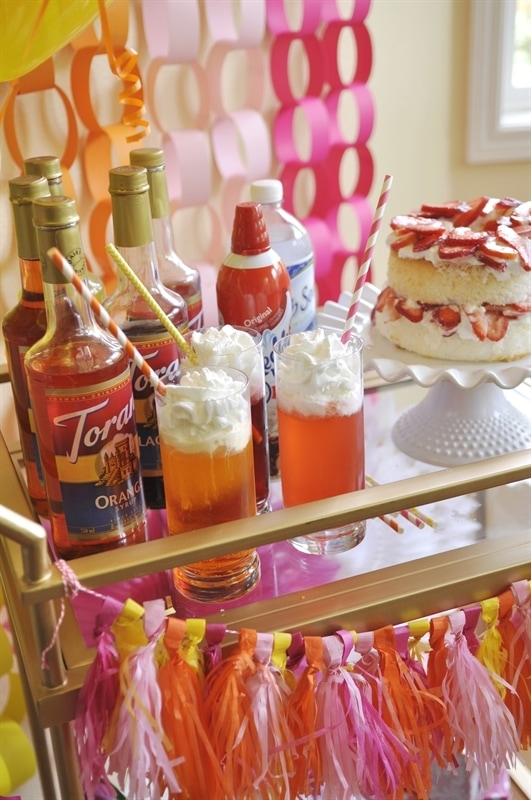 The first thing every party needs is a cake.  You can't have a birthday party without a birthday cake.  Growing up, my birthday cake of choice was always angel food cake.  My kids always wanted one too.  Now you could make an angel food cake from scratch or you can head to Walmart, grab an angel food cake from their bakery, a can or two of Reddi-wip® whipped topping, and a package or two of fresh berries. Walmart is perfect because it has all the birthday supplies you might need, just one stop for your party needs.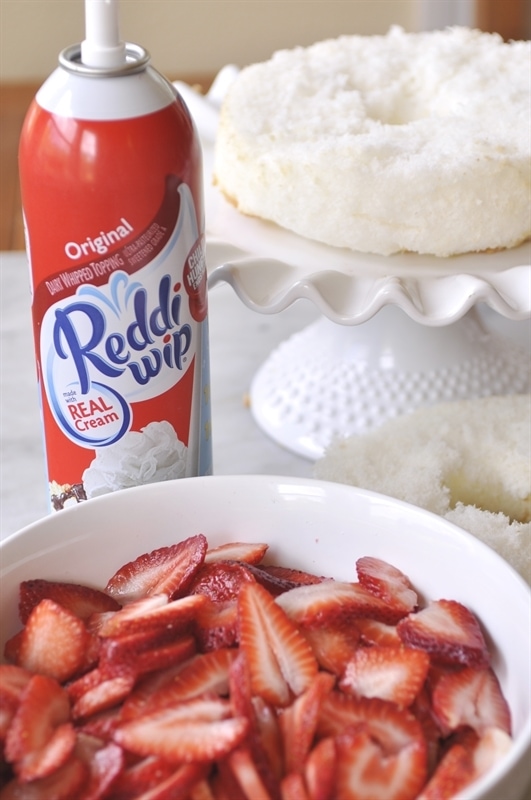 Nothing makes a party more fun than  Reddi-wip®!  Kids love it and adults love it.  Just make sure you have plenty on hand because that stuff goes fast.  To create my easy strawberry angel food birthday cake I just cut the cake in half and put a nice layer of Reddi-wip® on top of the bottom layer and then covered it with sliced strawberries.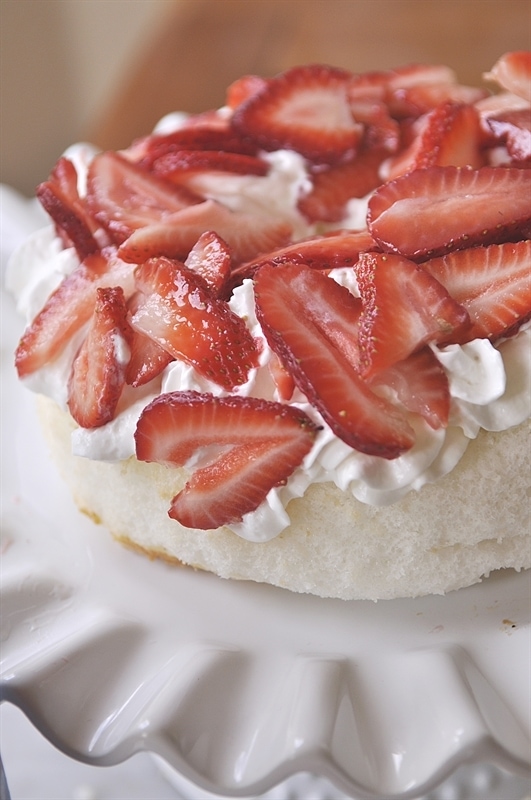 Add the top of the cake and then cover it with more Reddi-wip® and sliced strawberries.  So easy and so yummy.  It looks pretty too!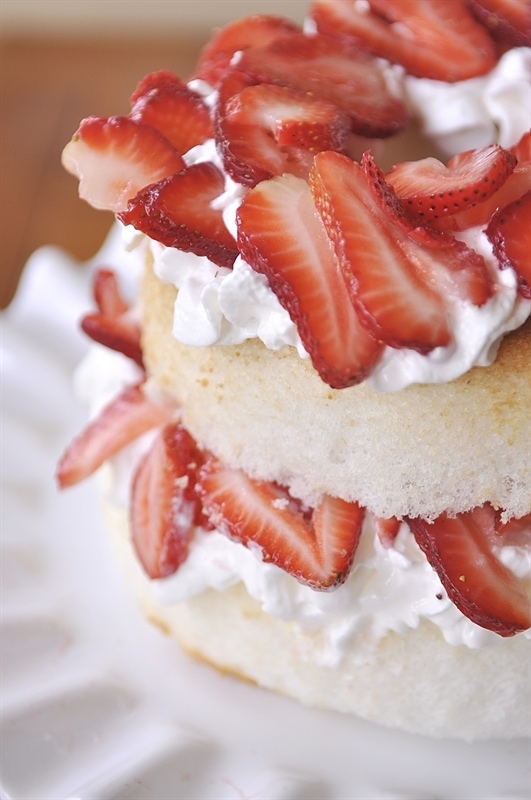 Just put  your cake on the Birthday Party Cart.  I always like to have some kind of hands on food activity for my party guests to do.  It keeps them busy and interacting with each other.  An Italian Soda Bar is the perfect solution.  You may remember the fun Italian Soda Bar we did for my daughter's high school graduation party.  It was a huge hit!  For specific directions on how to make an Italian Soda see this post.
I just placed a selection of syrups on the birthday party cart along with soda water, glasses, straws and of course lots of Reddi-wip®.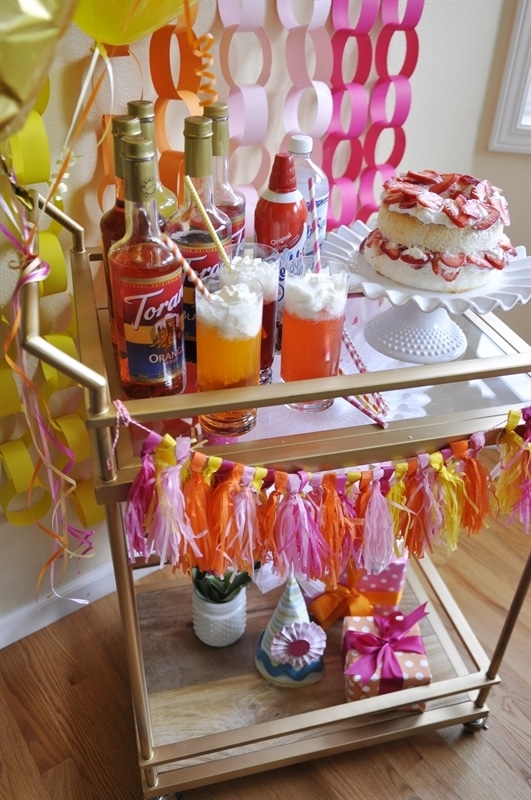 Trust me on this one – have LOTS of Reddi-wip®  Not only will it be going on everyone's Italian Soda but it will be going directly into a lot of people's mouth too!!  Who can resist squirting some right into their mouth of the can!!  Real dairy cream is the number one ingredient in Reddi-wip®.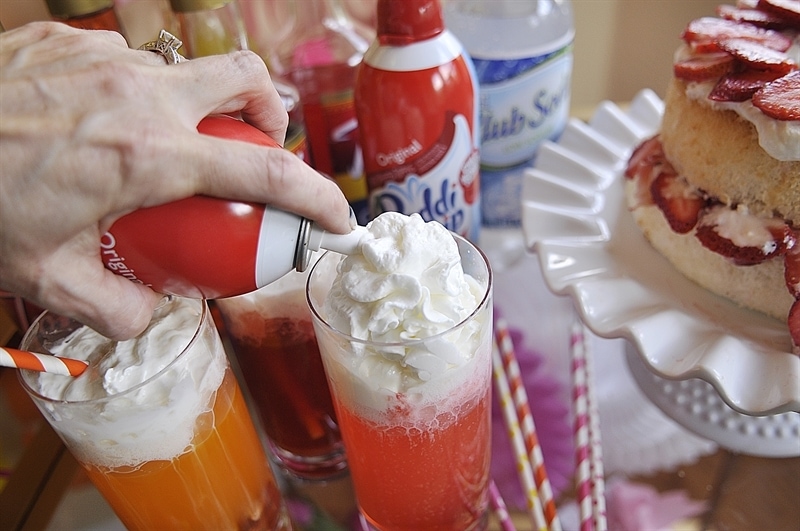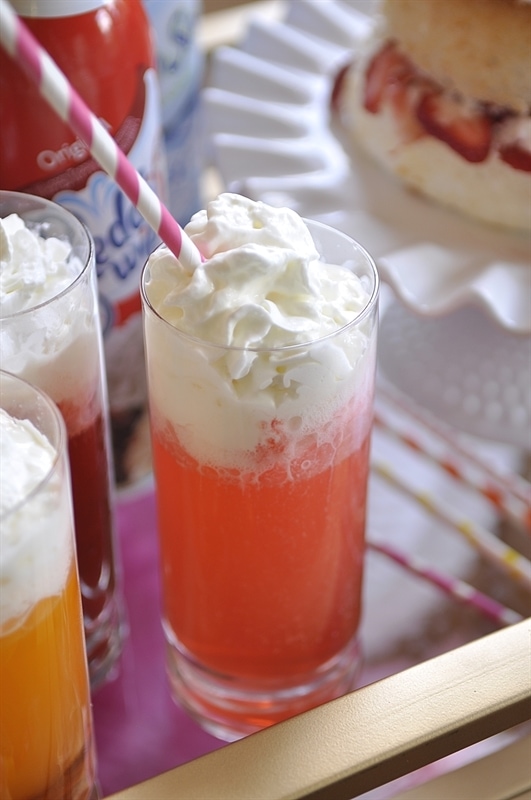 Your Birthday Party Cart has everything for your party all in one place – cake, drinks, flowers and gifts.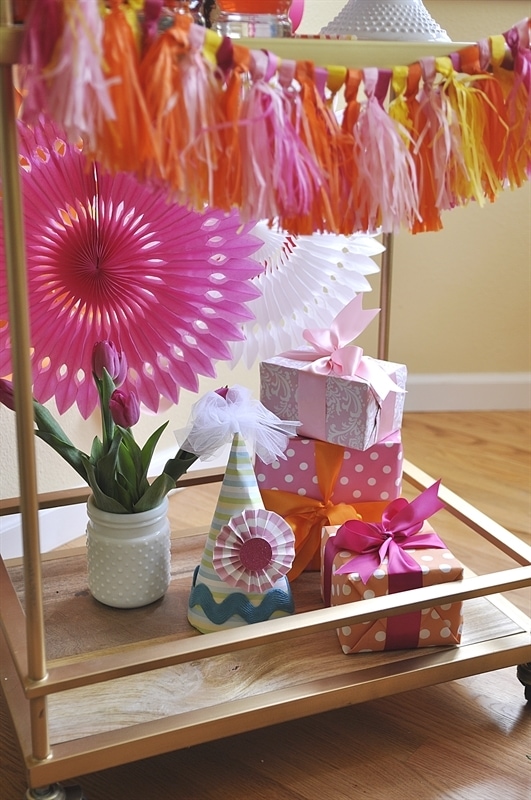 And of course no birthday party could be complete without balloons.  Just add them to your birthday party cart!  If you're celebrating your little one's first birthday, you can grab a smash cake from Walmart for free with any bakery purchase of $14.98!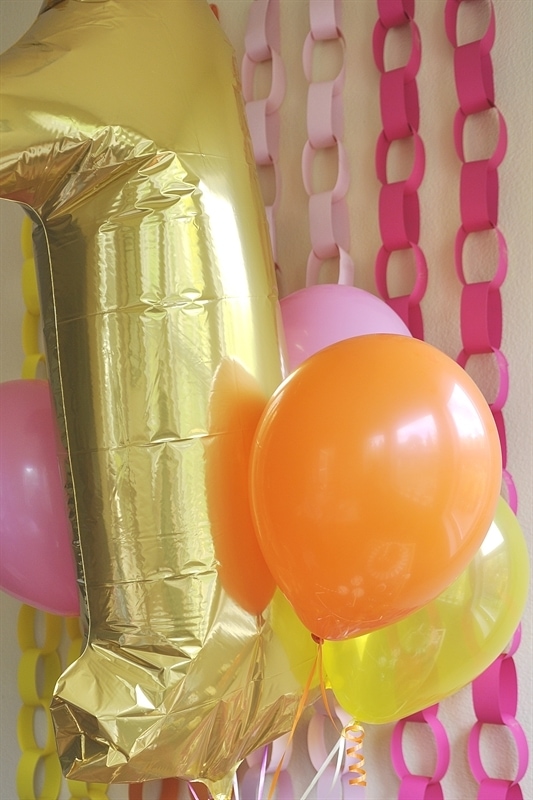 WIN!
 How about a $50 Walmart Gift Card to host this #PartyReddi Birthday Party?
$50 Walmart Gift Card Giveaway Details
To enter, just leave a comment below telling me your favorite tip for simplying birthday parties.
One (1)  Your Homebased Mom reader will be chosen to win a $50 Walmart Gift Card sponsored by Reddi-wip
Open to US Residents only.
Follow along!
Follow Reddi-wip on Facebook, Twitter, Pinterest and Instagram for more great recipe and party ideas!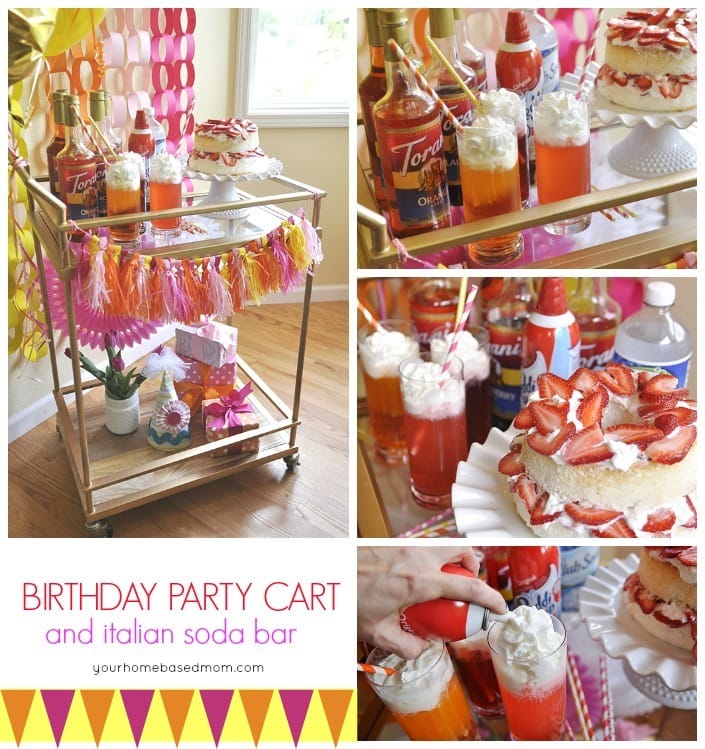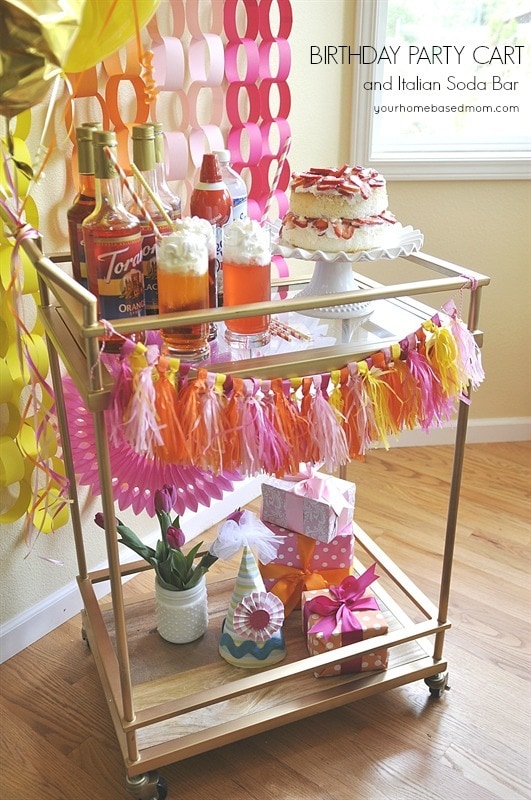 Follow Reddi-wip on Facebook, Twitter, Pinterest and Instagram for more great recipe and party ideas!
For another fun birthday party idea check out this Mini Birthday Party!