This classic yellow cake recipe is a must for every baker.  This recipe makes a perfect layer cake or use it for cupcakes. Just add sprinkles!
A love a good layer cake but sometimes you need a delicious cupcake too.  One of my favorite cupcakes are these Perfect Lemon Cupcakes, Red Velvet Cupcakes and these Chocolate Lava Cupcakes are perfect for the chocolate lovers in your life.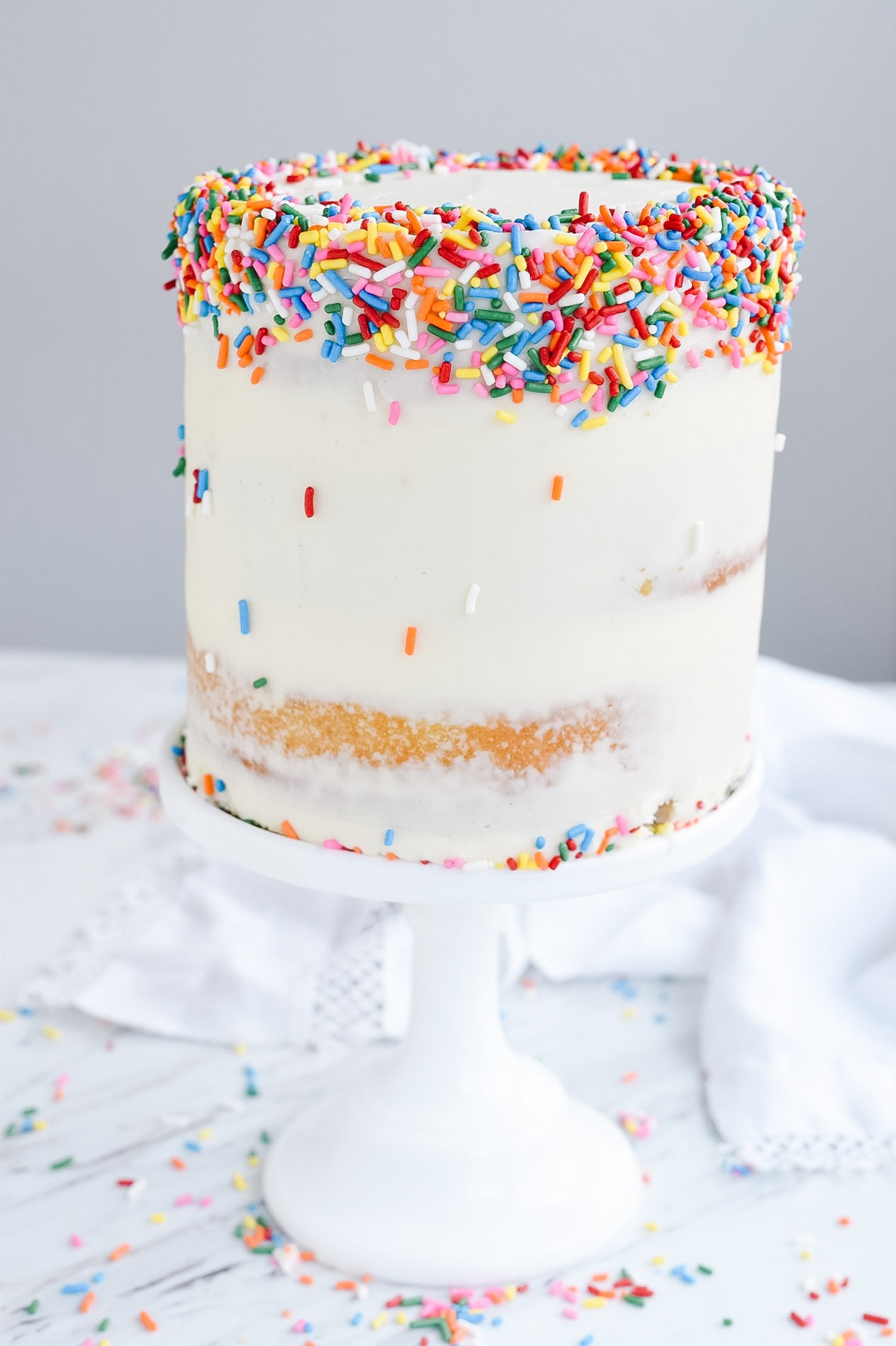 Yellow Layer Cake
I guess you could call me a cake snob.  I love cake but it has to be really good cake for it to be worth the calories. Even though I love cake I rarely bake cakes, except for birthdays.  But I must admit there is nothing quite like a yummy, made from scratch cake!
Growing up our birthday cakes were usually homemade. My mom usually made an angel food cake and although they often were made from a box mix the frosting was always homemade. I have carried on the tradition of baking birthday cakes for my kids too – no store bought cake here! Now my cake making skills are rather limited.  I really put them to the test when I hosted our Let them Eat Cake party last October.  I always make a huge in my kitchen when I make a cake but I do enjoy the process.  But what I really enjoy though is the frosting.  I always use my favorite buttercream frosting when making a cake.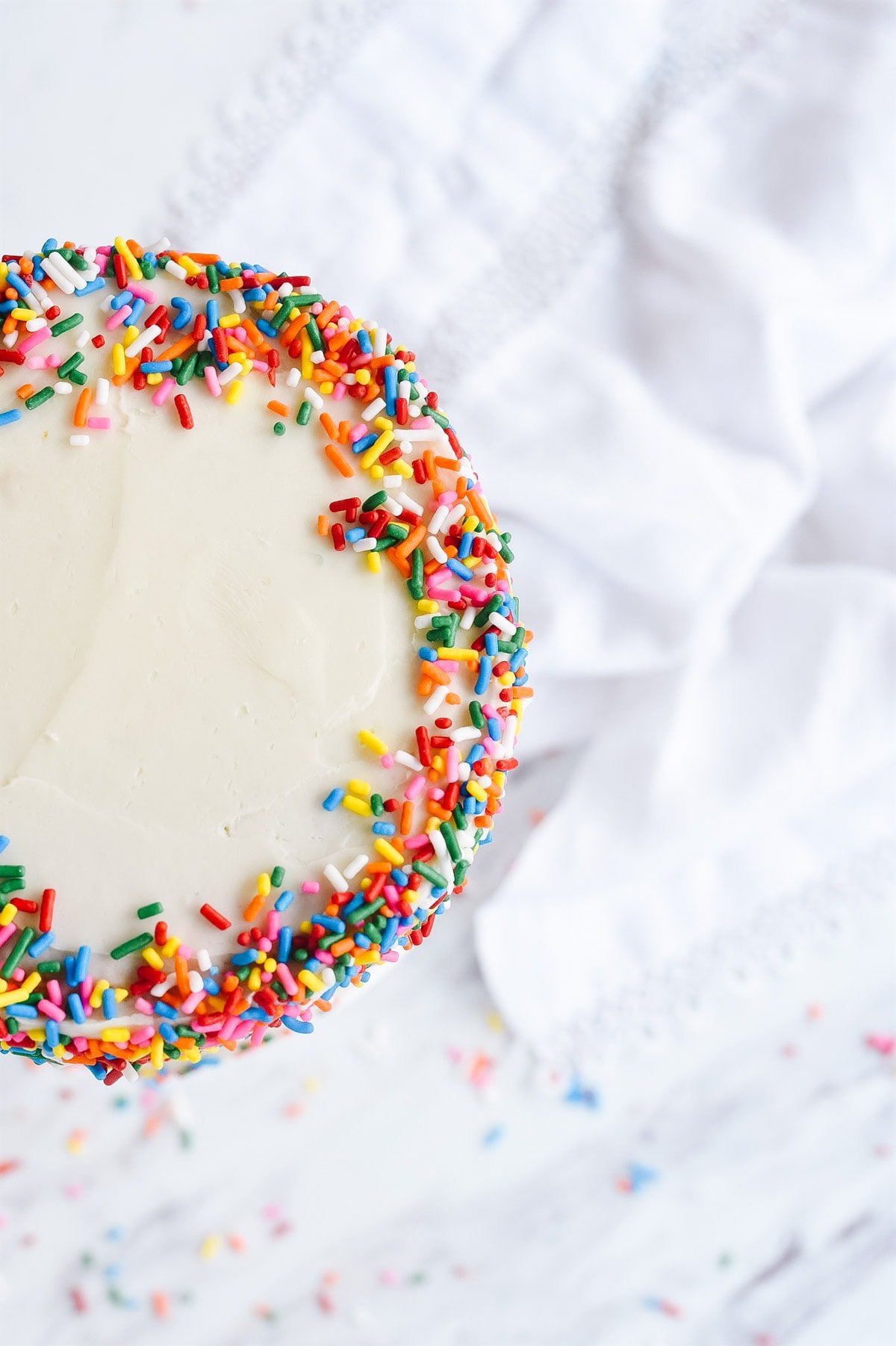 The other thing I really love is sprinkles.  Sprinkles just make me happy and making a cake is great excuse to enjoy some sprinkles.  The only thing I don't like about sprinkles is the ability they have to hide in every nook and corner of your kitchen!!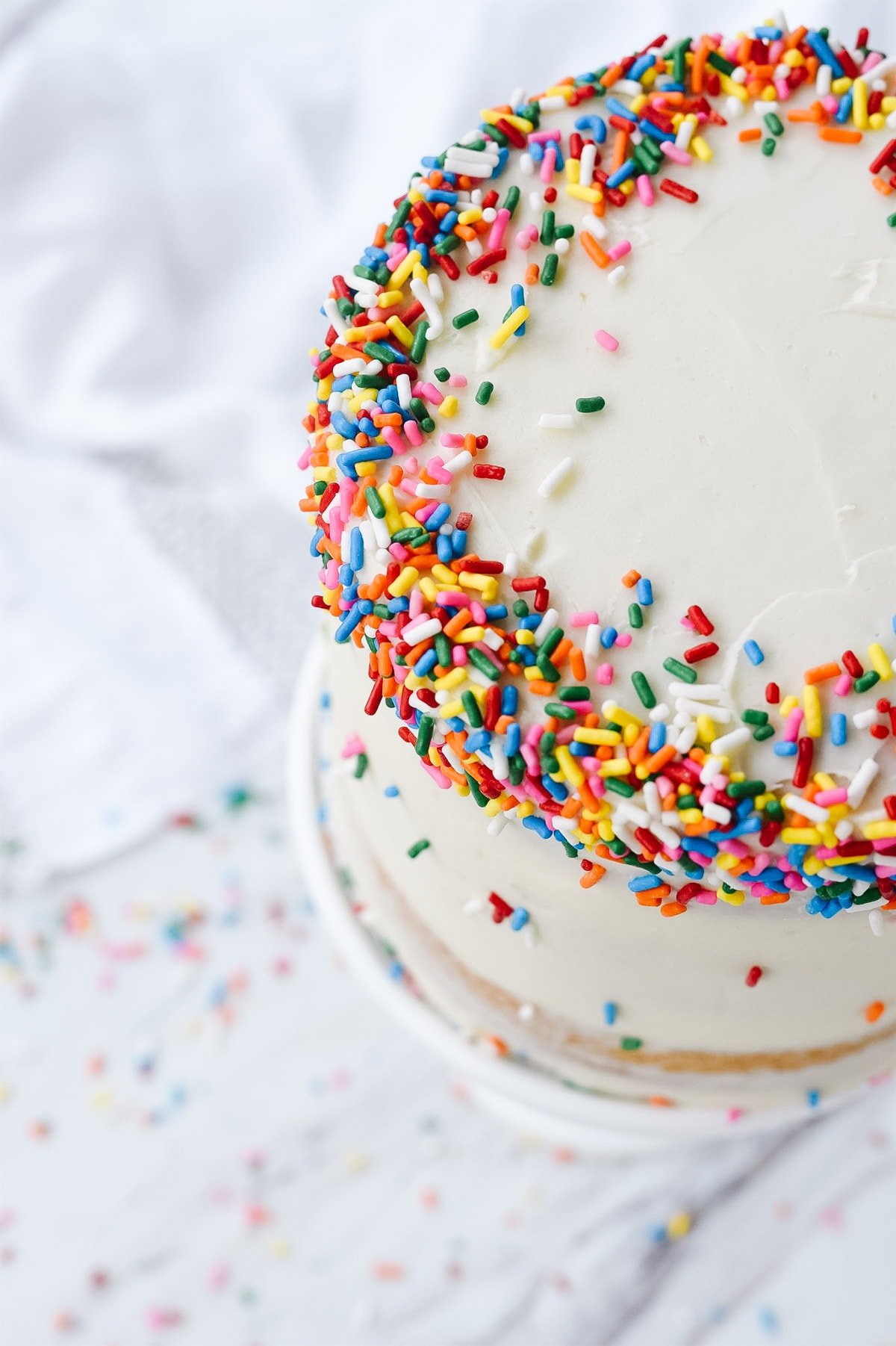 Now I am not a great cake decorator and I generally keep it pretty simple and I have discovered that sprinkles cover up a multitude of sins!  And when you do a "naked" cake you don't have to worry about your frosting being perfect even.
But this post isn't really about decorating cakes, it's about baking a cake from scratch and this is a good one.
How to Make a Layer Cake
This recipe will make 2 8″ or 9″ x 2″ rounds or 3 6″ rounds.  I made 3 6″ rounds.  These are my favorite baking pans.
I always spray my pans with my favorite non stick cooking spray.  I also flour the pans and cut a circle of wax paper and put it in the bottom of the pan, spray the paper after adding it.  This will make your cake super easy to remove from the pan.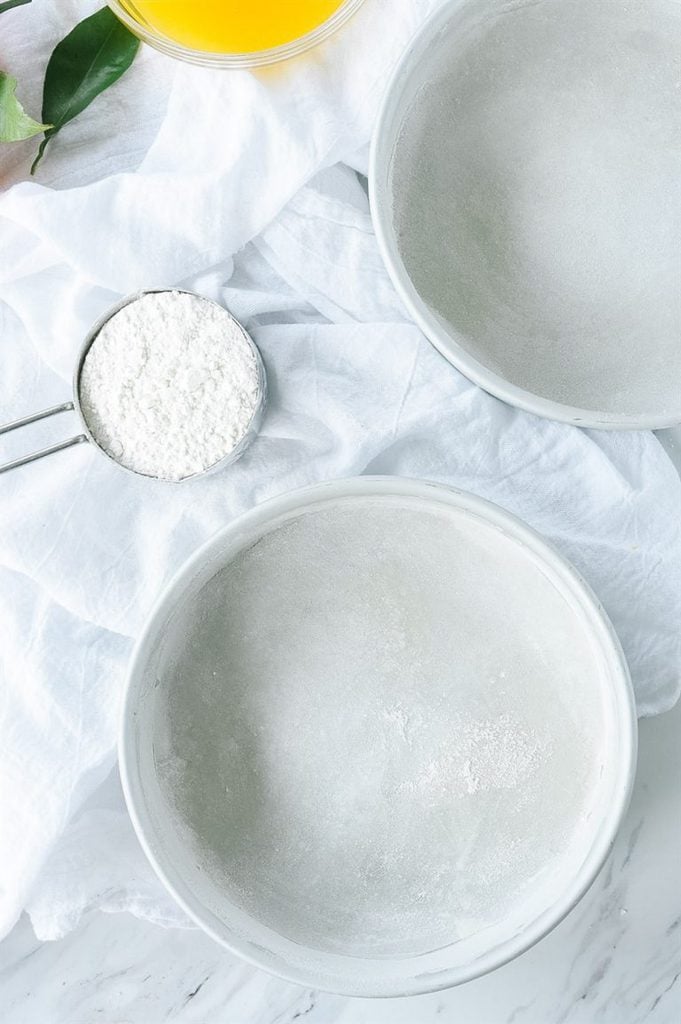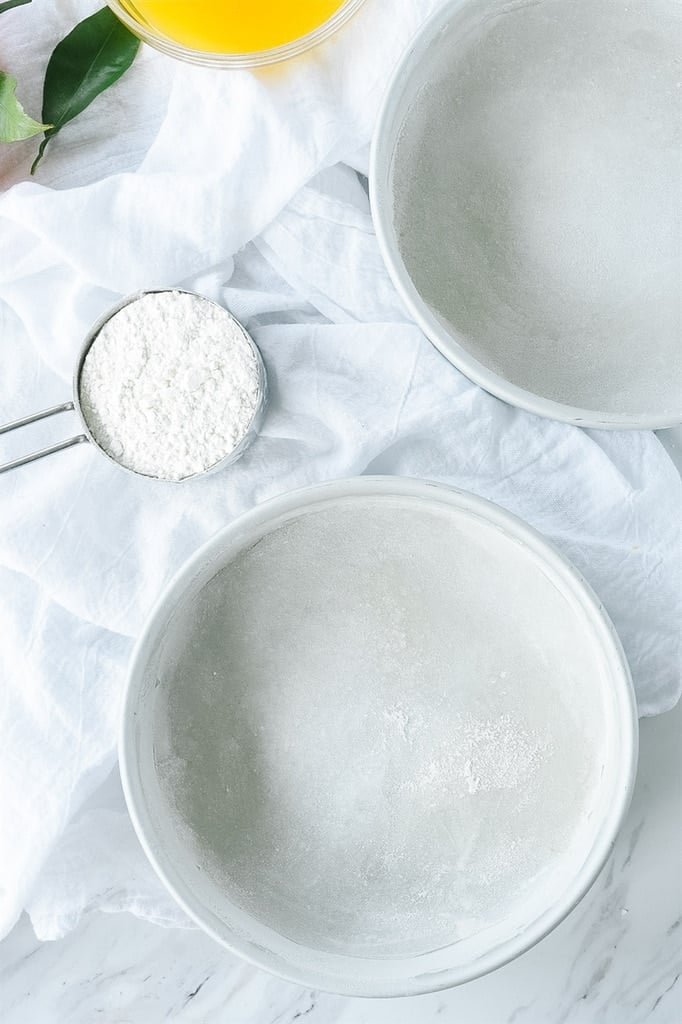 Divide your batter evenly between your cake pans.  A kitchen scale can help make sure you get them even.
The cake is done with it begins to pull away from the sides and a tooth pick comes out clean.  Allow the cake to cool in the pan for about 10 minutes and then gently run a sharp knife around the edge and invert the cake onto a cooling rack.  Let it cool completely on the rack.
After the cake has cooled completely it is ready to frost.  I trim off the top of my  cake layers if they need it so that I have an even cake layer.
Place the first cake layer on a plate or cake stand and add a layer of frosting, layer of cake, repeat.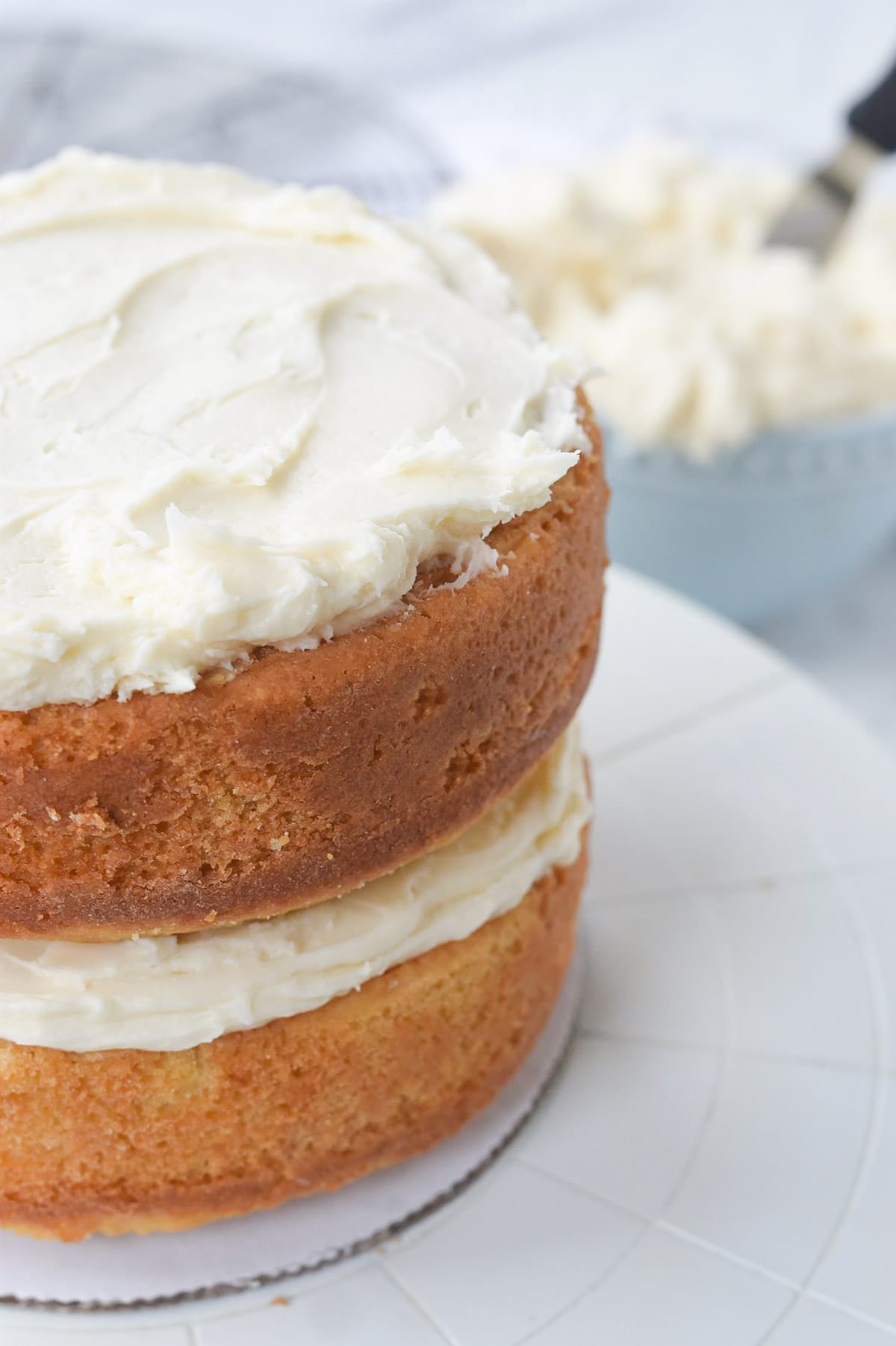 Next I applied a thin layer of frosting onto the sides and the top, allowing the cake layers to show through the frosting.  I like the look of a "naked" cake. Use a cake scrapper to get a nice even layer of frosting.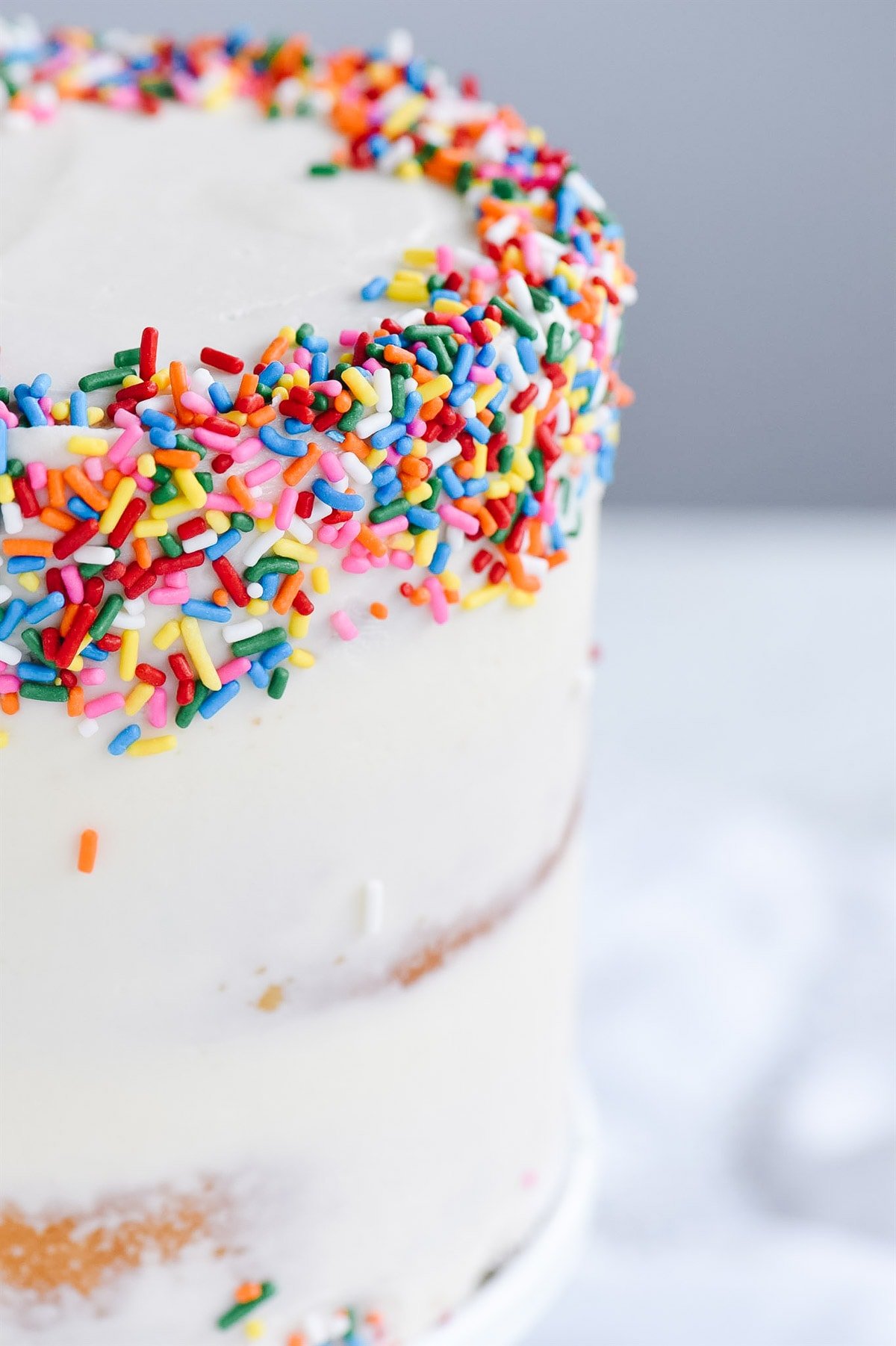 After I had the frosting the way I liked, I frosted the top and then added my sprinkles.  I put the sprinkles into the palm of my hand and pressed them into the cake.  It's a messy job!  I didn't care that some of the sprinkles fell down onto the sides of the cake, I liked the random look of it.  And yes, I had sprinkles all over my floor.
Do I Need to Refrigerate Cake?
Technically no, but I do like to keep my cake refrigerated because it stays fresher longer.  Cake also freezes really well.  You can freeze the entire cake whole but if I am dealing with leftovers, I cut the remaining cake into slices and wrap the individual slices in plastic wrap several times and put them in an airtight container.  You can have homemade cake whenever you want!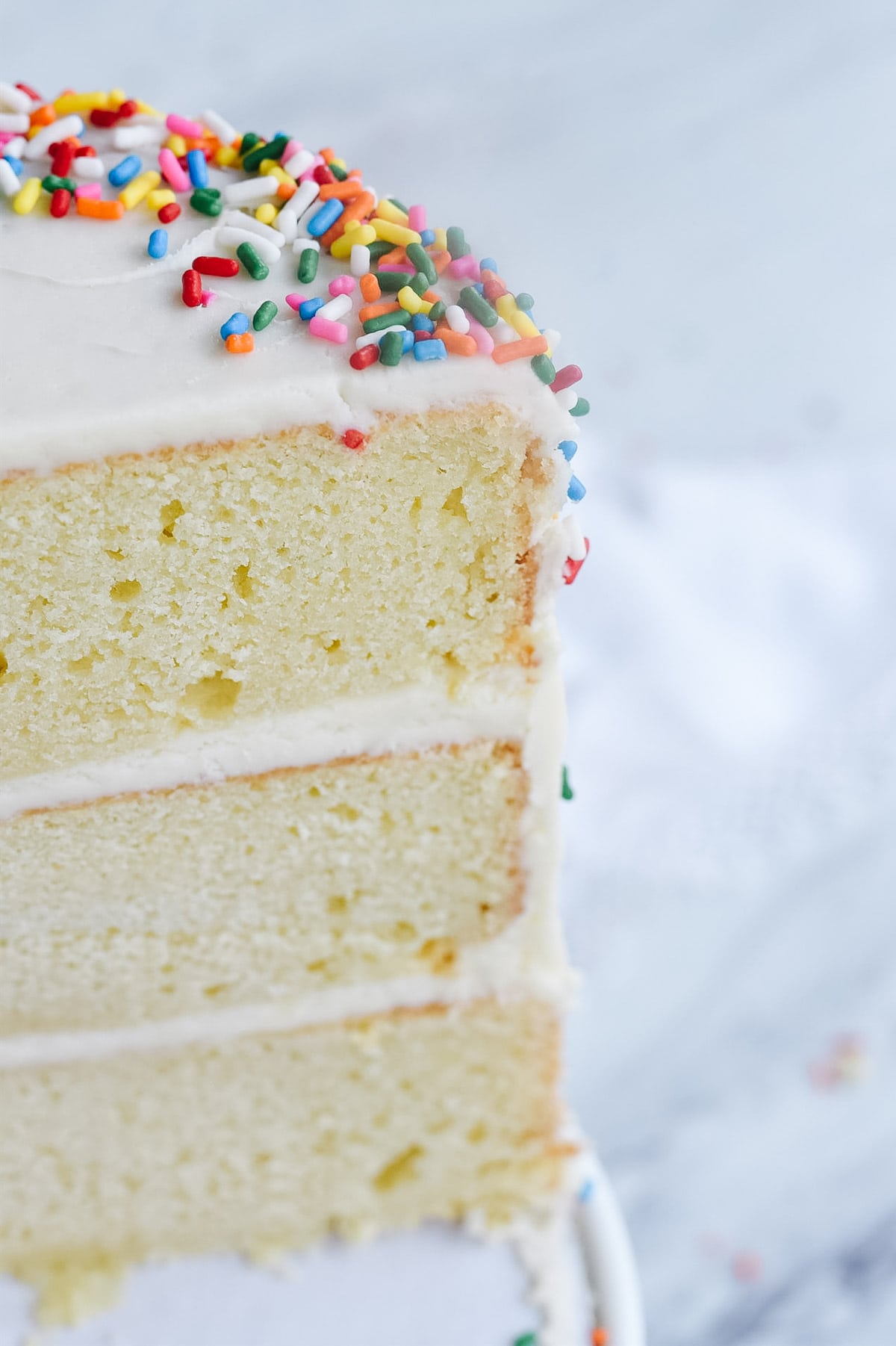 Some of my other favorite cakes:
For all of my other favorite kitchen products and tools visit my Amazon Store. 
Did you know I wrote a cookbook?  Check out the Holiday Slow Cooker Cookbook for 100 delicious recipes.
FIND MY FAVORITE BUTTERCREAM RECIPE HERE.
Yellow Cake Recipe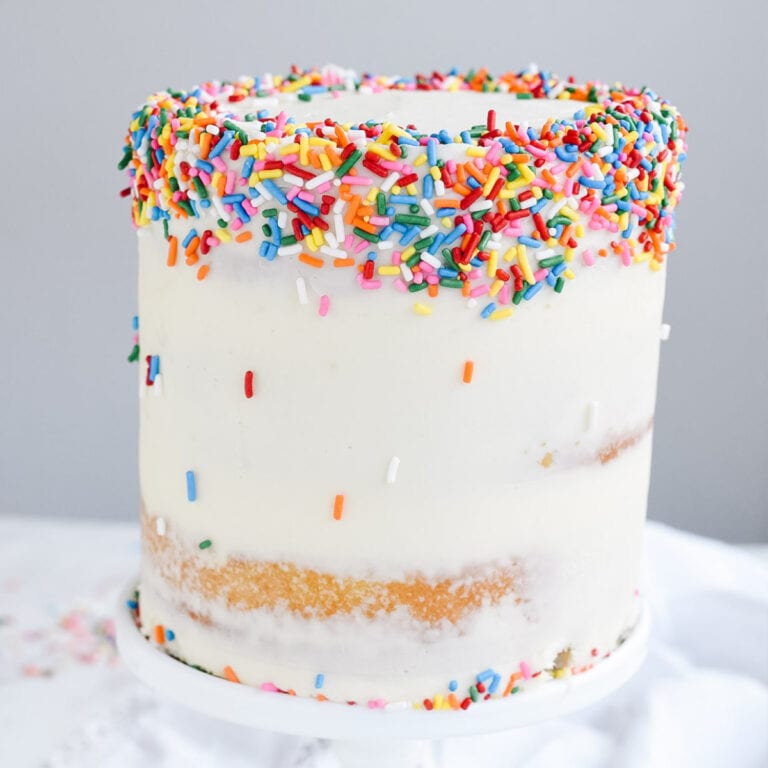 Yellow Layer Cake
The perfect classic yellow cake recipe.
Ingredients
3 cups all-purpose flour
1 Tbsp baking powder
1/2 tsp salt
1 1/2 cups milk
2 tsp Vanilla extract
1 1/3 cups butter slightly softened
2 3/4 cups sugar
5 eggs
Instructions
Preheat the oven to 350ºF. Grease and flour cake pans. Use 3 6" pans or 2 8" pans.

Line the bottoms with rounds of baking parchment then dust them lightly with flour

With baking spray, put the parchment liner in after you spray the pan

In a large bowl, combine the flour, baking powder, and salt and whisk them gently for even distribution

In a separate bowl combine the milk and vanilla

Using an electric mixer with a paddle attachment, cream the butter and sugar on medium speed until it is light and fluffy, 3 to 4 minutes

Add the eggs gradually, mixing well after each addition, scraping the sides and bottom of the bowl often

Lower the mixing speed to medium-low and add the flour mixture to the butter in 3 parts, alternating with 2 parts of the milk mixture, beginning and ending with the flour

Mix just until it is evenly incorporated, This is a thick, fluffy batter, resembling whipped cream

There should not be any lumps or dry pockets of flour remaining. If the batter has a curdled appearance it has not been mixed enough

Increase the speed to medium and mix for another minute or until it is thick and fluffy.

Divide the batter equally between the prepared cake pans. Weighing the batter into the pans is the most accurate way to do this. This ensures that both layers are uniform in size, and finish baking at the same time

Smooth the batter so it fills the pans evenly,

Bake them for about 30 to 40 minutes, or until the cake is almost ready to pull away from the side of the pan and a toothpick inserted into the center of the cake comes out with a few moist crumbs. Rotate the layers carefully from front to back after 20 minutes, for even baking.

Cool the pans on a rack for 10 minutes, then invert them onto a wire rack that has been sprayed with cooking spray and lift off the pans

Cool them on the rack completely
To assemble the cake:
Place one layer, top side down, on a flat serving plate

Cut several 4-inch-wide strips of parchment or waxed paper to slide under the edge of the layer, to keep the plate clean

Using a thin metal spatula, spread the top of this cake round with a ½-inch thick layer of frosting.

Place the second layer top side up on the first, aligning the layers evenly

Spread a generous layer of frosting around the sides of the cake, rotating the plate as you work so you're not reaching around the cake to frost the other side

Try not to let any loose crumbs get caught in the frosting

Starting in the center of the cake, cover the top with a generous layer of frosting, taking it all the way to the edge and merging it with the frosting on the sides. Add sprinkles if wanted.

Store the cake at room temperature, preferably under a cake dome, for up to 3 days or refrigerate.
Nutrition Facts:
Calories: 520kcal (26%) Carbohydrates: 72g (24%) Protein: 7g (14%) Fat: 24g (37%) Saturated Fat: 14g (88%) Cholesterol: 125mg (42%) Sodium: 318mg (14%) Potassium: 206mg (6%) Fiber: 1g (4%) Sugar: 48g (53%) Vitamin A: 779IU (16%) Calcium: 99mg (10%) Iron: 2mg (11%)
* Disclaimer: All nutrition information are estimates only. Read full disclosure here.
Originally posted March 3, 2010
If you've tried this Yellow Cake Recipe or any other recipe on Your Homebased Mom, then don't forget to rate the recipe and let me know how it went in the comments below, I love hearing from you!
You can also FOLLOW ME on FACEBOOK, INSTAGRAM and PINTEREST to see more delicious food, party ideas and travel tips and what I'm up to on a daily basis!