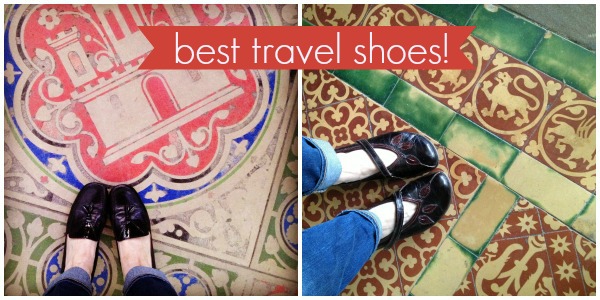 Today I'm back to talk about shoes and the best shoes for traveling. When you are traveling, especially in Europe or any place where you will be doing a lot of walking shoes are VERY important. When we travel we walk a lot. My mode of traveling might not be for everyone but I believe that if you are somewhere like Paris or London you don't spend a lot of time in your hotel room. You get up in the morning and you go, go, go until you can't go anymore. I am all for seeing and doing as much as you can. Because, who knows when you might get back there!?! Not sure my family agrees with this travel philosophy thought.  I did get a few complaints.
So unless I am vacationing in the tropics or on a cruise ship I spend the majority of the day on my feet walking! Prior to this trip I spent a lot of time researching comfortable shoes. I read a lot of blogs, talked to several of my friends who are seasoned travelers and found a lot of different shoe recommendations.  I think this was the first trip I have taken where I didn't get at least one blister!!  It was awesome!  No blisters.
One of the biggest problems I have found is that the words very comfortable and cute don't usually go together in the same sentence when it comes to shoes.   It was my goal to find shoes that were both cute and comfortable!!
Alot of people feel that tennis shoes are the most comfortable foot attire but tennis shoes are a sure giveaway that you are an American tourist in Europe. You won't see many pairs of Nikes or running shoes on anyone except Americans. I am not much of a tennis shoe wearer – only to the gym or for running so that really wasn't a problem for me. Adidas and Converse style shoes are common though in Europe but wearing running shoes is a dead giveaway where you are from.
So in my efforts to try and blend in a bit and not have an arrow over my head pointed down flashing "tourist" I wanted to make sure I had acceptable shoes that were also comfortable.
I took three pairs of shoes with me but probably only should have taken two.
My first pair were "tennis shoe like" and made by Josef Seibel called Caspian . Comfortable and fairly cute.  They retail for $130.00 but I got them at The Rack for $60.00.  I think I would have liked them better in a fun color like red or or yellow but The Rack only had brown.  I actually only wore these twice on the trip – on the plane ride there and on the plane ride back.   One of the reasons was that one of my pairs of shoes ended up being incredibly comfortable I wore them the majority of the time.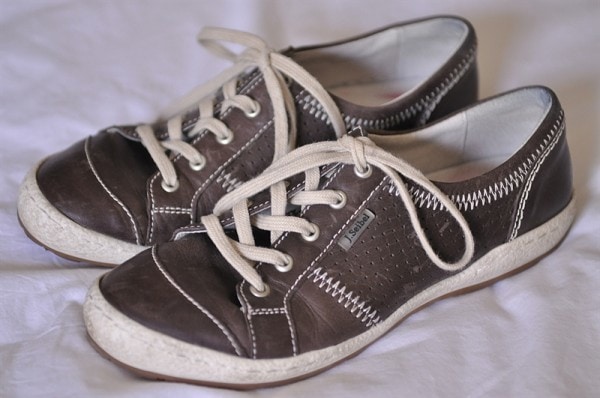 My second pair of shoes was a black loafer  by Sesto Meucci. I couldn't find the exact one I bought on line but here is one that is similar.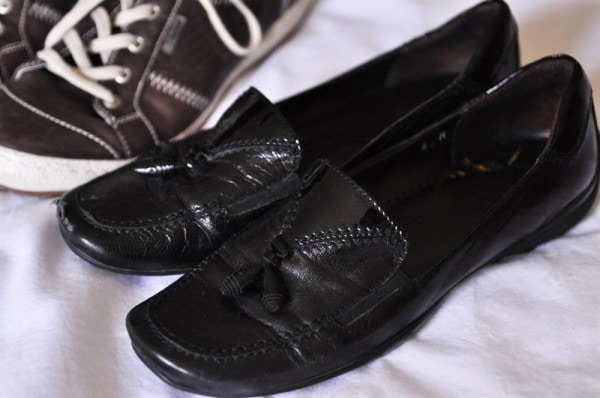 Again, I found them at Nordstrom Rack so they were probably last season. They retail for around $200.00 but I only paid about $60.00 or so (don't remember exact price.)  These were a nice basic shoe that basically went with everything – skirts and pants.  They were comfortable, no rubbing, no blisters but by the end of the day the bottom of my feet were tired and a bit sore.
My friend Marsha highly recommended the brand Naot. I went on line and checked them out and they are spendy  ($180.00)but one thing I have discovered is you do get what you pay for most of the time with shoes. I have found that comfort comes with a higher price tag. Fortunately for me I was able to find a pair of Naot Nau Mai shoes at Nordstrom Rack for about half price ($70.00) so I snatched them up! Am I ever glad I did. These shoes were amazing.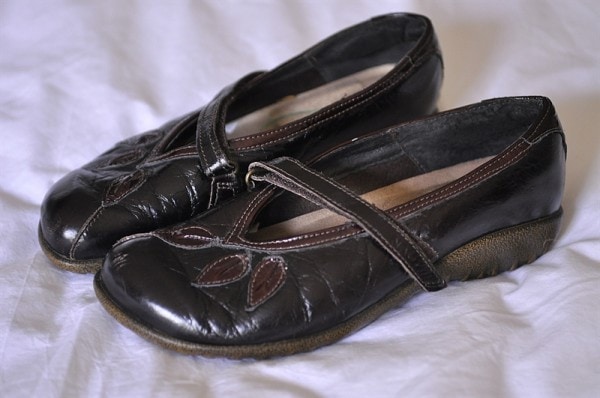 They are bit wider and clunkier than the style I am use to wearing but they were so comfortable I ended up wearing them 80% of the time I think.  My feet never hurt once, not one bit!!  Totally loved these shoes.  I think I could have just taken them and been fine.  I would totally pay full price for these shoes.
My girls both took their leather boots with them and they wore them a lot.  The one thing I think I may have enjoyed having would have been a pair of short black leather boots (like these) Because it was rather cool while we were there a pair of boots would have been nice.
Do you have a favorite brand of comfortable traveling shoes??
To see what I wore in Europe check out this post.
Enjoy!
Leigh Anne
You can also visit me on Facebook, Pinterest, Twitter or Instagram.
For a list of where I Link Up each week go here.