This Berry Lemon Tart is the true definition of pretty and delicious!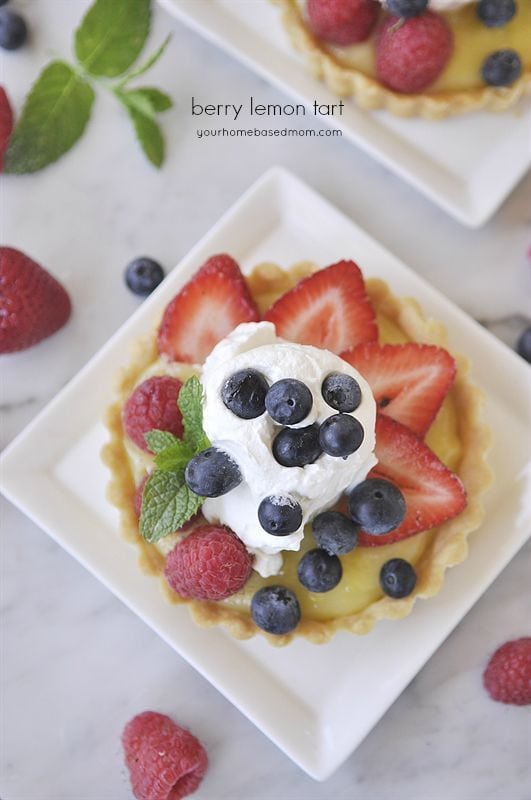 This week one of my sweet friends is enjoying her first trip to Paris, a place she never thought she would get to visit.  I am so excited for her and when she sent me a video of her boat trip down the Seine to see the Eiffel Tower I felt a little like I was there with her.  Paris is one of my most favorite places to go.
When we were in Paris a few years ago we couldn't get enough of  all the wonderful bakeries. One of my favorite treats to buy from the French bakeries was a lemon tart,  especially when they are covered in whipped cream and fresh berries.  It's like a little piece of heaven.  The French know pretty and delicious.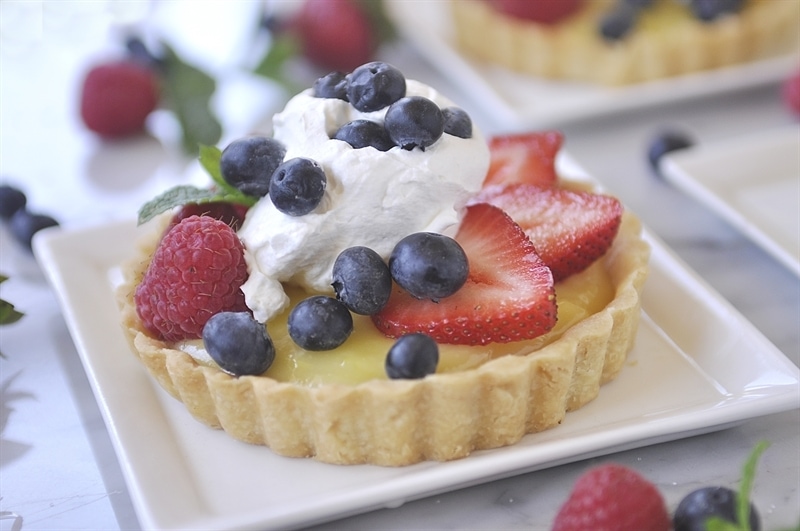 Now every time that I eat a lemon tart I close my eyes and pretend I am in Paris eating it.  A girl can dream!  Lemon tarts are almost too pretty to eat, notice, I said almost.  I always  manage to devour the whole thing.  So I decided I really wanted to feel like I was in Paris this week, right along with my friend, so I made my own lemon tarts.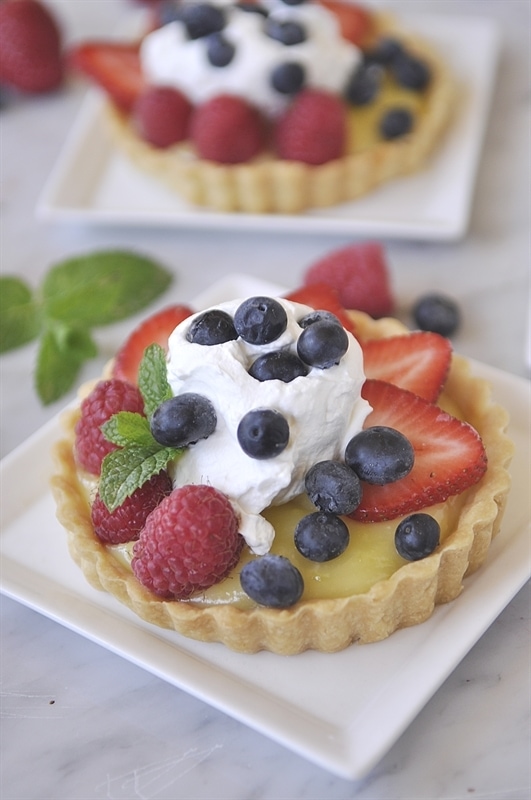 Now, lemon tarts aren't what I would call a quick and easy dessert.  They do take some time but they are so worth it!!  The tart starts with a yummy pastry shell which is a combination of flour, sugar and butter.  Lots of butter.  My butter of choice is always Darigold.  Darigold is a farmer-owned dairy co-op, and all of their products are produced in the Pacific Northwest and they use a European Style Churn for the butter!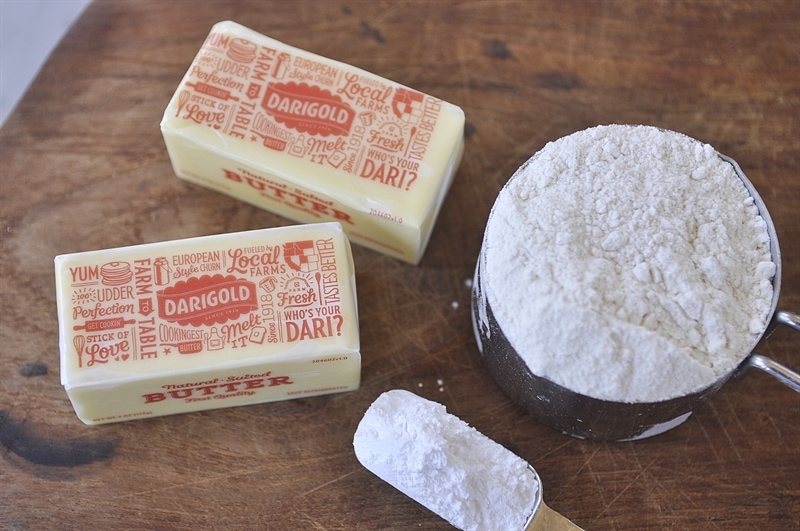 The addition of some powdered sugar in the pastry dough makes it sweet and all that butter makes it tender and flaky.
The recipe makes about 6 small tarts.  I used small 4.75 inch tart pans with removable bottoms.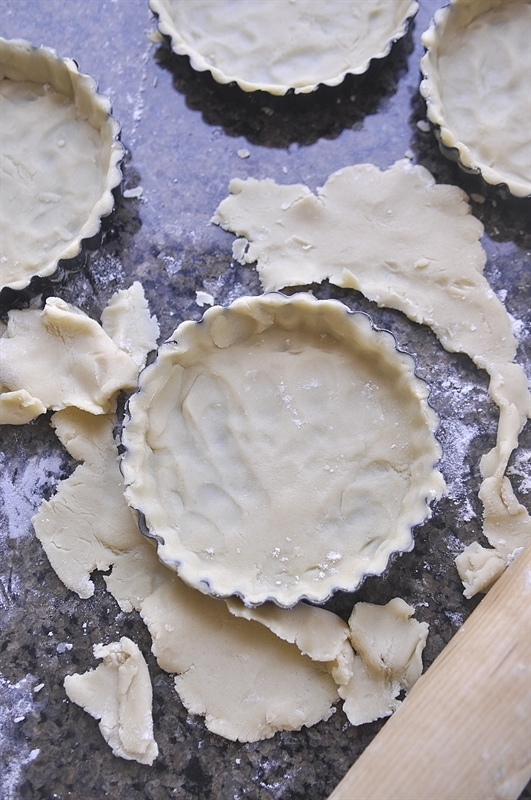 As they baked they may puff a bit.  I would just check them about half way through baking and use my fork to deflate them.  I applied an egg wash after 15 minutes of baking and then baked them for about another 8 minutes.  It gives the crust a nice sheen and finish.  It's all in the details!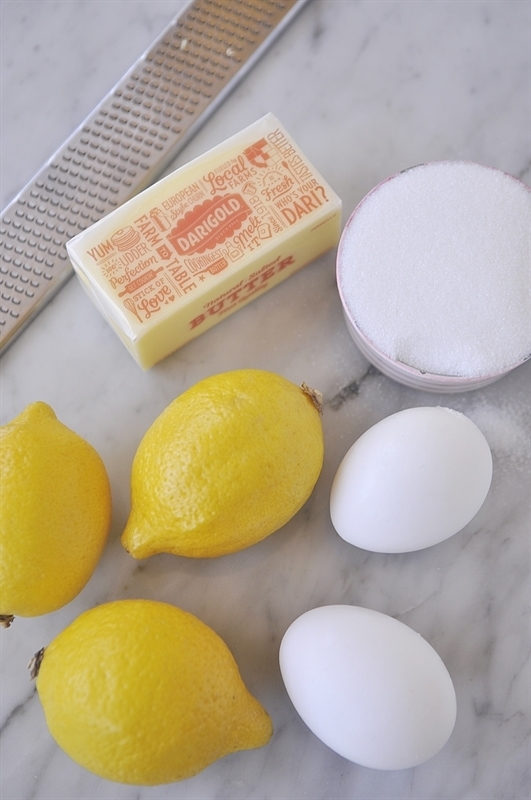 While the tart shells are baking you can make your lemon curd which is just about one of my most favorite foods in the whole world!!  Again, I used Darigold butter along with fresh lemons, eggs and sugar.  Use a double broiler for your lemon curd so it doesn't burn.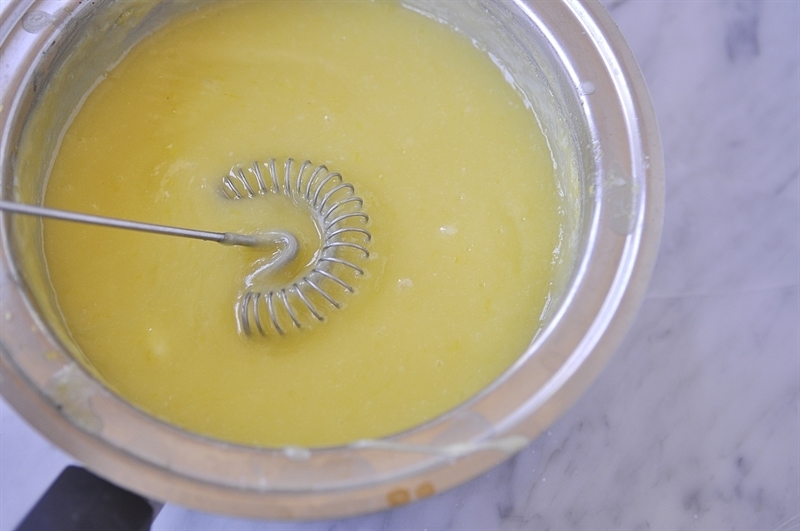 After your lemon curd has cooled, fill your tart shells.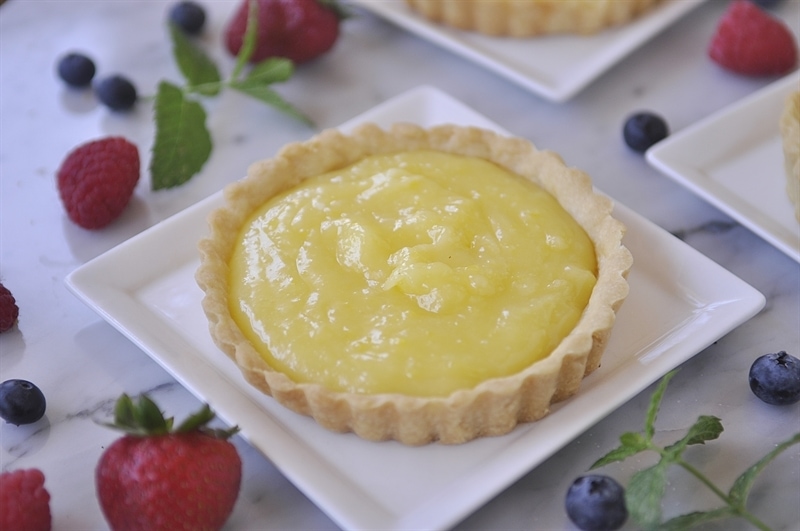 Then I topped it with a scoop of whipped cream.  Again, Darigold comes through for me and I always use their Heavy Whipping Cream.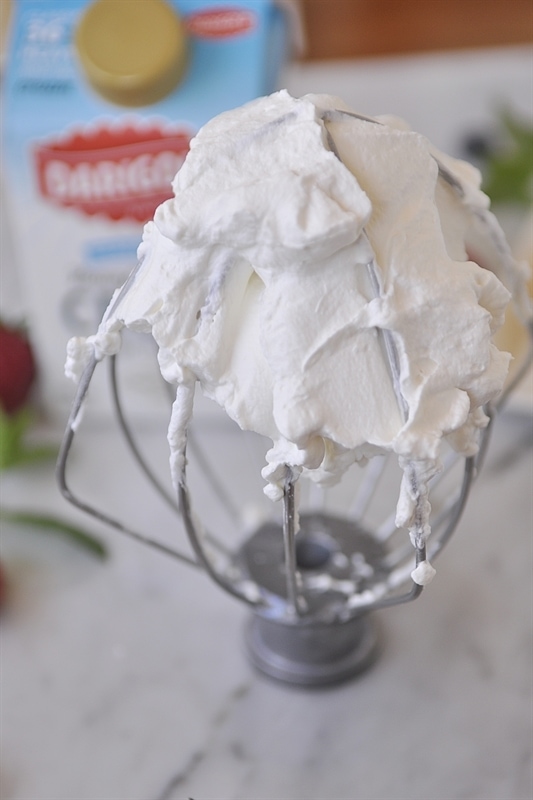 Then add the whipped cream, lots of whipped cream.  As far as I'm concerned you can never have too much whipped cream.  I then garnished with berries.  Raspberries, strawberries and blueberries were my choice.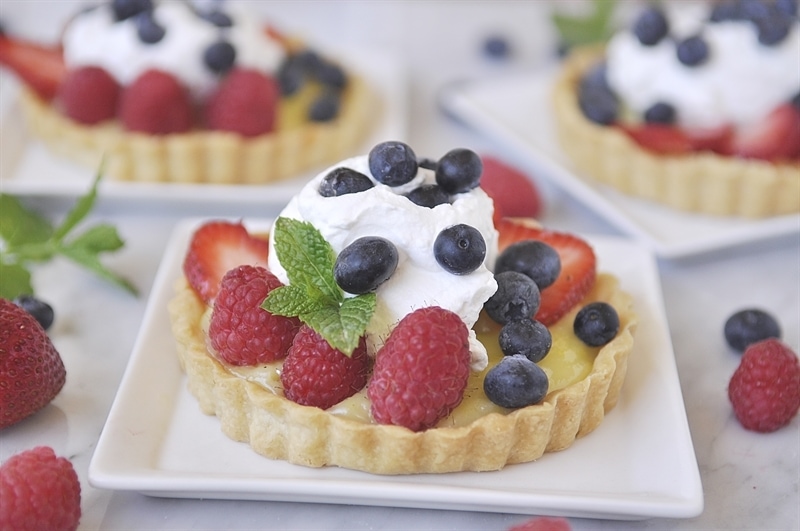 Dessert just doesn't get much prettier than this!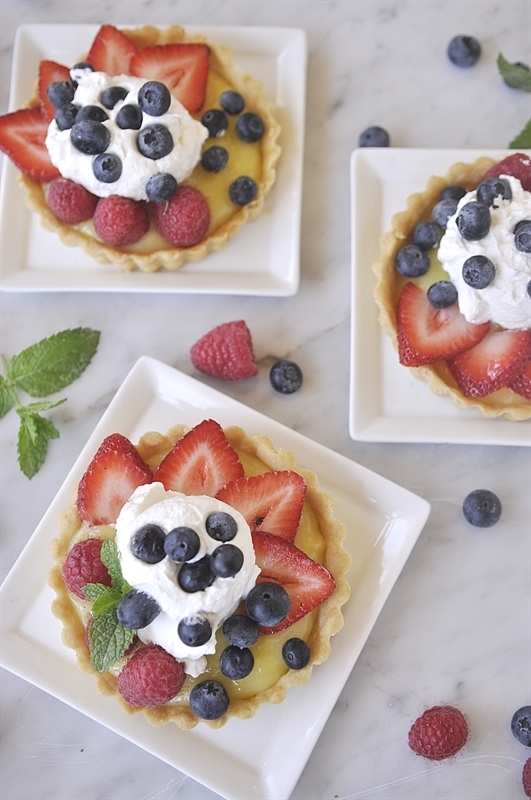 Just remember, all you have to do is close your eyes, take a bite and you'll be in Paris.  At least in your mind.  Don't forget, Paris is always a good idea!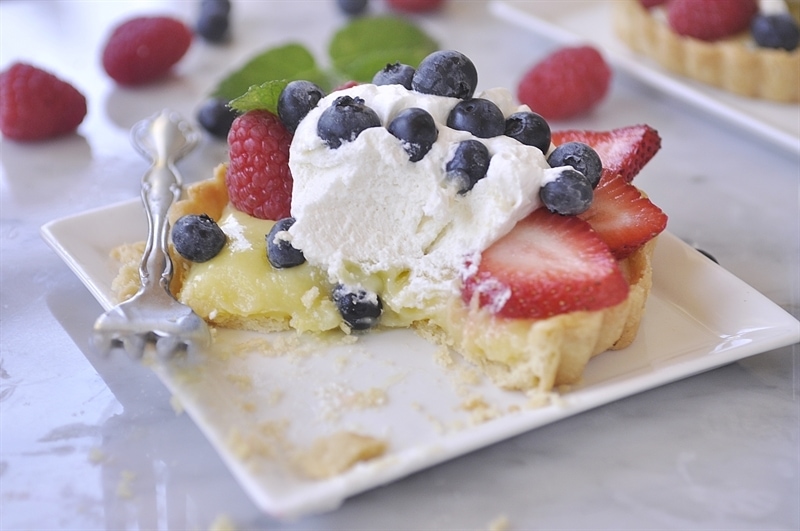 This post is sponsored by Darigold but all opinions are my own.
Be sure and check at all the delicious Darigold recipes here.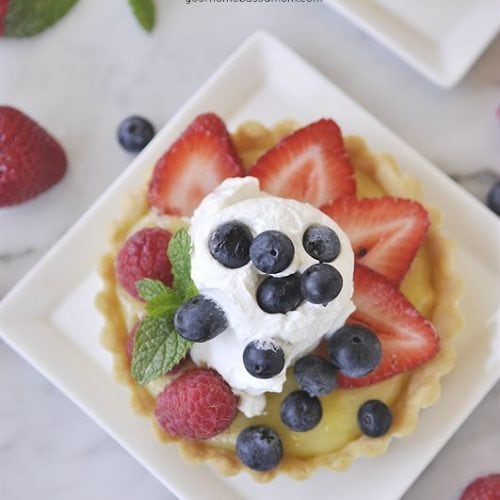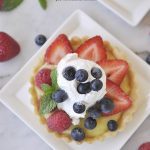 Print
Berry Lemon Tart
Servings
6
small or 1 large
Ingredients
Pastry for Tart Shell
1

egg

beaten (for egg wash)

1

tsp

water

Pinch

of salt

2

Tbsp

powdered sugar

2

cups

flour

1

cup

2 sticks Darigold butter, softened to room temperature
Lemon Curd
½

cup

1 stick Darigold butter

Juice of 3 lemons

Grated peel of 1 lemon

½

cup

sugar

2

eggs

Fresh Berries and whipped cream for garnish
Instructions
Pastry for Tart Shell
Place butter in the bowl of a stand mixer.

Using the dough-hook attachment, stir on medium speed, slowly adding the dry ingredients. Add water and continue to stir until dough forms.

Remove dough onto a lightly floured surface; roll out with a rolling pin to 1/8" thick and cut to fit into tart pans.

Place individual pieces of dough into tart plans. Check half way through baking time and if crust has puffed up deflat with a fork.

Bake in oven preheated to 350 °F for 15 minutes.

Spread the egg wash over all the tarts. Bake for 10 minutes longer and cool at room temperature.
Lemon Curd
Combine eggs, sugar, lemon peel and juice in the top of a double boiler; place over bottom of double boiler filled with boiling water. (Note: water in bottom of double boiler should not touch the top pan).

Cook egg mixture beating constantly with a wire whisk until it begins to thicken and ribbons form when whisk is lifted from the mixture.

Add the butter, one tablespoon at a time. Once all of the butter is incorporated into the mixture, remove from the pan and refrigerate the curd.

Remove tarts from pans.

Add lemon curd to each tart shell.

Sprinkle fresh berries over each tart and top with whipped cream.