Send the kids back to school with a special Back to School Breakfast.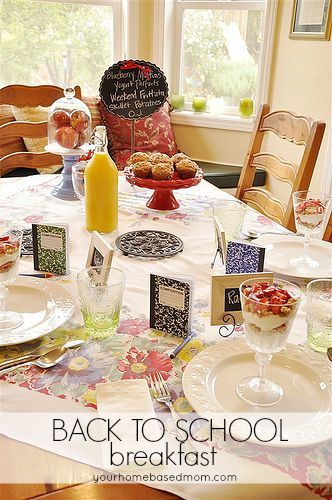 Today is a sad day.
It is the last first day of school we will have at our house.
My baby begins her senior year of high school today.
To mark this momentous occasion and in an effort not to be too sad I decided to host a back to school breakfast for Tessa and two of her friends.
But I am a realistic too.  I knew that there was no way I would get three teenage girls up and ready for a nice sit down breakfast before school starts at 7:30 a.m.  so I decided to hold the breakfast Monday morning, the day before school started.
Because this may be the last back to school breakfast I ever have (unless I can talk the neighbor kids into coming for breakfast next year) I wanted to make it a little extra special.  For details on the table decor head on over to Your Homebased Parties for more info and photos.
The menu for the morning was as follows:
The first course was yogurt parfaits.  I used our favorite yogurt – Vanilla Bean by Tillamook and layered it with some store bought granola (I like the almond granola in the bulk food bins at Winco) and some fresh strawberries out of the garden.  Yes, our strawberry plants are still going strong.
We had gotten some fresh blueberries at the farmer's market this weekend so Tessa requested blueberry muffins.
There was orange juice to drink and of course a toast to a great senior year!

There was also a egg frittata and some yummy potatoes.  I'll be sharing those recipes this week.  In fact we are featuring breakfast recipes all week – it's Breakfast Week here at Your Homebased Mom!
The best part of breakfast?  Just watching the girls enjoy the food and each other.  This is a big year for them and the beginning of even bigger things.  I can't wait to watch from the sidelines.
Here's to a great senior year Katy Jo, Rachel and Tessa!