The Giveway is now closed.  Congratulations to Comment #16 .  Email me your mailing info Sandy S and we will get you y our prize!
This Asian Inspired London Broil is marinaded over night and then cooked to perfection!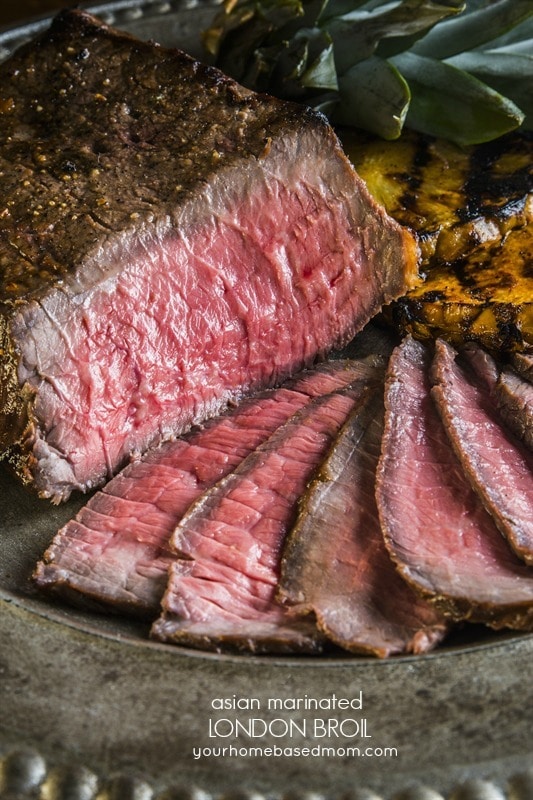 In October I had the opportunity to attend a blogger trip to Ohio hosted by Certified Angus Beef.  It was a blast!  I met so many new amazing bloggers and Certified Angus treated us like royalty.  I also learned ALOT about Certified Angus Beef.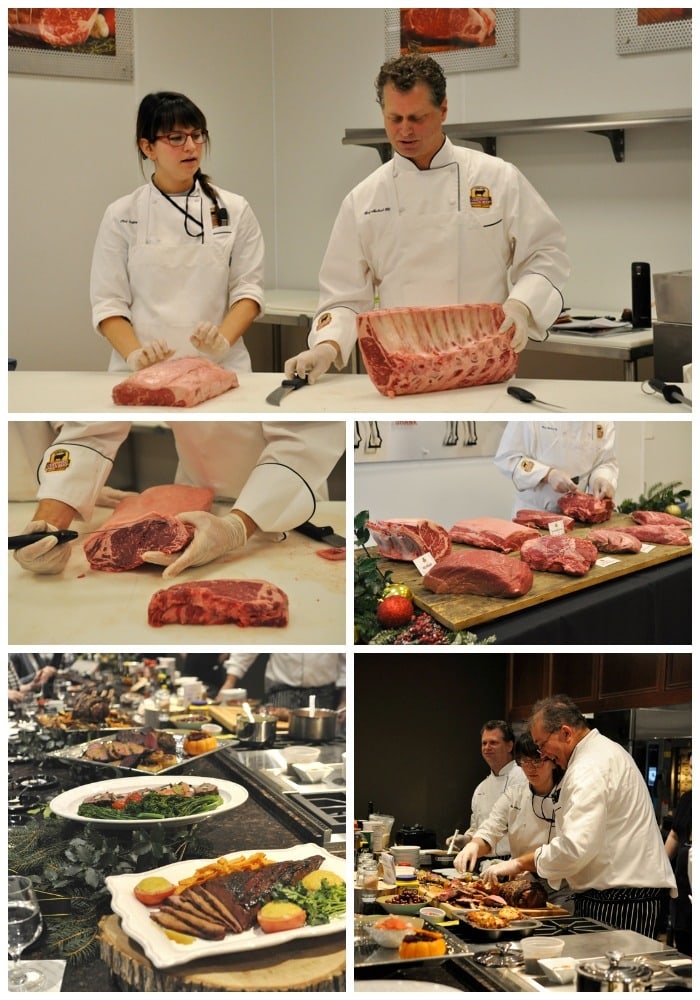 Certified Angus Beef® (CAB) is a non-profit organization that was formed 36 years ago to increase demand for high-quality Angus beef. In order for any beef product to be labeled as Certified Angus Beef, a strict set of 10 quality specifications must be met, and those standards are upheld by independent USDA beef inspectors!  We did lots of tasting of Certified Angus Beef and believe me, there is a difference.
We had 3 amazing chefs prepare a fabulous dinner for us one night and then we got the chance to work with them in the kitchen!  We headed to the grocery store and purchased our ingredients and then headed into the kitchen.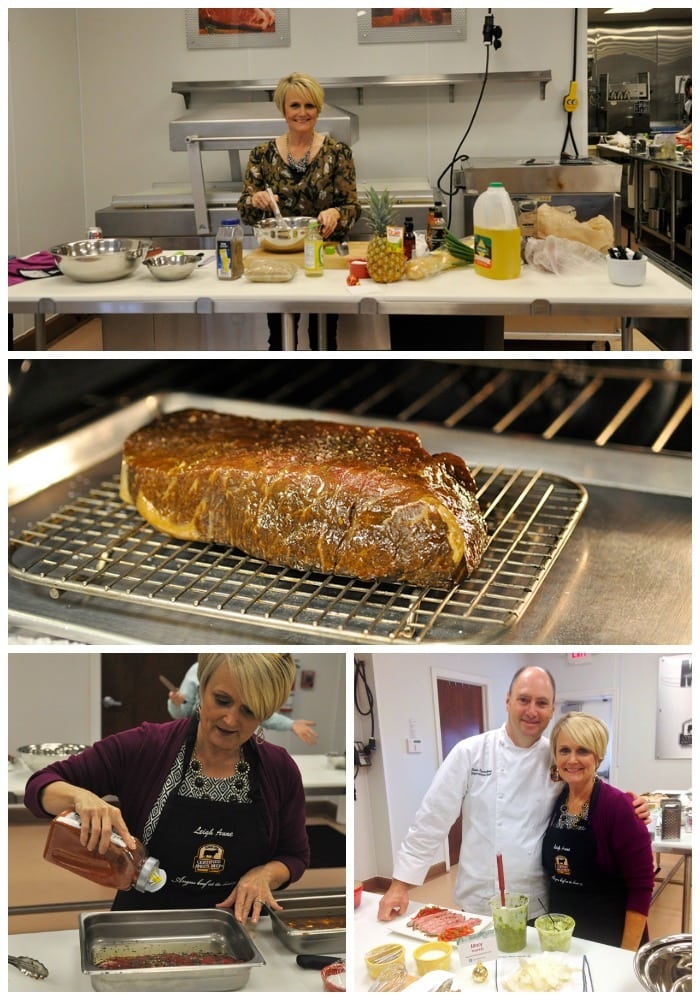 I had a blast working with Chef Peter.  I have never successfully cooked a London Broil so we took that on as a challenge!  It is a less expensive cut of meat and I could never get it tender enough for my liking. Chef Peter and I worked together to come up with a yummy Asian inspired  marinade for the London Broil and it turned out amazing!  We let the meat marinade over night and then the next day we cooked it up.
We then had a professional photographer there to photograph our dish!  It was fun to watch him in action.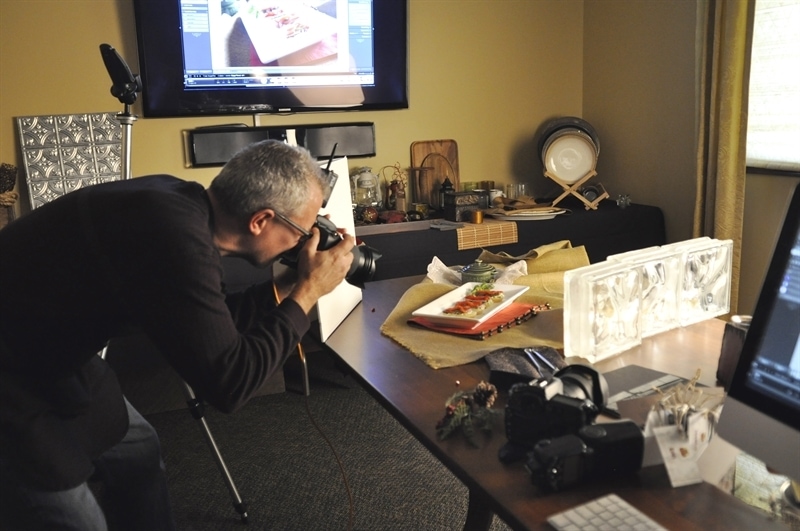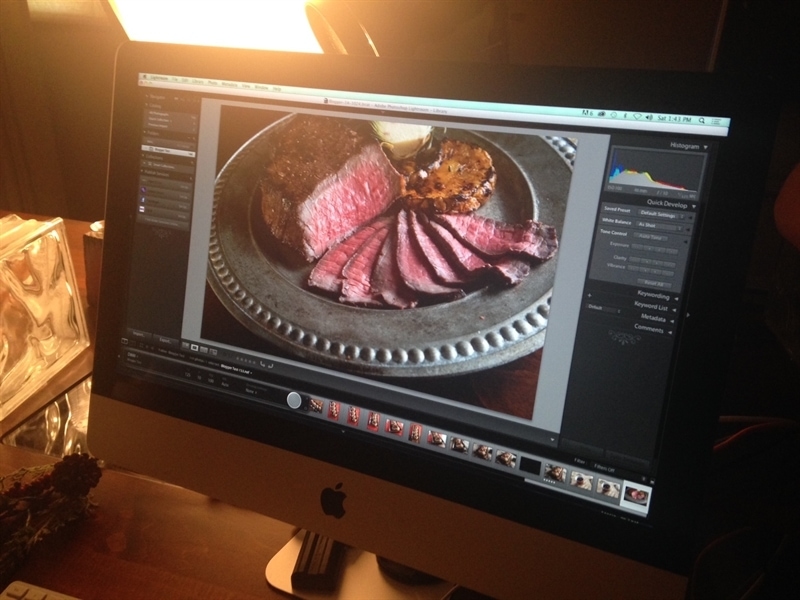 Of course I took a lot of photos of my own.  Anything to get the shot!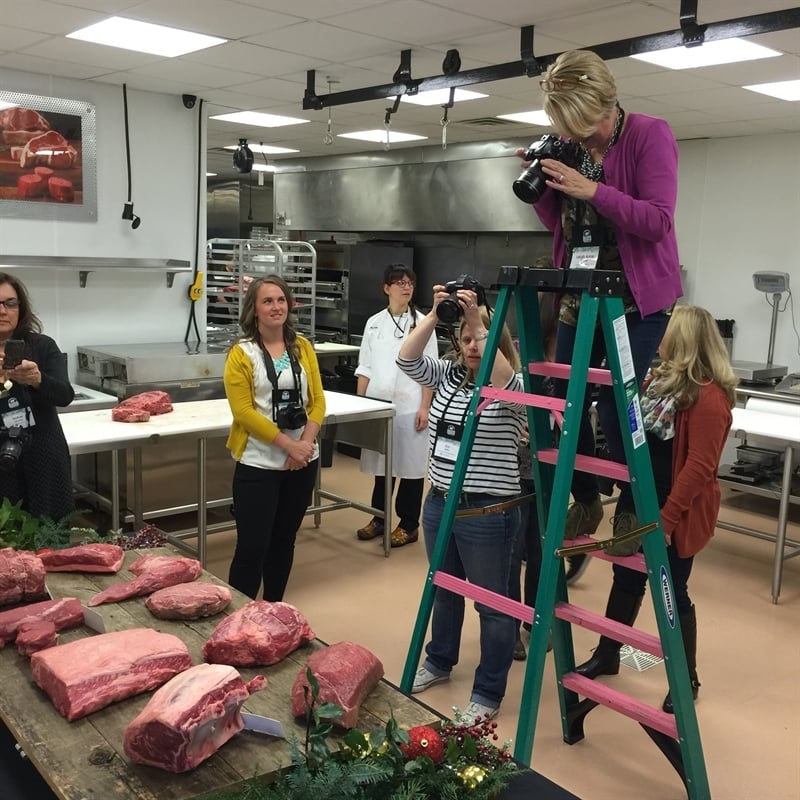 I learned alot – the quality of meat DOES make a difference and that I way over cook my meat.  I always thought I only liked well done meat but I was wrong.  Using a meat thermometer is crucial to getting the right  temperature.  The other trick I learned is the importance of slicing the beef the correct way – always against the grain.  It makes a huge difference in the texture of the meat.
Here is my Asian Marinaded  London Broil.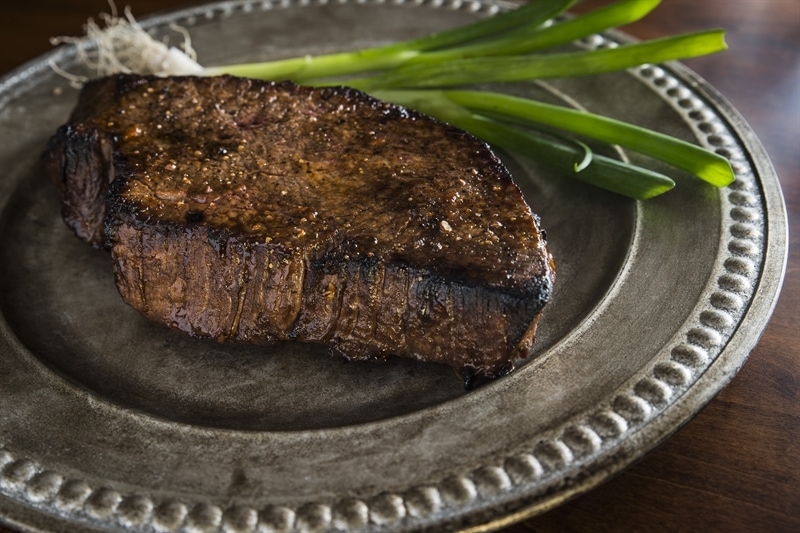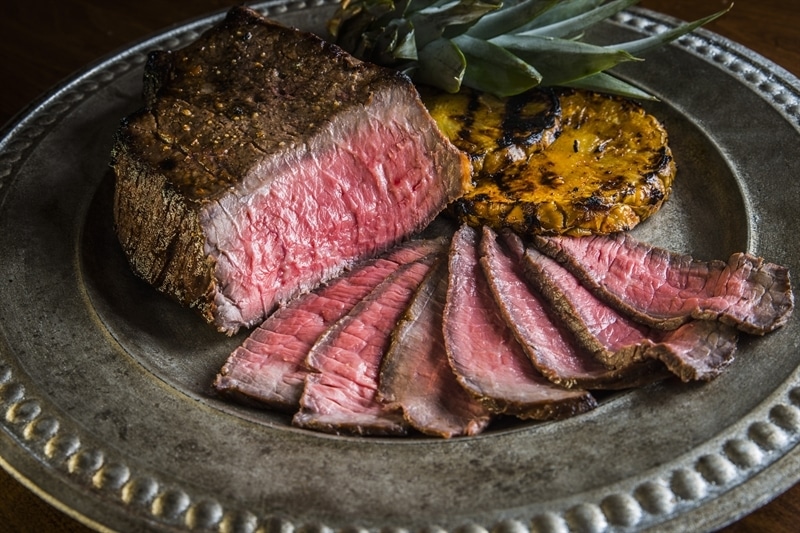 And the fabulous group of bloggers I got to spend the weekend with!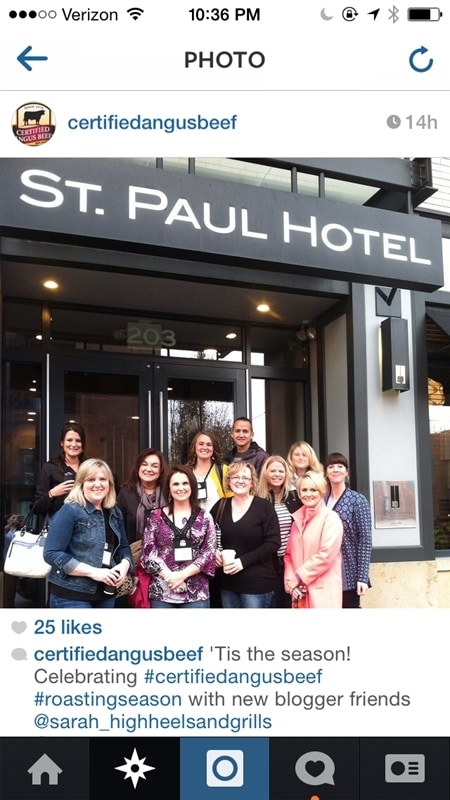 Be sure and check out their posts and recipes from our fun weekend.
Cheesesteak Egg Rolls – A Family Feast
 Southwestern Crusted Roast Beef – Barefeet in the Kitchen
Holiday Beef Tenderloin with Sweet Potatoes, Tomatoes & Corn – Family Foodie
Korean Inspired Simple Roast Beef – Foodie with Family
Holiday Roast with Rosemary Veggies – High Heels & Grills
Holiday Steak Bruschetta – Wishes and Dishes
Dinners, Dishes & Desserts
Mrs. Happy Homemaker
Cranberry Glazed Tri Tip Roast – Savory Experiments
And now for the best part!
The folks at Certified Angus Beef are amazing and  they have also generously sponsored this great giveaway along with Le Creuset for one of Your Homebased Mom's readers!
For your chance to win a Certified Angus Beef Brand Cattlemans' Premium Collection (includes four 12-ounce strip steaks, four 8-ounce filet mignons, and four 10-ounce rib eyes (Retails for $167.95) and this beautiful Le Creuset Signature 7-Quart Roaster (Retail Value $250), simply tell me in a comment below by 11:59 on Tuesday, November 28th, 2014, "What is your favorite cut of beef?"
Giveaway Terms & Conditions:  Open to anyone 18 years of age or older with a valid US shipping address. (No P.O. Boxes please.)   Winner will be contacted via email so please be sure to comment using a valid email address where we can reach you. Winner will have 48 hours to respond and confirm their shipping address, otherwise a new winner will be selected and so on.
Disclosure: This giveaway is provided by Certified Angus Beef ®   All opinions are my own. #ROASTINGSEASON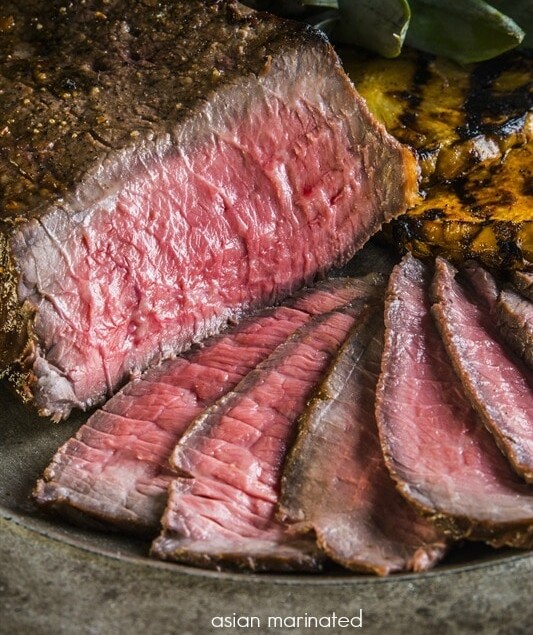 Asian Marinated London Broil & Giveaway
Ingredients
1 London Broil
1 C oyster sauce
1 C ginger soy sauce
1 7 oz. jar of plum sauce
1 Tbsp hot chili sauce
1 7 oz. jar of hoison sauce
1 Tbsp fresh ginger squeeze the juice out after shredding and use juice, throw away the pulp
1 C rice vinegar
4 cloves garlic minced
1/4 C brown sugar
1 C honey
1/2 C pineapple juice
1 Tbsp sesame oil
1/2 C Vegetable oil
1/2 C olive oil
green onions for garnish
grilled pineapple for garnish
Instructions
Combine all ingredients except green onion and pineapple for marinade.

Place London Broil and marinade into a container to marinade and cover.

Refrigerate over night.

Bring meat to room temperature

Broil until meat reaches temperature of 128-130 degrees